After a New York judge disappointingly ruled against Kesha on February 19, 2016, many artists took to various mediums to announce their support of the singer.
Kesha, who spoke out about her producer Dr. Luke's sexual advances toward her, managed to speak out through celebrities — like Adele — despite losing the legal battle.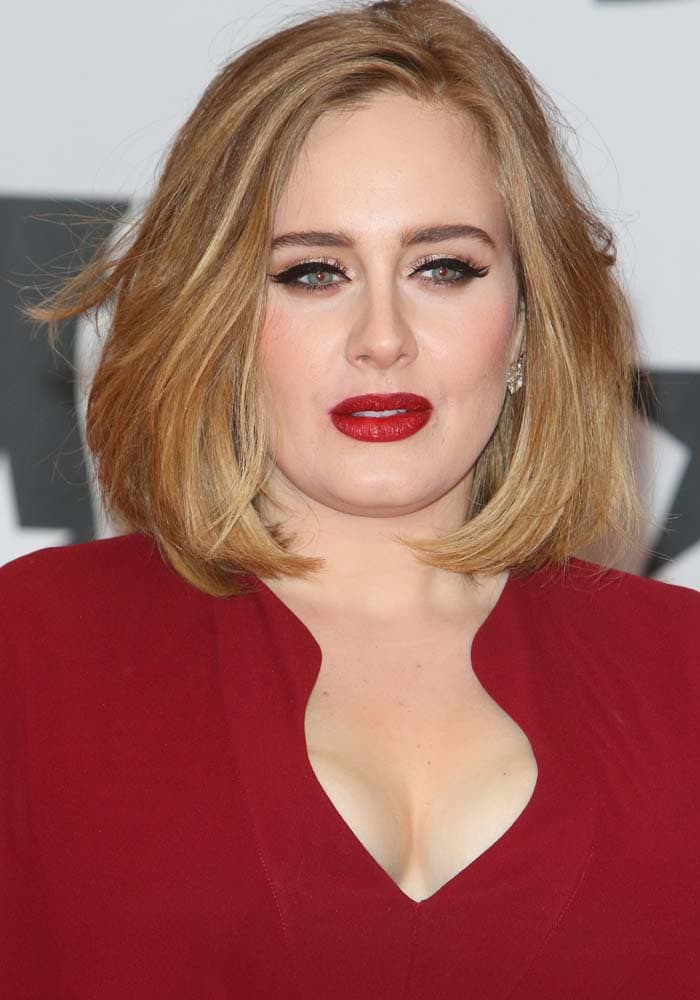 Adele wears her short hair down at the BRIT Awards 2016 at The O2 Arena on February 24, 2016, in London, England (Credit: Daniel Deme / WENN)
Much taller than most people think, Adele decided to use her win to show her support for Kesha at the 2016 BRIT Awards in London.
In an interview with Daily Mail in 2009, she revealed her height to be higher than the average woman.
"I'm 5ft 9in and a 14, 16. You can't go to America and be s***; you could have an amazing figure and they won't buy it. I could wear a bin liner and they'd still like me," the soul sensation said about her height and weight.
Adele wears a red floor-length Giambattista Valli dress at the BRIT Awards (Credit: Daniel Deme / WENN)
Do you believe her actual height without heels is 5ft 9 (175 cm) or did she add a few inches in the interview?
Adele switched between two outfits during the 2016 BRIT Awards, starting off with a ruffled crimson red dress by Giambattista Valli, which she paired with jewelry from David Morris Jeweller.
The stunning red gown featured a cape-like detail and ruffles down the front.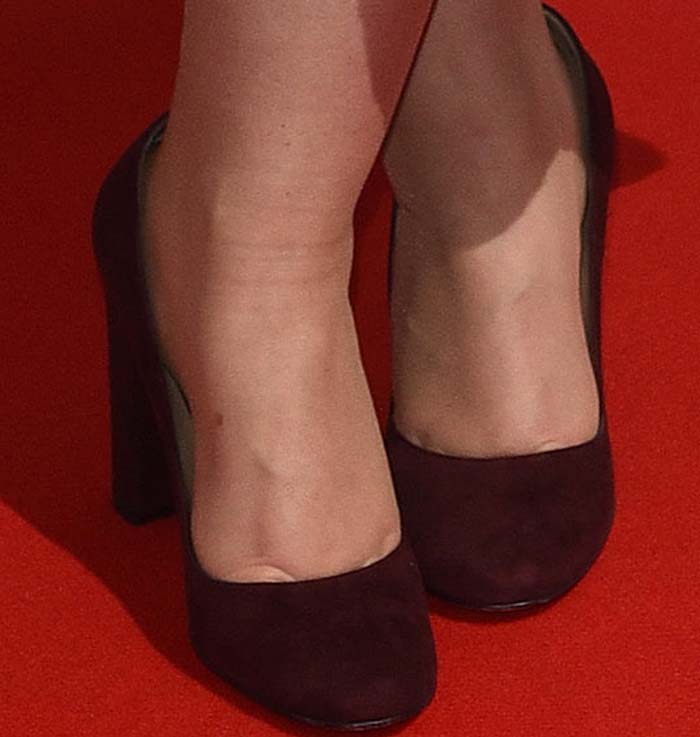 Adele's feet in block-heeled Gianvito Rossi pumps (Credit: Daniel Deme / WENN)
Later on, the singer switched to a shimmering Valentino dress.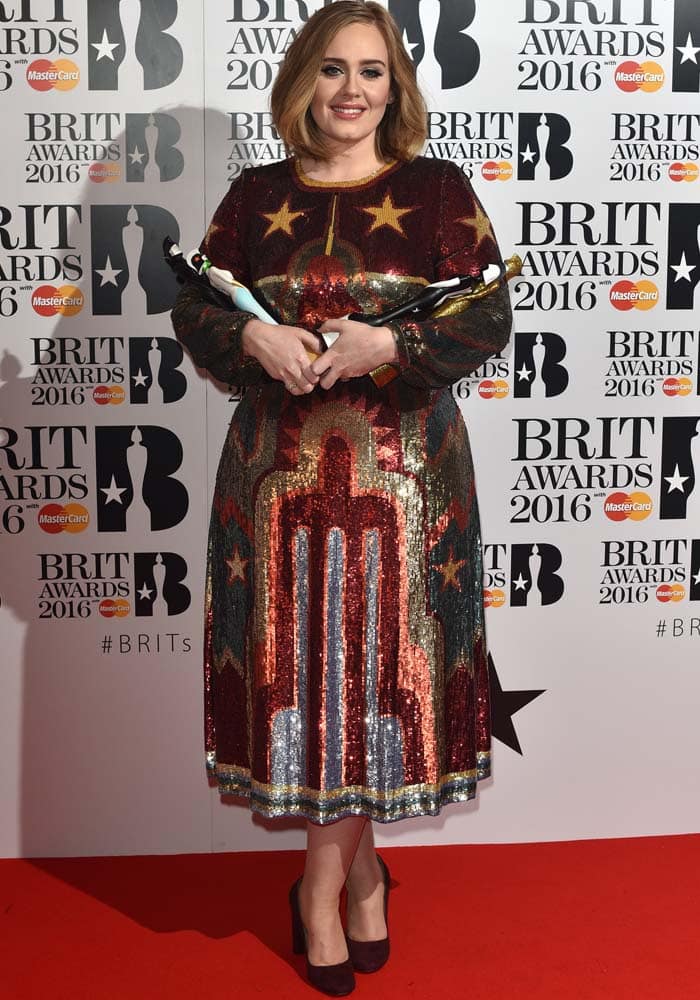 Adele wears a shimmering Valentino dress on the red carpet (Credit: Daniel Deme / WENN)
She styled the tea-length frock with jewelry from Astley Clarke and the Gianvito Rossi "Linda" pumps before she took to the stage to perform "When We Were Young."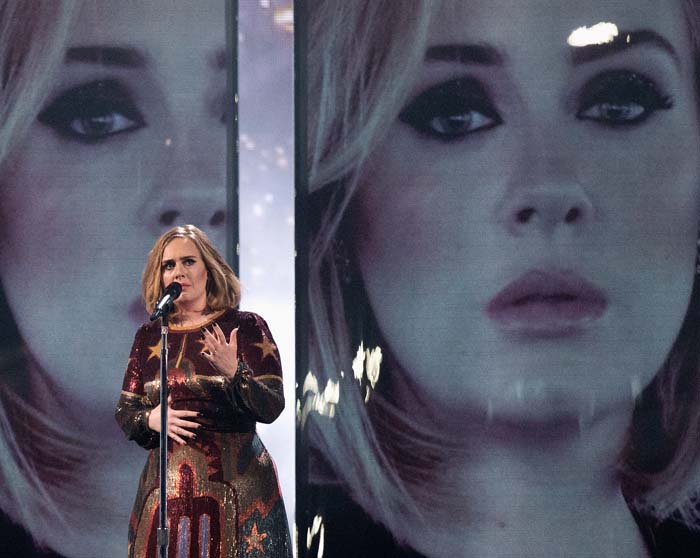 Adele wears a Valentino dress on stage while performing at the BRIT Awards (Credit: WENN)
The songstress went on stage to accept the British Female Solo Artist award, publicly declaring that she was in support of Kesha right before she stepped off the stage.
"I'd like to take a quick second just to thank my management and my record label for embracing the fact that I'm a woman and being encouraged by it," the "Hello" singer said while accepting the award for Best British Female Solo Artist. "I'd also like to take this moment to publicly support Kesha."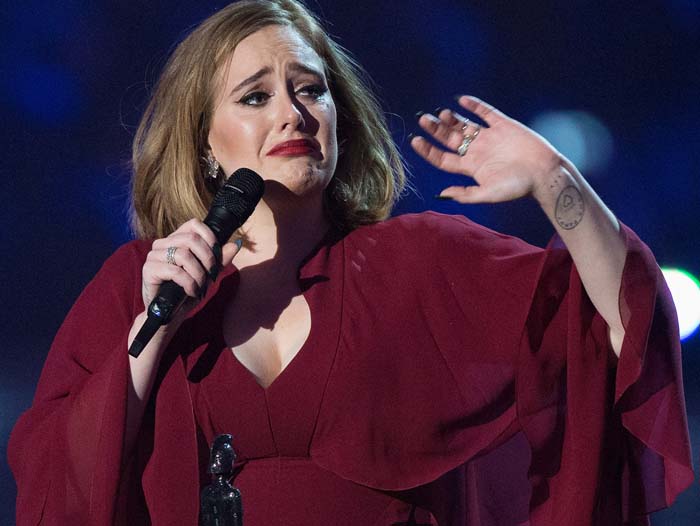 Adele performs at the BRIT Awards in a Giambattista Valli dress (Credit: WENN)
"Other entertainers who knowingly put their own careers at stake by supporting me, I will be forever grateful," Kesha responded on Facebook.
"All I ever wanted was to be able to make music without being afraid, scared, or abused. This case has never been about a renegotiation of my record contract … I would be willing to work with Sony if they do the right thing and break all ties that bind me to my abuser," the Tik Tok singer added.
You can order Adele's Gianvito Rossi "Linda" pumps at Nordstrom and Farfetch.
Blue Gianvito Rossi 'Linda' Suede Pumps, £425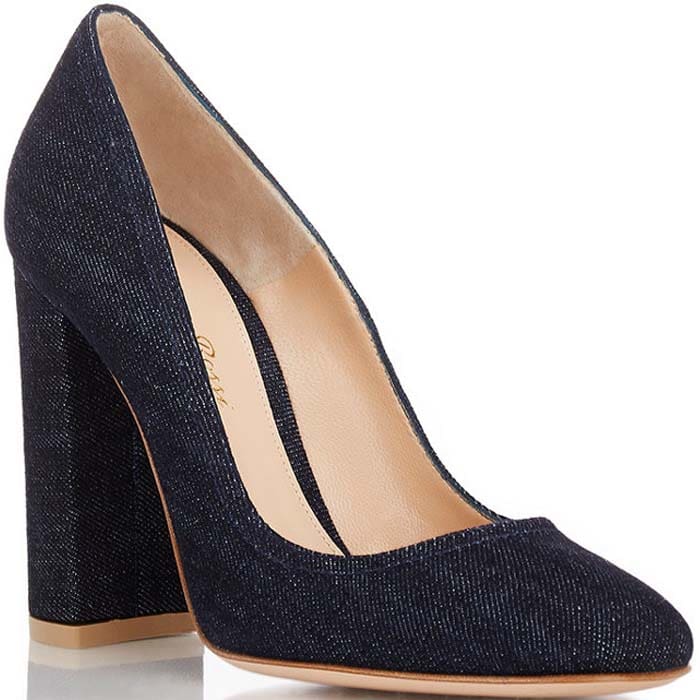 Denim Gianvito Rossi 'Linda' Suede Pumps, $635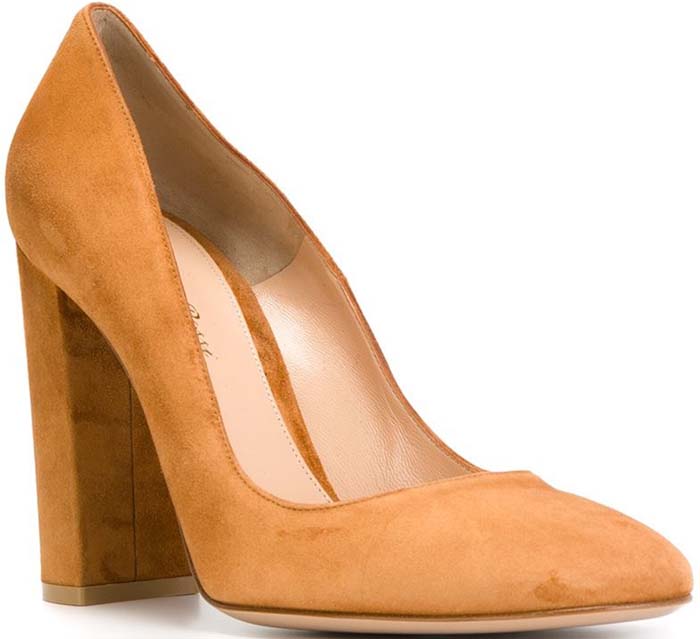 Orange Gianvito Rossi 'Linda' Suede Pumps, $560.46