British singer Cher Lloyd is 5 feet 2 inches (153.7 centimeters) tall. She is best known for her singles "Swagger Jagger," "With Ur Love," and "Want U Back."
In a 2011 interview with Music Choice, Lloyd was asked about her height, and she jokingly said, "I don't know…five foot nothing."
Lloyd's height has never been a source of insecurity for her. She is confident in herself and her abilities and has used her platform to promote body positivity.
The sleeveless design allowed Cher Lloyd to showcase her multiple tattoos, adding an edgy touch to the ensemble (Credit: FayesVision / WENN / Adriana M. Barraza)
In an interview with Chicago Tribune, Lloyd said, "I think a lot of people wish to be taller. I'm really, really short. And when I'm on TV it looks like I'm tall, but I'm really not. I think I'm like just over 5-foot, or not even. Yeah, I'm really small."
Lloyd is an inspiration to many people, and she is proof that you can achieve your dreams regardless of your height. She is a talented singer, songwriter, and role model for young women everywhere.
In August 2014, Cher Lloyd joined Victoria Justice, Kim Kardashian, Jennifer Lopez, and Ariana Grande on the red carpet at the 2014 MTV Video Music Awards.
The then-20-year-old singer donned a hot red leather Ina Soltani mock-turtleneck dress styled with black Jimmy Choo "Anouk" pumps.
Cher Lloyd has the Tracy Chapman song title "All that you have is your soul" tattooed on her arm as a tribute to her mother (Credit: FayesVision / WENN / Adriana M. Barraza)
We've spotted the same shoe style on Kerry Washington, Olivia Wilde, Emma Watson, Thandie Newton, and many more.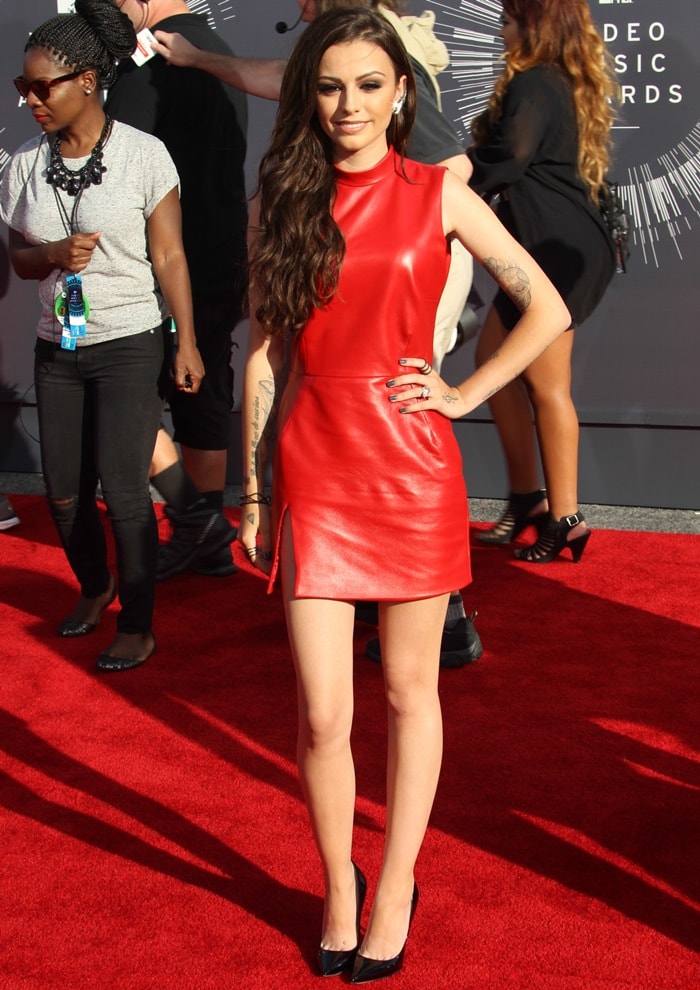 Cher Lloyd opted for a striking red leather mock turtleneck dress designed by Bosnian-born fashion designer Ina Soltani at the 2014 MTV Video Music Awards at The Forum in Inglewood, California, on August 24, 2014 (Credit: FayesVision / WENN / Adriana M. Barraza)
Cher Lloyd's Inspiring Words: Empowerment, Authenticity, and Unleashing Your Inner Voice
"I don't want anyone to feel sorry for me because of the fact I haven't got any true friends! I'm fine the way I am." – Cher Lloyd
"In school, I was the quietest girl ever! I had a lot of trouble in school. Kids were mean to me." – Cher Lloyd
"This whole 'X Factor' thing with people assuming I'm going to be a one-hit wonder – that won't happen with me." – Cher Lloyd
"My dad's my best mate, and he always will be." – Cher Lloyd
"I believe someone should be able to dress according to the mood they're in. It shouldn't be forced and you shouldn't have to follow a trend." – Cher Lloyd
"I try and make all my songs sound different from each other while doing it in a way that's still me. It's a tricky thing to do." – Cher Lloyd
"Growing up around people with the same culture as me made me a lot tougher." – Cher Lloyd
"I always feel guilty for having a day off because I feel like I'm not being productive." – Cher Lloyd
"I used to sit in my bedroom and think that all of my favourite pop stars go on stage, they sing, and then they do other normal stuff. I didn't know what goes on or what you let yourself in for." – Cher Lloyd
"I feel like there's more to life than worrying about the way that you look." – Cher Lloyd
"Facial scrubs are always good." – Cher Lloyd
"My favorite moisturizer is Lancome Bienfair Aqua Vital." – Cher Lloyd
"I am a touring artist – I get a kick out of it, like, a huge kick." – Cher Lloyd
"I'm really, really short. And when I'm on TV, it looks like I'm tall, but I'm really not. I think I'm like just over 5-foot, or not even. Yeah, I'm really small." – Cher Lloyd
"When you sing live, you cannot expect any artist, except for the amazing Beyonce or GaGa, to get it right every time." – Cher Lloyd
"I don't feel like I have to be the nice girl." – Cher Lloyd
"I'll always stand by my Gypsy roots, and I'll always help out one of my own." – Cher Lloyd
"I don't care about the charts; I just want to make great music that I enjoy performing on stage and I'm proud of." – Cher Lloyd
"I had to grow up fast because we know it's not all fairy tales out there; it's full of rubbish." – Cher Lloyd
"Americans are really harsh about British people's teeth." – Cher Lloyd
"By the time I'm wrinkly and old, I'll have kids and grandkids that I'm watching grow up. I'll be proud of what I've achieved in my life, and I'm not going to worry about my looks so much." – Cher Lloyd
"A lot of things have been said about me. People are going to talk, and that's a good thing; I want people to talk." – Cher Lloyd
"There's nothing more that I enjoy doing as much as touring. It's basically being able to connect with the fans without all the madness that goes on in my regular life." – Cher Lloyd
"I find it so funny how people that don't write the music, and have no involvement in it, can make such huge decisions on behalf of artists." – Cher Lloyd
"As a writer, I'm always mindful that not everyone is going to feel the same way I do about something, so my emotions are just my emotions." – Cher Lloyd
"I've had my teeth done, which was a massive insecurity for me." – Cher Lloyd
"I didn't listen to Girls Aloud growing up – no way. Too cheesy, man!" – Cher Lloyd
"You're going to meet some people you don't necessarily click with, but that's just part of life." – Cher Lloyd
"When I came off 'The X Factor,' I wasn't necessarily the biggest thing. I really wasn't." – Cher Lloyd
"My nan – she's beautiful. I love my nan." – Cher Lloyd
"The day after 'X-Factor' ended, I was in the studio with Will.I.Am." – Cher Lloyd
"I used to have really bad skin, which made me struggle to feel confident." – Cher Lloyd
"I don't want people to say, 'So, what do you think about that Cher?' and for them to reply, 'She's okay.' Okay is not good enough. I want them to either love me or to completely despise me – I mean, call me all the names under the sun. I love it." – Cher Lloyd
"I liked Amy Winehouse a lot. I liked the way she did what she wanted, and she wasn't fazed about the press being on her back. I loved her songs so much." – Cher Lloyd
"I feel like not all press is good press. Sometimes personal things can be released, and… that's not good press." – Cher Lloyd