You either love it or hate it. Hobo bags are known for their laidback and understated silhouette. They're a modern Mary Poppins bag that you can put your life into.
Heidi Klum, Ashlee Simpson, Kendall Jenner, Kate Bosworth, and Nicky Hilton carrying hobo bags (Credit: Mega / Michael Wright / WENN)
Everything from your laptop to travel essentials and makeup bag will fit inside it. This bag is synonymous with bohemian chic, encapsulating the feminine but simplistic style.
With handbag trends pointing towards a minimalistic aesthetic, it's no surprise that the humble hobo bag is making a comeback. We're looking at what makes this bag so popular, its characteristics, and where to get the best hobo bags.
What are hobo bags?
You can spot a hobo bag by its crescent silhouette and slouchy shape. It's the bag you throw over your shoulder when you're commuting into the city or need all your essentials.
A hobo bag comes in different sizes but it is easily identified by its crescent silhouette and slouchy look
This oversized bag is one that every woman has in their closet. It reached the peak of its popularity in the early 2000s when celebrities styled them with everything from velour tracksuits to cocktail dresses.
Most hobo bags are made using soft leather or alternative material that gives it a flexible design, allowing it to appear to slouch on your shoulder. You'll find hobo bags with various shapes and sizes, from mini hobo bags to oversize travel styles.
Why is it called a hobo bag?
The hobo bag is forever synonymous with the bohemian chic of celebrities like Mary Kate and Ashley Olsen.
The name 'hobo bag' comes from the fact that the bag looks similar to the bindle on a stick that artists portray hobos as carrying over their shoulders.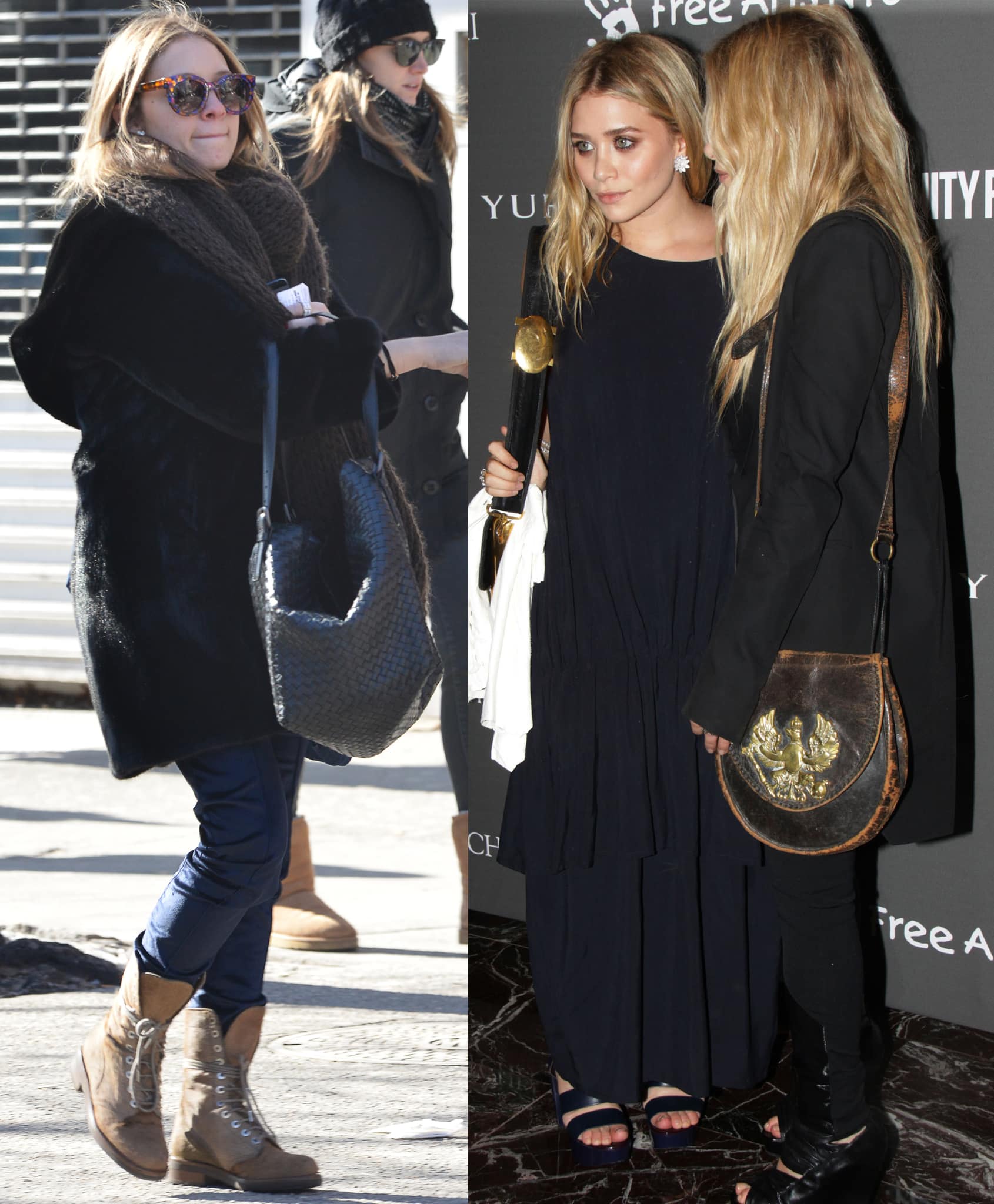 Mary-Kate and Ashley Olsen are among those who popularized hobo bags as part of the Boho-chic trend (Credit: TNYF / WENN)
The first hobo bag was launched in 1936, retailing for 35 cents. This price tag is a far cry from what luxury fashion houses like Gucci and Louis Vuitton have charged for their hobo bags.
The origins of the hobo bag – during the Great Depression – explains its simplistic design. While the original hobo bags were made with cheap materials, most contemporary styles are made using leather or an alternative vegan material.
The hobo bag first jumped onto the mainstream fashion scene in the 1950s before becoming synonymous with the hippie movement of the 1970s, giving the bag its bohemian aesthetic.
Are hobo bags still in style?
As fashion trends developed, the hobo bag evolved along with it. The bag has always maintained its original oversized and slouchy silhouette, but each brand has put its own twist on the bag.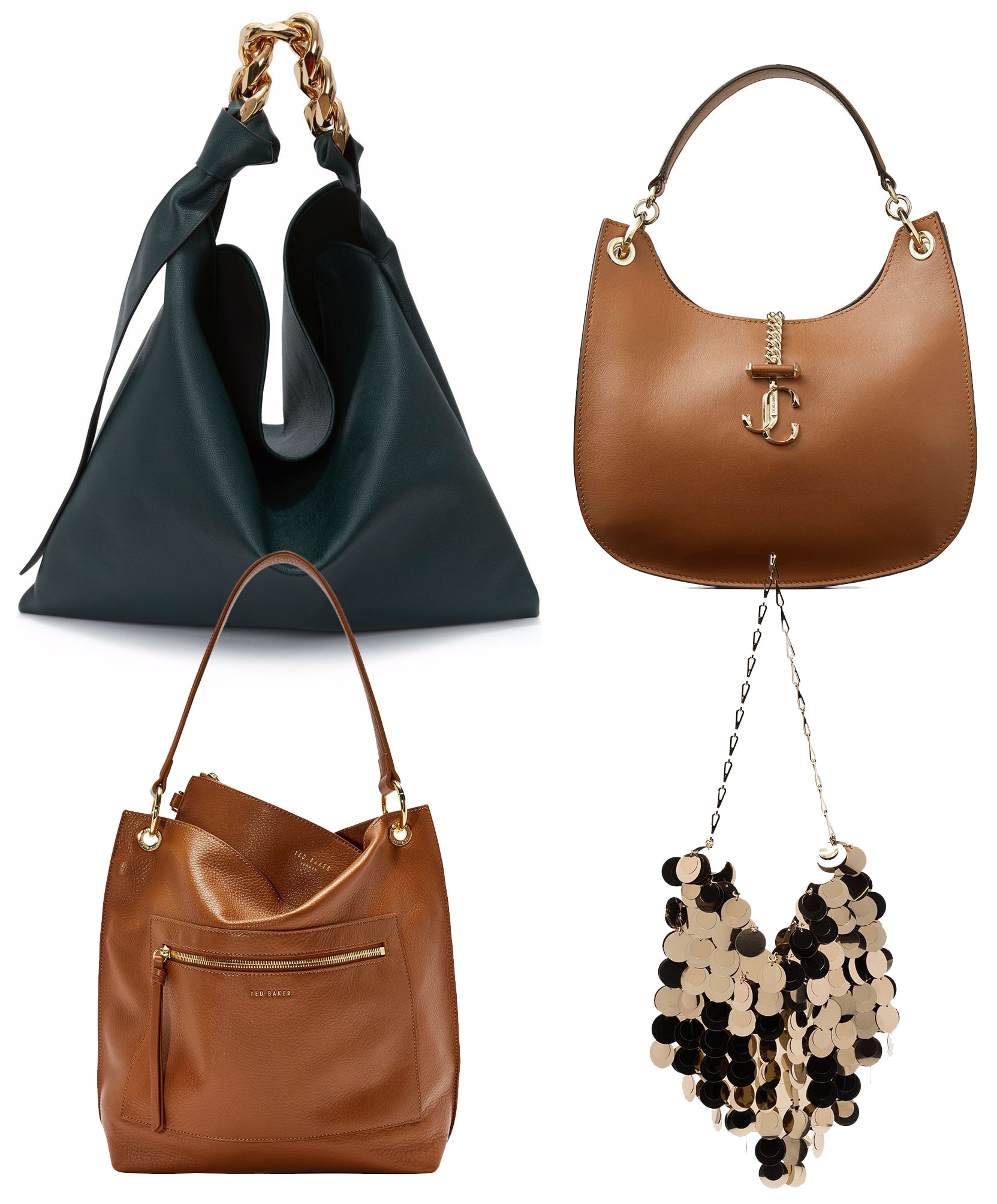 Hobo bags are still in style, with several brands putting their own twist on the classic hobo bag
Some choose to incorporate metals, while other brands have added practical elements to the bag, like exterior pockets.
Although the term 'hobo bag' has survived through the decades, most fashion editors agree that the term needs to be updated, though it's not really an offensive term. Vogue featured a piece in 2019 calling for a rethinking of the popular name.
How are hobo bags different than satchels and totes?
Hobo bags are often compared to totes and satchels. If you're a fan of either of these styles, you'll want to snap up a hobo bag. The main distinction between a hobo bag and these styles is that it has one long strap.
While these can occasionally be worn crossbody – like a satchel – most are worn on the shoulder – like a tote.
A hobo bag is a large shoulder bag, but its slouchy silhouette makes it distinctively different from a tote. The strap is longer, sitting comfortably on your arm to make it easier for you to carry everything you need.
Hobo bags typically have a thicker shoulder strap than a tote bag, making it easier to go hands-free.
As handbag trends switch to focus on smaller bags, the hobo bag hasn't been left in the dark. Although we often associate hobo bags with oversized bags, you can find this style in mini bags.
Hobo bags have a slouchy silhouette and are usually worn using a thick shoulder strap; satchels are often carried in multiple ways, either by the top handle or crossbody strap; totes have a structured silhouette and usually come with double handles
What makes a hobo bag different from a satchel is its crescent shape. The bag is often compared to satchels due to its slouchy silhouette and practical versatility, but the similarities stop there.
You can usually carry your satchel in multiple ways – from the top handle to off the shoulder or crossbody. Hobo bags are typically carried on the shoulder to help distribute the weight of your belongings.
You might think a hobo bag and a tote are similar. After all, you carry both on your shoulder. The main difference between the two is their shape. Tote bags tend to be more structured and designed to carry laptops and other essentials that need to be protected.
Your tote bag will usually have two thin straps and may feature a top zipper closure. By comparison, a hobo bag has one thick shoulder strap (occasionally with another detachable strap) and usually has an open-top.
Why a hobo bag deserves to be in your collection
Curating a collection of luxury handbags can be difficult. You want a balance between timeless and trendy styles. The beauty of a hobo bag is that it blends these two together.
They're a classic style that comes back into vogue every few years. If you're a fan of the bohemian fashion aesthetic, this is the perfect bag for you.
Jimmy Choo Ana Suede Hobo Bag, $1,350 at Farfetch
Part of the allure of a hobo bag is how understated it appears. It's a bag that you will reach for every day, whether you're heading into the office or being a tourist in the city.
The bag is designed to hold everything you need, from laptops to makeup bags and even your backup shoes.
A hobo bag adds versatility to your closet. It's an easy way to carry your essentials while giving your outfit an understated accessory. This bag is casual chic meets bohemian romanticism.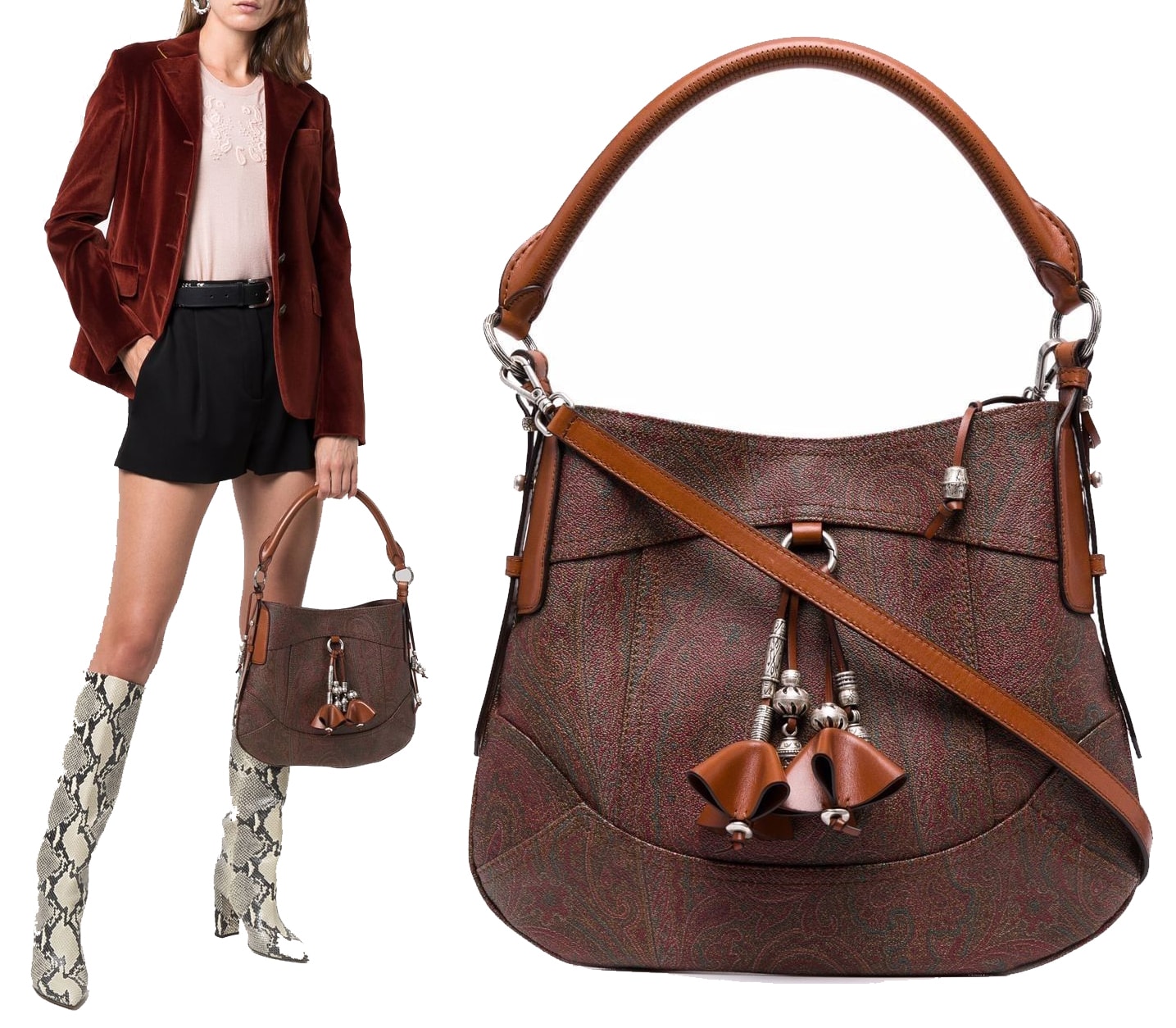 Etro Paisley-Print Hobo Bag, $1,650 at Farfetch
While the original hobo bags were made with simplistic materials, brands have put their own twist on the bag. Whatever your aesthetic is, you can guarantee there's a hobo bag out there for you.
Printed fabrics and patterns are a popular way of giving a hobo bag a unique feel. Tassels add the '70s feel to this bohemian bag, while a detachable strap can give you the versatility of converting your hobo bag into a crossbody.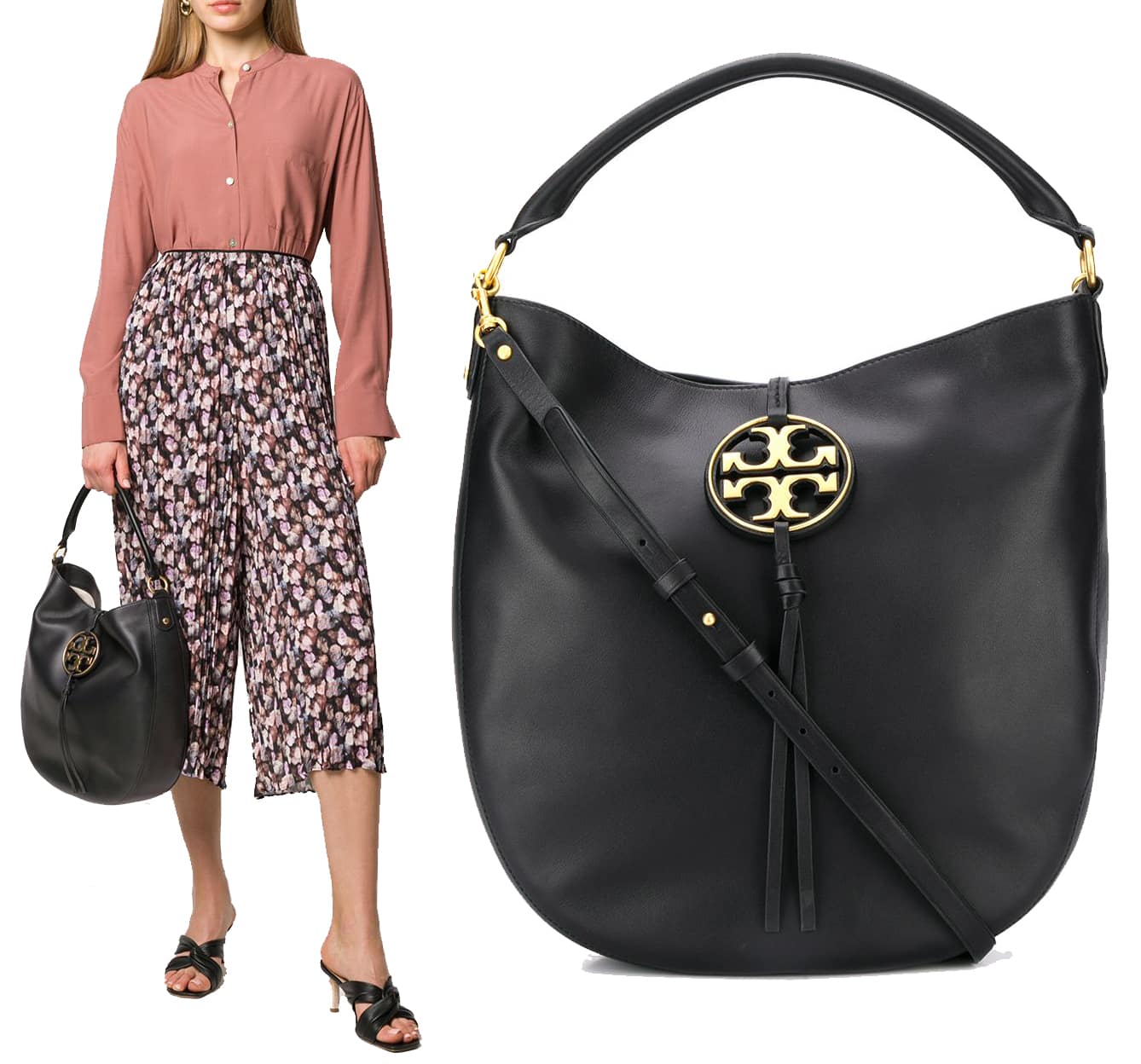 Tory Burch Miller Metal-Logo Slouchy Hobo Bag, $598 at Farfetch
We think a hobo bag is an evergreen accessory that you'll reach for every season. It's the perfect investment bag and one that your bag collection is crying out for.
You can easily style it with any outfit, whether you're jumping on a plane or grabbing your morning coffee.