Just because it's summer doesn't mean you can't wear jackets. Try a lightweight piece that's made of cotton or linen, and layer it over a tank or a cropped top. Or use it as your top if you dare. If you can find one without a lining, then that would be perfect.
One of our favorite outerwear pieces is the utility jacket, or what others may call the army jacket.  It's a versatile topper that you can put on rotation all-year round. Plus, you can wear it with practically anything. What we like most about it, though, is its ability to polish and infuse a touch of coolness into an outfit.
Now, if you don't know how to style your utility jacket this season, just look to Jessica Alba for ideas because the hot momma was spotted sporting one with multiple outfits while out and about in New York City recently. Of the many looks she put together, however, our favorite would have to be the one she wore on Wednesday when she went to Javits Center.
Jess wore her jacket with a studded black t-shirt and some cropped jeans. She finished the mix with a floppy hat, a classic cross-body bag, and a pair of studded, gold-detailed gladiator sandals. The look was laid-back chic and insanely cool. It was also Pinterest-worthy, so we thought it would be fun to share it with you today.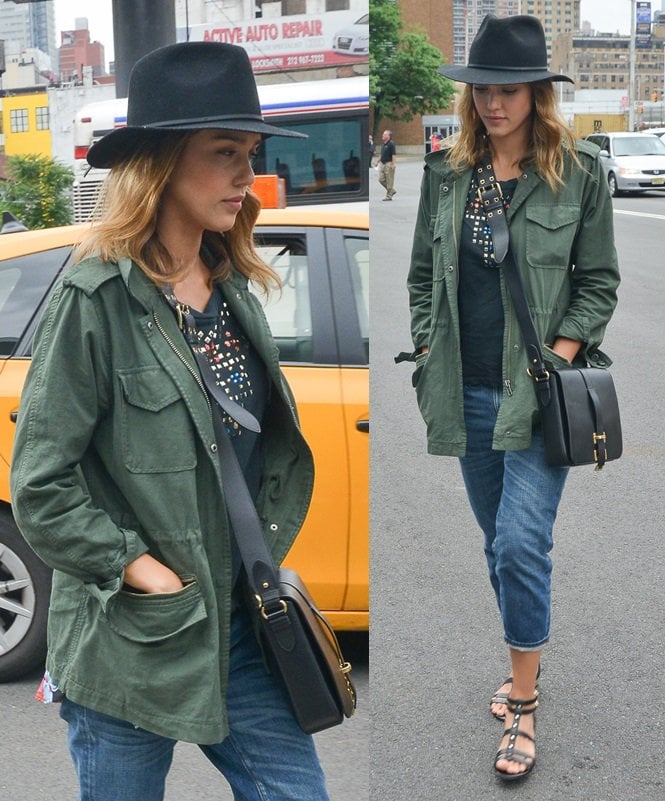 Jessica Alba heading to the Javitz Center in New York City on June 11, 2014
Jessica's sandals are the Louise et Cie "Apolla" and are available at Amazon. They feature gold studs at the t-bars as well as very low gold-painted heels.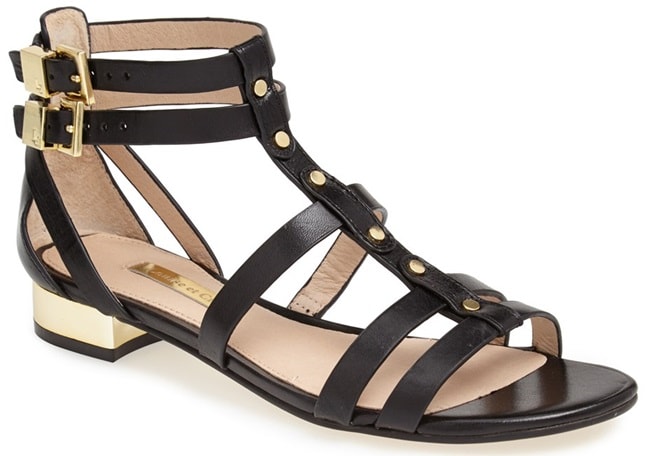 Louise et Cie "Apolla" Gladiator Sandals, $118
Do you know what's so great about the actress' whole attire? Anyone, even a stylish 60-year-old nana, can pull it off. You can also steal the look for a lot less. No need to spend a whole lot of cash to actually achieve such chicness because everything you need to recreate the getup can be found in your closet.
If you don't have the Apolla gladiator sandals, try these shoes from Steve Madden, which are currently on sale at Amazon. The "Kelln" style features flexible gold-tone bands at the slender straps, as well as zip closures on the back for easy access.
Steve Madden "Kelln" Sandals, $40 (before: $80)
Here's something we put together using the 'Kelln' sandals. You will certainly look chic in this fool-proof getup. Also, this mix won't cost you more than $250, so it's all good.
1. Topshop Rufus Shackett Army Jacket, $84 / 2. BP Braid-Detail Wool Hat, $20 / 3. Kensie Skull-Print Tee, $45 / 4. Vigoss New York Capri Jeans, $58 / 5. Steve Madden "Kelln" Sandals, $40 / 6. Fantas Gelato 53 mm Sunglasses, $12 / 7. Super Trader Studded Crossbody, $32
Jessica was spotted wearing the same jacket the next day as she left her hotel in New York. She went grunge with her look this time by mixing the piece with a denim shirt, a loose white tank, and slouchy printed pants. She punctuated the outfit with the same floppy hat and cross-body bag but replaced the sandals with a pair of chunky Dr. Martens boots.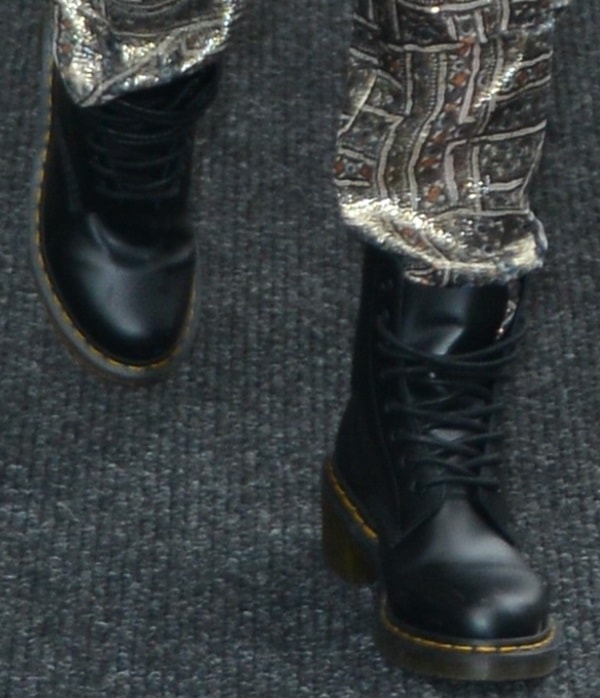 Jessica Alba leaving her hotel in Manhattan after a quick stay in New York City on June 12, 2014
Credit: TNYF/WENN