Renowned for his towering stature, alluring charm, and remarkable acting skills, Idris Elba is one of Hollywood's finest heartthrobs and People Magazine's Sexiest Man Alive in 2018.
He has left an indelible mark on the entertainment industry, from gracing the silver screen as Heimdall in the Marvel Cinematic Universe to bringing Detective John Luther to life in Luther: The Fallen Sun.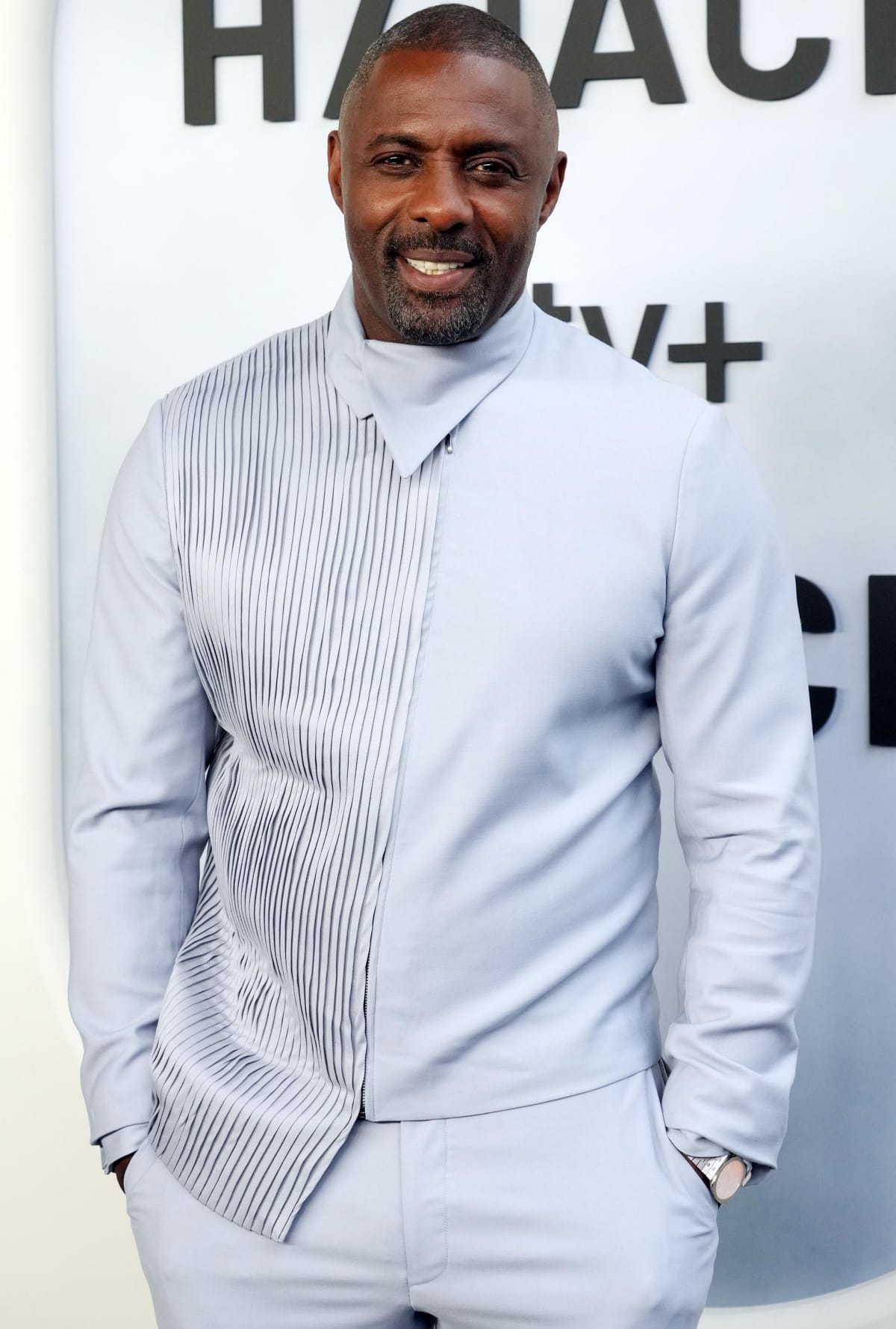 Idris Elba has left an indelible mark in the entertainment industry with scene-stealing roles and his alluring charm that made him one of Hollywood's finest heartthrobs (Credit: PA Images / INSTARimages)
Rumors have swirled that he might be the perfect candidate to don the tuxedo and carry the prestigious title of James Bond.
However, what sets Idris Elba apart isn't just his talent to portray a suave ladies' man on screen – it's his unwavering commitment to the love of his life, Sabrina Dhowre Elba.
Idris Elba: From DJ Big Driis to Hollywood Icon
Idris Elba, originally Idrissa Akuna Elba, is a multi-talented English actor and DJ whose journey to fame is as remarkable as his on-screen performances.
Born in the London Borough of Hackney, Idris' roots trace back to a Sierra Leonean Creole father, Winston Elba, who worked at Ford Dagenham, and a Ghanaian mother named Eve.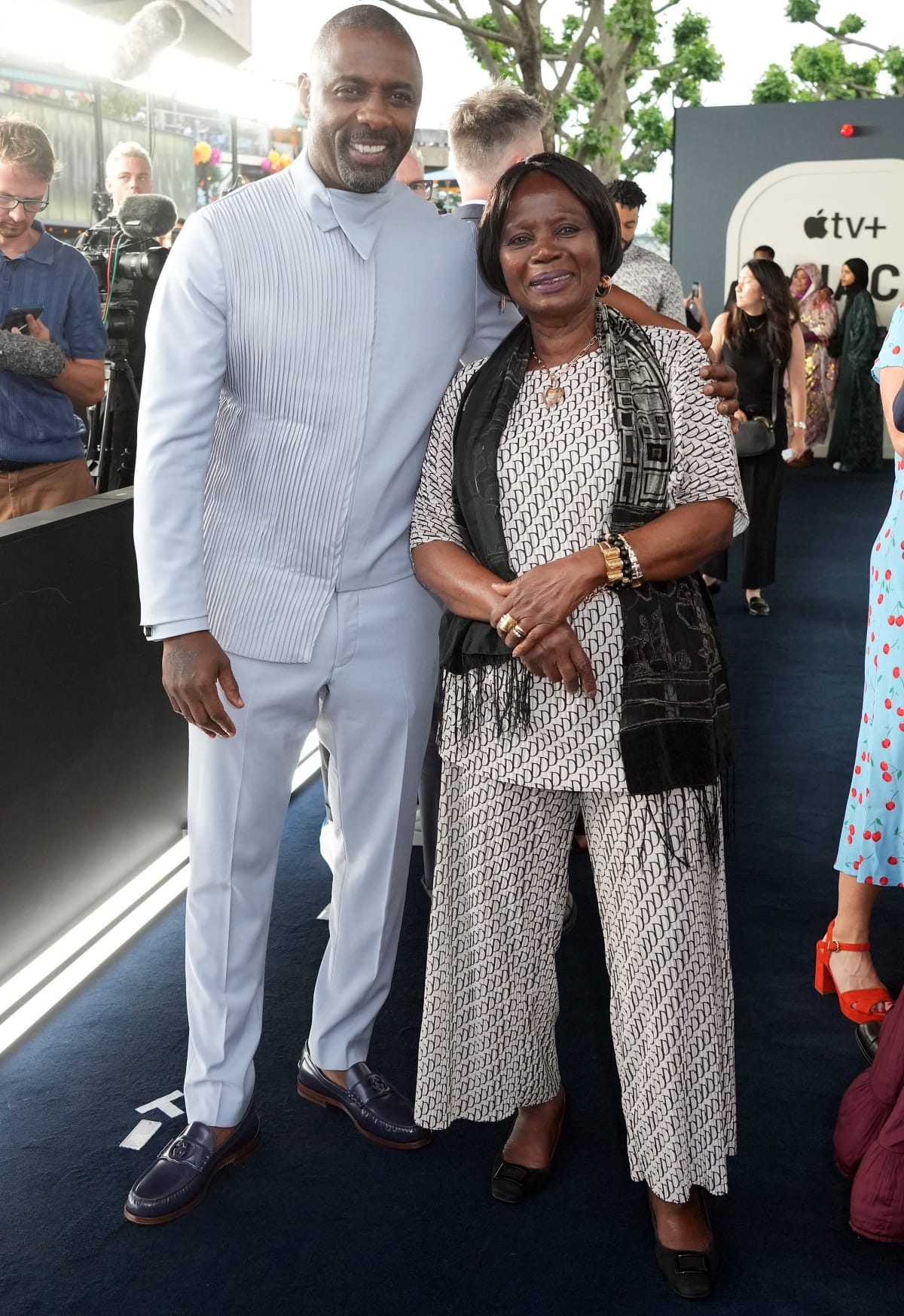 Idris Elba with his mother Eve Elba at the world premiere of Hijack held at BFI Southbank in London, England on June 27, 2023 (Credit: PA Images / INSTARimages)
Raised in Hackney and East Ham, the young Idris found his passion for acting during his school days in Canning Town. His first big break came when he auditioned for a play advertised in The Stage, a pivotal moment that led him to meet his first agent.
While exploring his love for music, he ventured into the DJ scene under the "Big Driis" moniker, which later became an essential part of his artistic identity.
Idris Elba ventured into the DJ scene with the moniker Big Driis (Credit: Seth Browarnik / Startraksphoto)
Although he briefly attended Barking and Dagenham College, Idris' passion for acting and music drove him to join the National Youth Music Theatre with the help of a grant from the Prince's Trust.
He pursued his dreams and took on various odd jobs, including tire-fitting and cold-calling, to sustain himself between acting roles.
Idris' acting prowess shone through as he portrayed compelling characters like Stringer Bell in HBO's The Wire and DCI John Luther in BBC One's Luther, a role that earned him numerous accolades, including a Golden Globe Award.
Idris Elba has portrayed some of the most compelling characters on television including his award-winning role as DCI John Luther in BBC One's Luther (Credit: Darla Khazei / INSTARimages)
His talent extended beyond the small screen, landing iconic roles in movies such as Mandela: Long Walk to Freedom, Prometheus, and The Suicide Squad.
Idris Elba's star continued to rise throughout his impressive career, with notable performances in Pacific Rim, Beasts of No Nation, and Molly's Game.
His versatility extended to voice acting in popular animated films like Zootopia, The Jungle Book, Finding Dory, and Sonic the Hedgehog 2.
Meet Sabrina Dhowre: The Woman Who Caught Idris Elba's Heart
Sabrina Dhowre Elba, born in Canada and of Somali descent, moved to Vancouver at 12. Her journey led her to pursue higher education at Howard University, where she obtained her Bachelor's degree in English in 2001.
She found her calling in modeling, gracing the pages of top magazines like British Vogue and Elle. Her beauty and charm earned her the title of "Ms. Vancouver" at a beauty pageant in 2014.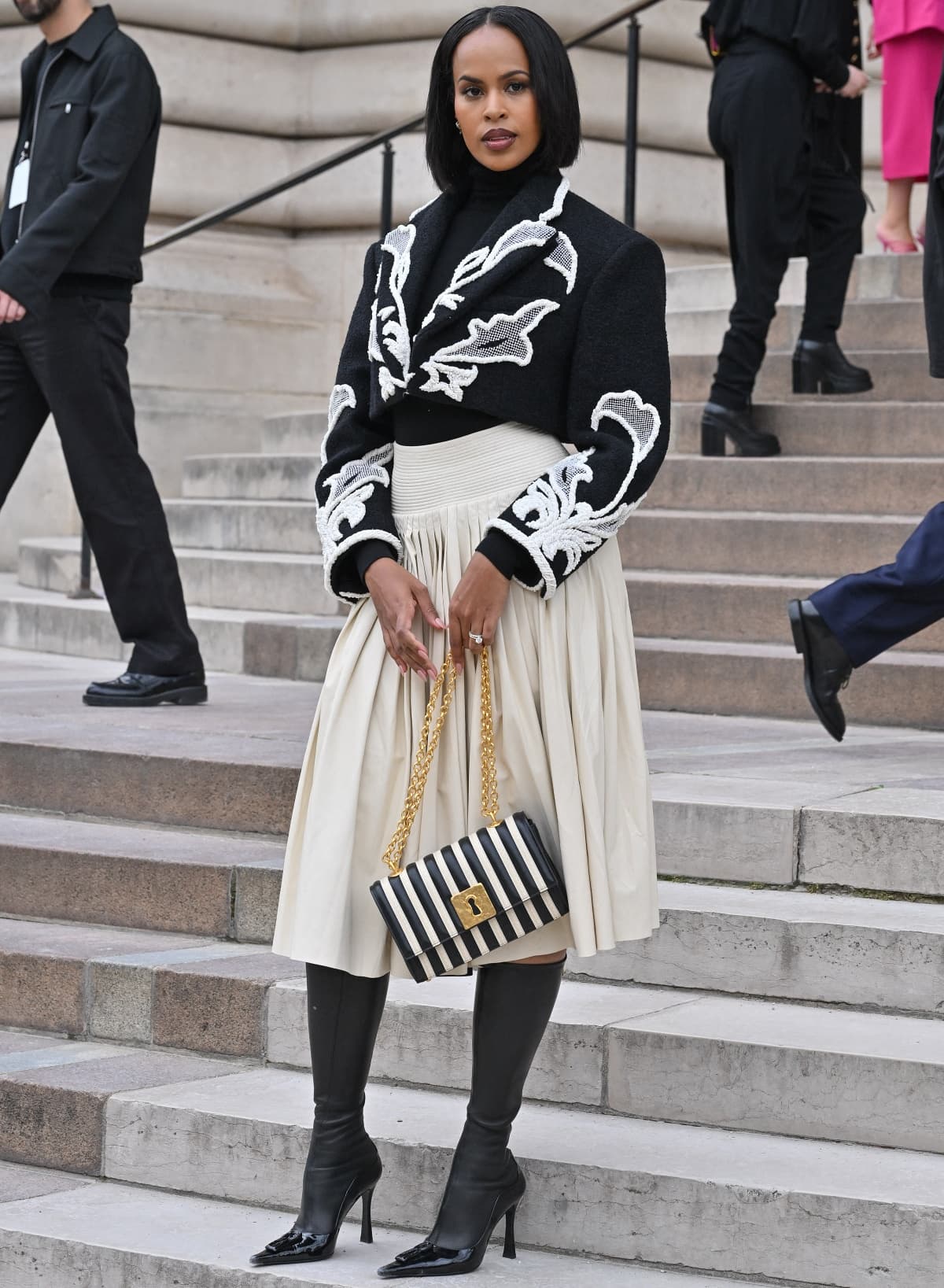 Sabrina Dhowre Elba started out as a model before winning the title of Ms. Vancouver at a 2014 beauty pageant and eventually becoming a goodwill ambassador for the United Nations (Credit: Abaca Press / INSTARimages)
Beyond her modeling career, Sabrina is a passionate advocate for positive change. In April 2020, she took on the United Nations goodwill ambassador role for the International Fund for Agricultural Development (IFAD).
Alongside her husband, Idris Elba, who is also a goodwill ambassador for the exact cause, she spearheaded a $40 million fund to support farmers and food producers in rural areas during the COVID-19 pandemic.
Beyond her work with IFAD, Sabrina is deeply committed to environmental issues. Collaborating with esteemed organizations such as Conservation International and Global Citizen, she advocates for preserving the environment and empowering rural areas.
How Did Idris Elba Meet Sabrina Dhowre?
Idris Elba's life took a fairytale turn one Sunday night in 2017 when he crossed paths with Sabrina Dhowre at a jazz bar in Vancouver, Canada.
He was in town filming The Mountain Between Us alongside Kate Winslet, and little did he know that this encounter would alter the course of his life forever.
The movie is centered around two people falling in love while surviving a plane crash, which strangely mirrors Idris' reality.
In an interview with PEOPLE in September 2017, he acknowledged the special connection between his career and personal life, stating, "Falling in love while making a movie about falling in love is pretty special."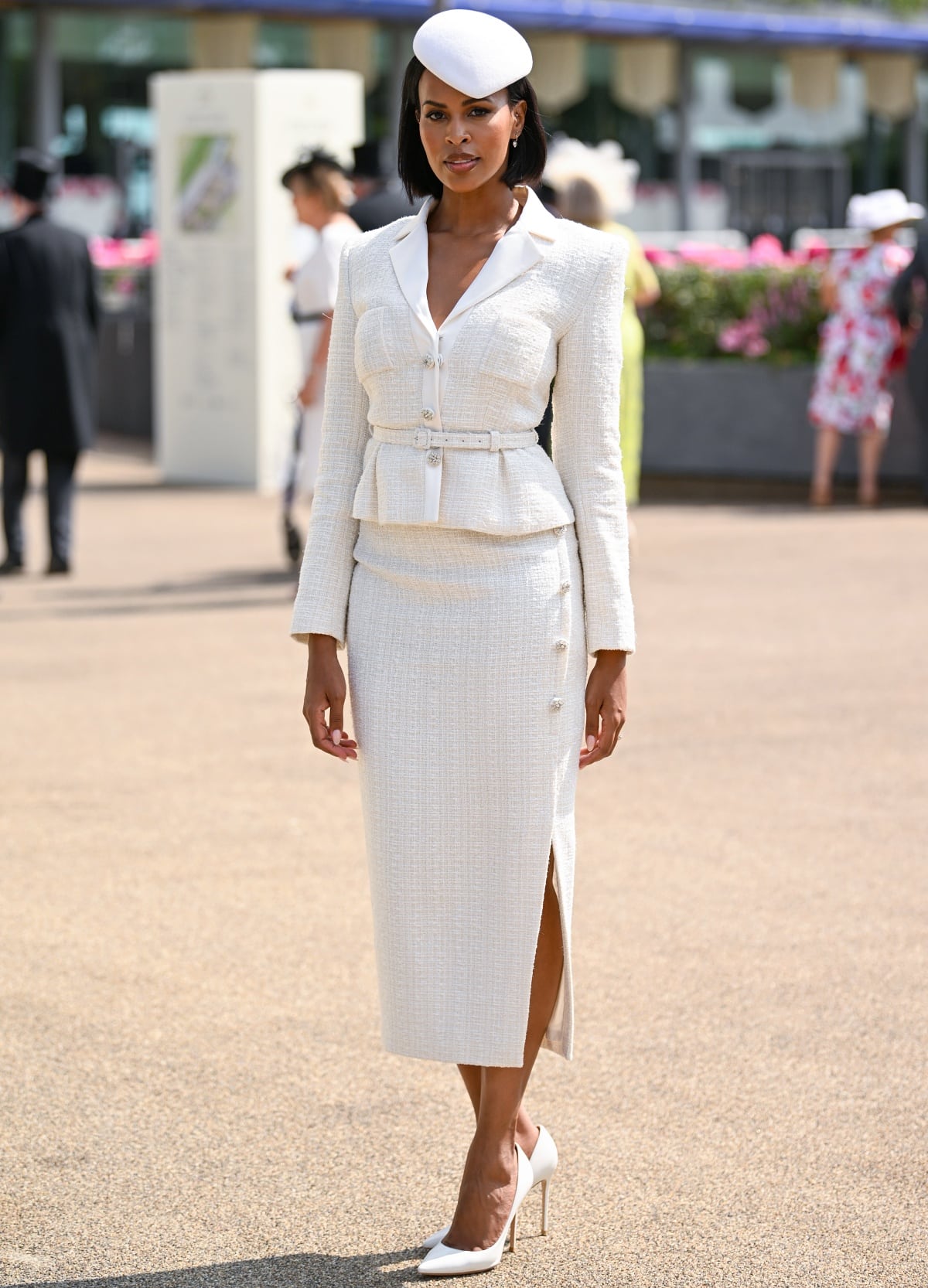 Idris Elba first laid eyes on Sabrina Dhowre at a jazz bar in Vancouver, Canada and admitted that he fell in love "at first sight" (Credit: PA Images / INSTARimages)
Idris first laid eyes on Sabrina at a party during the film's production, immediately drawn to her captivating presence.
"It was love at first sight," Idris candidly revealed during an appearance on The View. "I went out on my only day off, true story, it was a Sunday night, I went to this party and there she was. The rest is history."
Interestingly, Sabrina had initially approached Idris as a wing woman for her friend, not anticipating the romantic twist fate had in store.
"I'm like, 'Nope, excuse me, that's wrong! I'm trying to be a good friend,'" she amusingly recounted on the Just the Sip! Podcast in 2021.
Sabrina Dhowre Elba and Idris Elba made a stunning entrance together at the premiere of The Mountain Between Us during the 2017 Toronto International Film Festival in Toronto, Canada on September 9, 2017 (Credit: Sharon Latham / PA Images / INSTARimages)
However, their conversation was so enthralling that they "talked all night, all the next day. We were inseparable after that."
Their love blossomed, and soon, the couple made their first official public appearance together at the premiere of Molly's Game during the Toronto International Film Festival. Then, they graced the premiere of The Mountain Between Us, the movie that united them.
Idris Elba and Sabrina Dhowre's Age Gap and Height Difference
Idris Elba, born on September 6, 1972, is currently 50 years old. On the other hand, Sabrina Dhowre Elba was born in 1990, making her 33 years old.
When the two met in 2017, Idris was 45, while Sabrina was in her late 20s, precisely 27 years old, resulting in a 17-year age gap between the couple.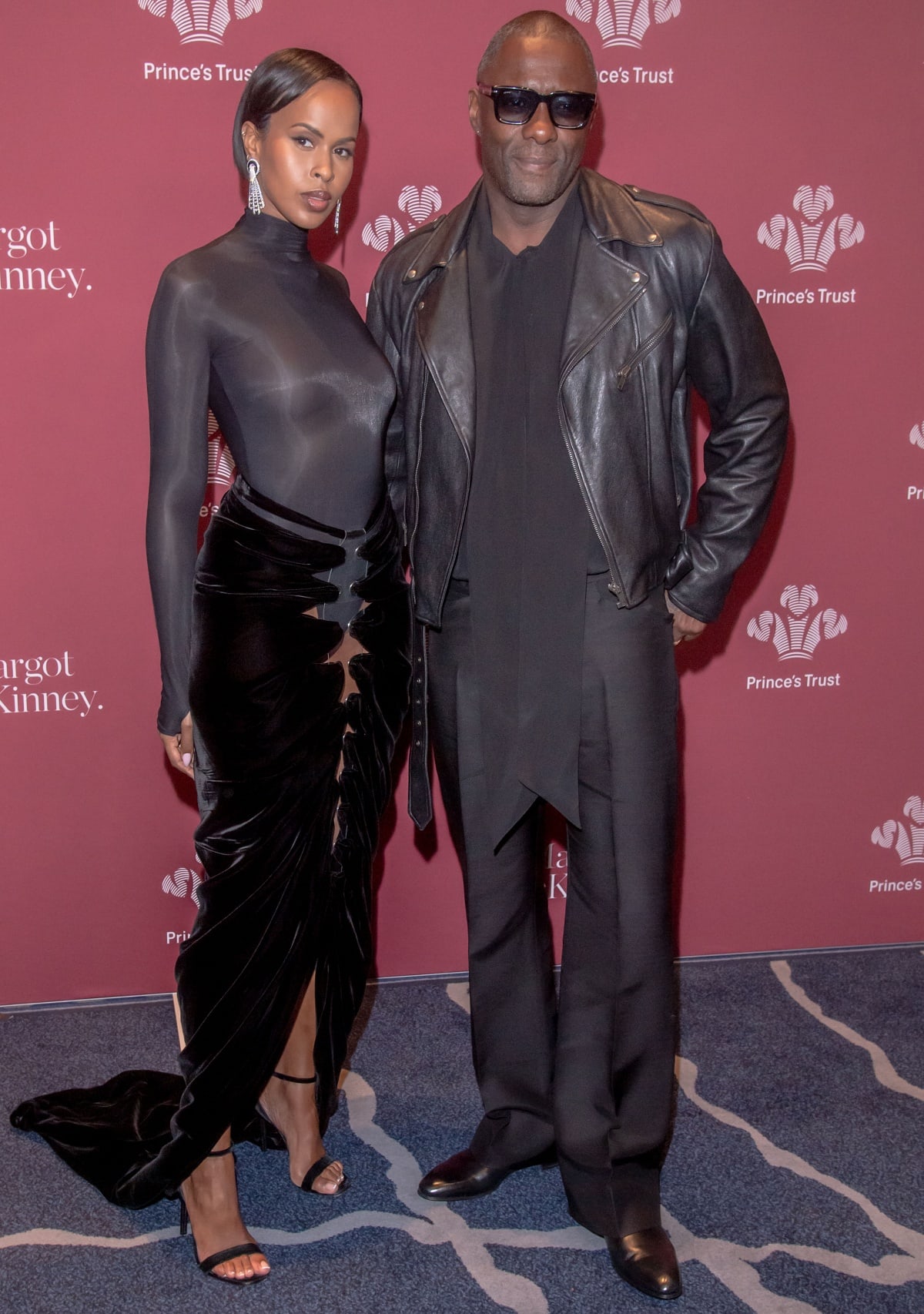 Sabrina Dhowre Elba and Idris Elba have a height difference of 7 ½ inches and an age gap of 17 years (Credit: TheNews2 / Cover Images)
Idris Elba's towering presence on-screen might lead one to believe he's exceptionally tall. However, he stands at 6 feet and 2 ½ inches (189.2 cm), which, while above average, might not be as towering as some perceive him to be.
The contrast in height when standing next to shorter actors often creates the illusion of him being even taller.
Interestingly, one person who matches up to Idris' height is his beautiful wife. Sabrina Dhowre stands at an impressive 5 feet and 7 inches (173 cm), making them a perfectly matched couple in stature with a 7 ½ inches height difference.
Idris and Sabrina's Journey to Forever
Idris Elba surprised the world on February 10, 2018, when he announced his engagement to Sabrina Dhowre. The proposal occurred at the Rio Cinema in London before a preview of his big-screen directorial debut Yardie.
Despite claiming he would never marry again, Idris couldn't resist the overwhelming feeling of love for Sabrina, making his heartfelt proposal a memorable and intimate moment.
View this post on Instagram
David Marsden, the managing director of Sainou Talent Agency, took to Instagram to share a heartwarming video of the proposal, writing, "When you turn up to the #Yardie screening with @sainoutalent clients @adnanmust & @akin.gazi and the director @idriselba steals the show with a #marriageproposal. #congratulations #love #marriage."
In an exclusive interview with PEOPLE in November 2018, Idris shared his excitement about the proposal, calling it "the most nerve-wracking thing for me ever," adding, "But in terms of wanting to make someone feel super special and feel my love, that was pretty romantic for me."
Initially, he intended to pop the question on Valentine's Day, but the spontaneous opportunity during the film screening felt right.
Idris explained, "I was at a cast and crew screening and among people I loved. We had all worked so hard on this project, so I was, like, I'm doing it right now, here, today."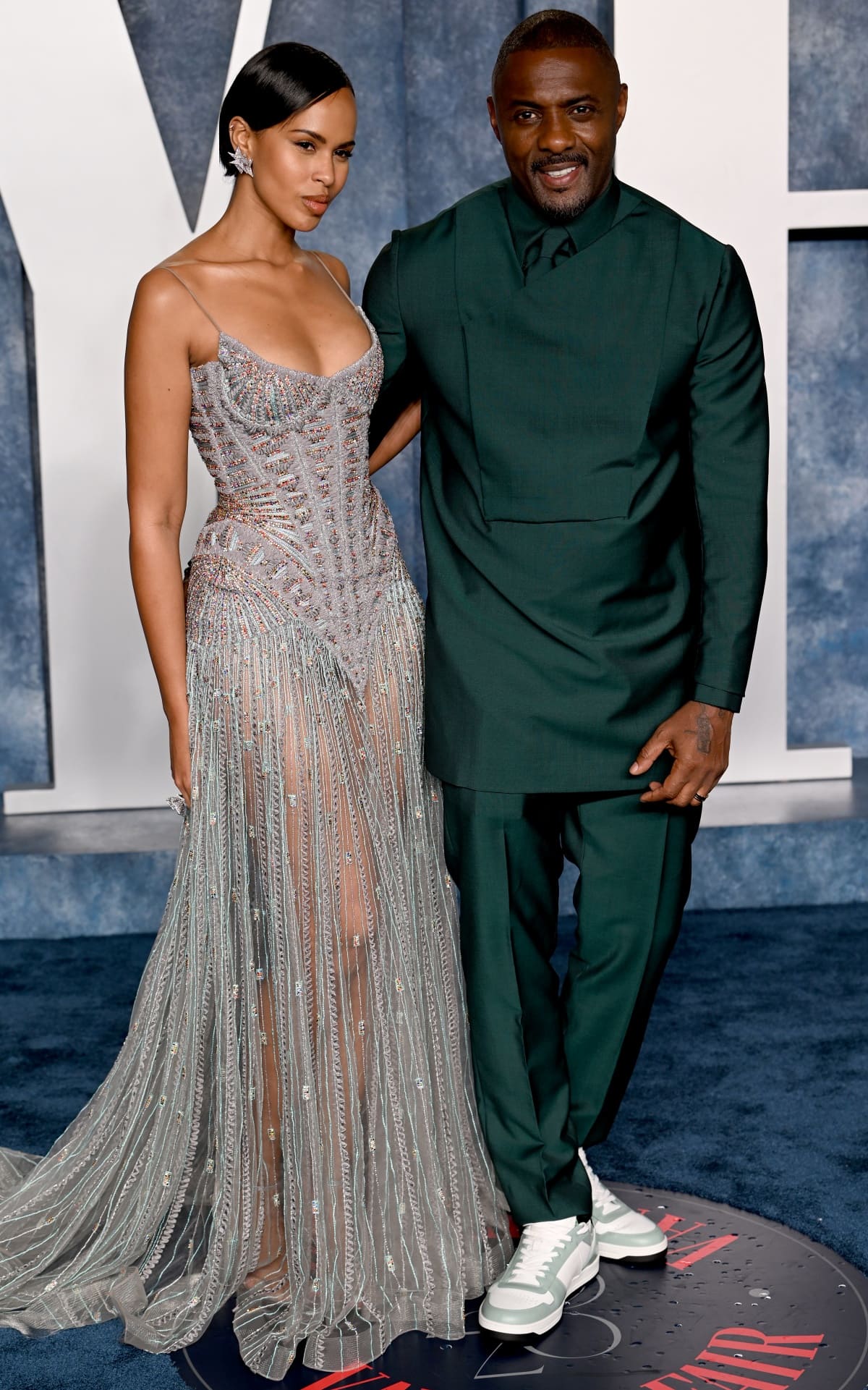 Idris Elba announced his engagement to Sabrina Dhowre on February 10, 2018 (Credit: PA Images / INSTARimages)
On April 26, 2019, the couple tied the knot in a grand and lavish Moroccan ceremony, celebrating their love and African heritage with Sabrina telling British Vogue, "My family is from East Africa and Idris' is from West Africa, so we thought it would be fun to meet somewhere in between."
During an interview on The View, Idris talked about how his previous stance on marriage changed, stating, "I have been married before and I famously said I wouldn't get married again. But I met someone that opened me up. I'm actually the happiest I've been in a long time."
Despite publicly stating that he no longer wanted to get married, Idris Elba proposed to Sabrina Dhowre, and the couple tied the knot on April 26, 2019 (Credit: Darla Khazei / INSTARimages)
The couple launched their Audible podcast, Coupledom, in June 2021, inviting dynamic duos to share the hidden wisdom of lifelong companionship.
In addition to providing relationship tips, Idris and Sabrina have ventured into skincare. They proudly co-founded S'ABLE Labs, a melanin-safe skincare brand offering products to help you achieve perfect skin.
Who Was Idris Elba Married To?
Sabrina Dhowre is Idris Elba's third wife, but his marital journey began years before his fame soared. His first marriage was to successful makeup artist Hanne "Kim" Nørgaard from 1999 to 2003.
Despite their divorce, Kim still uses Kim Elba, likely due to their shared daughter, Isan Elba. She has an impressive career, working with major production houses and renowned actors like Hugh Laurie and the late Robin Williams.
Idris' second marriage was brief, lasting only four months in 2006. After being introduced by a mutual friend, he eloped with real-estate lawyer Sonya Nicole Hamlin in Las Vegas.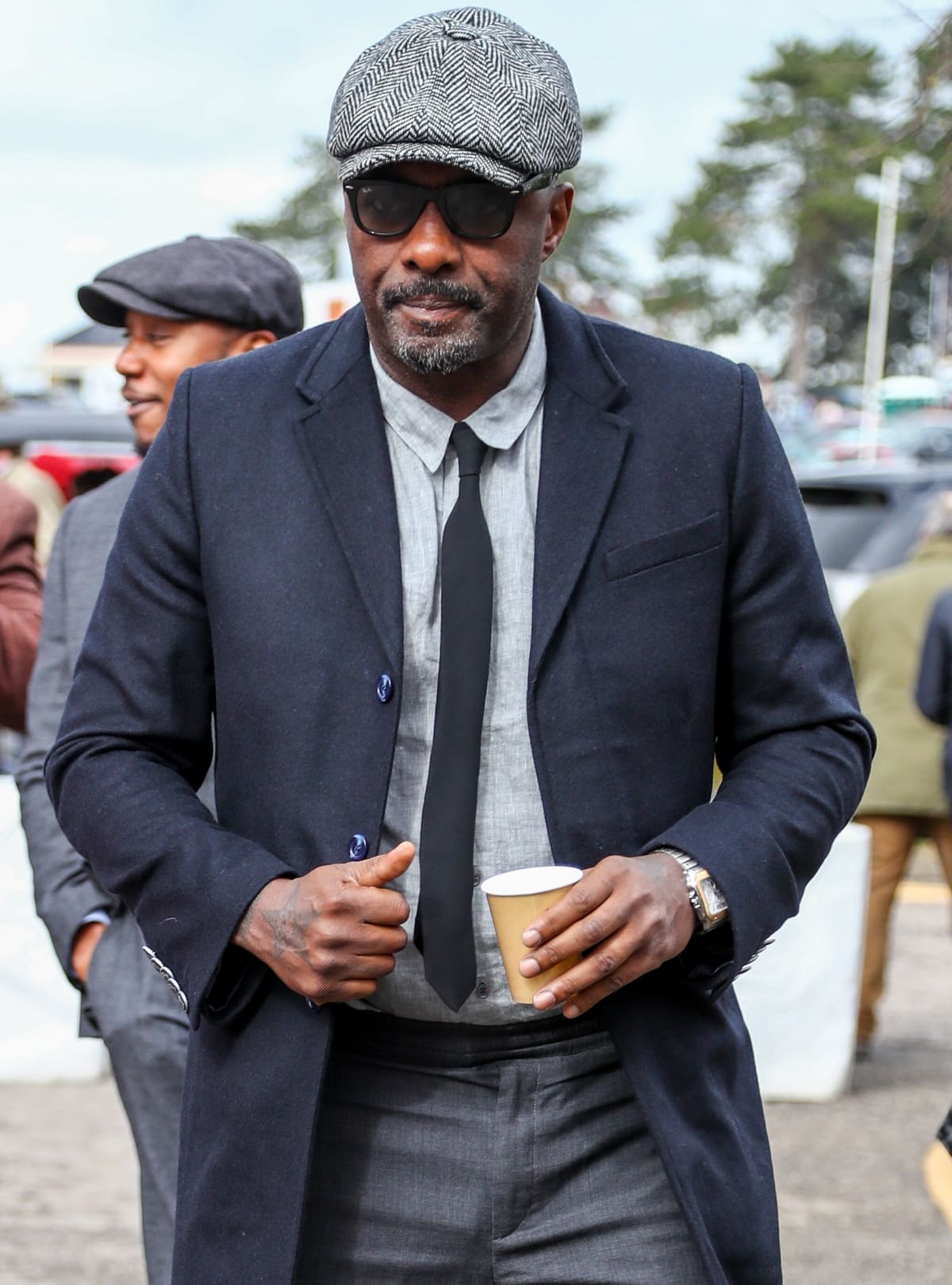 Idris Elba has been married twice before finally meeting the love of his life, Sabrina Dhowre (Credit: John Rainford / Cover Images)
The couple had hit it off, falling in love quickly, but their relationship faced challenges due to Idris' growing Hollywood career. They eventually decided to part ways, leaving Sonya heartbroken after their six-week marriage.
Following his second marriage, Idris had a long-term relationship with makeup artist Naiyana Garth from 2013 to 2016. They welcomed a son named Winston in April 2014.
Though the exact reason for their split remains unknown, rumors circulated about Idris' involvement with supermodel Naomi Campbell during that time.
Rumors circulated about Idris Elba's involvement with supermodel Naomi Campbell (Credit: James Warren / Photobeat Images / Startraksphoto)