Halle Berry is a very successful model and actress. When she was younger, she competed in beauty pageants and ended up winning Miss Ohio in 1986 and placed sixth in Miss World that same year. She was also the first African American to enter the Miss World competition.
Berry went from being homeless in New York to a well-known celebrity who has been in TV shows and movies including The Flintstones, X-Men, John Wick, The Call, Kingsman, and more.
Halle Berry wears an orange bikini as Bond girl Giacinta 'Jinx' Johnson in the 2002 blockbuster Die Another Day (Credit: MGM / WENN)
Her most recent movie Bruised was filmed in 2020 and is currently on Netflix – a movie she also directed as well as starred in.
Interestingly, Berry trained in mixed martial arts for three years and was, therefore, able to connect to the character in Bruised, who is an MMA fighter.
Halle Berry's Role in the James Bond movie
The now 55-year-old Berry is well-known for her role as "Jinx" in the 20th James Bond movie in the series, Die Another Day.
She was 35 years old when filming started on January 11, 2002, at Pinewood Studios. Celebrating her 36th birthday on August 14, 2002, she was 36 when the movie had its world premiere in November 2002.
The Bond movies always feature a lead woman, but Berry provided a different spin on the typical "Bond woman" by portraying a more self-reliant NSA agent who fends for herself.
While filming a love scene, Pierce Brosnan had to save Halle Berry from choking. "I was supposed to be all sexy, trying to seduce him with a fig. I end up choking on it and he had to get up and do the Heimlich. So not sexy," Berry said on The Tonight Show Starring Jimmy Fallon.
"James Bond knows how to Heimlich! He was there for me, he will always be one of my favorite people in the whole world."
Halle Berry as NSA agent Jinx Johnson and Pierce Brosnan as MI6 agent James Bond in the 2002 spy film Die Another Day (Credit: MGM / WENN)
There were other actresses whose names were in the running to play "Jinx," but Berry ultimately performed above and beyond in the role.
In an interview with Vanity Fair, Berry stated, "I was really excited about Bond because that's a franchise that's iconic. It's a part of film history, really, so to be a part of that franchise was very meaningful to me. And this version of a Bond woman was very different than any Bond woman I had seen before."
"When Barbara Broccoli came to me with the role, she explained that I would get to be a different kind – a new kind – of Bond girl. Which would allow me to be more active and sort of be… working alongside Bond in a new way, and that really excited me…But also it excited me too to reimagine that great Ursula Anders scene that was so iconic… in a new way and pay homage to who she was and what this series was really all about," she said about the new perspective on the Bond girl.
The Bond producers wanted Berry to star in her own spin-off film, which would have been the first spin-off of the franchise, but it was turned down because of its estimated budget of $80 million.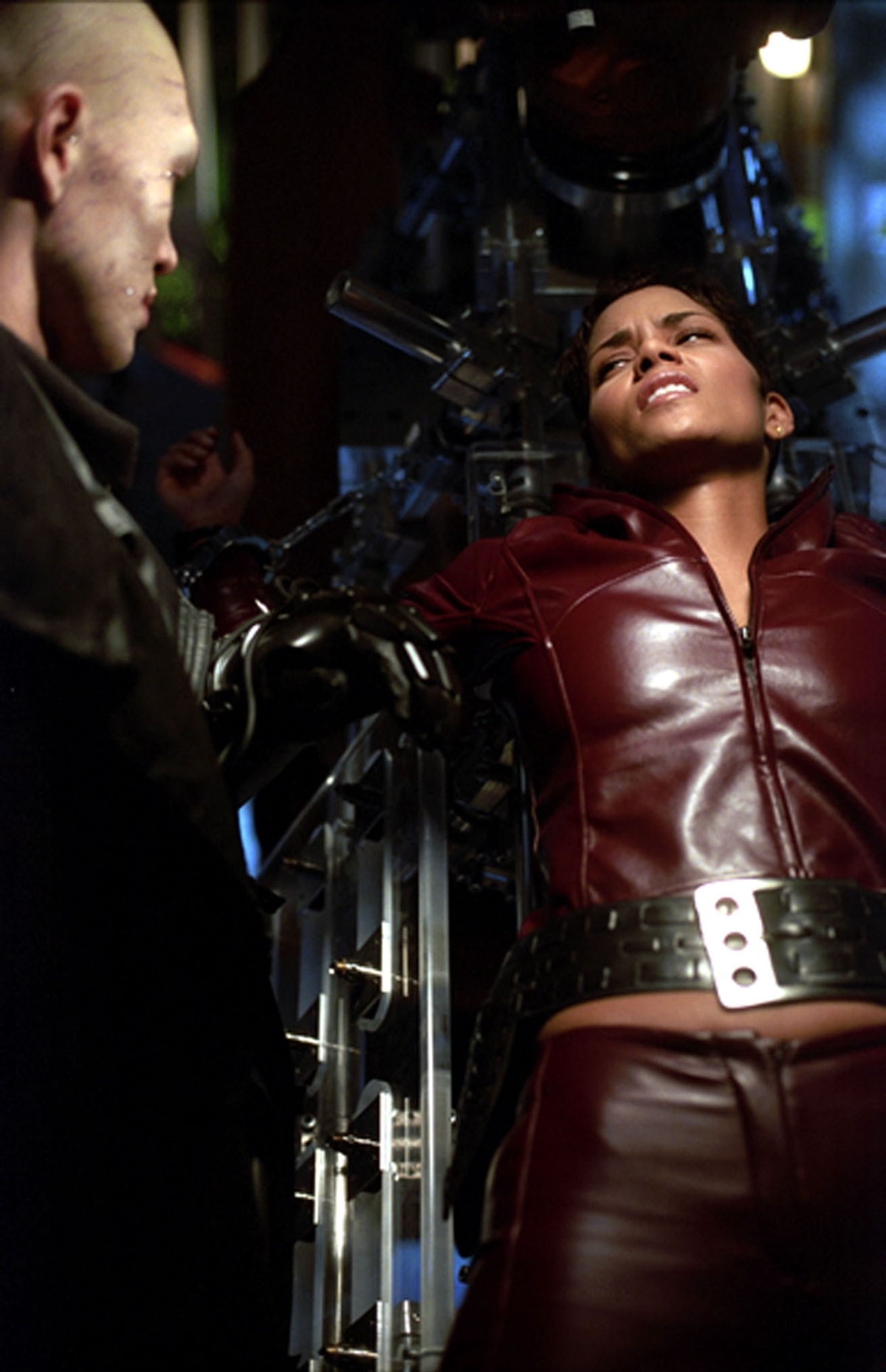 Rick Yune as terrorist Tang Ling Zao and Halle Berry as Jinx in the twentieth film in the James Bond series (Credit: MGM / WENN)
Berry claims that although there were other female-led movies at the time they were thinking of doing the spin-off, the studio was still hesitant to cast a black woman as a lead.
In an interview with Vogue, she revealed details about the iconic bikini moment. Her unforgettable orange bikini was carefully chosen for the beach scene.
"We tried on so many bathing suits," she said about the beach scene filmed in Cadiz, a city and port in southwestern Spain. "So many bikinis and so many belts."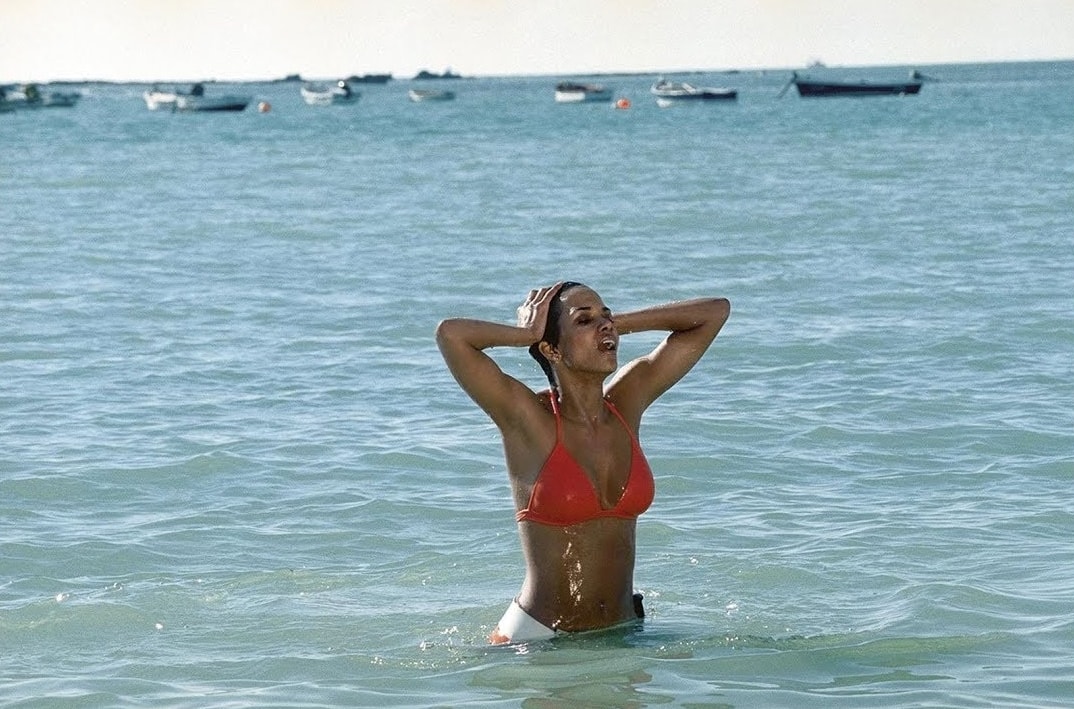 Halle Berry wears an orange bikini with a white belt in the 2002 James Bond film "Die Another Day" (Credit: MGM / YouTube)
"We had a knowing that it would maybe, because it was in a Bond movie, become an iconic situation … something that would live a very, very long time," Berry added.
"The biggest acting challenge I had was to make it look like the water was warm and I was having a grand old time when I was freezing my butt off," she laughed.
Halle Berry's Awards
Berry has won a lot of awards throughout her career as an actress. Becoming the first African-American woman, she won an Academy Award for "Best Actress" in the movie Monster's Ball.
Actress Halle Berry arrives at the "Die Another Day" world premiere held at the Royal Albert Hall on November 18, 2002, in London (Credit: WENN)
Even though she won the award, she only made $600,000 from her role in the 2001 American drama film, which is low considering her income from Die Another Day was $4 million.
She also won a Primetime Emmy Award and a Golden Globe Award for her performance as singer Dorothy Dandridge in the 1999 American biographical drama television film Introducing Dorothy Dandridge.
A silk wrap dress, designed by Lindy Hemming, worn by Halle Berry as Jinx in Die Another Day was auctioned by Christie's in 2012 at the 50th anniversary of the release of Dr. No, the first film in the James Bond series (Credit: Daniel Deme / WENN)
In addition to the plethora of awards she's won, she's also been nominated for numerous other TV and movie-related awards.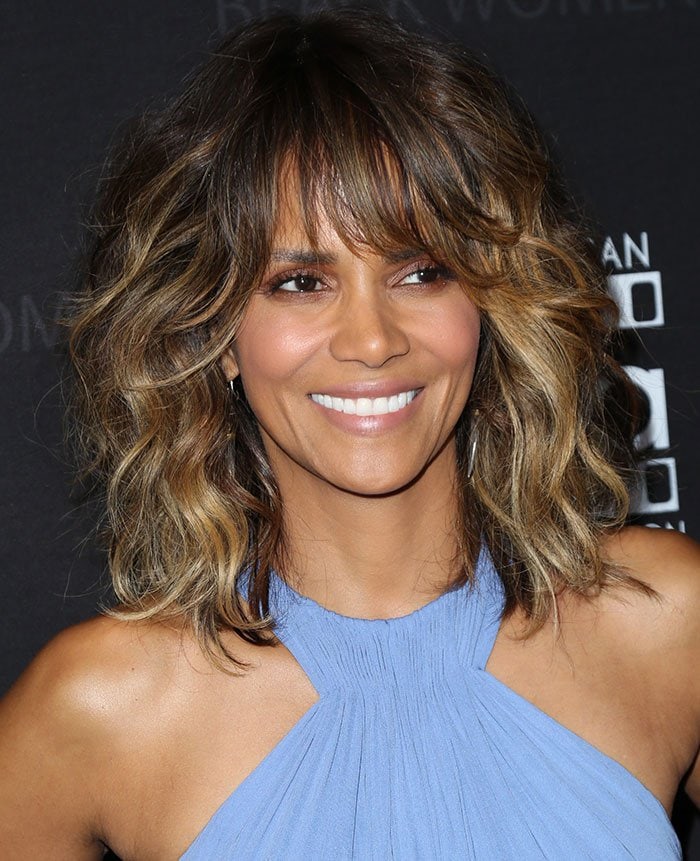 Halle Berry curls her hair for the Black Women of Bond Tribute held on November 3, 2015, at the California African American Museum in Los Angeles (Credit: Guillermo Proano / WENN)
In November 2015, Halle Berry, who played Bond girl Jinx opposite Pierce Brosnan in "Die Another Day," was on hand at the Black Women of Bond Tribute held at the California African American Museum in Los Angeles.
The celebration — presented by Sony Pictures, Essence magazine, and the African American Film Critics Association — honored black actresses who have starred in the James Bond movie franchise.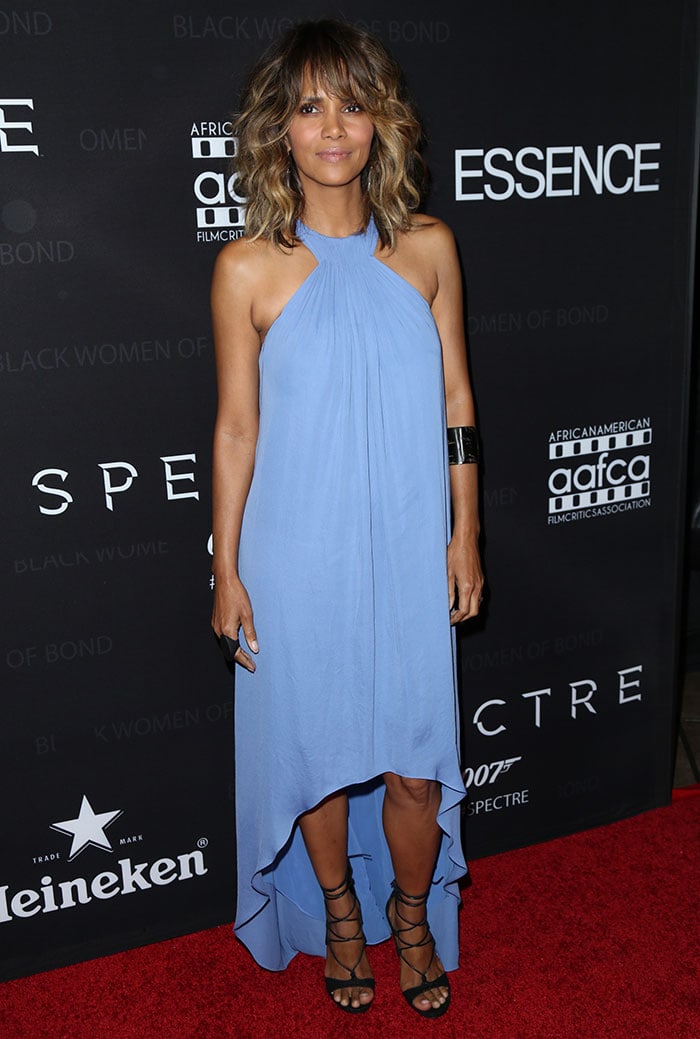 Halle Berry wears a blue Halston Heritage halter dress on the red carpet of the Black Women of Bond Tribute (Credit: Guillermo Proano / WENN)
Naomie Harris, who portrayed Eve Moneypenny in the James Bond films Skyfall (2012), Spectre (2015), and No Time to Die (2021), joined Halle on the red carpet.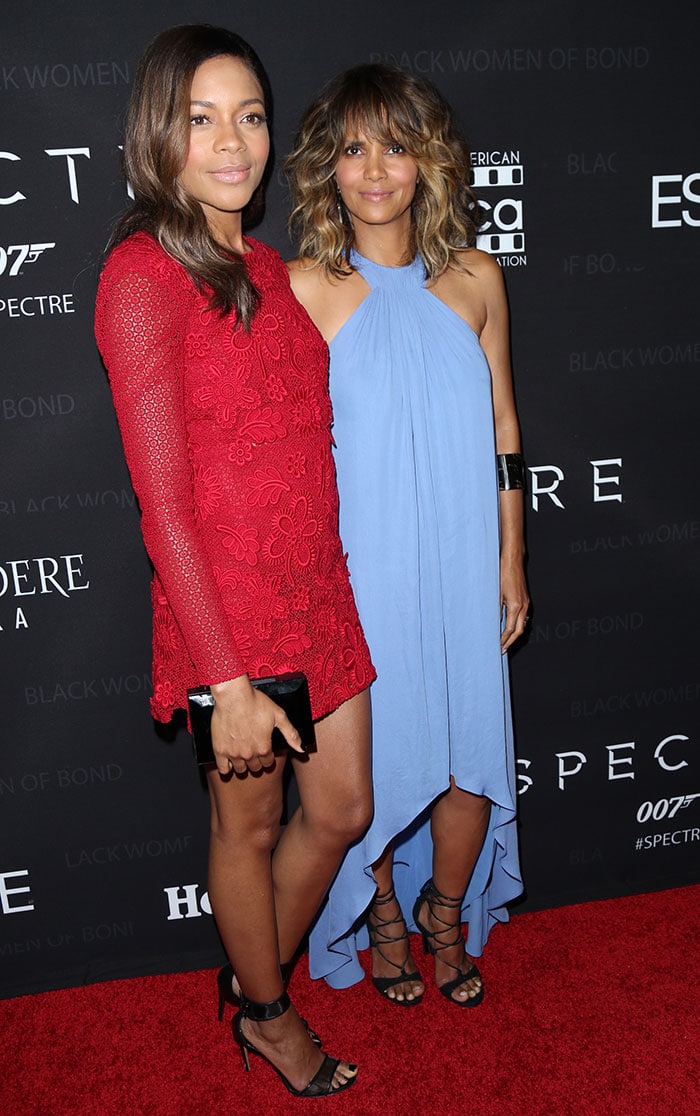 Naomie Harris and Halle Berry pose for photos together (Credit: Guillermo Proano / WENN)
The Los Angeles event was Halle's first red carpet appearance since she filed for divorce from her husband of two years, Olivier Martinez.
The then 49-year-old actress appeared to be in good spirits as she struck a pose in a blue Halston Heritage halter dress with an asymmetrical hi-low hem.
Halle Berry shows off her shoulders in a loose-fitting Halston Heritage dress (Credit: Guillermo Proano / WENN)
The actress accessorized with Ashley Pittman and Eva Fehren jewelry and completed her ensemble with a pair of strappy Stuart Weitzman heels.
She styled her hair in tousled waves and kept her makeup sultry with bronzed smoky eye shadow and nude pink lipstick.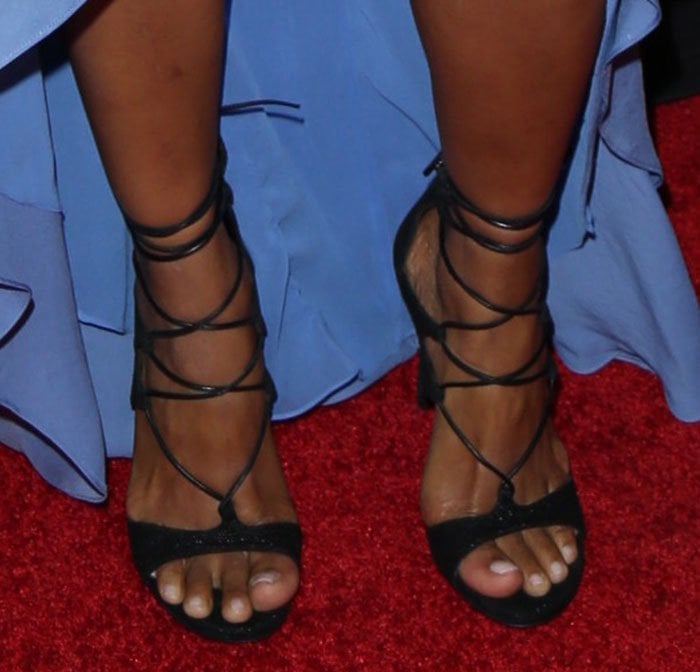 Halle Berry displays her feet in black Stuart Weitzman sandals (Credit: Guillermo Proano / WENN)
Halle's Stuart Weitzman "Legwrap" sandals have been previously spotted on Bella Thorne, Rita Ora, Sandra Bullock, Emma Roberts, Elizabeth Banks, and Hanna Davis.
You can get them in different versions at Nordstrom, Farfetch, and Shopbop.
Stuart Weitzman Legwrap Sandals, $498