The Coronavirus Pandemic brought unexpected changes to many people's lives, and Jessica Alba was no different. The wealthy actress was confronted with the stark reality that her "number 1 baby" was no longer a baby.
The first child of Jessica Alba and her husband Cash Warren, a baby girl named Honor Marie, was born at the Cedars-Sinai Medical Center in Los Angeles on June 7, 2008 (Credit: WENN)
"I was having a girls' night and one of my friends said, 'If I ever had a girl – but I'm not having any more kids – I would name her Honor.' I said, 'That's a great name for a boy or a girl'. And Marie is my middle name," Alba said in an interview about naming her first child.
"I was always irritated that my name was Jessica," Alba told OK! magazine about her own name. "Come on, it's a very '80s name because there were tons of Jessicas in every school I went to. There's something great about having a unique name. It's a part of your identity."
Jessica Alba plays with her daughter Honor Marie at Coldwater Park in Beverly Hills on September 1, 2009 (Credit: WENN)
The Never Been Kissed actress realized the height difference when a close friend pointed out that her eldest daughter, Honor, was now taller than her. Jessica measures 5ft 7ins, and Honor is now a few inches taller than her at 13. The shock of the realization that Honor was taller caused a teary reaction.
Jessica said in an interview that her height is one of her biggest insecurities. She said, "[My worst feature is] My height. I'm 5ft 7ins, but I'd love to be tall and skinny like Gwyneth Paltrow."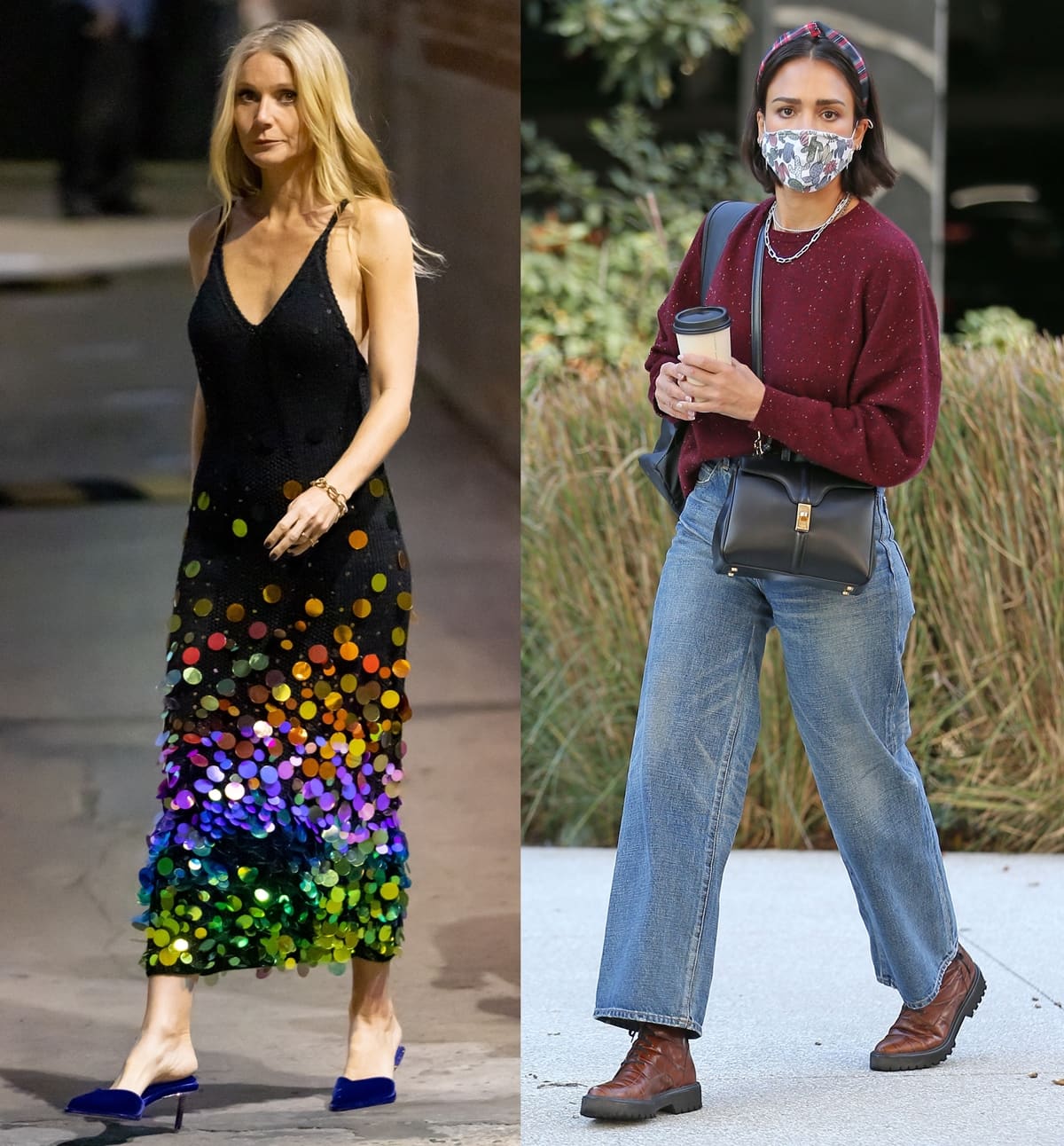 Jessica Alba is insecure about her height and would like to be "tall and skinny" like Gwyneth Paltrow (Credit: MEGA / WENN)
Girls typically reach their full height at 14 or 15 years, and Honor is fast heading towards a tall height, surpassing her mother. Jessica has three children with her husband, Cash Warren, whom she married in 2008 when she was heavily pregnant with Honor. Honor is now 13 and has outgrown her shorter mother.
Jessica shared the candid moment she realized that her daughter was "all grown up" in an emotional Instagram post with the caption: "The moment you realize your number 1 baby is taller than you."
View this post on Instagram
A friend took a picture of her and Honor and pointed out that Honor was taller than her. Confronted with the reality, Jessica shared a teary-eyed picture of her hugging Honor and a second photo of the pair back to back, showing an inch or two height difference. Honor is growing up!
Jessica and Cash share three children: Honor, 13, daughter Haven, 10, and son Hayes, three years old. Jessica recently said that being a parent had taught her "leaps and bounds how to just evolve and try to be a more thoughtful, active, conscious person."
Amongst the busy bustle of being parents, the couple makes sure to carve out some time for each other. When they welcomed their second child, they realized the importance of making time for themselves and each other. The family is very tight-knit and quarantined together in their $10 million family home in Los Angeles.
View this post on Instagram
Jessica and Cash spontaneously got married at a Beverly Hills courthouse in 2008, and Honor was born a month later. After Honor's birth, she was inspired to start her wellness brand, The Honest Company.
After giving birth to Honor, she grew frustrated that there were no affordable baby products that she felt comfortable using on her daughter.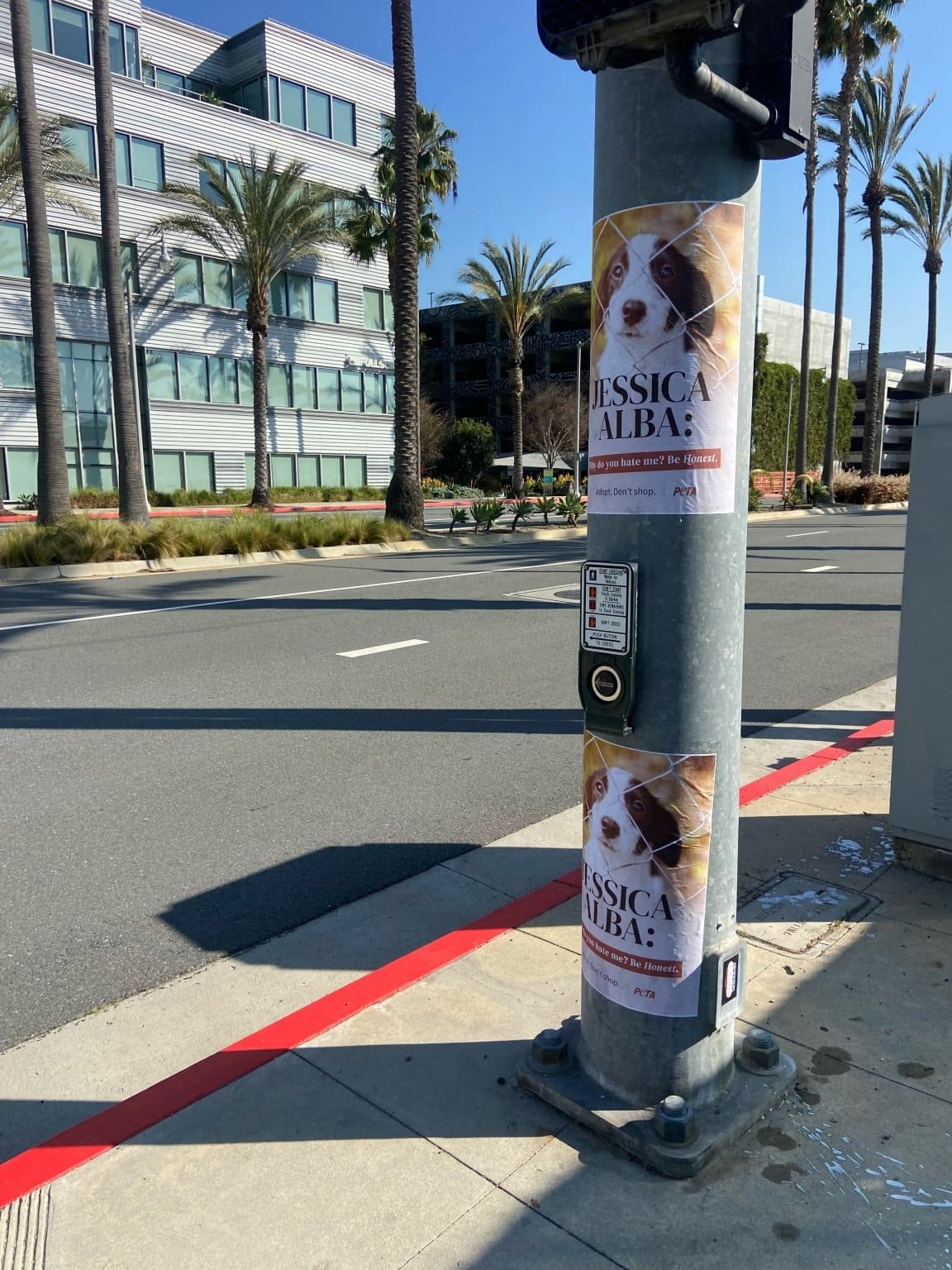 In January 2022, PETA (People for the Ethical Treatment of Animals) attacked Jessica Alba by plastering her Beverly Hills neighborhood in Los Angeles with posters blasting her decision to purchase two dogs instead of adopting (Credit: WENN / MEGA)
She was influenced to start a company that offers trustworthy and non-toxic products to fill the gap in the market. In a 2018 Instyle interview, Jessica said, "I feel like my purpose in life was to create Honest, and everything led me to that."
Jessica Alba is like any other parent confronted with the reality that their child is growing up: tearful and joyful at the same time. Hopefully, she continues to share her candid moments on social media!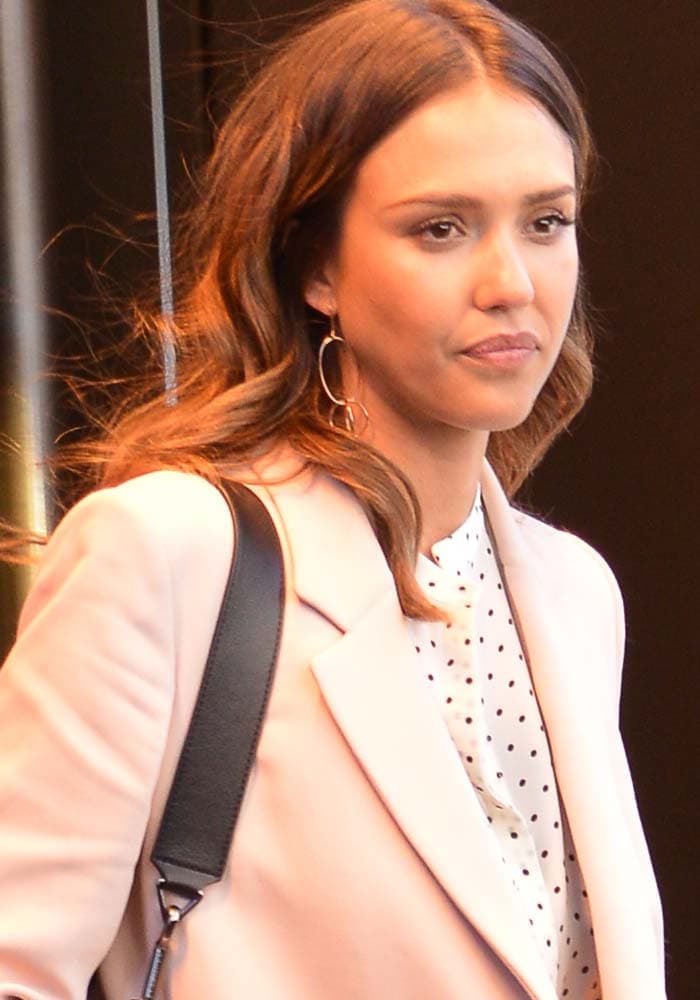 Jessica Alba wears her hair down as she leaves her New York hotel on March 29, 2016 (Credit: TNYF / WENN)
What lawsuits? Even though she was in the middle of court drama over some of her The Honest Company products, Jessica Alba did not seem concerned at all.
In March 2016, the actress-turned-entrepreneur flew into New York to work on her denim collaboration with DL1961 Premium Denim. She seemed unfazed by the company chaos.
The Fantastic Four: Rise of the Silver Surfer actress was spotted leaving her Trump Soho hotel in New York to start her workday with New York-based denim brand DL1961.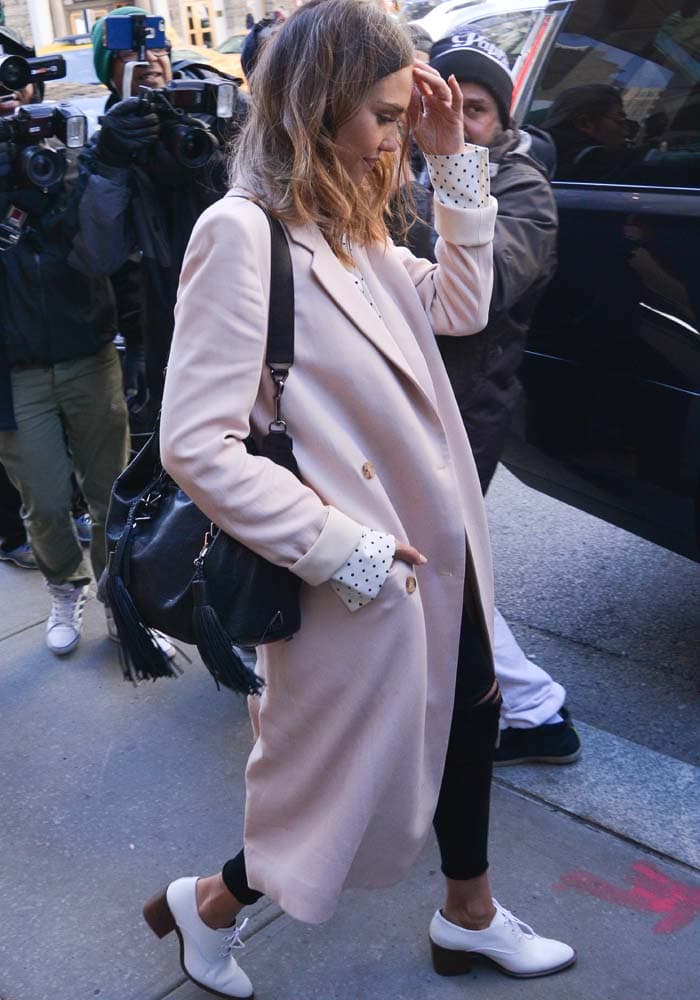 Jessica Alba wears DL1961 jeans and a blush pink Brock Collection coat (Credit: TNYF / WENN)
Jessica wore a polka dot shirt by Bassike and DL1961 jeans (of course) underneath a blush pink coat by Brock Collection.
The then 34-year-old got ready for a busy day with an equally busy-looking bag from Rebecca Minkoff. Jessica finished her look with a pair of white stack-heeled brogues.
Jessica Alba wears white stack-heeled brogues out in New York (Credit: TNYF / WENN)
Jessica also talked about her plans for her 35th birthday. She turned 35 on April 28, 2016.
Those plans? A girl's night out and an at-home game night. The entrepreneur mentioned that she was in a much better place at 35 than she was at 25, opening up about a three-year crisis that she went through in her 20s.
"I have to say I like me better at 35 than at 25," she revealed in an interview with E! News' Zanna Roberts Rassi.
"I definitely went through a crisis at 25, 26, 27. I don't know, it was like a 3-year crisis. Then I had Honor at 28, and I felt like everything just kind of fell into place and made sense. I feel really good now, and I'm excited about turning 35."
You can order white brogues similar to Jessica's at Zappos and Farfetch.
Dieppa Restrepo "Franke" Leather Brogues, £240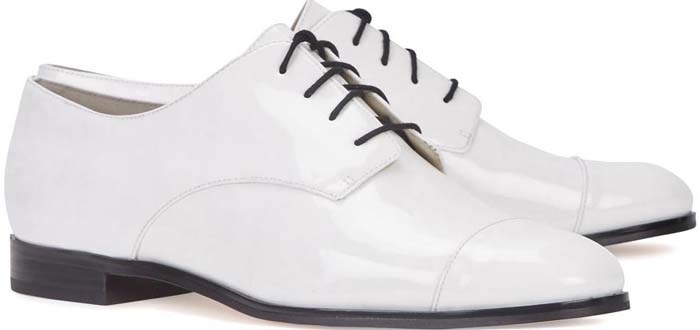 Michael Kors "Pierce" White Patent Leather Oxford Shoes, $230
Dieppa Restrepo "Luca" Textured Leather Lace-ups, $270