American singer-songwriter Joy Villa, who previously made headlines with a pro-Trump "Make America Great Again" dress and an anti-abortion dress, arrived on the 2020 Grammys red carpet in a white overcoat featuring blue and white star detailing.
Joy Villa arrives on the red carpet at the 2020 Grammy Awards at the Staples Center in Los Angeles on January 26, 2020
Accessorizing with a huge red feather in her hair, she toted a black crystal-embellished clutch bedazzled with the GOP elephant.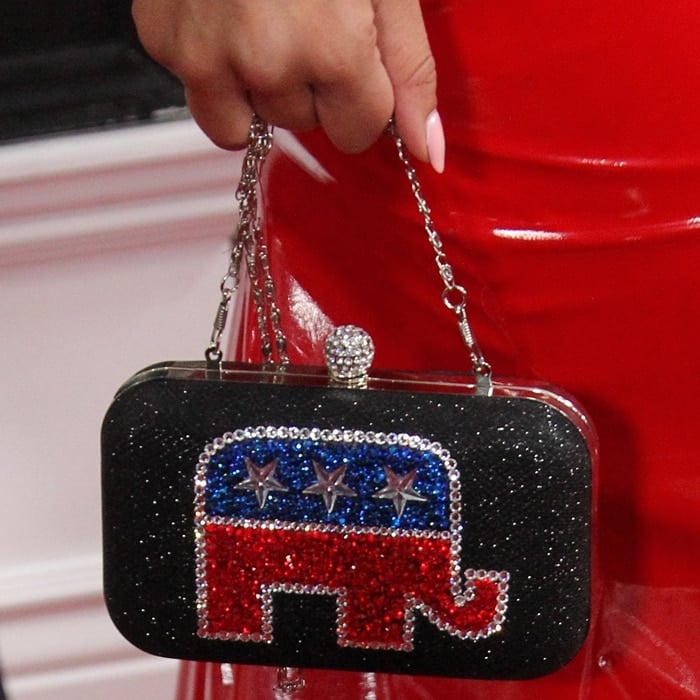 Joy Villa's black clutch bedazzled with the Republican Party's elephant
On the red carpet, she removed her coat to reveal a skin-tight red halter dress with "TRUMP 2020" written in white lettering down the front.
Joy Villa's supports Donald Trump's re-election with a red "Trump 2020" dress
The backside of her dress was also embellished with "IMPEACHED" down the center and "RE-ELECTED" horizontally along the bottom.
The designer of her gown, Desi Allinger of Desi Designs, told The Hollywood Reporter that the dress is inspired by a deceased British fashion designer: "The collar of Joy's latex dress was inspired by a neckline on a dress by Alexander McQueen, and the coat is inspired by our first lady [Melania Trump] — I just picture her in this. So yeah, USA!"
"I feel like Miss America in this; it's all couture," Villa shared before the awards show and added that she considers the impeachment a sham. "He's going to be the first president in history to be impeached and re-elected."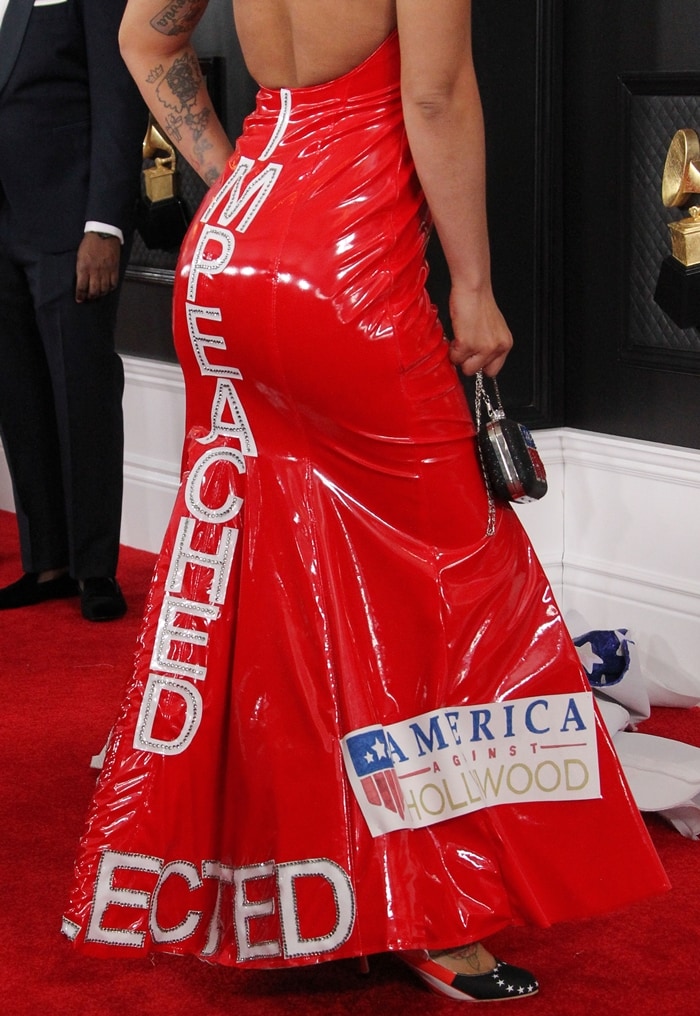 The backside of Joy Villa's skintight dress with "IMPEACHED" written down the center and "RE-ELECTED" horizontally along the bottom
Credit: Adriana M. Barraza / WENN