It looks like Rita Ora has decided to follow in Chrissy Teigen's footsteps and test Instagram's nipple censorship policy as well.
Rita Ora attends the Sony Music Productions Summer Party held July 14, 2015 at the Ivy restaurant in Chelsea, London
The 24-year-old recently uploaded a photo of herself with an innocent caption that read "dress up. Favourite thing to do ever!"
Rita's photo somehow strategically covered her lady parts just enough that it passed through Instagram's nipple ban.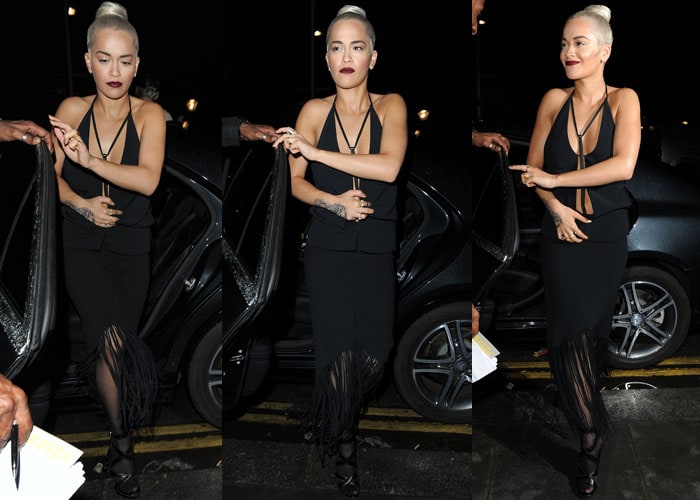 Rita Ora steps out of a black car in an all-black outfit
Rita was spotted in the Sony VIP Summer Party shortly afterward, this time a bit more covered up, baring only her sideboob.
Rita Ora shows off the detail on her chunky black shoes
Rita wore a skirt from the Tom Ford Fall/Winter 2015 collection, along with a keyhole top and a pair of black patent ankle wrap heels with a cute ring detail below the sole.
Even though the rest of her outfit is Tom Ford, we have not been able to confirm whether her shoes are from the same brand.
Rita Ora strategically holds her top in place as she shifts around inside a black car
Rita Ora bares a ton of sideboob and a hint of a ribcage tattoo in an all-black Tom Ford outfit
Fashion Files: Rita Ora took to her Instagram to thank Tom Ford for her outfit as well as to upload a photo of her in couture without her undergarments
We'll let you know once we find out whether Rita's shoes are a newly-released Tom Ford design. If you can help us ID them, leave us a comment.
For now, here are some patent beauties to wrap your feet in.
Barneys New York Crisscross Ankle-Strap Sandal, $450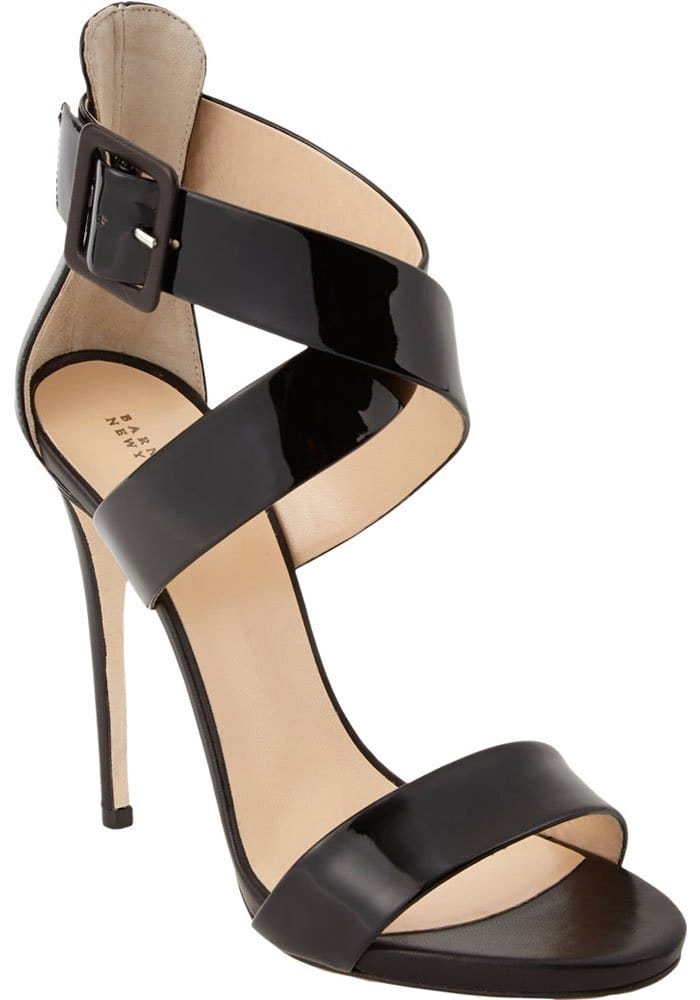 Michael Antonio Jaslene Black Pat Pu Sandals, $19.99 – $46.95
Pleaser Domina 119 Sandals, $50.95
Credit: Rita Ora's Instagram / WENN