Supporting the National Day of Racial Healing, established by the W.K. Kellogg Foundation (founded by breakfast cereal pioneer Will Keith Kellogg), earlier this month Legend opened up to People about his experience with entering an interracial relationship and merging their cultures. Luckily, he has not faced many challenges raising their interracial children, Luna Simone, 3½, and Miles Theodore, 20 months.
"I don't think there were a lot of issues around it. A lot of it has been a blessing," Teigen told People. In November, the magazine named him the "sexiest man alive."
"I feel like we learn from each other," he says, adding that his wife isn't the only great cook in the family. "We have different experiences. We laugh at each other. The food has been better because we're able to merge our taste and our different upbringings and what we grew up eating. We learn from each other and we love the things that are different about each other. That's been actually fun for us."
"They really get along," he says about both their parents. "My mother and my mother-in-law get along so well. My dad gets along well with my in-laws as well and everybody just really enjoys each other."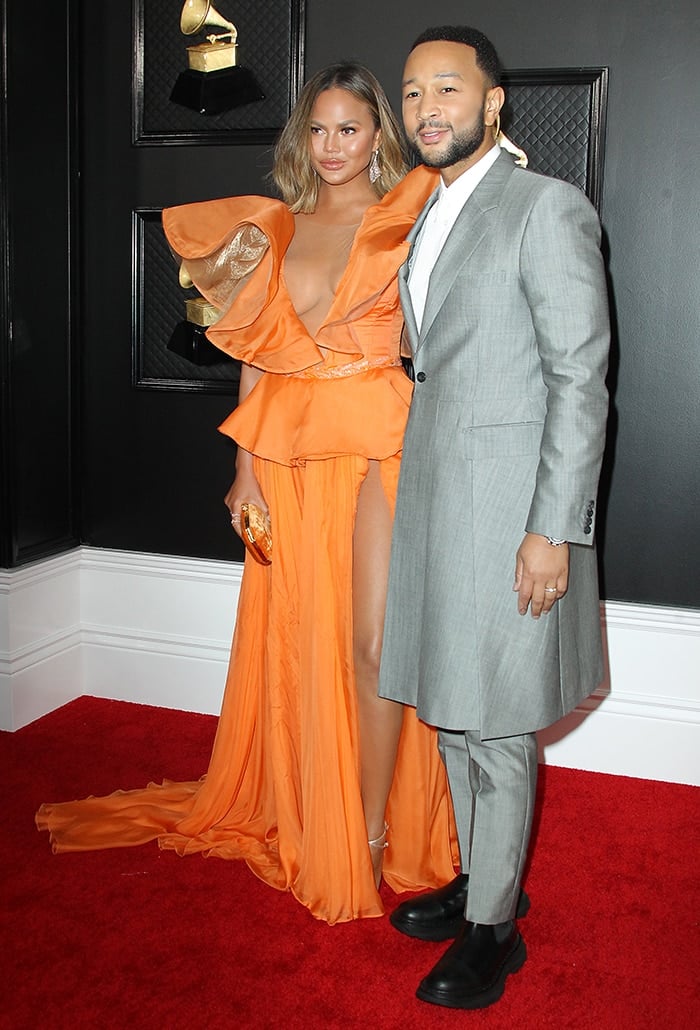 Chrissy Teigen and John Legend at the 62nd Annual Grammy Awards in Los Angeles on January 26, 2020
"Chrissy's dad is white, her mother is Thai, both my parents are black and from Ohio and we've definitely got an interesting cultural mix for my kids to kind of experience from all their grandparents and aunts and uncles but I feel like it's gone so well. I feel like they're accepting of each other, they love each other and we all learn from each other," Legend added.
"People have been pretty loving and accepting of our relationship across all races and all types of people," he emphasized. "Chrissy has a lot of black fans. I feel like there hasn't been a huge backlash."
Chrissy Teigen and her even richer husband John Legend stepped out to attend the 2020 Grammy Awards at Los Angeles Staples Center on Sunday.
Although the couple smiled for the cameras, they were deeply saddened by the sudden death of Kobe Bryant.
John Legend expresses his sadness over Kobe Bryant's death on Sunday
Chrissy Teigen in grief over the sudden death of Kobe Bryant
The couple still received some good news during the ceremony. John Legend won Best Rap/Sung Performance with DJ Khaled and the late Nipsey Hussle for Higher, taking home his 11th Grammy.
John also received a nomination for Best Traditional Pop Vocal Album for A Legendary Christmas. He was also among the performers who paid tribute to rapper Nipsey Hussle and TV producer and director Kenneth Ehrlich.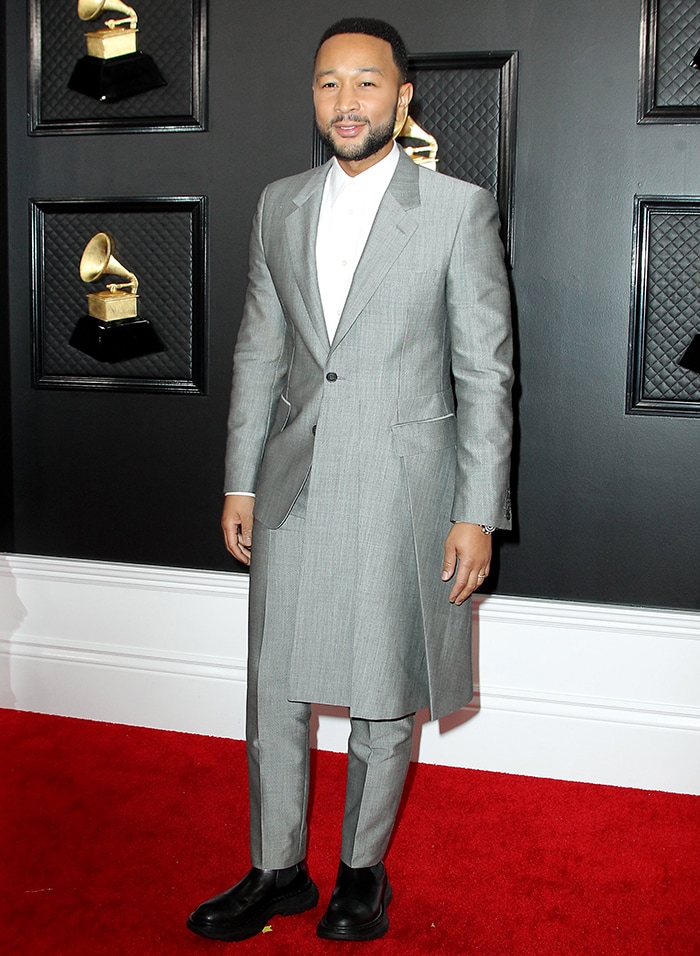 John Legend wears asymmetric Alexander McQueen gray suit
Styled by Dave Thomas, the 2019 Sexiest Man Alive wore an asymmetrical gray Alexander McQueen suit. His wife, however, stole the spotlight as she went bright in an orange gown from Yanina's Spring/Summer 2019 Couture collection.
Chrissy Teigen and John Legend smile for photographers on the red carpet
Chrissy showed off plenty of cleavage in the striking gown that features a navel-deep plunging neckline. It also has exaggerated ruffle shoulders, a peplum detail, and a dangerously high slit that's cut up to her hip.
Chrissy Teigen shows off her flawless leg in an orange Yanina gown
The 34-year-old model slash cookbook author looked beautiful with her shoulder-length hair worn in loose, center-parted style, done by Jen Atkin. Makeup artist Kristine Studden gave Chrissy a glowing look with orangey-bronzed eyeshadow, mascara, nude lip gloss, and complementary blush.
Chrissy Teigen wears loose, center-parted hair with orangey-bronzed eyeshadow and lip gloss
Keeping her neck bare, Chrissy accessorized with dangling diamond earrings and several diamond rings, selected by stylist Monica Rose.
She then carried a Tyler Ellis 'Perry' clutch in orange to match her dress and slipped into a pair of Giuseppe Zanotti 'Darcie' sandals.
These metallic gold sandals feature crisscross ankle straps, open toes, and about 4-inch heels.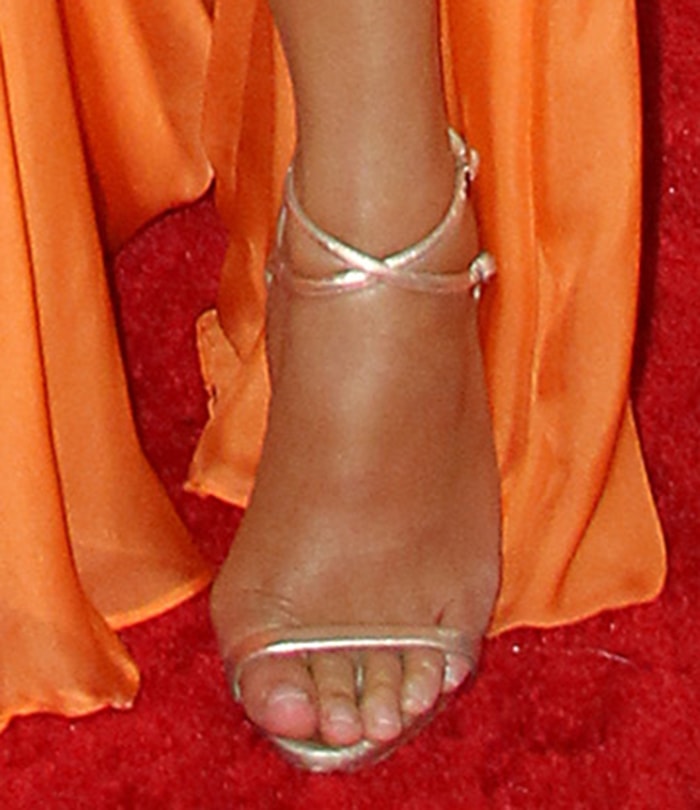 Chrissy Teigen slips her sexy feet into a pair of Giuseppe Zanotti metallic sandals
Later that evening, the couple celebrated John's Grammy win. They danced to Ariana Grande's NASA as seen in a video clip posted by Chrissy on Twitter.
Chrissy traded her orange gown for an LBD, while John took off his asymmetric coat and wore a white shirt with gray trousers.
Chrissy Teigen and John Legend celebrating his Grammy win in a video clip
Credit: Adriana M. Barraza / WENN