Isla Fisher found her place in Hollywood after embracing her comedic side, and it seems the actress is taking it a step further by blessing children with her sense of humor.
After running out of new material for putting her kids to sleep, Isla developed a new bedtime character: Marge. And the rest, as they say, is history.
The Scooby-Doo actress took on Manhattan as she promoted her new children's book, "Marge in Charge" (available on Amazon), which shows off her comedic writing.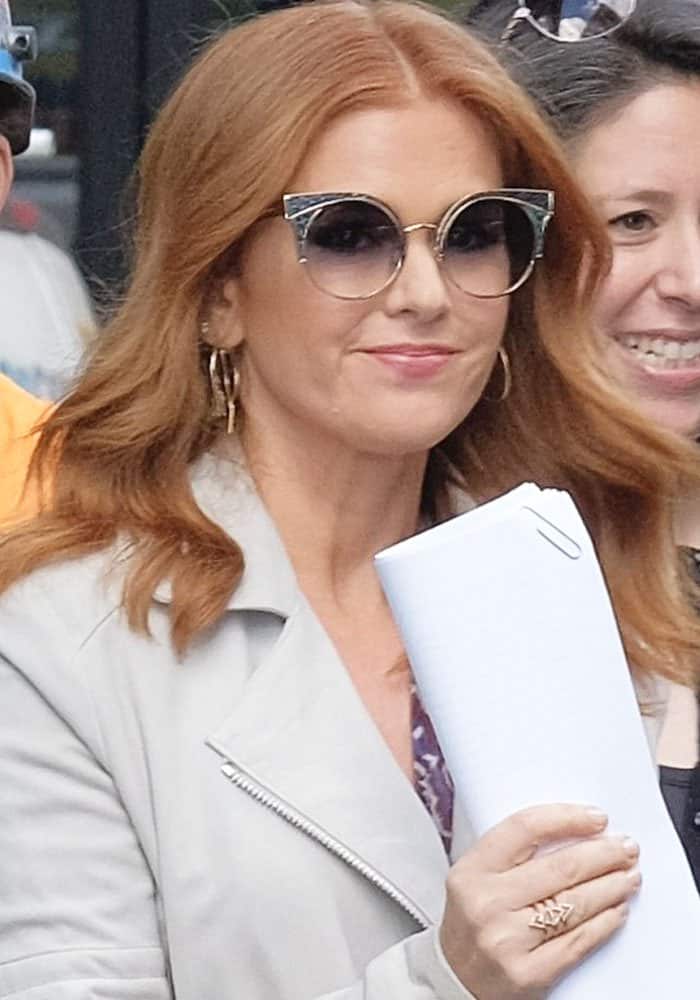 Isla Fisher wears her hair down as she arrives at the AOL Building on October 4, 2017, in Manhattan, New York City (Credit: TNYF / WENN)
"Marge in Charge" follows the adventures of a mischievous babysitter named Marge who has a knack for turning everyday activities into thrilling adventures.
Isla stepped out for the AOL "BUILD Series" in a print chiffon dress by Ba&sh.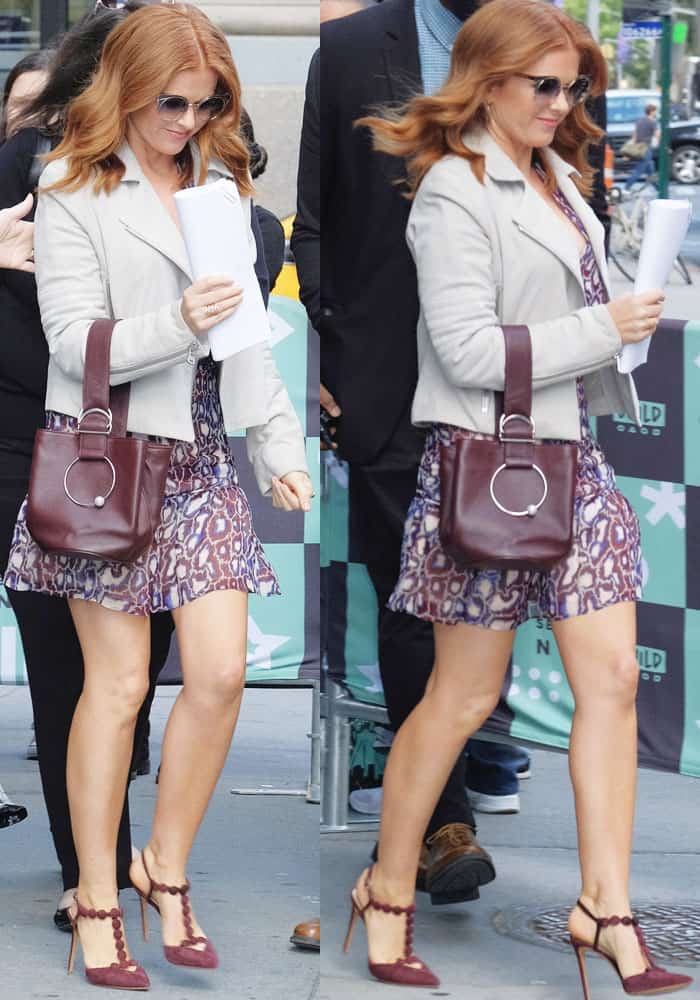 Isla Fisher wears a Ba&sh print chiffon dress with a J Brand jacket while out in Manhattan (Credit: TNYF / WENN)
However, the newly-minted writer covered up with a gray leather J Brand jacket so that we couldn't see the entire dress.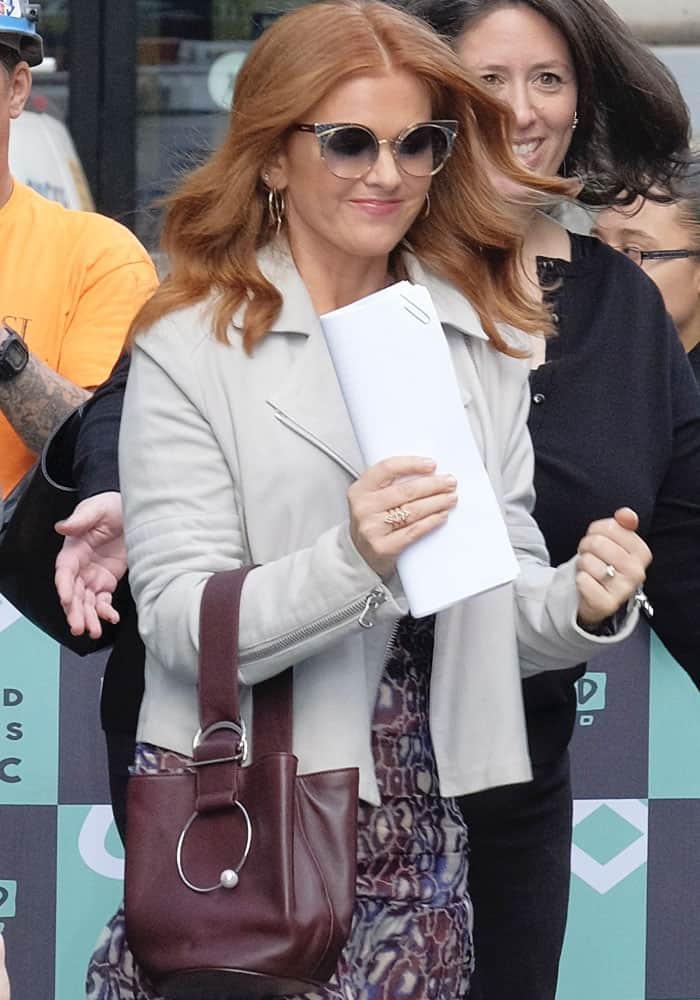 Isla flashes a tiny smile as she arrives for a "BUILD Series" interview in a J Brand jacket (Credit: TNYF / WENN)
The actress matched her dress with a pair of Nicholas Kirkwood "Quantum" pumps in purple suede. Unfortunately, her gorgeous heels are no longer available since they were sold out in 2015.
Isla finished her look with a pair of Jimmy Choo cat eye sunglasses and an Adeam bucket bag.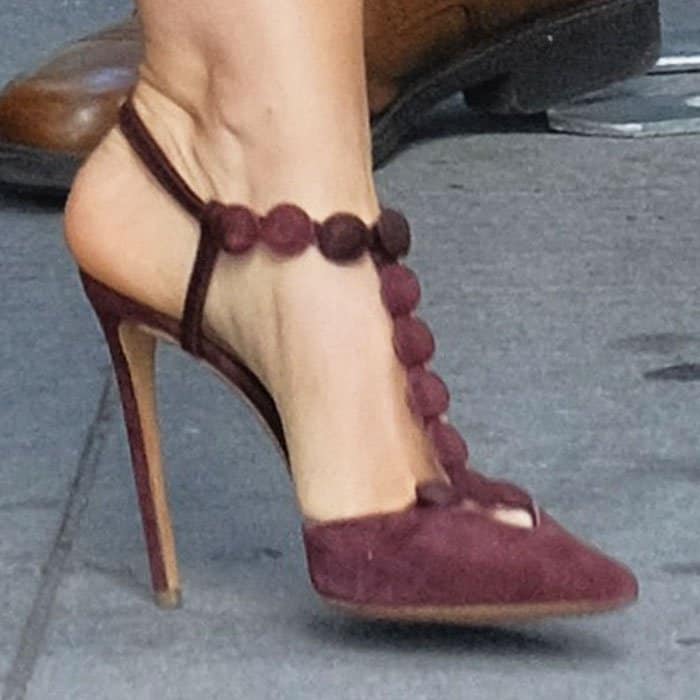 Isla Fisher's feet in purple suede Nicholas Kirkwood pumps (Credit: TNYF / WENN)
Isla talked about how "Marge in Charge" came to be. Initially, Isla just voiced the character until the concept eventually branched out to different storylines.
The mother-of-three also said gadgets are taking over kids' childhoods. Her book was an attempt to bring back the enjoyment of reading in children.
"The stories are like "Cat In The Hat" meets "My Naughty Little Sister" which are stories that I love to read to kids. I suppose at bed time I was running out of material, there's only so many times you can act out "Peppa Pig," or do impressions of your children's friend's parents," she said.
"So Marge was a character that I did the voice first and it was just more and more requests to hear tales from Marge. And then equally as a parent I felt for emerging and reluctant readers."
"Once they get a little older they can read Roald Dahl, or Jeff Kinney, or Francesca Simon, but during that transitional phase there was a missed opportunity and I'm very proud of child literacy. I wanted to create books that would engage kids in that young age sort of…from [ages] 5 to 11 but wouldn't push them beyond their years socially and emotionally because [in] a lot of these books, the kids are talking sassy or doing things a little bit too inappropriate for the age group."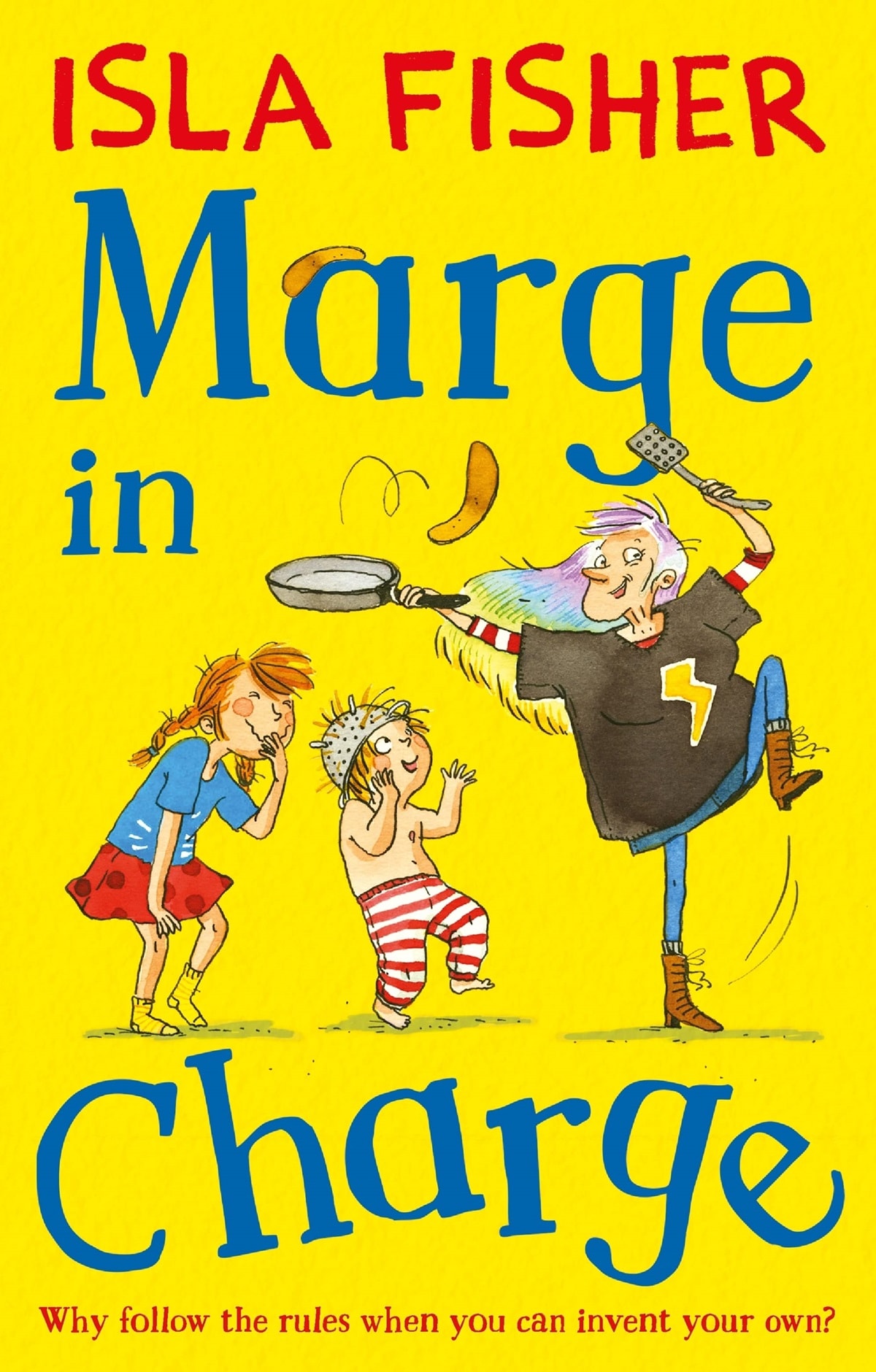 Isla Fisher's book Marge In Charge features three stories about siblings Jemima and Jake Button and their babysitter, Marge
"Kids today have access to techno toys. They have access to iPads and cell phones. It's hard to compete. The drudgery of a great print line when you can have an image. But images, they kind of stop your thinking in a way. We want to encourage kids to expand their vocabularies, and encourage creativity which leads to innovation and it helps promote discussions within families. Reading also encourages tolerance because you can see the perspective of somebody else. It's telling you the story. I'm just so passionate about young readers continuing to love books and words. I really hope that the world that we live in, of emojis and Twitter feeds, and emoticons, that it doesn't take the place of loving stories," concluded Fisher.
The next day, Sacha Baron Cohen's wife was back in Hollywood for the taping of an episode of Jimmy Kimmel Live!
During her appearance on Jimmy Kimmel Live on October 5th, Fisher had a message for those who often confuse her with other redheads: she is not Amy Adams.
However, there was an exception when she met Lady Gaga at the Vanity Fair party after the Oscars. While dressed up and mingling with other showbiz personalities, Fisher found herself face-to-face with Lady Gaga. As the crowd parted, Gaga approached Fisher and thanked her for her performance in American Hustle, addressing her as Amy.
Although Gaga was clearly thinking she was talking to Adams, Fisher didn't want to ruin her moment with the Joanne superstar.
"I'm thinking, 'Oh my gosh, it's Lady Gaga. I love her so much, I don't want to tell her the truth,'" she explained. "So I just gracefully thanked her [and] bowed my head."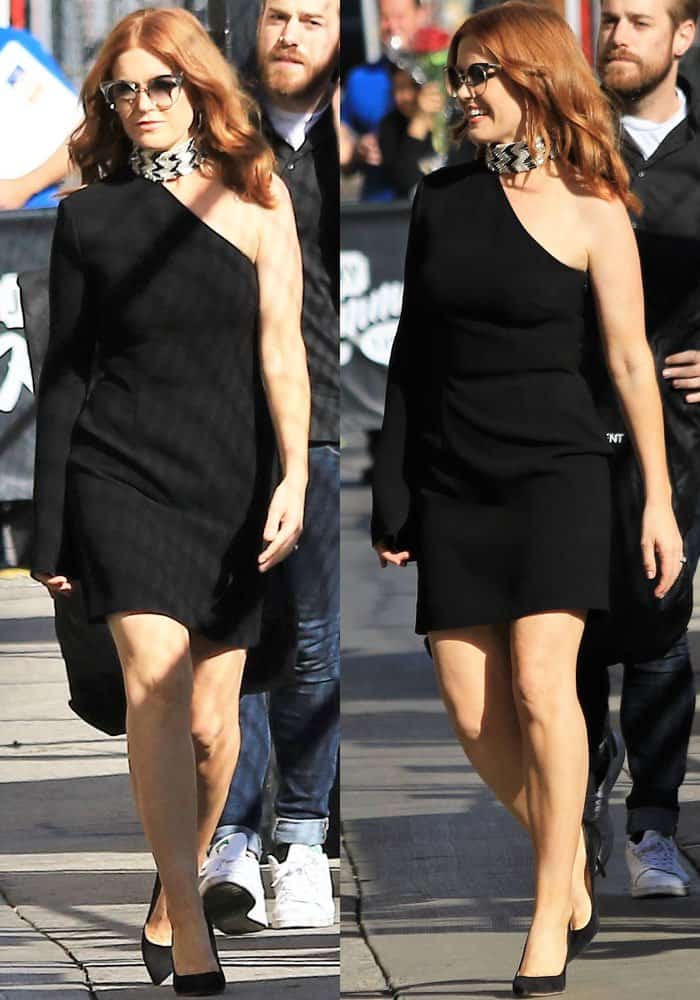 Isla Fisher arrives at the "Jimmy Kimmel Live!" Studios on October 5, 2017, in Los Angeles (Credit: TNYF / WENN)
The redhead wore a black one-sleeved dress with a beaded neck for her Jimmy Kimmel appearance.
You can shop Nicholas Kirkwood pumps similar to Isla's at Farfetch and SSENSE.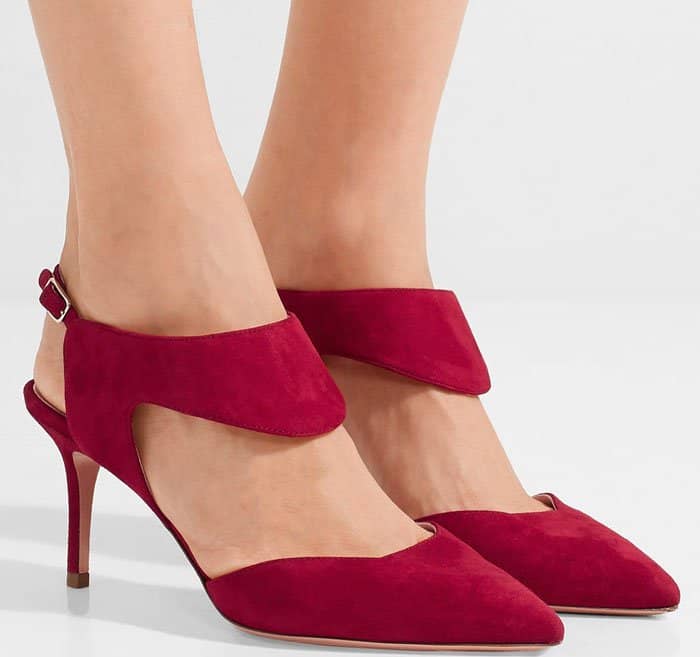 Nicholas Kirkwood "Leda" Pumps in Coral Red Suede
Nicholas Kirkwood's 'Leda' shoe is a sculptural leather pump that's perfect for work, events, or casual weekends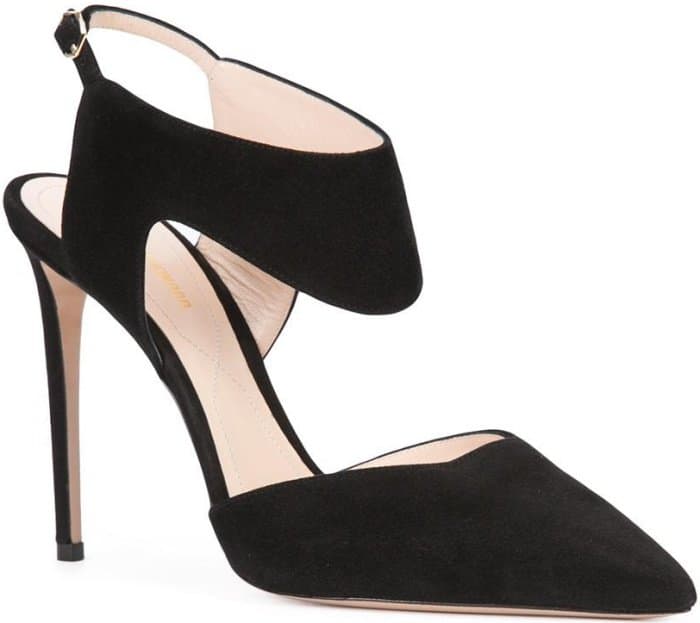 These sleek and sophisticated shoes feature a pointed-toe front that elongates the foot, giving you a graceful and elegant look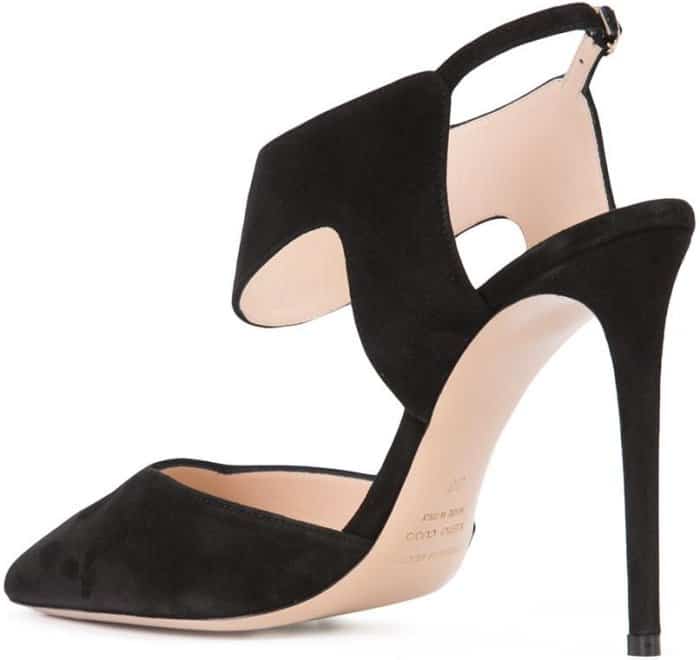 Nicholas Kirkwood "Leda" Pumps in Black Suede
Animal Print Nicholas Kirkwood Leda Pumps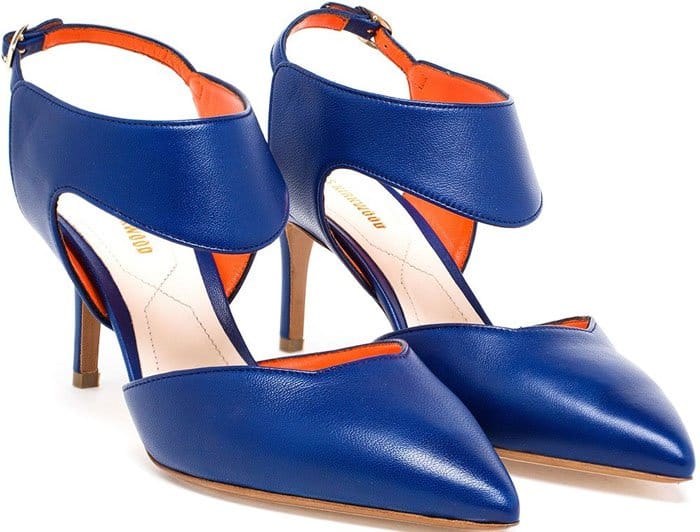 Blue Leather Nicholas Kirkwood Leda Pumps
Nicholas Kirkwood "Leda" Pumps in Black Lace, $340 – $795