Scooby-Doo actress Isla Fisher has a hidden talent: writing.
In 2016, she released a book called "Marge in Charge" (available on Amazon), but it was not her first book. An 18-year-old Isla penned two young adult novels, "Seduced by Fame" and "Bewitched," with her mom's help.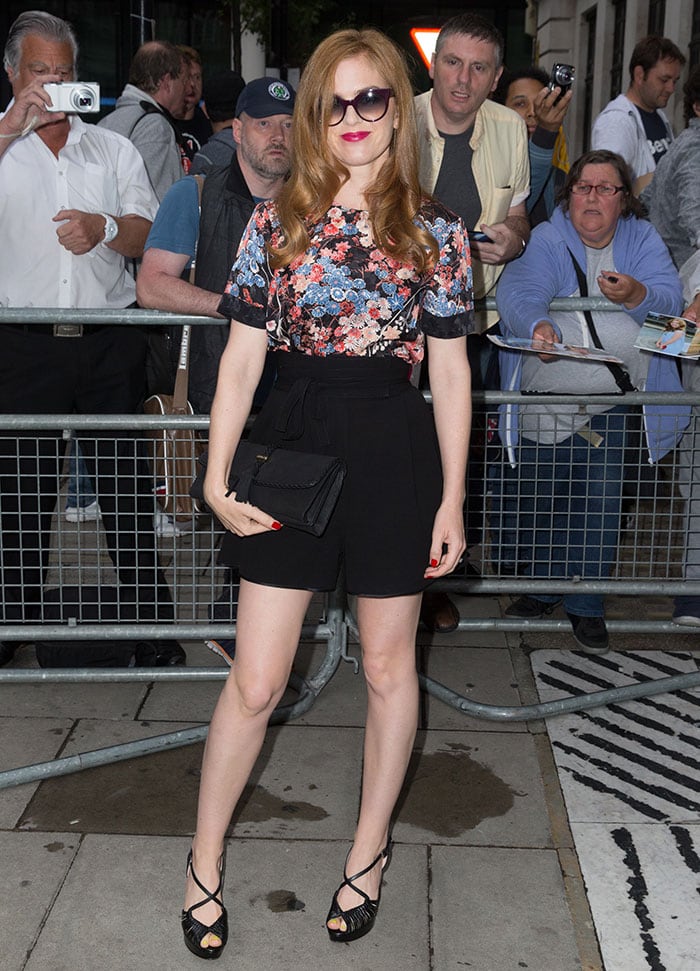 Isla Fisher wears her red hair down outside the BBC Radio 2 studios on July 29, 2016, in London (Credit: Rocky / Mario Mitsis / WENN)
Fourteen years earlier, she landed a role in the 2002 American fantasy adventure-comedy film Scooby-Doo as the love interest of Norville "Shaggy" Rogers (Matthew Lillard), a cowardly slacker.
Although the film received negative reviews, it was a commercial success and grossed over $275 million worldwide. Fisher was fortunate to have this opportunity, as it helped her get representation and a job almost immediately.
"No. I know that a lot of Australians come out to the States with those ambitions, but weirdly enough, I only came out on the back of 'Scooby Doo' — for the premiere of 'Scooby Doo.' And then, I ended up getting representation and ended up getting a job, almost straight away," she told Collider in 2007.
"So, I was fortunate, in that I didn't have to come out to L.A. and join a queue of however many people, and try to get work. I came in on the back of what was deemed as a big studio movie that had had extraordinary success," the Australian actress added.
Fisher's remark about her early career shows that timing and luck can significantly affect one's success in Hollywood. Even though the film she starred in received negative reviews, its commercial success helped her break into the industry.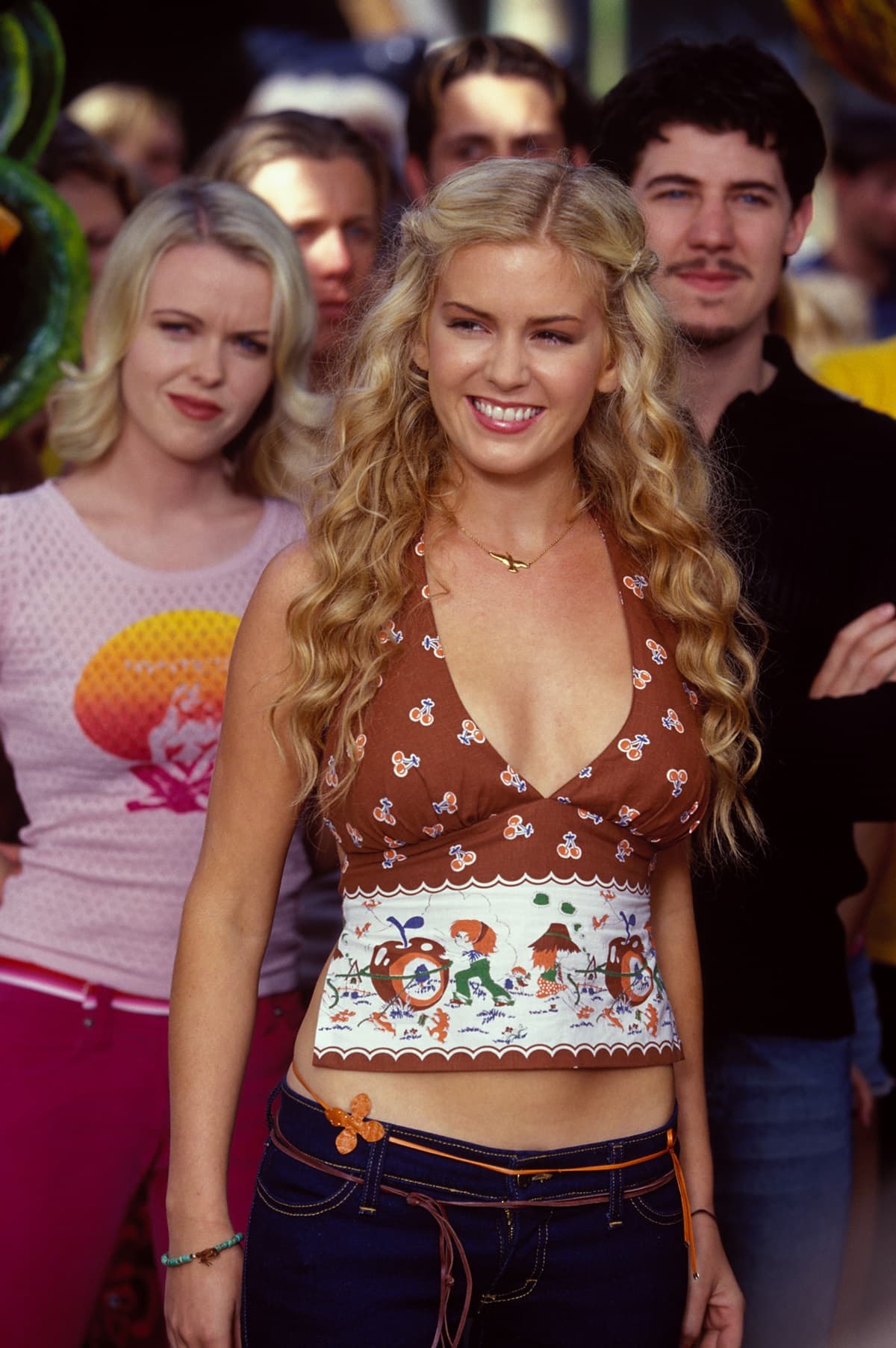 Isla Fisher played the role of Mary Jane in the 2002 live-action film Scooby-Doo (Credit: Warner Bros. Pictures)
Isla Fisher auditioned for the role of Daphne in the live-action film Scooby-Doo but lost out to Sarah Michelle Gellar because the director wanted a real-life couple to play Fred and Daphne.
However, Fisher's audition impressed the casting directors, and she was given the supporting role of Mary Jane instead. Ironically, despite her natural red hair, Fisher played the blonde Mary Jane, while Gellar, who is naturally blonde, played the iconic red-haired character of Daphne.
When Scooby-Doo was released on June 14, 2002, Freddie Prinze Jr. was 26, Sarah Michelle Gellar was 25, Matthew Lillard was 32, Linda Cardellini was 26, and Isla Fisher was 26.
Isla Fisher did not star in the 2004 American horror comedy film Scooby-Doo 2: Monsters Unleashed (also referred to as Scooby-Doo 2), the second installment in the Scooby-Doo live-action film series and the sequel to 2002's Scooby-Doo.
Isla Fisher wears an L.K. Bennett floral silk top with high-waisted shorts in London (Credit: Rocky / Mario Mitsis / WENN)
In July 2016, the then-40-year-old actress stepped out in London to get the word out on her new book. It follows the adventures of Marge, an eccentric babysitter who takes on the role of caregiver for two young children.
The Aussie beauty turned heads as she arrived at the BBC Radio 2 studios.
She paraded her flawless legs in black high-waisted shorts, which she teamed with a floral silk top by British luxury fashion brand L.K. Bennett.
Isla further highlighted her legs with a pair of platform heels by the same British fashion brand founded in London in 1990 by Linda Bennett.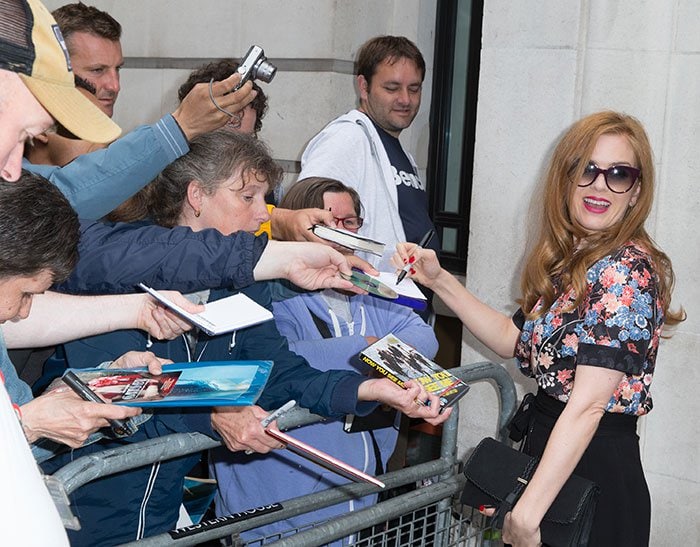 Isla Fisher covers her eyes with large sunglasses as she signs photos for fans outside the BBC Radio 2 studios (Credit: Rocky / Mario Mitsis / WENN)
Sacha Baron Cohen's wife also accessorized with a black clutch and hid her eyes behind a pair of oversized sunnies.
Isla wore her hair down in soft curls while her pink lipstick contrasted beautifully with her alabaster complexion.
Isla Fisher parades her legs in a pair of black shorts and an L.K. Bennett top (Credit: Rocky / Mario Mitsis / WENN)
Later, the wealthy actress continued her promo run as she dropped by the ITV studios for an appearance on "This Morning."
Isla Fisher promotes her new book outside ITV Studios on July 29, 2016, in London (Credit: Rocky / Mario Mitsis / WENN)
She traded her floral top and black shorts for a dotted navy blouse with a plunging v-neckline and leather pants.
The mom-of-three styled the look with retro sunglasses and an edgy pair of earrings. She carried the same clutch and teetered on the same heels she wore earlier.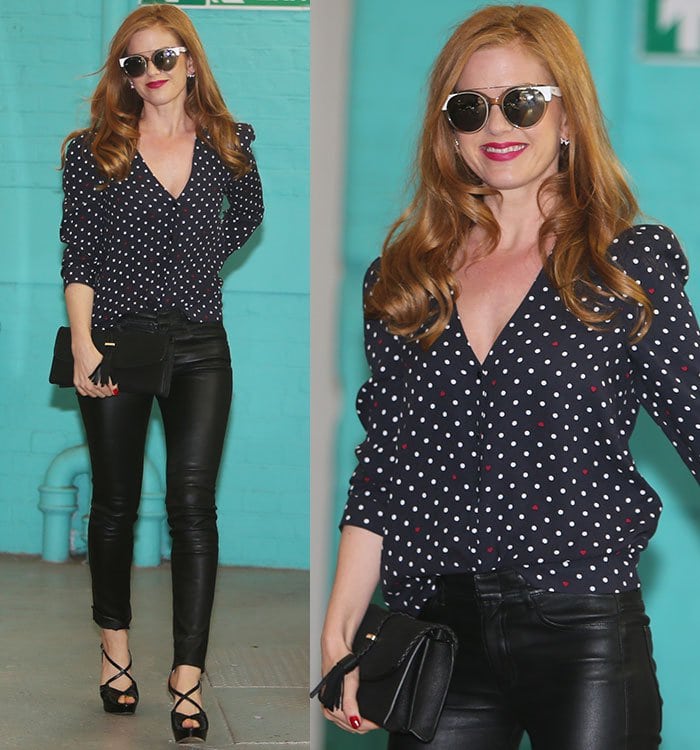 Isla Fisher wears a dotted top paired with leather leggings while out in London (Credit: Rocky / Mario Mitsis / WENN)
Isla boosted her height with the L.K. Bennett "Silvia" sandals, which have about 4.3-inch thick heels and one-inch platforms.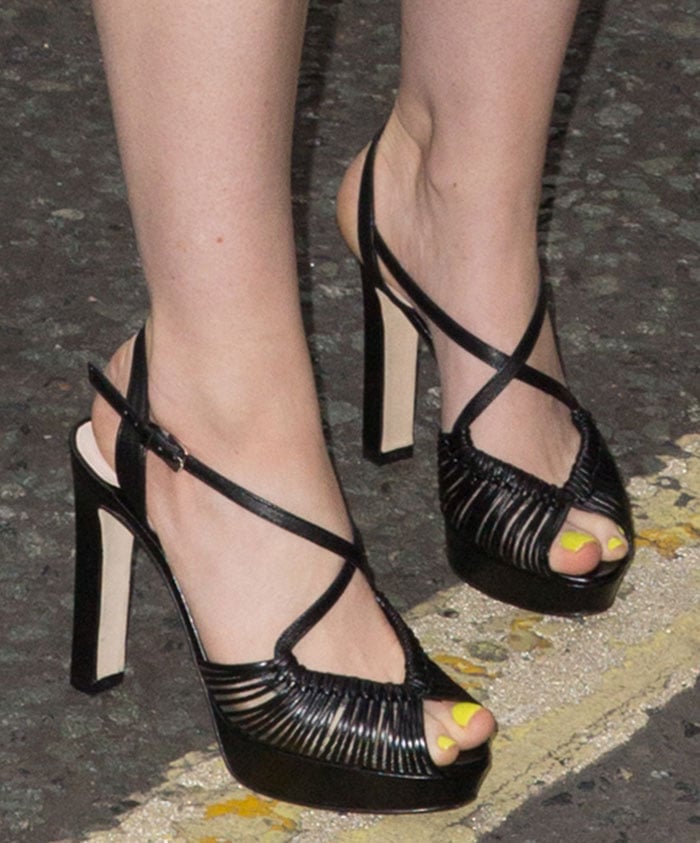 Isla Fisher displays her pedicured toes in strappy L.K. Bennett sandals (Credit: Rocky / Mario Mitsis / WENN)
They also feature striking interwoven straps, mesh inserts, and crossover vamp straps.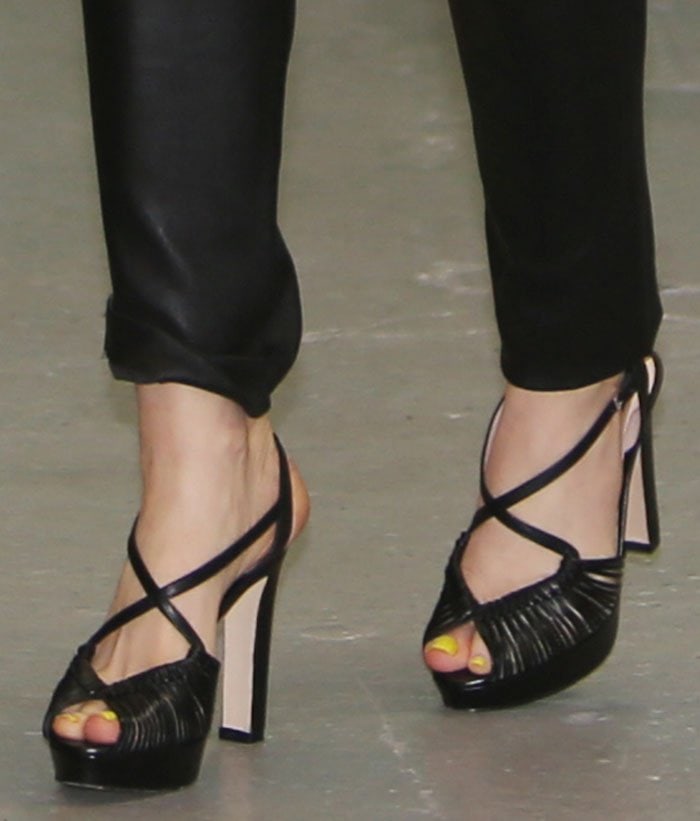 Isla Fisher's feet in black "Silvia" sandals (Credit: Rocky / Mario Mitsis / WENN)
Her bold interwoven platform sandals are no longer available online. You can find great alternatives at Zappos and Shopbop.
Black L.K. Bennett "Silvia" Intervowen Crisscross Platform Sandals, $475