We've had our share of the bird and cat prints over the years, and, with Jaime King's help, it looks like canines are on tap for next year.
Jaime played trend starter as she made fashion headlines in a quirky outfit at the Revlon philanthropic luncheon in Los Angeles. The actress has been turning heads recently for her fearless fashion attempts, and this outfit is probably the highlight of her stylish week.
Jaime King at the Revlon Philanthropic Luncheon at Chateau Marmont in Los Angeles on September 27, 2016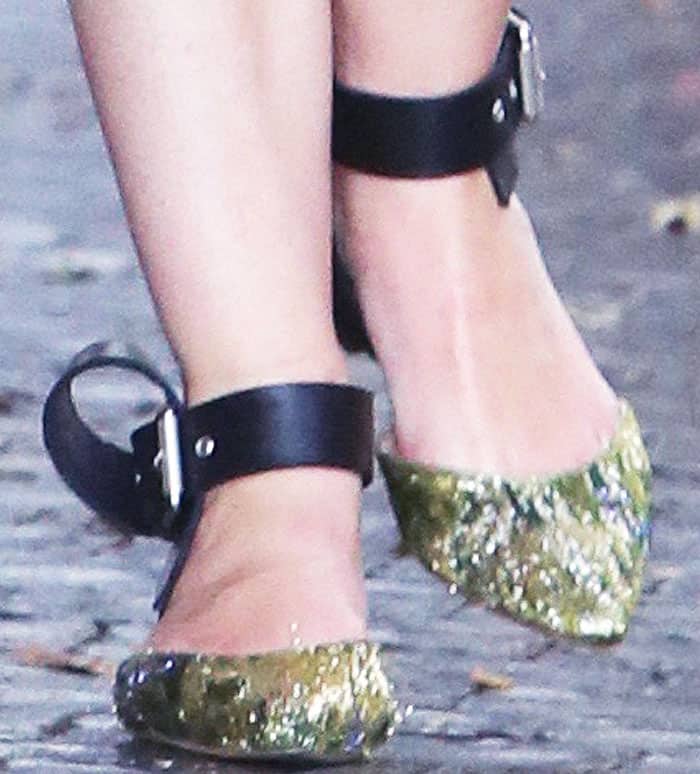 Jaime wore a pair of glitter flats straight from the Monse Spring/Summer 2017 runway
The actress wore a complete outfit straight from the Monse Spring/Summer 2017 runway. Her dress featured a zoomed in line drawing of a dog at the bodice, which weirdly worked with the ultra glamorous Grecian silhouette.
Jaime finished her look with a pair of glitter flats that had an interesting loop leather ankle strap detail. The shoes were from the same Monse runway outfit.
Jaime rocks a full Monse Spring/Summer 2017 runway look
The Revlon luncheon was to honor Dr. Dennis Slaman, who had dedicated his life to helping women with breast cancer through therapies such as Herceptin.
Revlon is currently supporting organizations that help deal with women's health issues. Its recent fundraiser raised more than $2 million.
The Monse flats won't be available until next year, so in the meantime, check out these awesome glitter flats by blogger Chiara Ferragni at Farfetch and 6pm.
Chiara Ferragni "Jackie" Ballet Flats, $180.25 – $231.99 at Farfetch and 6pm
Credit: Michael Wright / WENN