In the 1980s, jelly shoes were tagged as populist shoes most likely because they were cheap and accessible. Kids from the '90s would also remember wearing one of these shoes since there was a brief but memorable revival of plastic footwear sometime in that decade.
It's really interesting to see that the much-loved jelly shoes of those decades are now back in "fashion." Some of you might raise your brows or cringe at the idea of this seemingly juvenile fashion fad worming its way to mainstream fashion.
It takes a bit of time warming up to it, I know. But with good styling, you will come to treasure these cute shoes and consider them a must-have in your collection.
Learn from the following bloggers, and find some ideas on how to incorporate jelly sandals into your everyday style.
1. Sonia's Vintage-Style Pencil Skirt
Even though jelly shoes first became popular in the '80s, you shouldn't have a problem wearing them with '50s- or '60s-inspired outfits. Sonia Eryka's colorful outfit cements that idea.
Her adorable blue jelly sandals work so well with her cobalt blue top (with its quirky robot print) and vintage-style pencil skirt. She even had a bright yellow raincoat on! It's an eclectic look, but it definitely exudes a modish vibe.
Sonia's blue jelly sandals work well with her cobalt blue top
Styling tip: Wear your jelly sandals with an above-the-knee pencil skirt and a quirky pullover. Don't hesitate to try meshing or clashing colors.
Sonia rocked a vintage-style pencil skirt with a bright yellow raincoat
2. Amy's High-Waist Skirt
Jelly shoes work with the latest trends as well. Amy Valentine wore hers with a cropped shirt and a high-waist skirt. This ensemble has a skater girl vibe that works for the summer season.
Styling tip: Clear jelly sandals go well with all colors, but you can opt for a monochrome ensemble like Amy's shades of gray outfit.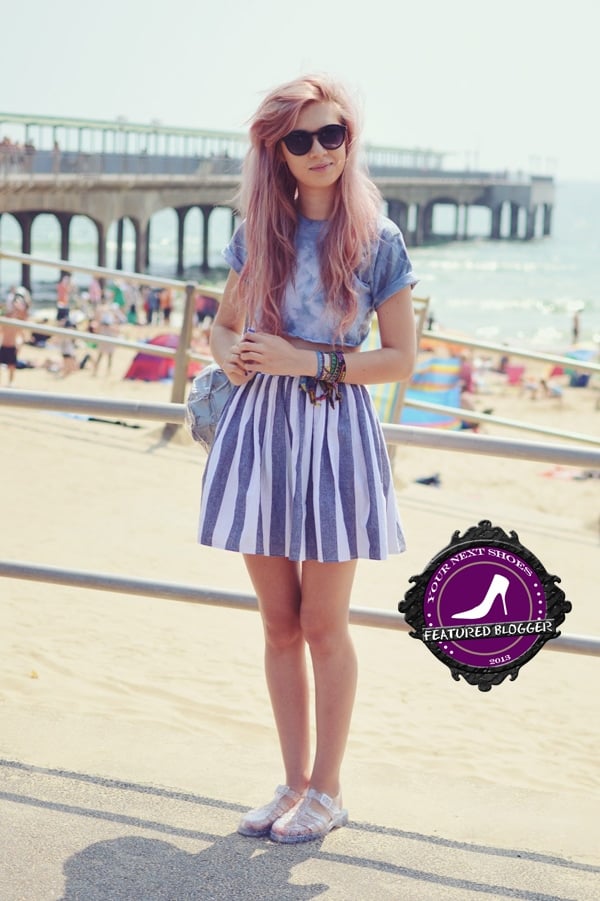 Amy styled jelly shoes with a cropped shirt and a high-waist skirt
3. Zoe's Distressed Shorts
Avant-garde styling for everyday wear? Why not? Push the boundaries, and wear your jelly sandals with eclectic pieces. Go for something like Zoe's peplum top paired with distressed shorts.
Styling tip: Go for a more eclectic look by wearing socks with your jelly sandals. Zoe's blog, Girl with the Flower, is unfortunately no longer available online.
Zoe styled distressed shorts with jelly sandals
4. Jackie's Ruffled Socks
Now that dungarees are very hot, wear your jelly sandals with one. Pair them with an equally colorful top like Jackie from Sewing in Stilettos. She even wore ruffled socks with her sandals.
Styling tip: Wear bright-colored jelly sandals, and allow the color to pop up against black pieces.
Jackie wore pink plastic shoes with socks
5. Megan's Denim Overalls
Roll up your denim overalls, and then wear your jelly sandals! They're a nice alternative to the usual sneakers, ankle-strapped sandals, or oxford shoes. Like Megan Lois, you can wear socks with your pair.
Styling tip: Roll up your denim overalls to the shin to show off your sandals.
Megan in denim overalls and jelly sandals
6. Kayla's Psychedelic Printed Top
Kayla Hadlington assembled an edgy and grungy ensemble consisting of a psychedelic-printed off-shoulder top, a pair of trendy shorts, a silver-colored belt, and transparent jelly sandals.
Styling tip: Accentuate your glittery transparent sandals with silver accessories.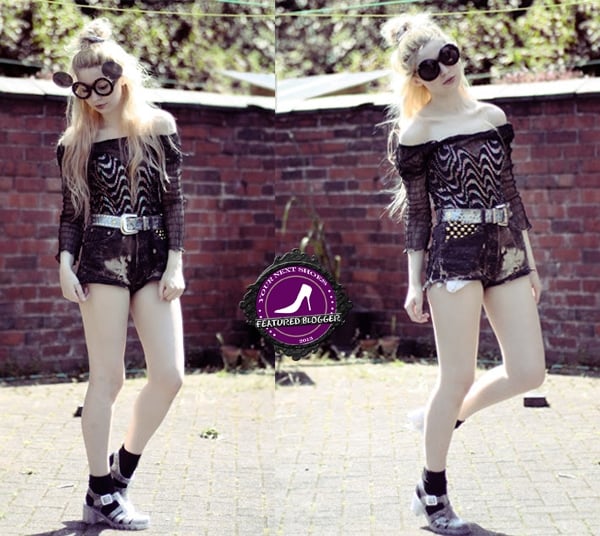 Kayla's transparent jelly sandals and trendy shorts
Come up with your own stylish everyday ensemble with the following cute jelly shoes we found at Nasty Gal:
Edie Jelly Sandals, $48
Edie Jelly Sandals in Black, $48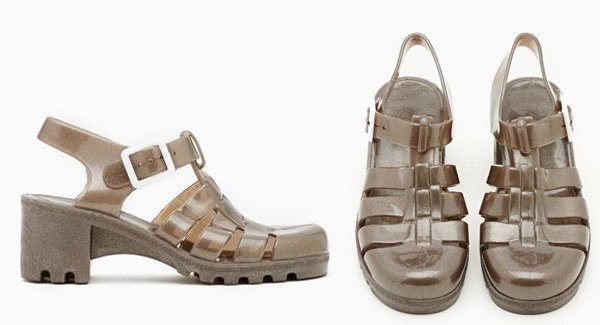 Emma Jelly Sandals, $58
Emma Jelly Sandals in Lilac, $58
I hope the above bloggers have inspired you to start wearing jelly shoes. Experiment and break out of your comfort zone!