Jennifer Lopez has been a shining star in the entertainment industry for over thirty years. Her latest Netflix doc, Halftime, illustrates the grit and determination that has made her an icon.
The film made waves at the Tribeca Film Festival and is filled with many revelations and inside peaks from the star.
But one of the most shocking moments in the film is when Lopez talks about the sexist jokes about her butt, specifically in a 2002 interview.
Jennifer Lopez is proud of her curves and doesn't appreciate jokes about her butt (Credit: Frank Lewis / Startraksphoto / INFphoto / Kelly A. Swift)
Lopez grew up around women with curves, so when radio host Billy Bush said, "People have raved about it for years. How do you feel about your butt?" in the interview, the performer was not impressed.
"I grew up around women with curves, so it was nothing ever I was ashamed of," she said in response.
"They would never say to a guy, 'Your d—k is really big,'" she told Variety in 2019 about receiving received unwanted comments about the size of her butt.
Jennifer Lopez is tired of hearing "sexist jokes" about her butt (Credit: INFphoto)
The film referenced the media's comments about her and said she often questioned whether she had a place in the entertainment industry.
"No matter what I achieved, their appetite to cover my personal life overshadowed everything that was happening in my career. I just had a very low self esteem. I really believed a lot of what they said, which was that I wasn't any good—I wasn't a good singer, I wasn't a good actress, I wasn't a good dancer, I wasn't good at anything. I just didn't even belong here why wouldn't I just go away," she remarked in the film.
"I'm Latina; I'm a woman, I expected this," is how she replied to fiancé Ben Affleck when he questioned her about the media's constant criticism.
Despite the backlash, the star figured out who she was and chose to "believe in that and not believe anything else."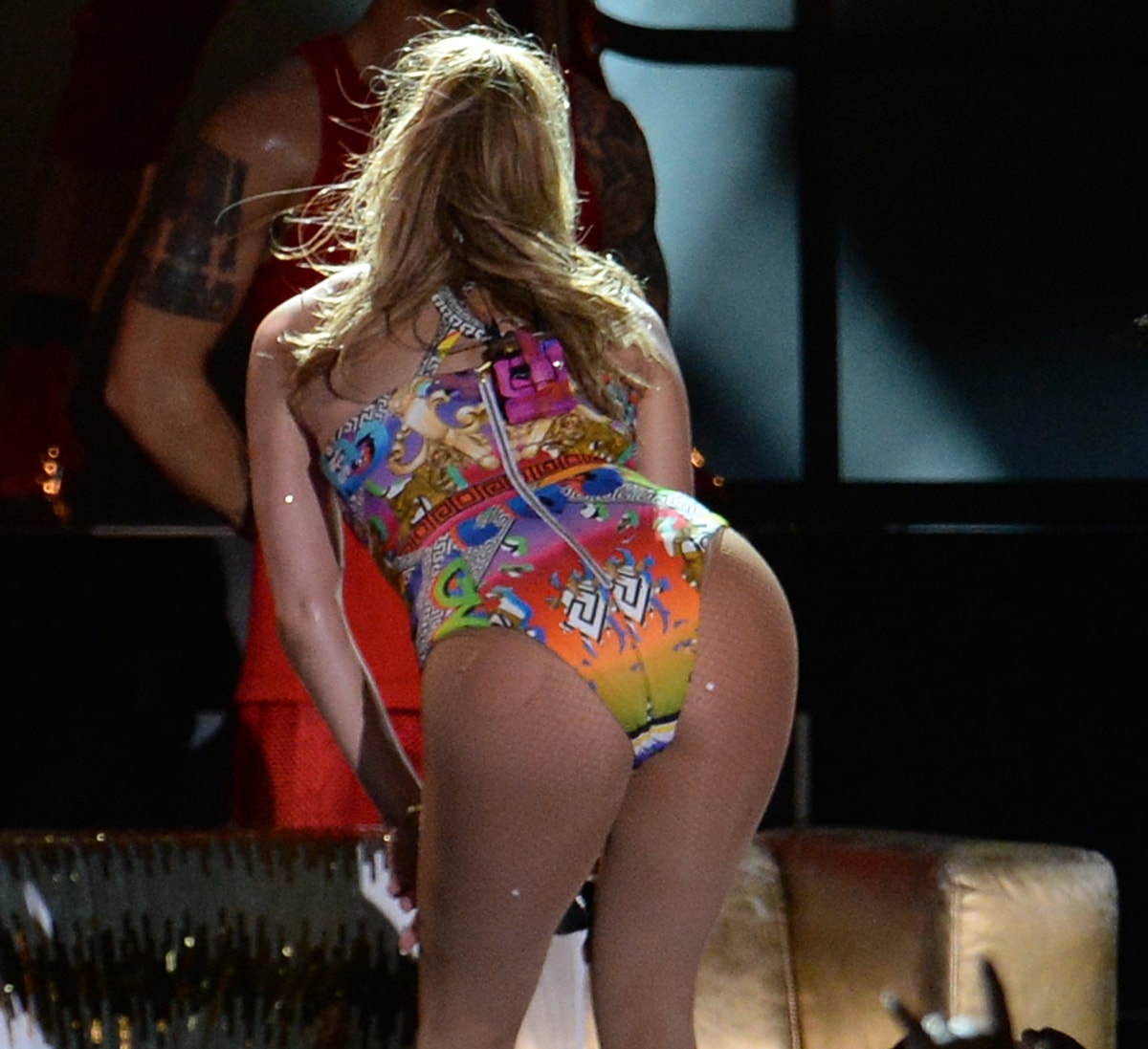 Jennifer Lopez flaunts her curves at the iHeartRadio Ultimate Pool Party presented by VISIT FLORIDA at Fontainebleau's BleauLive at Fontainebleau Miami Beach on June 28, 2014, in Miami Beach, Florida (Credit: INFphoto)
"In Hollywood, it's a little bit of a novelty. But for us, who grew up where we grew up, it wasn't that big of a deal! From when I was very young, my family would be like, 'Jennifer's got a [big butt].' I was endowed in that area," she said in a 2014 interview on Los Angeles radio station Power 106.
"In my family, curves were glorified and part of the culture," she revealed in an interview with InStyle in 2018. She added, "It was just like, 'Jennifer has a big butt, and it's good.'"
Jennifer Lopez (with her signature J.Lo smoldering facial expression) arrives for a taping of the Late Show with David Letterman in New York City on January 30, 2012 (Credit: WENN)
In January 2012, Jennifer Lopez guested "The Late Show with David Letterman" to promote her latest Latin American reality talent show "Q'Viva! The Chosen".
Jennifer Lopez, who split from her husband Marc Anthony in 2011, told Letterman what it was like to work with her ex-husband on Q'Viva! The Chosen.
"You know, it's fun because we know each other so well, but it has its moments. The same things that…didn't really work sometimes come up," JLo said. "You're talking and you don't agree on something and you're like 'oh, be quiet!'…you'll see it on the show a little bit!"
Jennifer Lopez flaunts her legs in an Alberta Ferretti neutral wool coat (Credit: C.Smith / Michael Carpenter / WENN)
Jennifer wore a pair of nude Jimmy Choo 'Kiln' crystal and suede peep-toe booties for her guest appearance.
We also spotted her in the fuchsia pink color of these very same Jimmy Choo booties at the iHeart Radio Music Festival in Las Vegas.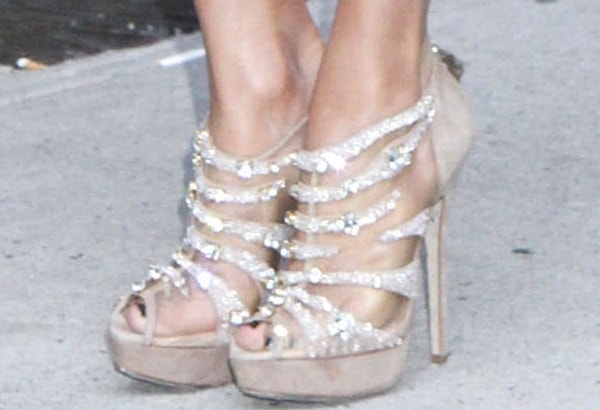 Jennifer Lopez shows off her feet in Jimmy Choo Kiln suede and crystal peep-toe booties (Credit: WENN)
I have issues with that unnecessarily fur-trimmed beige Alberta Ferretti coat Jennifer Lopez was wearing (it has fur… in the pleats!) but with the shoes, of course, I have none.
If there's one shoe style that Jimmy Choo has got on lock, it's the jeweled evening sandal. And this Jimmy Choo 'Kiln' is the jeweled evening sandal perfected.
Just check out those huge crystal rocks sewn on the suede and mesh vamp!
Jimmy Choo 'Kiln' Crystal and Suede Peep Toe Booties, $1,995