New York City experienced a breathtaking display of elegance on the 8th of September, courtesy of the ever-stylish Jennifer Lopez.
The 54-year-old wealthy singer and actress stepped out in the Bronx to promote BELLA SHIQUE skincare, which she did with impeccable style.
Jennifer effortlessly turned heads in a stunning tan ensemble, highlighting her timeless beauty.
Jennifer Lopez visiting Bella Shique in the Bronx to meet with 20 Latina entrepreneurs from her Limitless Grameen America partnership on September 8, 2023 (Credit: Michael Simon / Startraksphoto)
Her outfit featured an exquisite linen blazer that harmoniously complemented her plunging top and sheer, flowy pants adorned with delicate feathers and shimmering sequins.
The ensemble was a masterclass in effortless sophistication, with the floor-sweeping pants infusing a touch of whimsy to the look.
When it comes to accessorizing, Ben Affleck's wife knows precisely how to strike the perfect balance between fashion-forward and functional. A small leather Fendi Peekaboo bag in a chic beige was her choice to house her essentials.
Shielding her eyes from the blazing sun, Jennifer sported a pair of oversized, hexagonal Chloe shades in a luxurious shade of gold with a subtle blue tint.
Jennifer Lopez carrying a Fendi Peekaboo bag in a chic beige color (Credit: INSTARimages)
The Maid in Manhattan star's attention to detail extended to her choice of jewelry. A tennis necklace adorned her neckline, and she upped the glam quotient with dazzling diamond rings gracing her fingers.
For her makeup, Jennifer opted for a light, rosy pink blush to achieve a healthy glow, paired with a subtle nude lip that accentuated her natural beauty.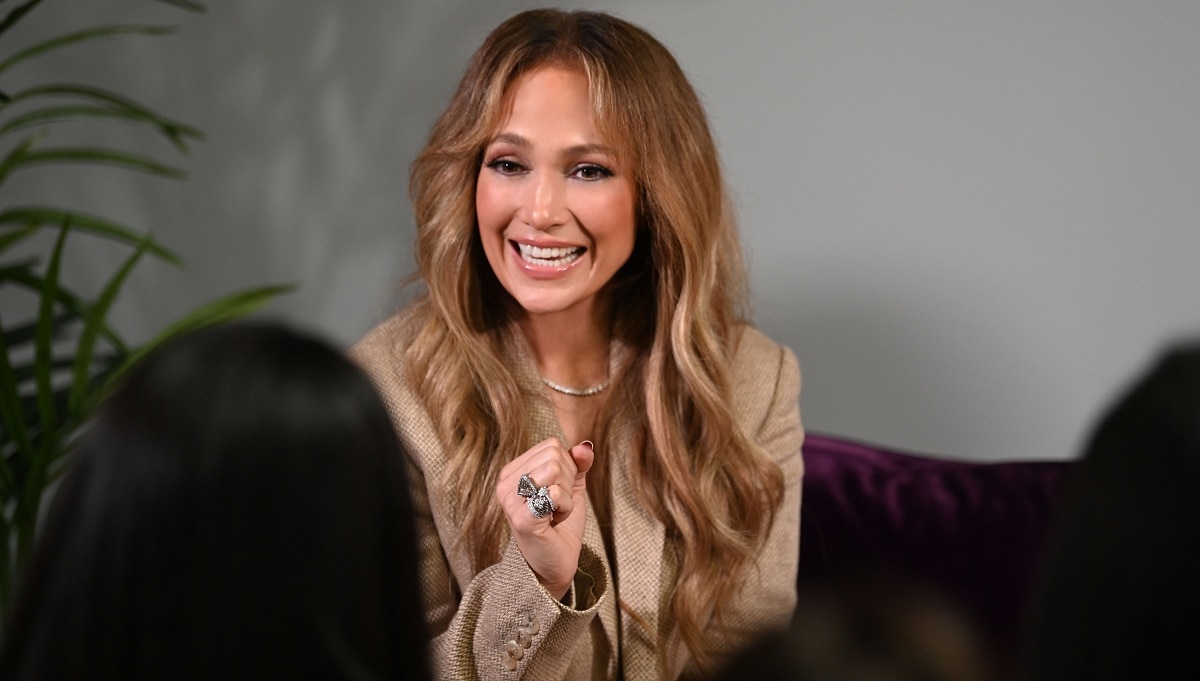 Jennifer Lopez's beauty look consisted of rosy pink blush, a subtle nude lip, and soft beach waves (Credit: Michael Simon / Startraksphoto)
Her luscious brunette hair, adorned with blonde highlights, cascaded in soft beach waves down her back, further enhancing her allure.
To add height to her statuesque presence, the Shotgun Wedding actress donned sky-high platform heels that elevated her fashion game and overall presence.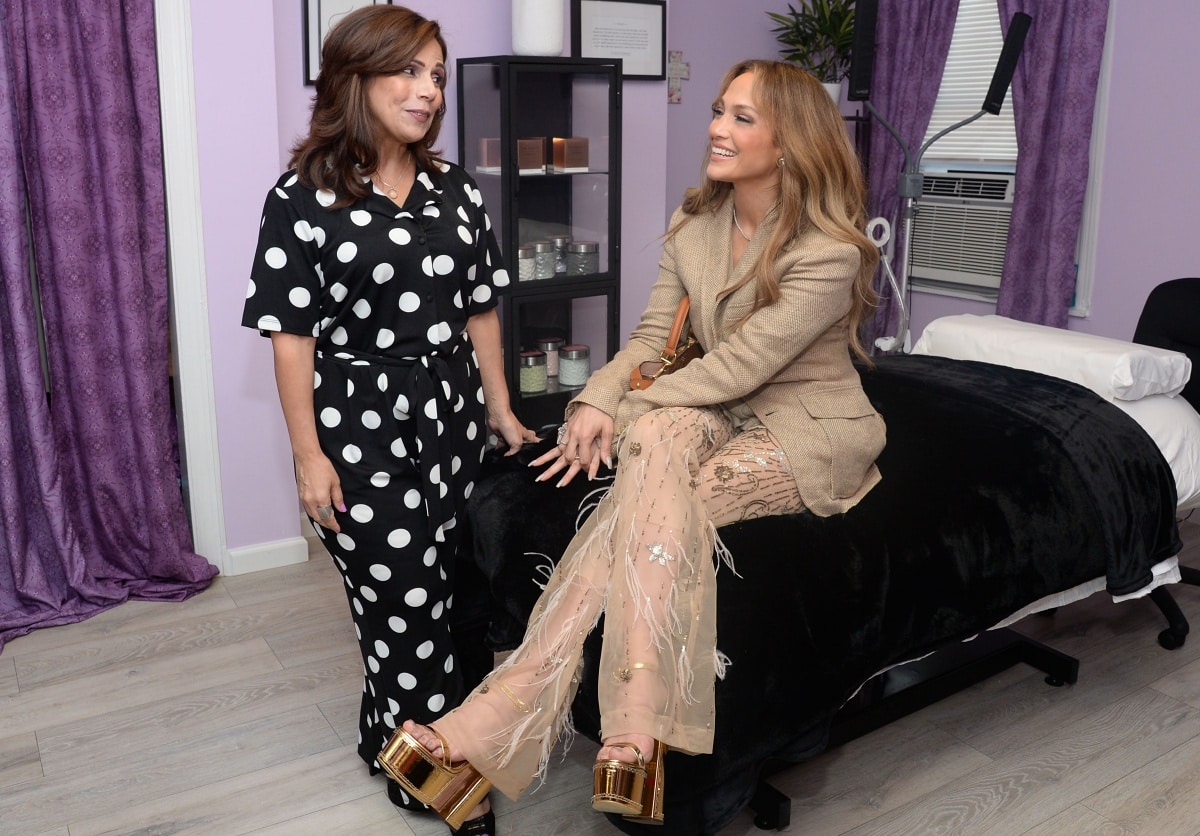 Jennifer Lopez wearing gold sky-high platform heels for a stylish boost to her frame (Credit: Michael Simon / Startraksphoto)
Jennifer Lopez commenced New York Fashion Week with a bang, attending Coach's Spring-Summer 2024 runway show at the New York Public Library the day before her Bronx outing.
She effortlessly embraced one of Autumn/Winter's biggest trends, flaunting a strikingly oversized coat as a dress, complete with fringed detailing on its XXL sleeves.
Without anything underneath, she paired the beige suede jacket with knee-high snakeskin boots, making a bold statement showcasing her confidence and style prowess.
Jennifer effortlessly blended sophistication and glamour with a silver handbag, chic white-rimmed Fendi sunglasses, and dazzling diamond and gold rings on each hand.
With caramel highlights cascading into a high bun, her regal aura was unmistakable. Her smoky eye makeup and nude lip further amplified her signature J.Lo radiance.
View this post on Instagram
Not one to shy away from sharing her fabulous moments, Jennifer took to Instagram to give her fans a glimpse of her front-row experience at the Coach show.
Seated between fashion icons Anna Wintour and British Vogue editor-in-chief Edward Enninful, she couldn't contain her laughter as she removed her sunglasses.
In the video, a background voiceover of Meryl Streep from The Devil Wears Prada says: "Oh, don't be ridiculous, Andrea. Everybody wants this. Everybody wants to be us."
Her caption, "Meta moment… lol…COACH NYFW," captured the essence of the fashionable affair.
With her timeless beauty and undeniable charm, it's no surprise that Jennifer Lopez has been a global ambassador for Coach since 2019. She has graced their campaigns and taken over the role of the brand's face from longtime ambassador Selena Gomez.