Jessica Simpson's company, With You LLC, has filed a lawsuit against Jessica Tirado, owner of the small online fashion retailer Jessica's Everything Shop, for allegedly infringing its trademark.
According to the lawsuit, With You LLC lawyers first became aware of Tirado after she filed a request at the federal trademark office in 2021 to register her brand's full name, "Jessica's Everything Shop, *JES*," as a trademark for an online fashion store.
Jessica Simpson's company, With You LLC, filed a lawsuit against Jessica's Everything Shop, an online apparel retailer owned by Jessica Tirado, over the use of the Jessica brand name (Credit: FashionStock / Shutterstock)
With You said they wanted to work out a "live and let live" agreement with Tirado, which "would allow Ms. Tirado to proceed with her exploitation of her name 'Jessica Tirado' in a way that would never impede WY's activities." Tirado, however, rejected it and instead asked for a cash payout.
Simpson's lawyers wrote in the suit, "Ultimately, Ms. Tirado engaged legal counsel to represent her in the opposition, responded and indicated that Ms. Tirado was willing to settle the matter with WY, but only if WY was willing to make a monetary payment."
"When Ms. Tirado's counsel made clear that the matter would not settle absent a payment, and he began to run up legal costs … WY was left with no alternative but to protect its position by filing this lawsuit."
"With You has a policy that it does not make any such payments, inasmuch as doing so invites 'troll plaintiff's attorneys' to file claims against With You, believing that With You will, in each instance, pay monies," Simpson's lawyers added in the lawsuit.
Jessica Simpson checks out of her NYC hotel in a cutout black top, matching flared pants, and thick platform shoes on April 13, 2023 (Credit: Janet Mayer / Startraksphoto)
With You lawyers detailed that while Simpson and her collection have "always coexisted" with other Jessicas, name-dropping Jessica Alba, Jessica Biel, and Jessica Chastain, among others, they only call out parties who attempt to secure trademark and claim rights based on the stand-alone names "Jessica," "Jess," or "Jes" as they would cause "consumer confusion."
"By such wrongful acts, Ms. Tirado has caused and, unless restrained by the Court, will continue to cause serious irreparable injury and damage to plaintiff and to the goodwill associated with plaintiff's Jessica Simpson trademarks, including dilution of the trademarks, diversion of customers from plaintiff, lost sales and lost profits, and Ms. Tirado will be unjustly enriched," the suit added.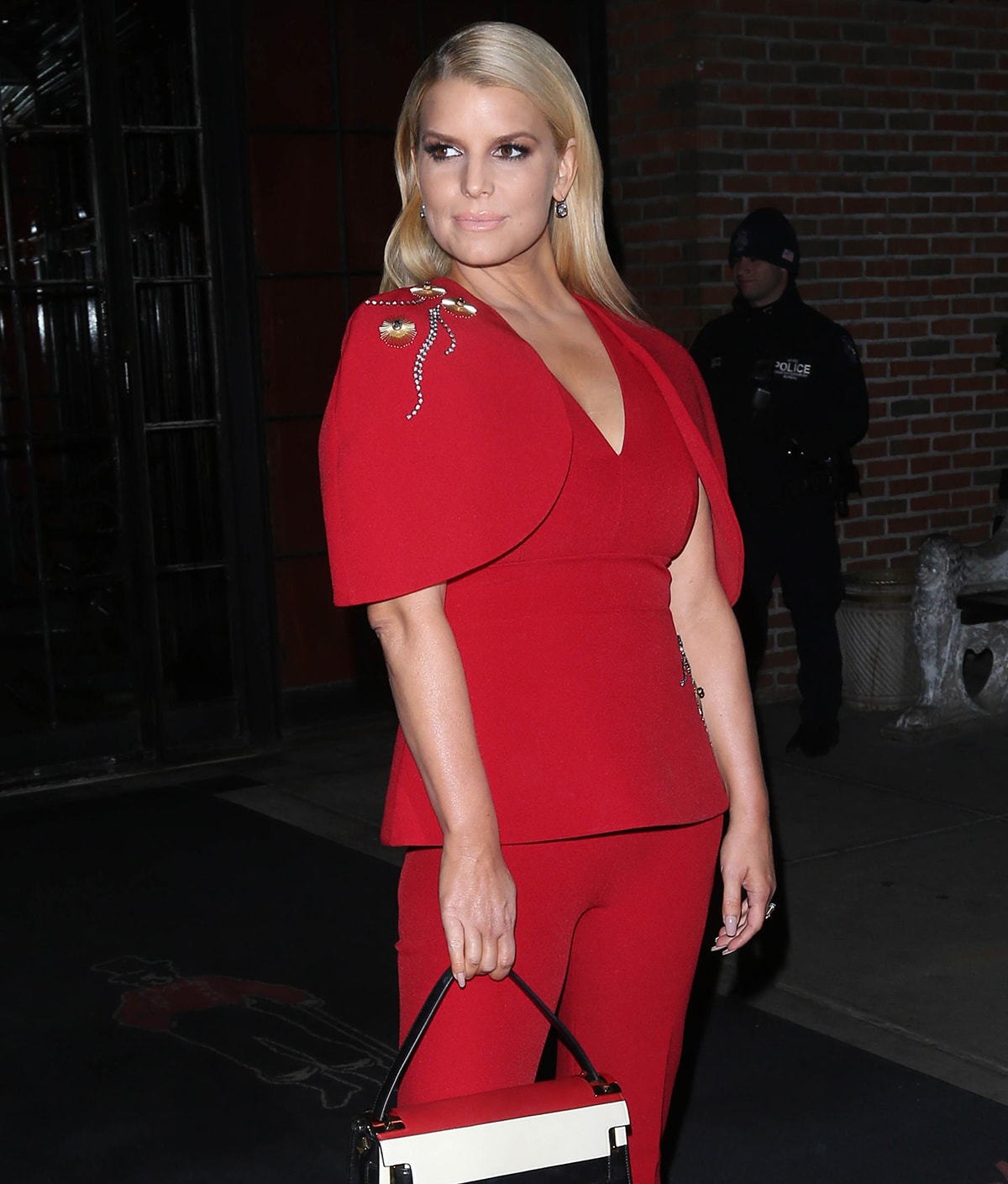 Jessica Simpson looks glamorous in a structured red top and matching pants outside her NYC hotel on February 5, 2020 (Credit: DARA KUSHNER / INSTARimages)
Jessica Simpson launched her eponymous fashion collection in 2005, initially as a shoe collaboration with Vince Camuto, but it has since expanded to include clothing and accessories.
In 2015, it reached total sales of $1 billion and is available on Zappos and Nordstrom. Sequential Brands Group Inc. later acquired the Jessica Simpson brand intending to expand the line into a $2 billion to $3 billion operation.
However, by 2019, Jessica Simpson realized Sequential was in serious financial trouble and had no plans to develop her brand.
View this post on Instagram

After Sequential Brands Group Inc. filed for Chapter 11 bankruptcy in 2021, Jessica Simpson spent $65 million to regain full control of her namesake brand.
"I drained everything to buy it back. But I'm my best investment to myself. I believe in big things. I don't think anything is impossible," she said in an interview with CNBC.
She also told Footwear News at the time, "It means the absolute world to me to be able to take over complete ownership of my brand."
"After 16 years in business, I feel ready to meet this next exciting phase with open arms. I know the sky is the limit when my mom, our incredible team, and I lock into our customers completely."
View this post on Instagram