Hilary Duff, who has hinted she lost her virginity to Good Charlotte member Joel Madden, was seen in January 2016 putting on a brave face while arriving at AOL Build in New York City following the passing of her French bulldog, Beau.
The then 28-year-old actress was "shattered in a million pieces" over the passing of her dog, but she continued her promotional duties for the second season of her comedy-drama TV series, "Younger."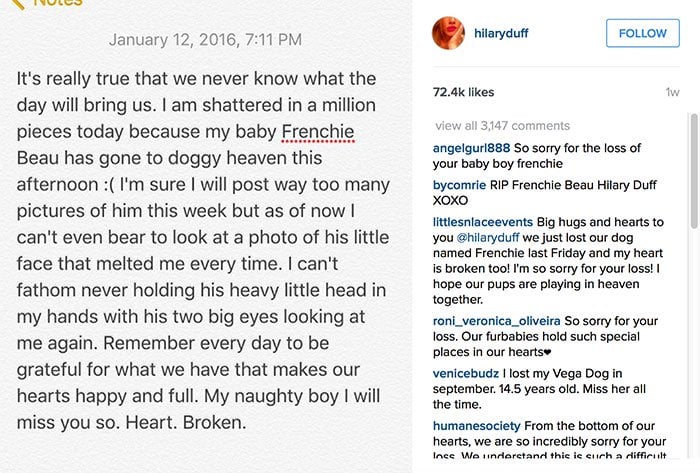 Hilary Duff expressed her heartbreak on Instagram over the passing of her French bulldog, Beau – posted on Instagram on January 12, 2016
How much older is Joel Madden than Hilary Duff?
In July 2004, a 25-year-old Joel Rueben Madden began dating teen idol Hilary Duff when she was 16. One year earlier, she ended her relationship with Aaron Carter.
Hilary Duff and her boyfriend Joel Madden of Good Charlotte during the 2005 MTV Video Music Awards
"I had a 26-year-old boyfriend," Duff said in the April 2015 issue of Cosmopolitan of Good Charlotte rocker Joel Madden, whom she dated from ages 16 to 19. "So everyone can make their own assumptions about what I was doing."
Born on March 11, 1979, in Waldorf, Maryland, Joel Madden is 9 years older than Hilary Duff, who was born on September 28, 1987, in Houston, Texas. They broke up in November 2006.
"I kind of ignored it and tried to just continue to live my life," Madden told People about their breakup in March 2007.
"People can say or think whatever they want …so in my reality, it's kind of irrelevant. I'm always the kind of person that does the right thing and keeps my side of the street clean."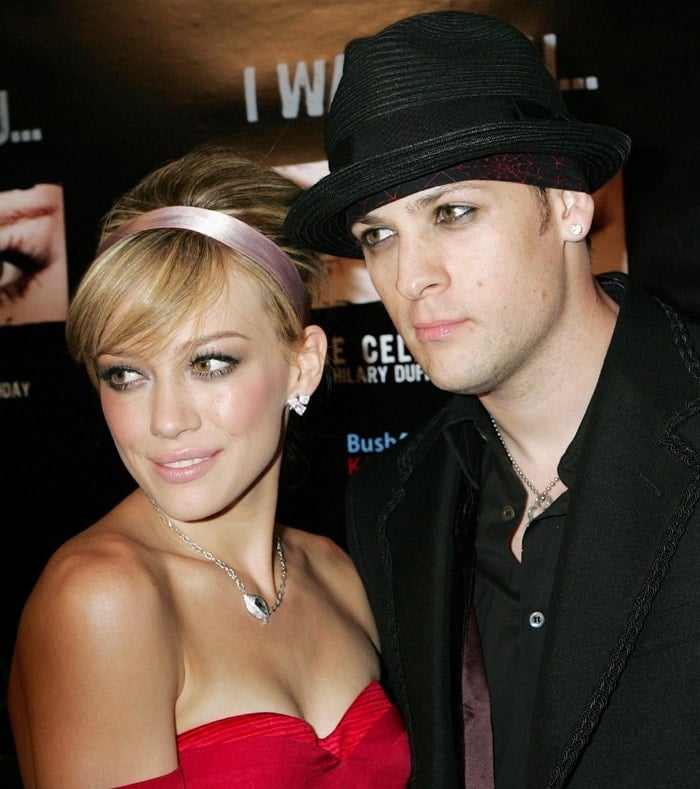 Hilary Duff and Joel Madden during Hilary Duff's 18th birthday party
Promoting the latest season of Younger in January 2016, the Lizzie McGuire actress put her curves on display in a sexy fitted red sleeveless dress by Alexander Wang.
Hilary Duff wears her blonde hair down as she arrives at AOL Build in New York City on January 13, 2016
It featured a sexy zip detail on her stomach that goes around the back and down on the left side and a thigh-high slit that showed off her toned leg.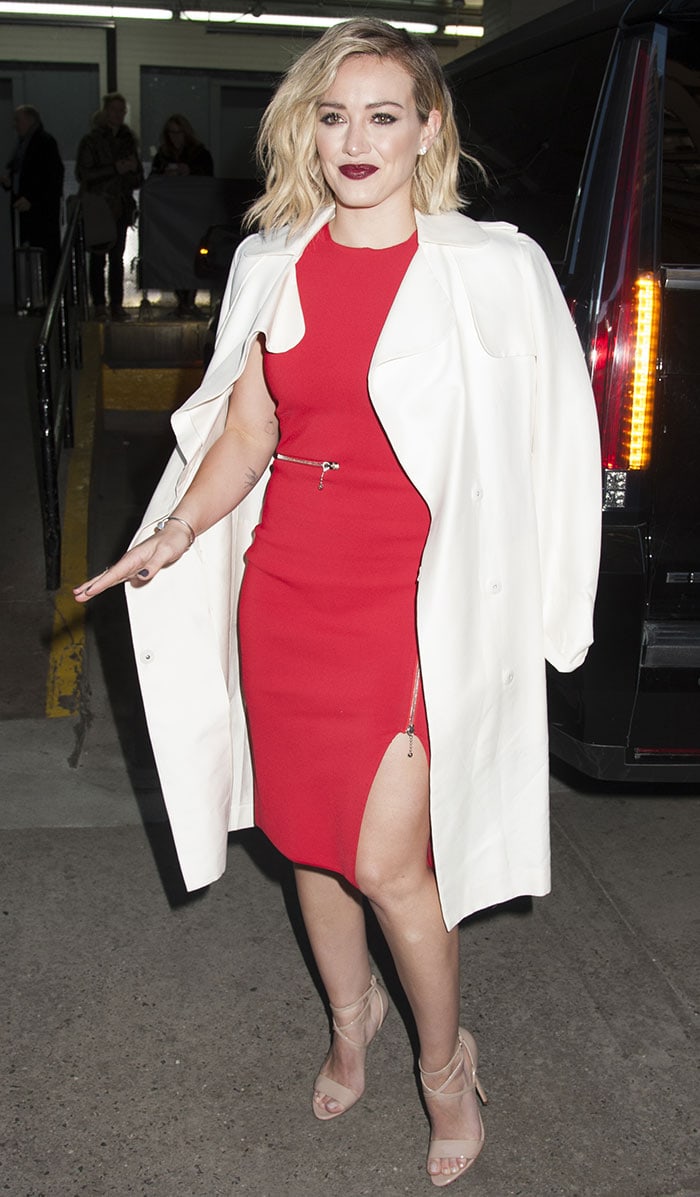 Hilary Duff stuns in a fitted red dress from Alexander Wang
For added glamour, she draped a white Camilla and Marc trench coat over her shoulders and elongated her legs with a pair of nude heels.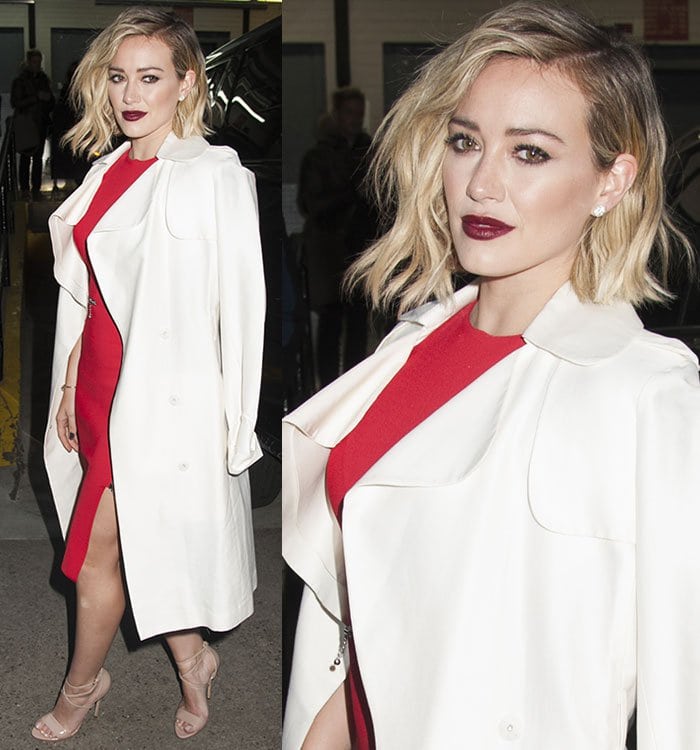 Hilary Duff finishes her AOL Build ensemble with a white trench coat from Camilla and Marc
She wore her short blonde locks in tousled waves and sported smoky eye shadow and a slick of vampy red lipstick.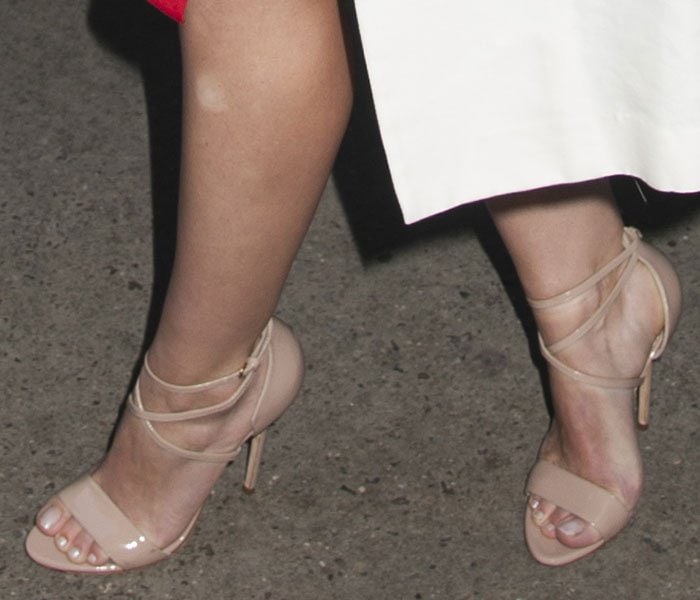 Hilary Duff's feet in nude Brian Atwood sandals
Hilary wore the "Tamara" sandals from Brian Atwood's Spring 2014 collection. They are made of nude patent leather material and feature crisscross ankle straps and about 3.5-inch heels.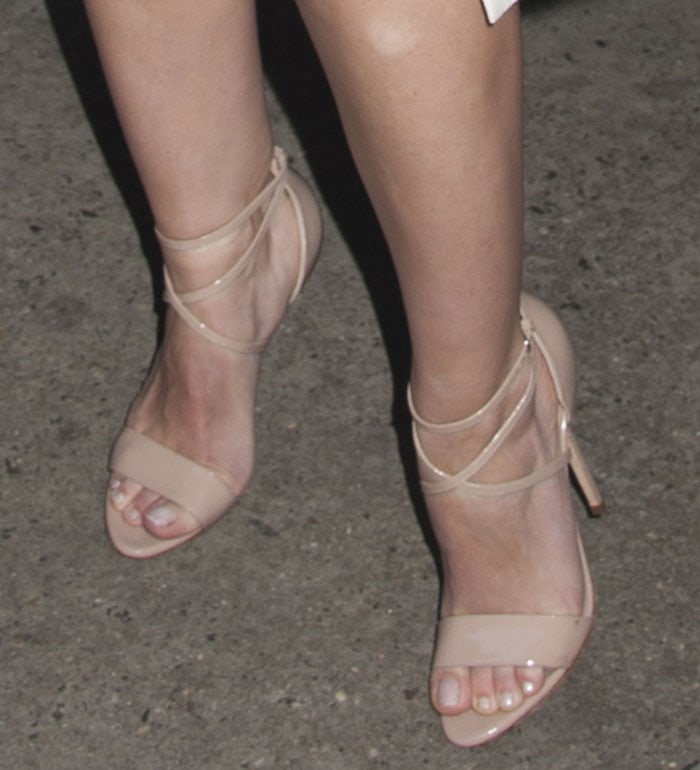 Hilary Duff's feet in strappy "Tamara" sandals
We can no longer find these sandals online, but a version in pink patent leather, called "Tamy," is on sale at Amazon.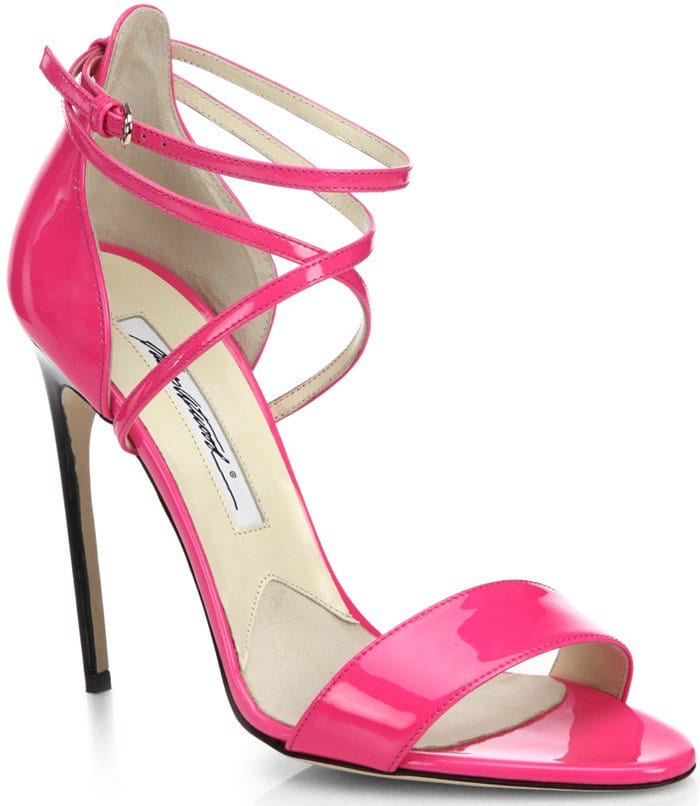 Brian Atwood Pink Tamy Patent Leather Strappy Sandals, $725
Credit: WENN / Nikki Nelson / David Livingston