Jon Hamm and young fiancée Anna Osceola made a grand appearance at the 2023 Vanity Fair Oscars After Party, looking every inch the stylish and sophisticated couple they are.
The newly-engaged couple has set the fashion bar high with their latest red carpet appearance, sporting matching black and white ensembles that perfectly complement each other, reflecting their strong connection and deep love for each other.
Anna was stunning in a predominantly white dress accentuated with a black side, featuring a short leg split that added a touch of allure to her outfit.
John Hamm and Anna Osceola made a stylish appearance on the red carpet at the Vanity Fair Oscar Party Hosted By Radhika Jones at Wallis Annenberg Center for the Performing Arts on March 12, 2023, in Beverly Hills, California (Credit: Jeffery Mayer / JTMPhotos / Media Punch / INSTARimages / Cover Images)
Her brunette hair was parted in the middle and styled in loose waves that flowed down her shoulders, and she held a tiny green purse that added a pop of color to her ensemble. With a confident smile, Anna looked like a true fashion icon who could pull off an effortlessly chic look.
Meanwhile, Jon looked dapper in a classic black tuxedo with a black bowtie that exuded elegance and sophistication.
His attention to detail was evident with his choice of black shoes that perfectly matched his outfit, making him look like a true gentleman who knows how to dress to impress.
The 51-year-old actor and his 34-year-old partner, who first met on the set of Matthew Weiner's critical hit Mad Men in 2015, only recently got engaged in February. Their appearance at the Oscars after-party in March 2022 was their first public event.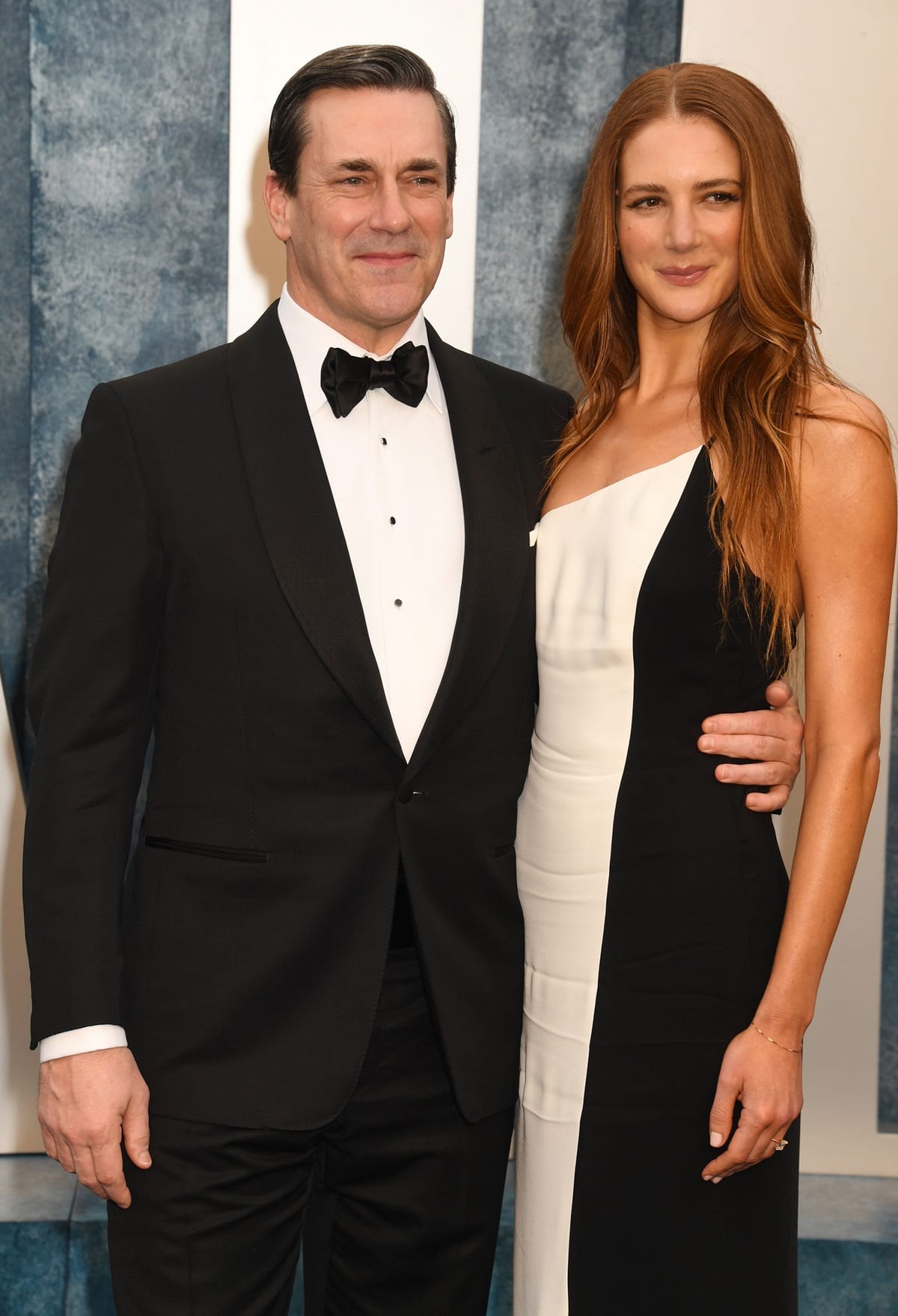 Jon Hamm looked suave in a classic black tuxedo and bowtie and Anna Osceola shone in a chic black and white one-shoulder gown (Credit: Jeffery Mayer / JTMPhotos / Media Punch / INSTARimages / Cover Images)
Anna's breakout role came as Clementine, the receptionist who caught the eye of Jon's character Don Draper in the finale of AMC's Emmy-winning blockbuster Mad Men series. She has since appeared in various TV shows and movies, including Greek and Law & Order True Crime.
The couple's latest collaboration is in the highly anticipated movie Fletch, Confess in 2022, the third installment of the Fletch series. Anna plays the role of Larry, while Jon portrays semi-retired journalist Irwin M. Fletcher, initially performed by Chevy Chase in 1985 and 1989.
While Jon Hamm is known for acting in various TV shows and movies, he was also in a long-term relationship with actor and producer Jennifer Westfeldt. However, the couple announced their split in September 2015 after being together for 18 years.