Celebrities might appear to be perfect, poised and immune from all the issues that plague us normal people, but when it comes to dating? That isn't always the case.
Take, for example, Victor Cruz and Karrueche Tran. Reports now indicate that the coupled parted ways after a mutual agreement and out of the need to focus on their futures.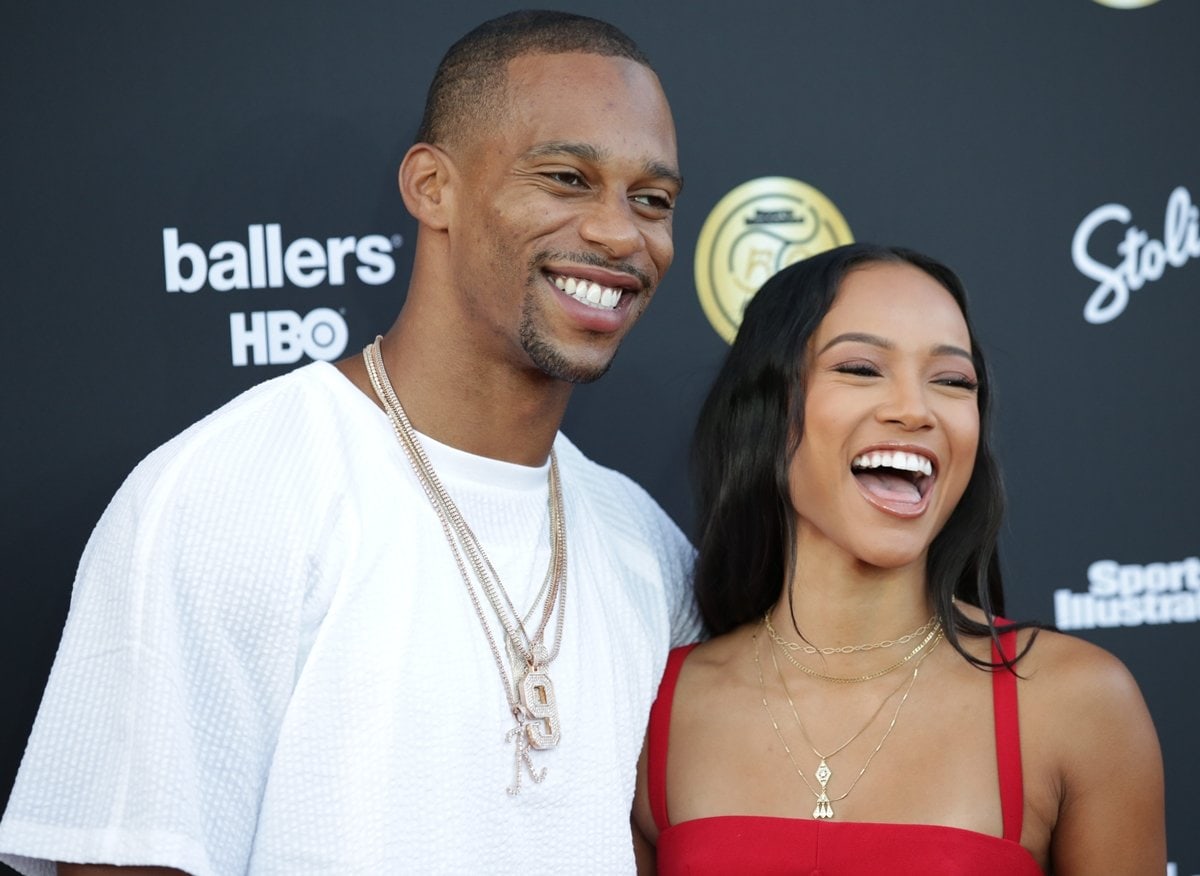 Victor Cruz and Karrueche Tran split in early 2021 after dating for three years (Credit: Brian To / WENN)
That's a common reason many people break up, and the fact that these two are famous doesn't make the process any easier.
How did Victor Cruz and Karrueche Tran meet?
Victor and Karrueche were first confirmed to be dating in December of 2017 when they were photographed holding hands in Los Angeles.
An insider indicated they had been friends for a long time before they became a couple. In fact, the two most likely met for the first time while she was still dating Chris Brown.
Allegedly, the Superbowl champion and actress broke up in early 2021 to focus on their respective careers.
"Right now, they are focused on continuing to grow their successful careers," E! News reported on Feb. 6, 2021. "There are no hard feelings. This is just a case of two people moving forward in life separately."
Victor, who was born Nov. 18, 1986, is 6′ 0″ (183 cm) and Karrueche, born May 17, 1988, stands at 5′ 1″ (155 cm).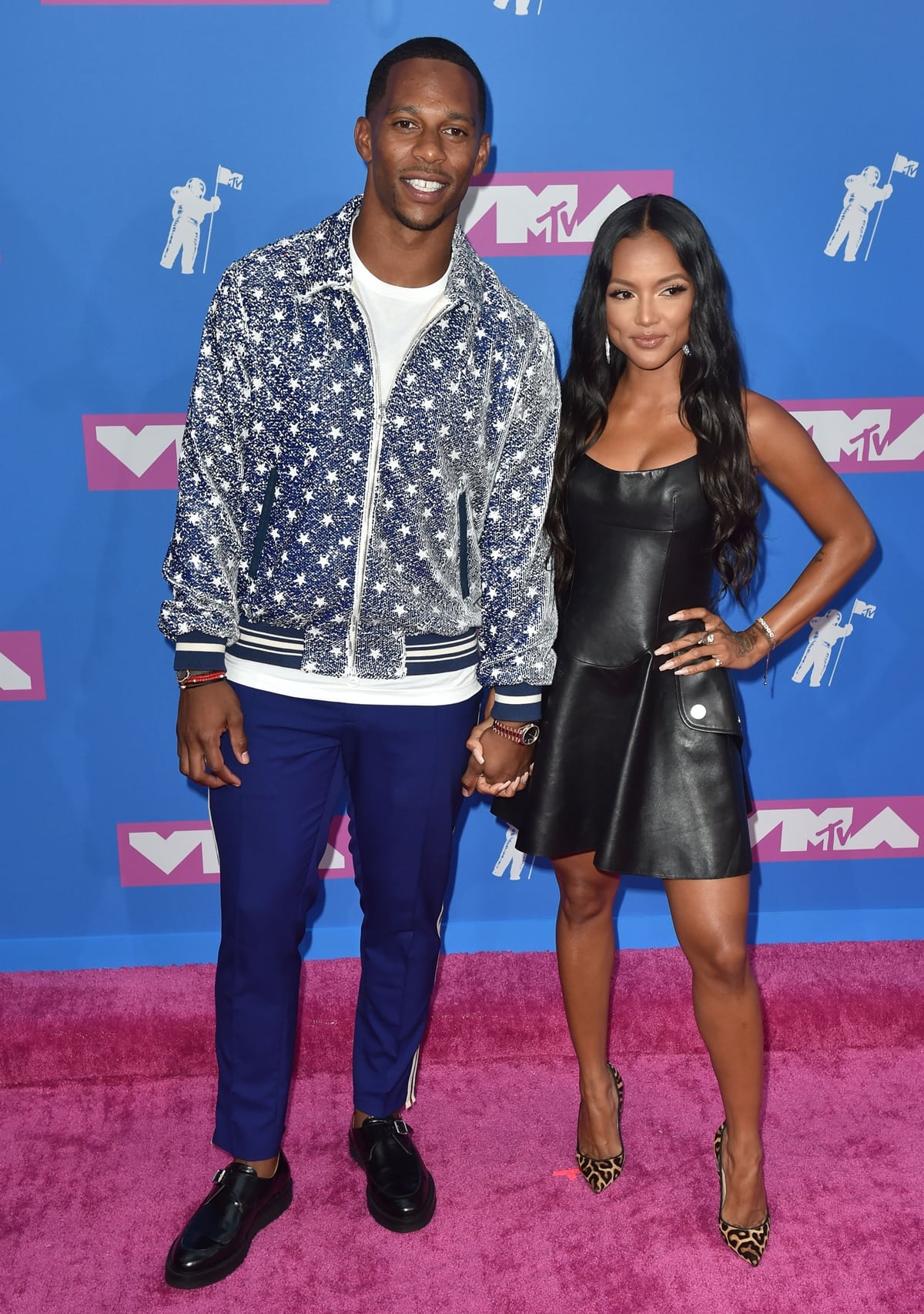 A tall Victor Cruz poses with his much shorter girlfriend Karrueche Tran at the 2018 MTV Video Music Awards held August 20 at Radio City Music Hall in New York City (Credit: WENN)
The breakup reportedly went smoothly. Victor and Karrueche don't have anything against each other and both understood that the relationship had run its course.
Even though the relationship is over, many fans still remember some of its highlights, such as when Victor publicly declared his love for Karrueche on the model's 32nd birthday in 2020.
"Your humility, intelligence, patience, and selflessness are just a few qualities that made me fall in love with you," Victor wrote on Instagram.
Following their debut as a couple in December 2017, the pair was often seen gracing various occasions together on the red carpet and at Hollywood events. Victor and Karrueche attended the MTV Video Music Awards, the BET Awards, and New York Fashion Week together.
Victor Cruz and Karrueche Tran attend the 29th annual Environmental Media Awards held May 30, 2019 at The Montage Beverly Hills in California (Credit: FayesVision / WENN)
Unfortunately, like many relationships, Victor and Karrueche's union wasn't immune from the effects of the COVID-19 pandemic.
Victor spent most of the early pandemic at home in New Jersey with his nine-year-old daughter Kennedy Cruz, who he shares with his ex-girlfriend Elaina Watley. Karrueche remained with her family in Los Angeles.
"Just mentally, you kind of go through these phases of, like, indecisiveness and 'What's the future going to look like?'" he told the New York Post's Page Six about his mental health during the pandemic. "Thank God for my close friends, my circle, my people around me, because they kept me focused in times that seemed uncertain or when I needed somebody to talk to."
Victor took to Instagram Live in May 2020 to update fans on his relationship with Karrueche, where he said they'd been talking on the phone most of the time.
"It's given us a lot of time to talk, obviously, and to just dig deeper and just get to know each other more and just find new things out," he said. "Every day I'm like, 'Well, tell me something you've probably never told me before… Now, we're forced every day to have these conversations and some are deeper than others… I'm happy about this time in that regard."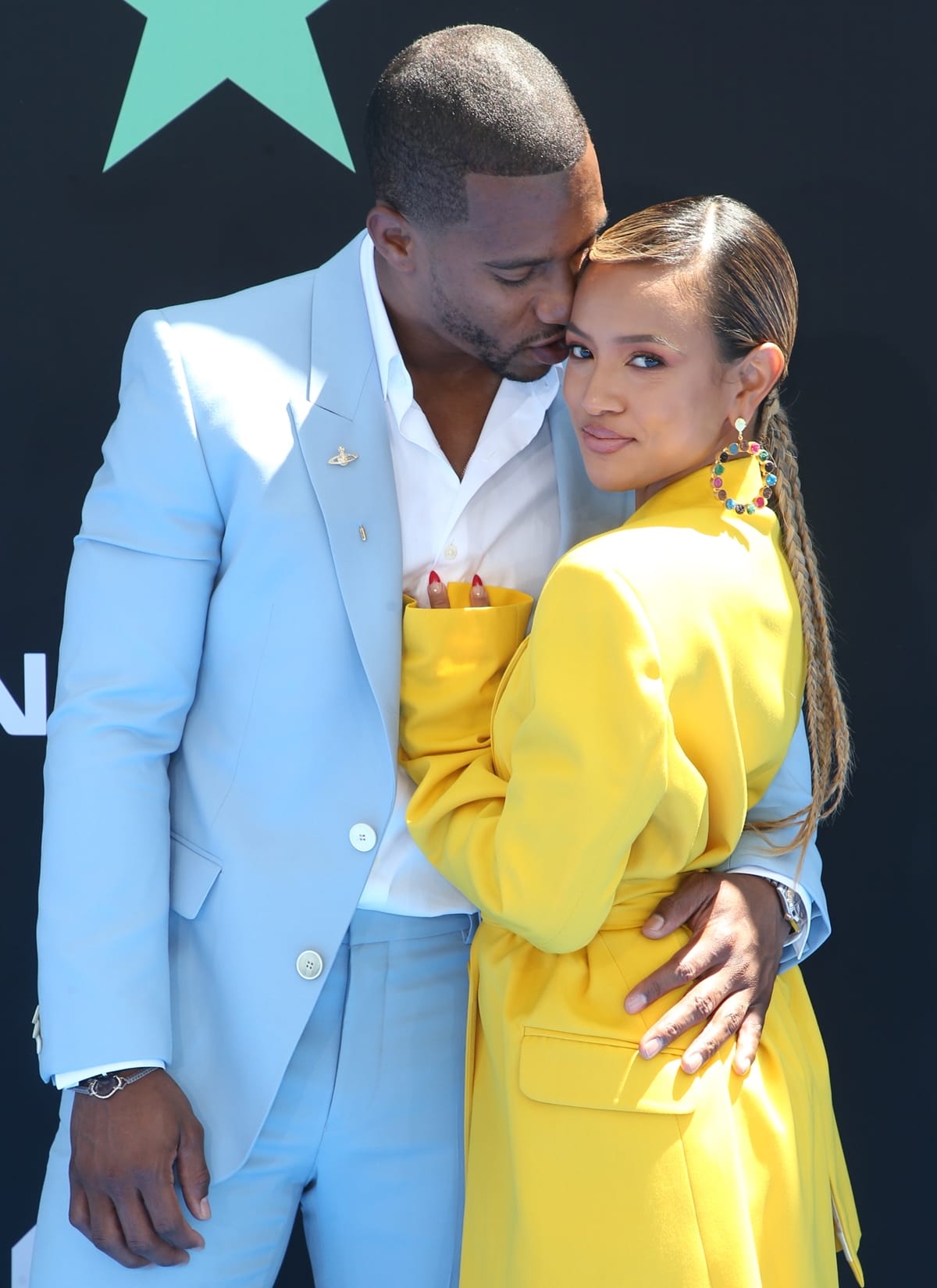 Karrueche Tran wears a House of Holland suit as she poses with boyfriend Victor Cruz at the 2019 BET Awards held June 23 in Los Angeles (Credit: FayesVision / WENN)
Relationships aren't easy, and break-ups are even harder, but luckily, when both parties approach both with a sense of maturity and confidence, it makes the process easier.
While it looks like Karrueche and Victor are done for good, we'll continue to keep an eye on the former couple. Both approached their relationship and break-up with such grace and maturity that we might see them reconcile in the future. We're not counting on it — but we've seen crazier things happen!
Let's take a look back at Karrueche pre-relationship. It's easy to see why Victor was drawn to the model!
In April 2016, Karrueche joined Taylor Swift on the red carpet at the iHeartRadio Music Awards held at The Forum in Inglewood, California.
Karrueche Tran wears her hair in a high ponytail at the 2016 iHeartRadio Music Awards held April 3 in Inglewood, California (Credit: WENN / Brian To)
The then-27-year-old American actress and model sported a red leather mini dress from Los Angeles-based luxury brand Thomas Wylde.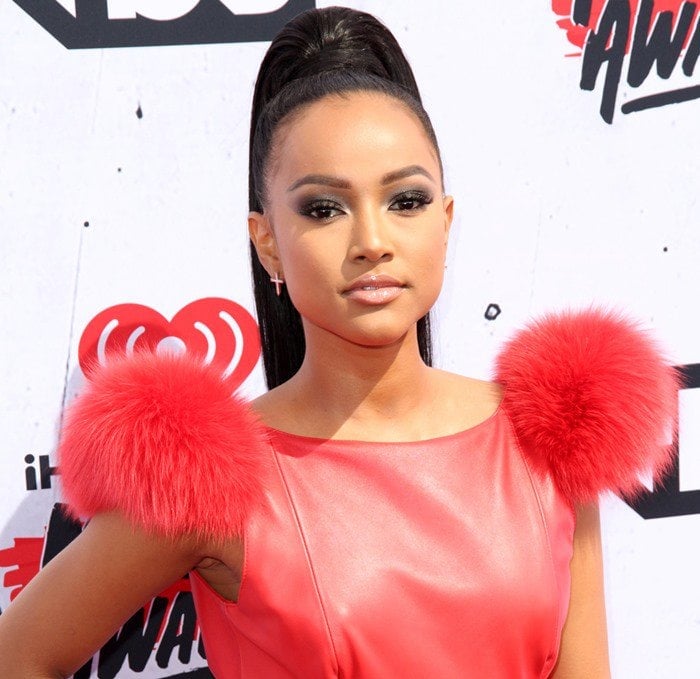 Karrueche Tran shows off the feather accents on her Thomas Wylde dress (Credit: WENN)
The leather frock, while figure-hugging, featured annoying and distracting fur accents on the shoulders.
Karrueche Tran shows off her tattoos and rings (Credit: WENN / Apega)
She styled the sexy frock with a pair of colorful Gucci "Harleth" sandals that you can purchase at Farfetch and Nordstrom.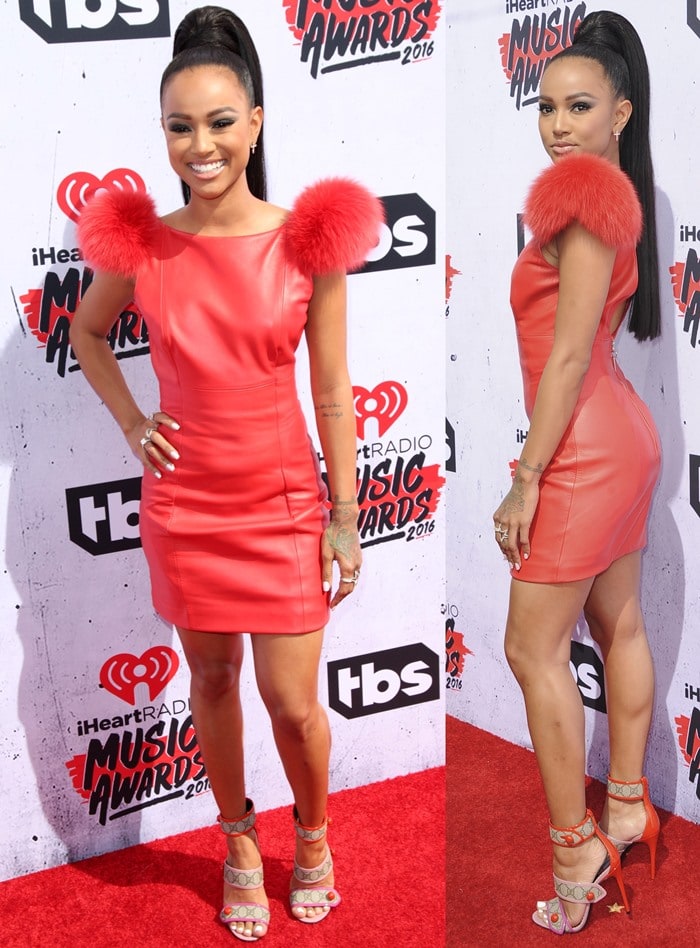 Karrueche Tran poses for photos in a Thomas Wylde dress at the iHeartRadio Music Awards (Credit: WENN / Apega)
The multi-ethnic model and actress accessorized with silver rings and cross-shaped earrings.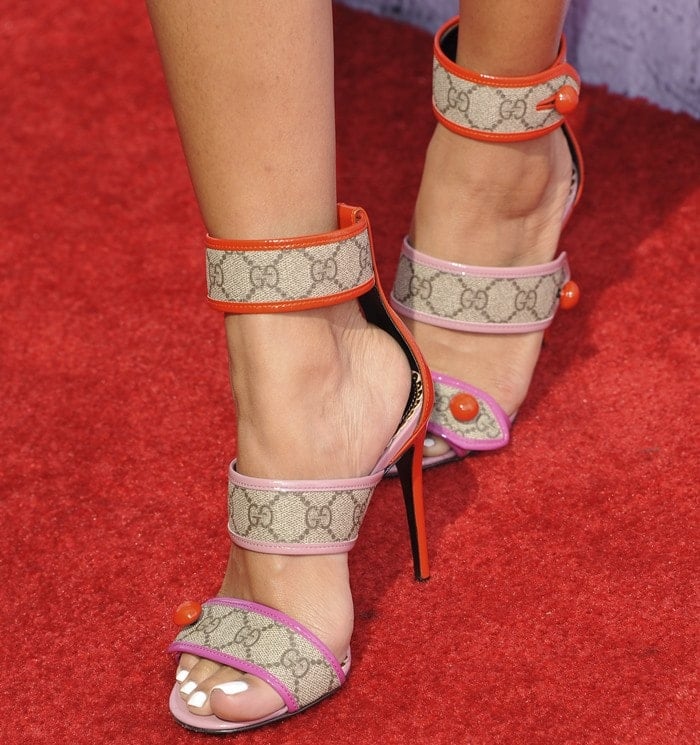 Karrueche Tran's feet in pink and orange Gucci heels (Credit: WENN / Apega)
Karrueche finished her ensemble with a pair of strappy logo-jacquard sandals that featured buttoned ankle straps and slender stiletto heels.
Karrueche Tran's feet in logo-embellished "Harleth" sandals (Credit: WENN)
Gucci 'Harleth' Patent-Leather Sandals, $750