Victor Cruz joined his girlfriend Karrueche Tran at the 2019 BET Awards in Los Angeles. The 32-year-old former pro football player, who has an estimated net worth of $17 million, looked handsome in a light blue suit.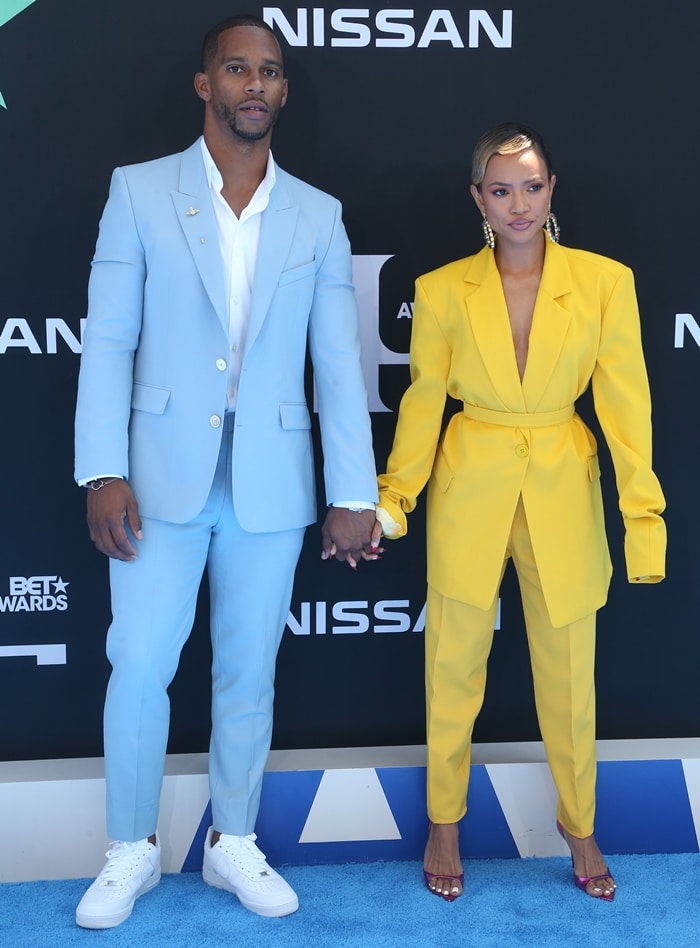 Karrueche Tran and Victor Cruz hold hands at the 2019 BET Awards in Los Angeles on June 23, 2019
The 31-year-old Claws actress started dating the former American football wide receiver in 2017.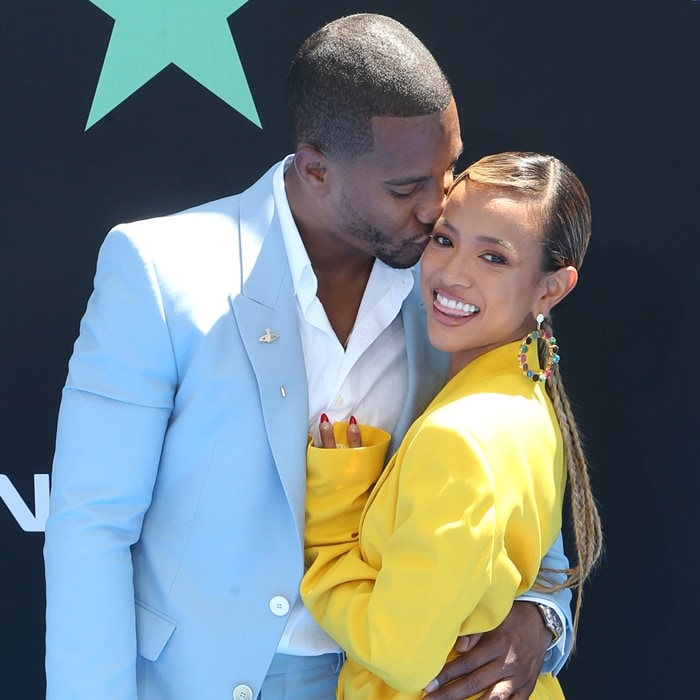 Karrueche Tran gets a kiss from Super Bowl XLVI champion Victor Cruz
She showed off her feet in leather sandals from Versace paired with a yellow House of Holland suit and Kelly earrings from Isabella May.
Karrueche Tran showed off her sexy feet in Versace sandals
One month earlier, she flaunted her sexy legs at the 2019 Environmental Media Awards in a tiny black dress.
Karrueche Tran and Victor Cruz at the 2019 Environmental Media Awards held at Montage Beverly Hills in Beverly Hills, California, on May 30, 2019
She also showed off the colorful Dragon tattoo that almost covers her entire left hand. It is interpreted as a sign of love for Chris Brown and the design is reportedly from one of Brown's personal paintings.
Karrueche Tran's enormous hand tattoo of a Chinese dragon
In July 2015, we witnessed a classic Hollywood he-say-she-says.
It was all too obvious that the girl emerged victorious in the Chris Brown-Karrueche Tran break up, with Chris allegedly cheating and hiding the fact that he fathered a daughter out of a one night stand with a stripper, and Karrueche calling him out for not manning up.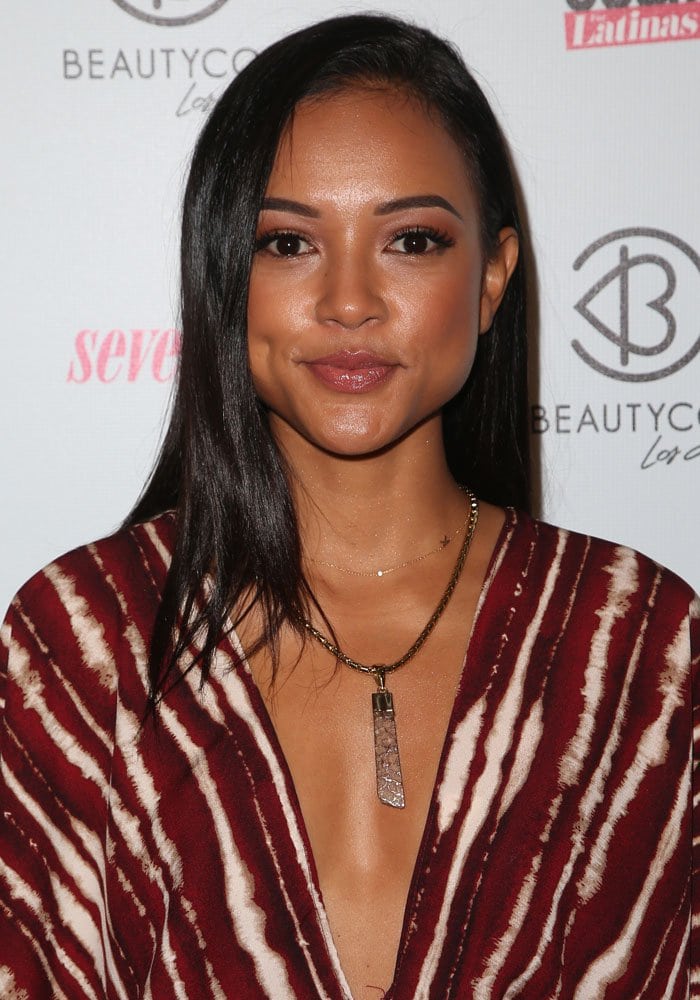 Karrueche Tran's Charles Albert Champagne Quartz necklace
After much pining after his one-that-got-away, rumors surfaced saying Chris Brown was relieved to be free from his ex-girlfriend's emotional issues and insecurities.
Ooh burn. Karrueche didn't seem to pay any attention, however, as she showed up at the LA BeautyCon looking like her usually perky self.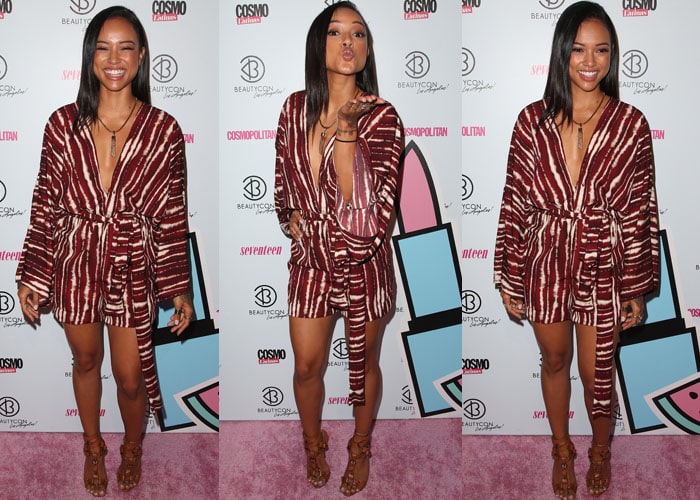 Karrueche Tran flaunts her legs in a Philthy Ragz Miss Fawcett romper
The then 27-year-old model took to the carpet in a Philthy Ragz Miss Fawcett romper, a Charles Albert Champagne Quartz necklace, and Giuseppe Zanotti ankle-wrap heels.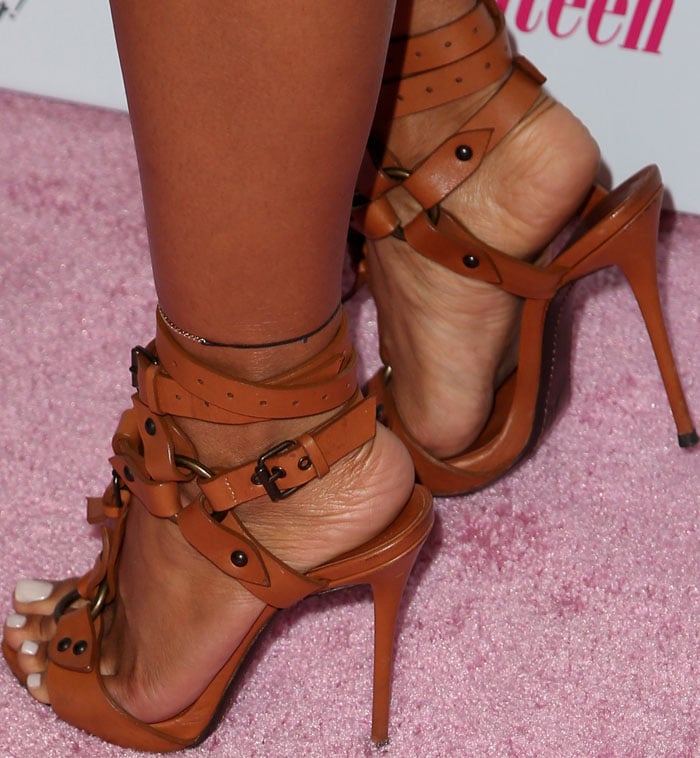 Karrueche Tran's sexy feet in Giuseppe Zanotti sandals
Karrueche flashed her dimples and made funny faces for the camera despite the sticky Hollywood mess she rolled herself in.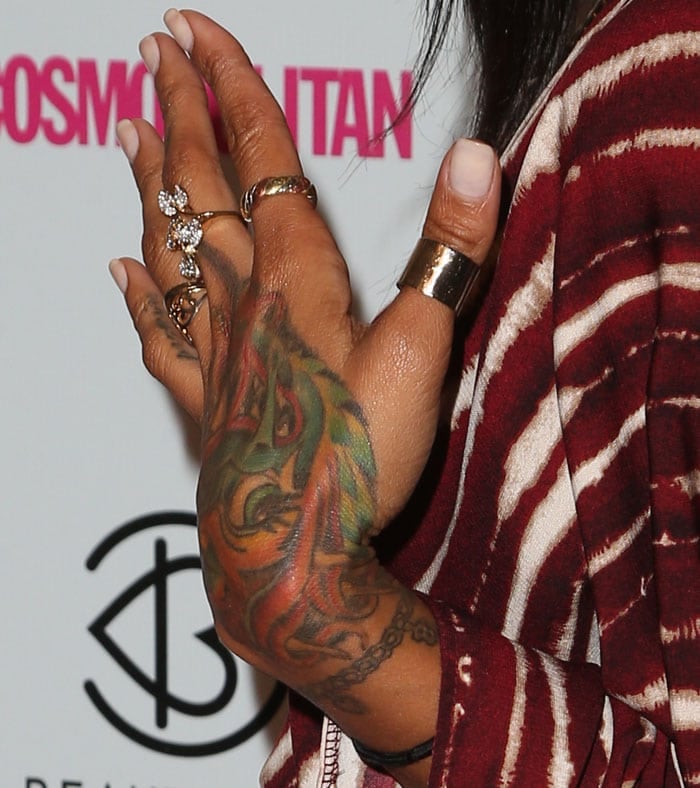 Karrueche Tran's hand and wrist tattoos
She showed off the tattoo of a charm bracelet on her left wrist. On the back of her hand, she has inked a colorful Chinese dragon, a symbol of strength and wisdom.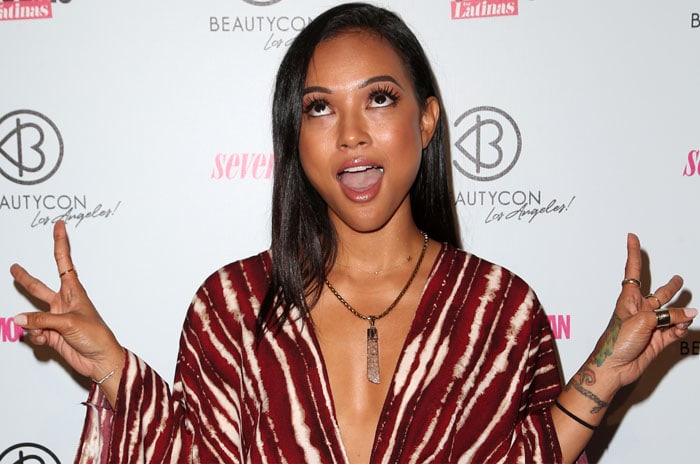 Karrueche Tran at the 4th Annual BeautyCon LA Festival in Los Angeles on July 11, 2015
Judging from Chris Brown's tweet, however, it seems the then 26-year-old crooner encouraged Karrueche to rethink their relationship. But that's just our interpretation.

Whatever the case was with these two lovebirds, we are siding on the affirmative when it comes to Karrueche's Giuseppe Zanotti heels. As good things never last, though, this gorgeous tan pair was already snapped up across all retailers online as well. Too bad.
Check out our alternative picks below:
Tan Giuseppe Zanotti Ankle-Wrap T-Strap Leather High-Heel Sandal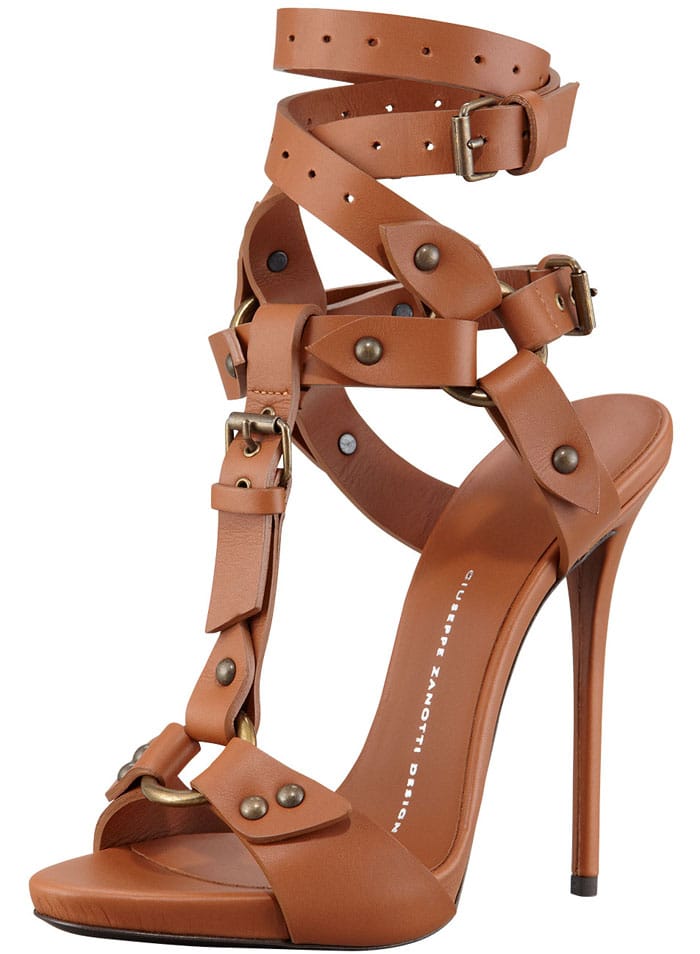 Chloé Leather Ankle-Wrap Sandal, $750
Gucci Candy Ankle Strap Sandal, $850
Manolo Blahnik Zilax Tan Leather Sandal, $985
Credit: FayesVision / WENN