Kat Von D sure has a lot on her plate. Katherine von Drachenberg is a world-renowned tattoo artist, musician, model, and TV personality, plus she has a makeup line for Sephora and an eponymous clothing line.
Not only that, but she's also a writer! In fact, her first two books — 'High Voltage Tattoo' and 'The Tattoo Chronicles' — reached The New York Times Best Seller list. You can buy them at Amazon.
The American tattoo artist, model, musician and television personality recently released a new book entitled 'Go Big or Go Home'. We spotted her at Barnes & Noble in Las Vegas on May 26 signing copies of the book, and boy did she look rocking!
Kat Von D at the book-signing event for her new book, Go Big or Go Home, at Barnes & Noble in Las Vegas on May 26, 2013
Closeups of Kat Von D's tough boots
It would have been a perfect rockstar getup without the fishnet-like jacket. Her sheer sleeveless top with a cross design, leather leggings with cutouts, black accessories, and dark eye makeup, not to mention the boots, finished off a stunning rock 'n roll look.
Kat's boots are made of suede and feature triple-buckled straps (including one on each vamp), lace-up fastenings, zipper details from the vamp to the shaft, about 1 1/2 inch of platforms, and ombre Lucite heels that are 4 or 5 inches high.
The heels and the platforms suggest that these boots are from Jeffrey Campbell. You're actually looking at another version of the famous "Lita" boots. This pair was first spotted on the 31-year-old back in March.
We couldn't find the exact boots online, but here are some alternatives that we hope you'll like:
Jeffrey Campbell "Lita" Buckle Boots, €224.90
Unif "Das" Platform Boots, $258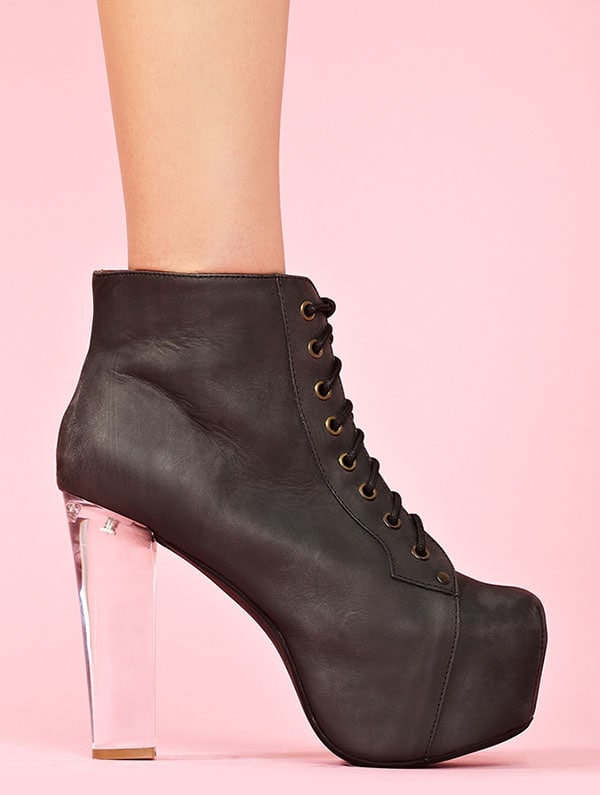 Jeffrey Campbell "Lita" Clear Platform Boots, $175
Jeffrey Campbell "Lita" Jeweled Platform Boots, $210
Credit: Judy Eddy / WENN