We seriously think Kate Bosworth, who met her future husband Michael Polish in 2011 when filming the adventure drama film Big Sur, should write a self-help book on how to look effortlessly chic (at all times).
Take, for example, Kate's look at the Los Angeles International Airport in January 2014.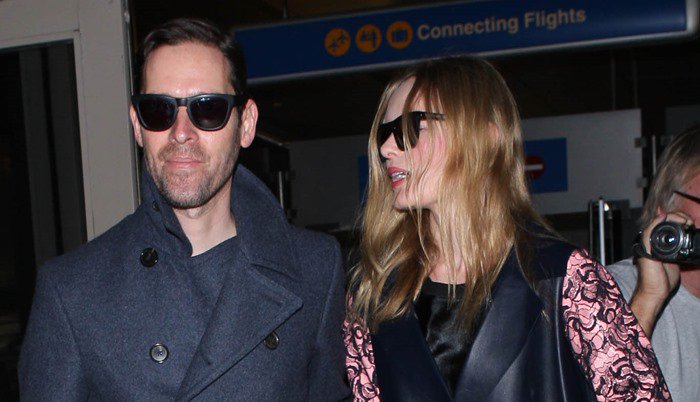 Kate Bosworth wears her hair down as she arrives at Los Angeles International Airport with husband Michael Polish on January 21, 2014 (Credit: WENN)
The actress wore a lace-detailed leather coat — a real statement piece — complemented with dark Karen Walker Deep Freeze sunnies, coral-hued lips, a textured purse, and some pointy pumps.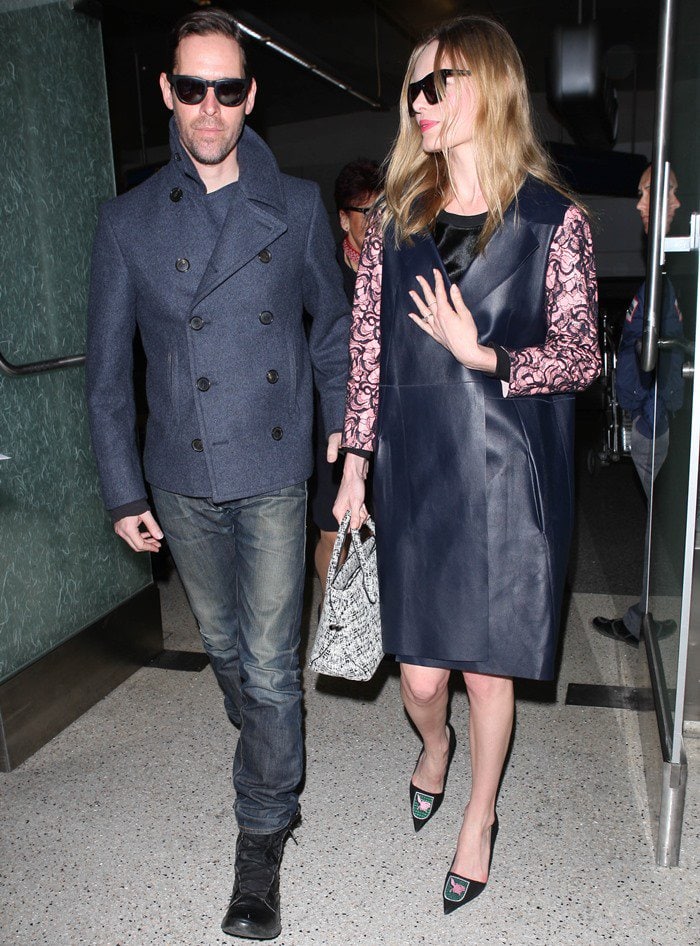 Kate Bosworth wears a lace-detailed blue leather coat as she arrives at LAX with her husband (Credit: WENN)
3 years earlier, she met filmmaker Michael Polish when filming in Monterey County, California. He has a daughter, Jasper Polish, from his previous marriage to makeup artist Jo Strettell.
"I started to sense I had known this girl a long time," Polish told The Sydney Morning Herald. "I said, 'I'm going to marry this girl.'"
12 years younger than him, Kate Bosworth portrayed Willamine "Billie" Dabney in the film that debuted at the 2013 Sundance Film Festival.
Director Michael Polish and Kate Bosworth attend the "Big Sur" premiere at Sunshine Landmark on October 28, 2013, in New York City (Credit: Alberto Reyes / WENN)
"It hit me at about a million miles an hour," she said in an interview with Marie Claire UK.
"I almost fell off my chair. They always say when you know, you know, and I had found that quite frustrating my whole life. How do you know? But it's true."
"There are so many people that hook up on movies, and you wonder if that's real, so we didn't go there. I think we were both experienced to know that if this was the real deal, we could wait to see what would happen," she added about waiting to start dating until filming had wrapped.
They married in Philipsburg, Montana, on August 31, 2013, in a four-day Mexican-themed celebration at The Ranch at Rock Creek.
Kate Bosworth and her husband Michael Polish arrive at a Dior dinner at the Place Vendome on July 2, 2018, in Paris, France (Credit: WENN)
"It's difficult as a director, you always work with a bunch of different actors, and then when you click in with somebody you don't really want to leave that person," Polish told Us Weekly.
"It's the one [film] you show your children when they're old enough and you say, 'This is where I met your mother,' and that's probably the most special part," he added about Big Sur, which is based on the 1962 book by novelist Jack Kerouac.
Kate's shoes stood out thanks to colorful rose-embroidered appliqués on the toes. Altogether, the mix looked gorgeous, and suffice it to say that Kate scored another hit.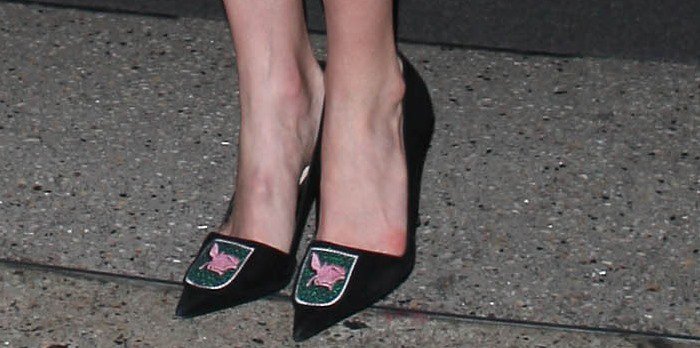 Kate Bosworth's feet in unique Dior pumps (Credit: WENN)

Kate's fancy heels are from Dior. The actress even personally replied (via Twitter) to our inquiry on her gorgeous shoes!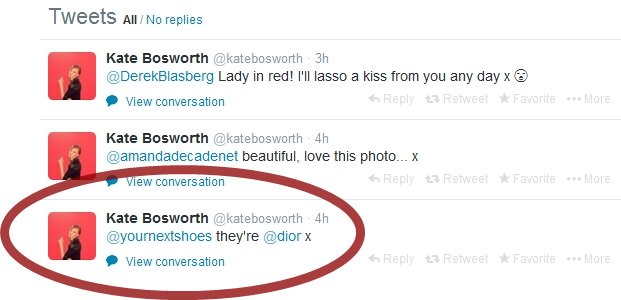 Kate Bosworth confirms on Twitter that her shoes are by Dior
We tried looking for them online, but they were impossible to find.
So, while we continue digging, allow us to leave you with these fancy "Mascot" loafers from Charlotte Olympia. These are not as pointy or as high, but they look similar.
These black loafers feature embroidered wildcat appliqués on the toes in addition to 1.5-inch-tall block heels.
Charlotte Olympia 'Mascot' Wild Cat Loafers, $795