When it was announced in April 2009 that Kate Mara was joining the cast of "Iron Man 2," fans were hoping she'd be an agent of S.H.I.E.L.D. or even Bethany Cabe, Tony Stark's bodyguard and eventually his lover in the comic books published by Marvel Comics.
"Not that I know of," she said in the regard to the rumors in an interview with MTV News. "I don't know how that started. Maybe because Bethany Cabe has red hair in the comic books and they thought, well, I have red hair. I don't know, but I don't play her."
Kate Mara has a small cameo in Iron Man 2 as a US Marshal looking for Tony Stark
In the end, Mara ended up with a simple cameo in one rather memorable scene of "Iron Man 2." "It's a very small part," she explained. "I'm only in one scene, so I don't know, I don't want to tell you anything — go see it! Hopefully I'm still in it!"
Her role is that of a U.S. Marshal who waits by Tony Stark's car for Stark to leave the Stark Expo. When approached by Stark (Robert Downey Jr.) and Happy Hogan (Jon Favreau), she attempts to serve Stark with a subpoena to appear in Washington, D.C. before a Congressional committee headed by United States Senator Stern (Garry Shandling), who wants Stark to give Iron Man's armor to the government.
While she just made a small cameo, it's believed her appearance in the Marvel Cinematic Universe provided her career with a small boost.
In September 2015, the wealthy heiress failed to impress at the European premiere of "The Martian" held at Odeon Leicester Square in London.
Kate Mara's slicked side-parted hairstyle at the European premiere of "The Martian" held at the Odeon Leicester Square in London, England, on September 24, 2015
The then 32-year-old actress joined her co-stars Matt Damon, Kristen Wiig, and Jessica Chastain on the red carpet.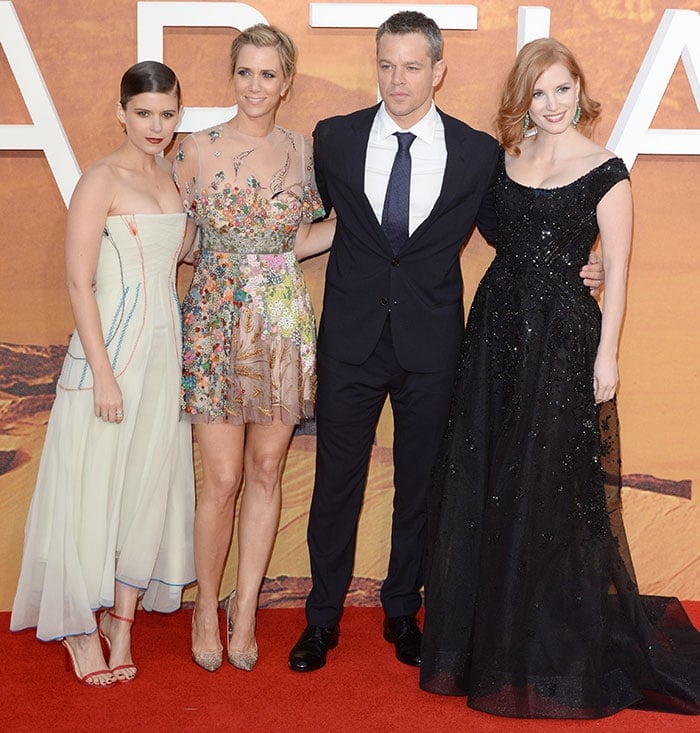 Kate Mara, Kristen Wiig, Matt Damon, and Jessica Chastain pose on the red carpet of the premiere of "The Martian"Kate Mara
Kate looked rather bland in a cream-colored dress from Christian Dior's Fall 2014 collection, which featured blue and red embroidery, a billowing skirt, and a crisscross effect on the bodice.
Kate Mara wears an embroidered Christian Dior dress on the red carpet at the premiere of "The Martian"
However, the dress appeared to be incredibly constricting. The bodice seemed so tight across the bust that it looked like Kate could barely breathe.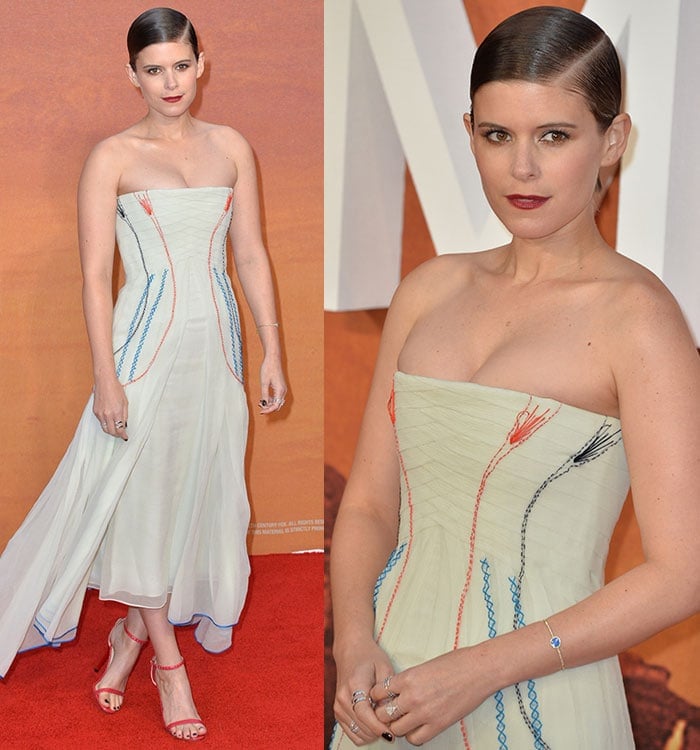 Kate Mara shows off her clavicle in a strapless embroidered dress on the red carpet
She kept her accessories to a minimum with a bangle and a few rings and rounded out her simple look with slicked side-parted hairstyle and deep red lipstick.
Kate Mara wears her hair back in a dramatic side part on the red carpet
Kate chose the Jimmy Choo "Minny" for her feet that you can buy at Farfetch and Nordstrom. They are made of red snakeskin leather and feature buckled ankle straps, open toes, and about 4-inch heels.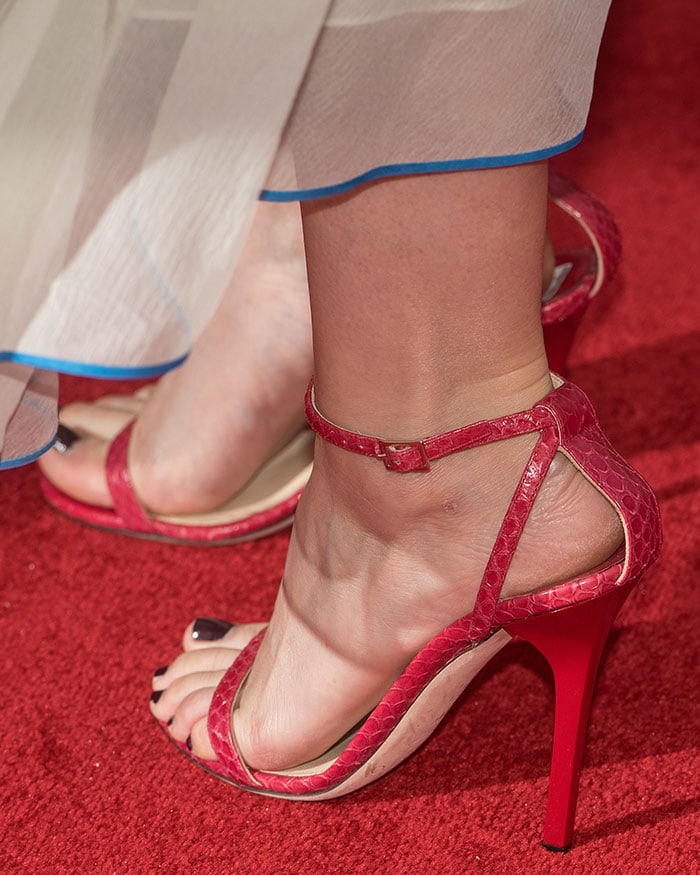 Kate Mara's feet in red Jimmy Choo sandals
You may want to check out this cheap alternative at Amazon.
Wild Diva "Adele" Sandals, $22
Credit: Daniel Deme / Mario Mitsis / WENN