One of the many things we adore about Kate Middleton is her tendency to re-wear her favorite pieces. The Duchess of Cambridge has an endless list of events to attend, and even though she's armed with a multitude of chic dresses and shoes from the latest designers, she still loves to re-wear her trusted pieces from her favorite designers.
Kate turned to her go-to shoe label, L.K. Bennett, for an appearance at the Victoria and Albert Museum in London. She visited the V&A to open the new Exhibition Road Quarter designed by British architect Amanda Levete. Kate's welcoming committee included museum director Tristram Hunt's daughter, Lydia, who offered her a bouquet of flowers upon her arrival.
Kate Middleton with Lydia Hunt at the Victoria and Albert Museum in London, England, on June 29, 2017.
As always, Kate looked sophisticated as she strolled through the museum in a black-and-ivory dress from Gucci's Pre-Fall 2017 collection, which featured red-and-navy web trim and the label's new signature GG pearl buttons. She highlighted the grosgrain trim with a red Emmy London clutch and navy "Art" pumps from L.K. Bennett. Kiki McDonough diamond earrings provided the finishing touch to her look.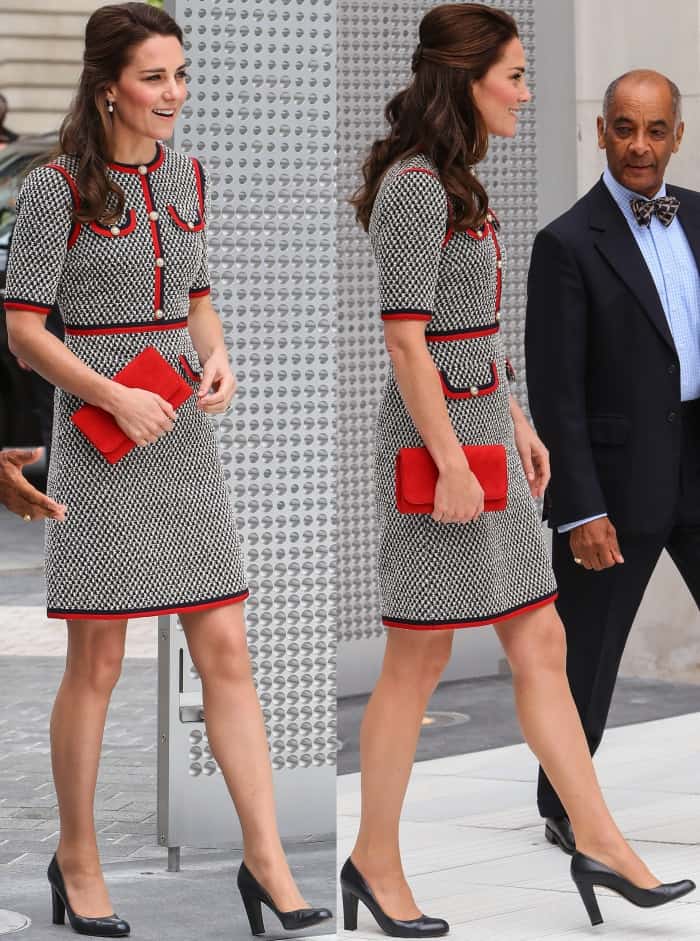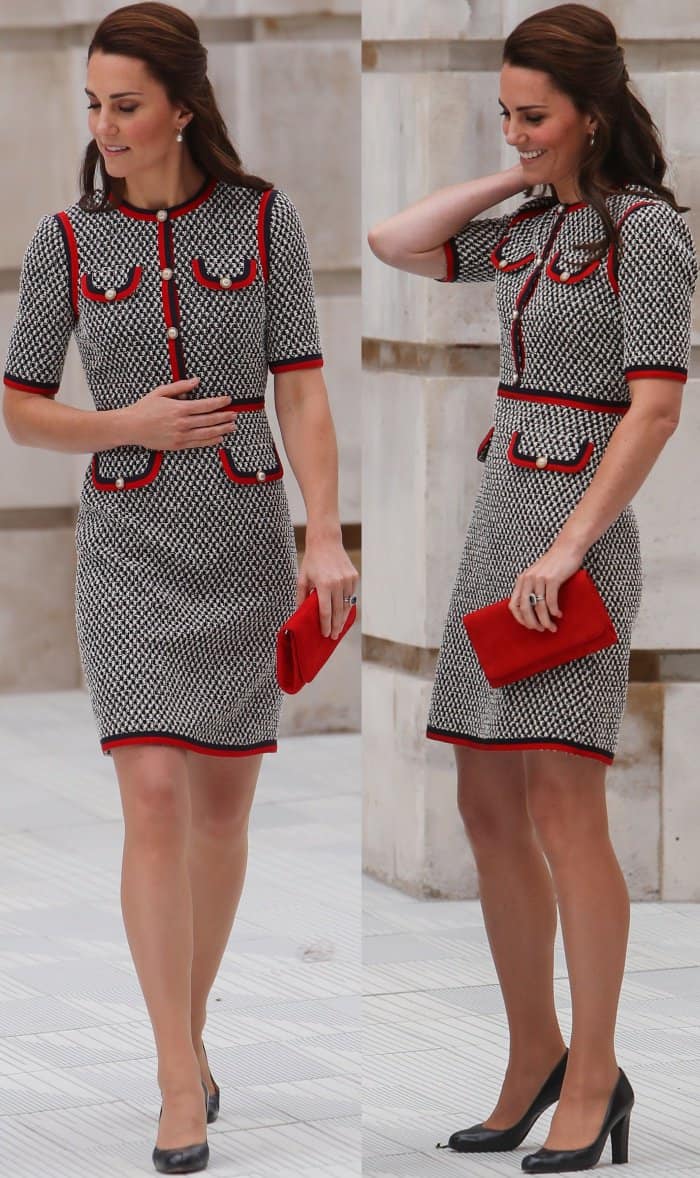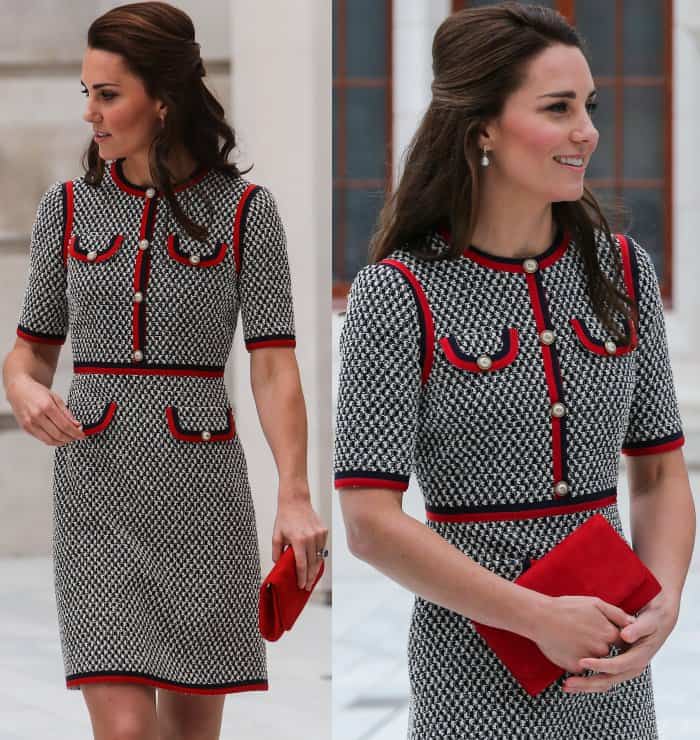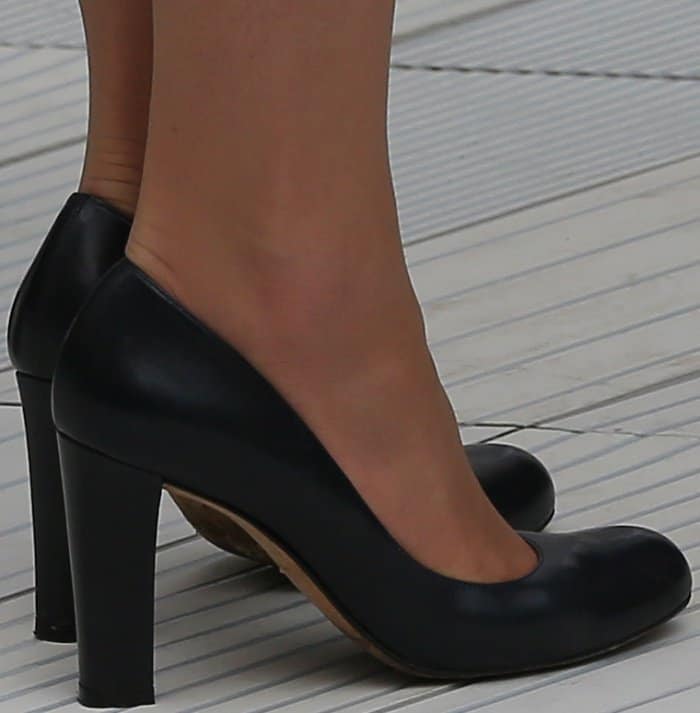 Kate Middleton at the Victoria and Albert Museum in London, England, on June 29, 2017.
The "Art" pumps feature chunky heels and a round-toe silhouette. These simple and practical shoes looked as though they provided much-needed comfort for the Duchess to fulfill her obligations. In fact, this exact pair helped Kate trudge through the rain as she attended an event in Darwen six years ago, where she styled the L.K. Bennett pumps with a navy suit jacket and matching skirt.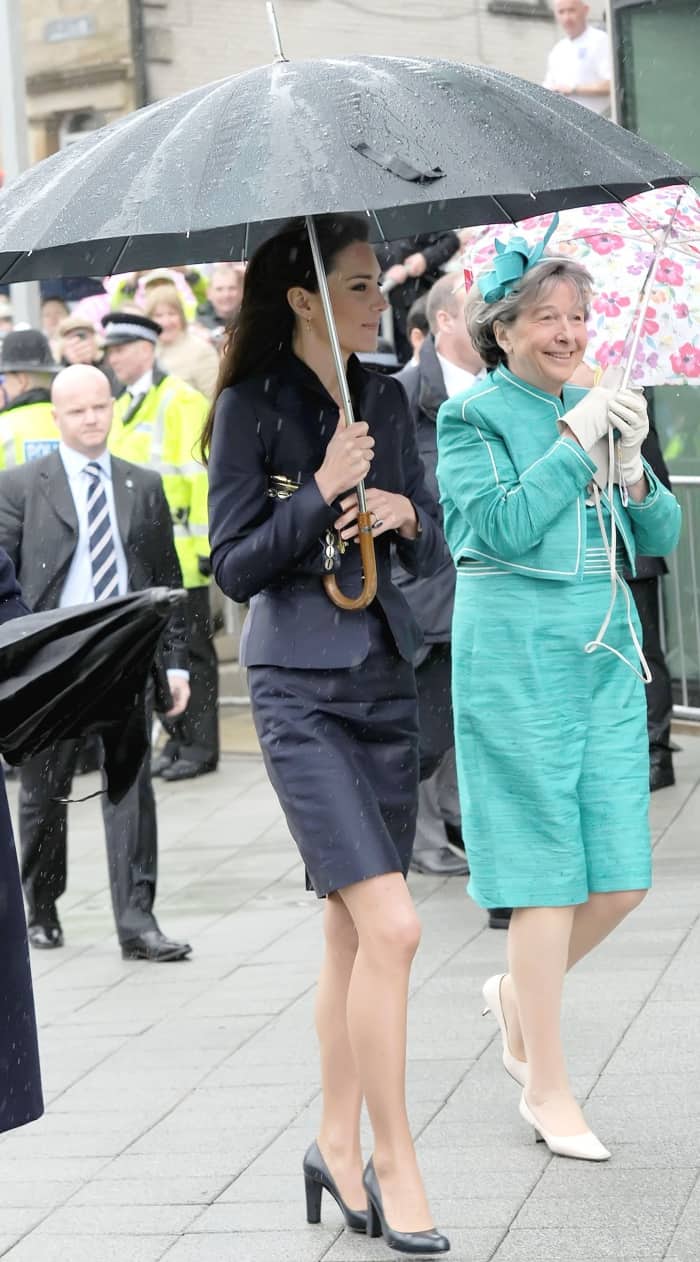 Kate Middleton at the Darwen Aldrige Community Academy (DACA) in Darwen, England, on April 11, 2011.
Unfortunately, the "Art" pumps are currently unavailable. However, you can shop for Kate's other go-to pair of shoes: the "Fern" pumps. We've seen her in this L.K. Bennett staple at several events last year including a trip to India, a busy day in Luton and a visit to the Stewards Academy. You can browse through several styles of the "Fern" pumps at L.K. Bennett.
Credit: WENN/Dinendra Haria/John Rainford