Never been one to keep things plain and boring on the red carpet, Katy Perry brought old Hollywood glamour in an archival hooded gown to NBC's Carol Burnett: 90 Years of Laughter + Love, a two-hour TV special celebrating the comedy icon's 90th birthday.
Filmed at Avalon Hollywood & Bardot on Thursday, the 38-year-old singer served as one of the performers at the event honoring the legendary comedian and actress.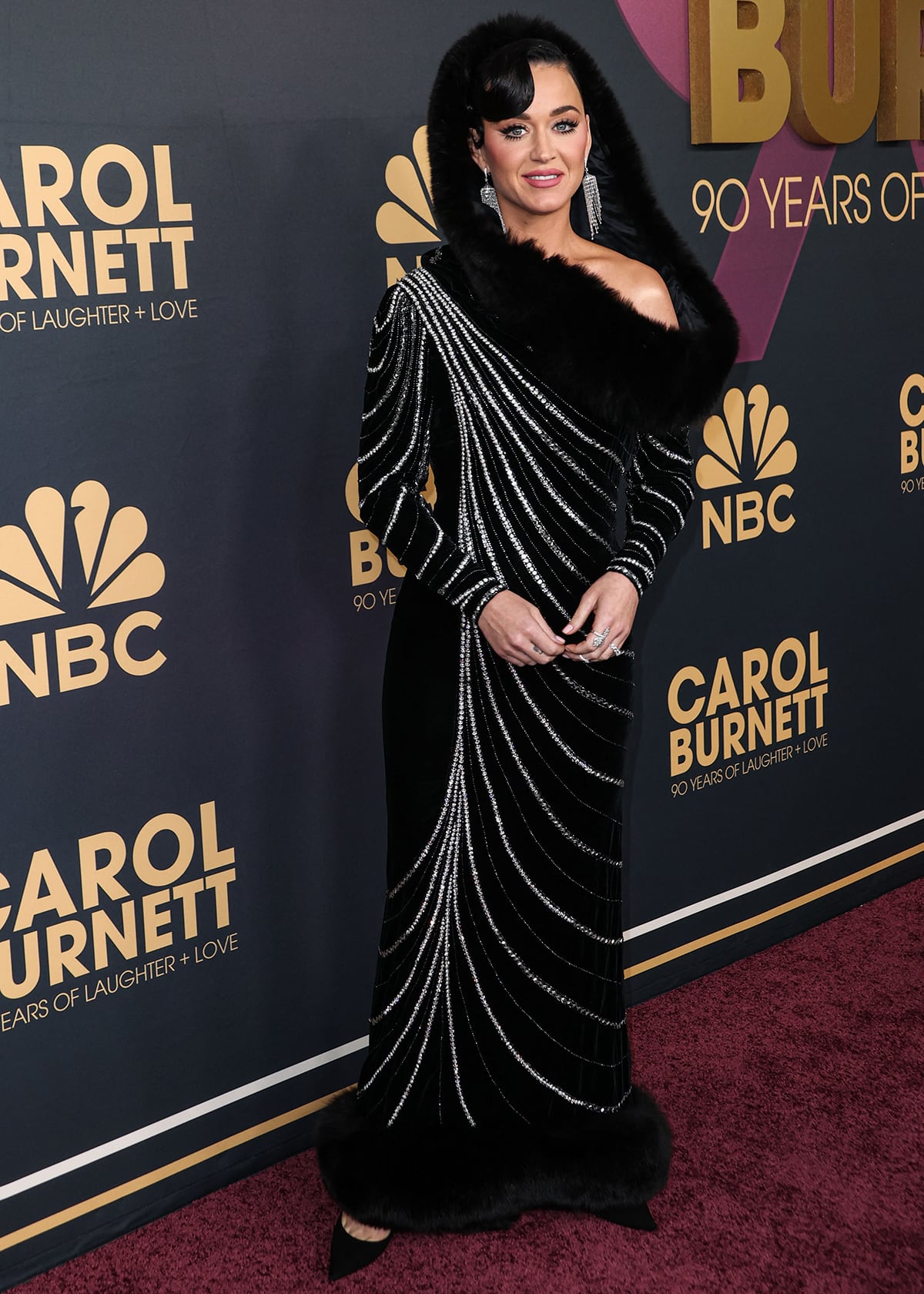 Katy Perry attends NBC's Carol Burnett: 90 Years of Laughter + Love birthday special at Avalon Hollywood & Bardot on March 2, 2023 (Credit: Abaca Press / INSTARimages)
Katy Perry—who recently broke down on American Idol—showed up in a hooded black velvet gown, making her the latest celebrity to jump on the hooded dress bandwagon—a trend made famous in the 1980s.
She looked the epitome of glamour in the figure-hugging, floor-length dress that skimmed one shoulder. It had fur accents on the hood, asymmetric neckline and mermaid-style hem, finished with strips of rhinestone crystals that allowed her to sparkle from all angles.
The vintage gown hails from the 1989 Couture collection of American fashion designer Bob Mackie, who served as the costume designer for performers on The Carol Burnett Show throughout its eleven-year run.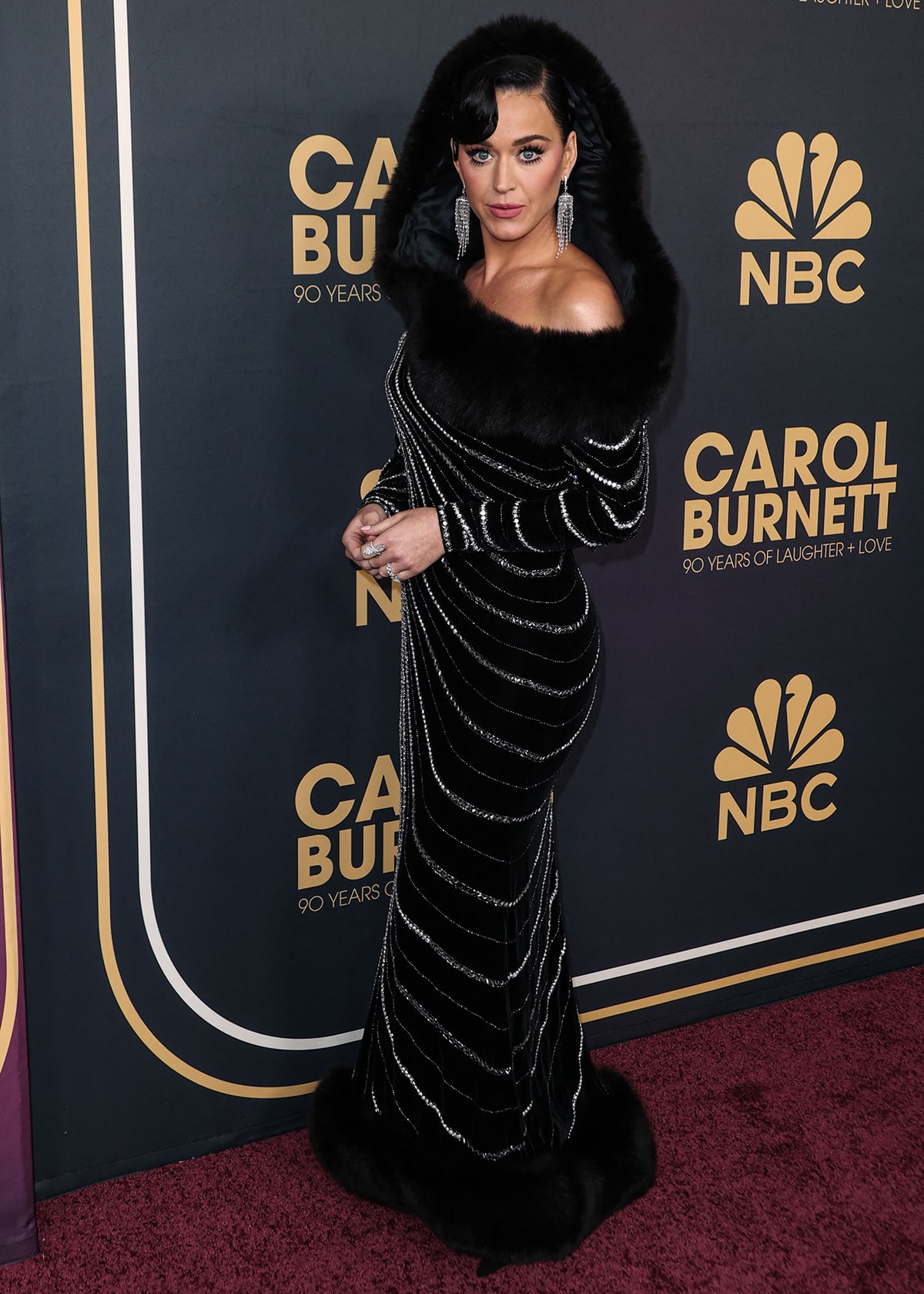 Katy Perry jumps on the hooded gown trend in a vintage Bob Mackie 1989 gown with fur trims, an asymmetrical hem, and rhinestone crystal embellishments (Credit: Abaca Press / INSTARimages)
Katy's Bob Mackie gown was originally designed for American soprano Ann Pangulias for the 1989 San Francisco Opera production of Lulu.
Tatiana Waterford, Katy's longtime stylist, obtained this dress from women's vintage boutique Timeless Vixen.
Adding more glitz to the ensemble was a pair of Vera Belleza diamond chandelier earrings and a few statement rings, including a $7,000 Marli "Fifth Avenue" diamond ring set in white gold.
The footwear designer finished off the look with a pair of black pointed-toe pumps that peeked out from underneath her gown.
Katy Perry styles her look with Vera Belleza diamond chandelier earrings and a Marli diamond ring (Credit: Faye's Vision / Cover Images)
Orlando Bloom's fiancée worked with makeup artist Michael Anthony for her beauty look, who gave her a vintage soft Hollywood glam with matte pink lipstick, dusty pink blush, and Twiggy eyelashes.
Hairstylist Jesus Guerrero enhanced the retro vibe by styling Katy Perry's black tresses in sleek 1920s finger waves.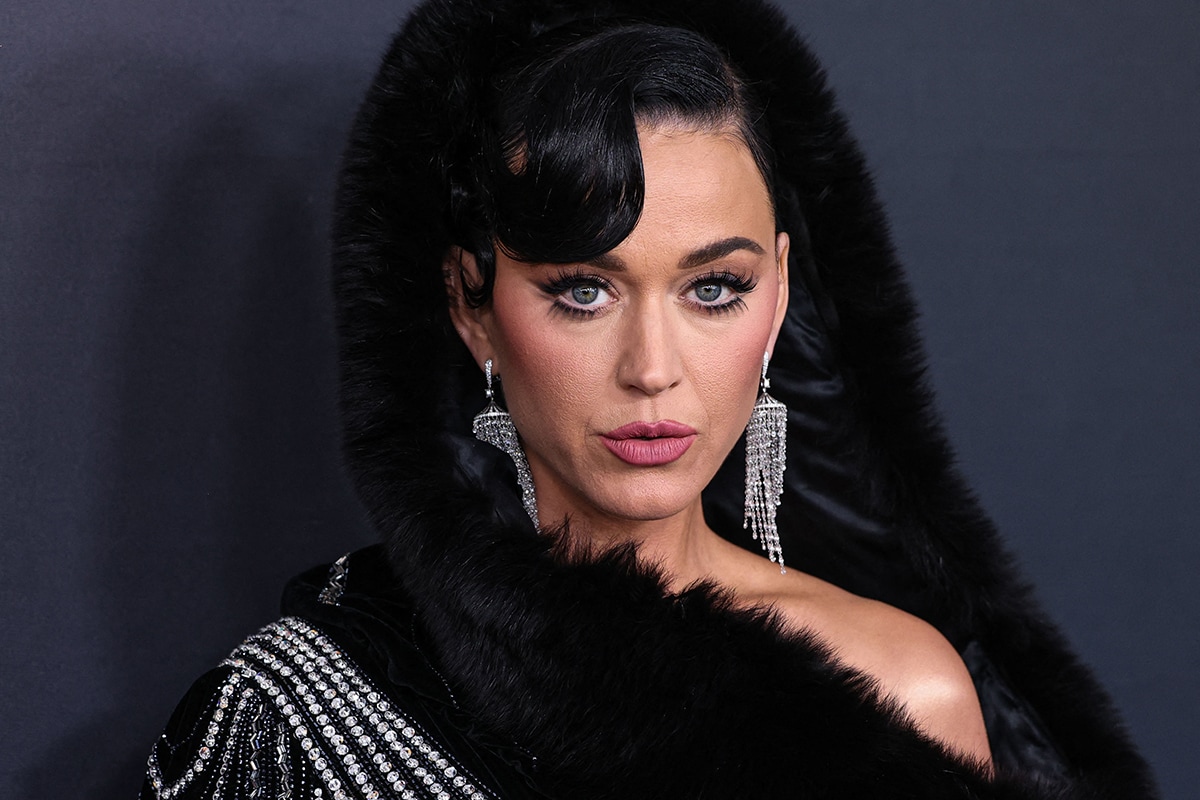 Katy Perry enhances her look's retro vibe with matte pink lipstick, Twiggy eyelashes, and finger waves hairstyle (Credit: Abaca Press / INSTARimages)
NBC's Carol Burnett: 90 Years of Laughter + Love will air on her birthday on April 26 at 8PM ET/PT and stream on Peacock the following day.
As per the press release, "The star-studded event will feature an A-list lineup of musical performances and special guests who will come together to share their love for one of the most cherished comediennes in television history."
Other guests and performers include Bernadette Peters, Billy Porter, Jane Lynch, Kristin Chenoweth, Ellen DeGeneres, Amy Poehler, Cher, Tracee Ellis Ross, Sofia Vergara, Kristen Wiig, Laura Dern, Marisa Tomei, Steve Carell, and more.
Carol Burnett is celebrating her 90th birthday with an NBC TV special featuring star-studded guests (Credit: Abaca Press / INSTARimages)
Katy Perry Breaks Down on American Idol
Katy Perry's latest red carpet outing came a few days after the Fireworks singer broke down in tears on Sunday's episode of American Idol Season 21.
During the audition rounds, Trey Louis, a 21-year-old mattress salesman from Santa Fe, Texas, sang a moving rendition of Whiskey Myer's 2016 song Stone, which earned him a standing ovation from the judges.
Revealing his reasons for trying out for the show, Trey shared that he's a survivor of the 2018 school shooting at Santa Fe High School and wants to change people's negative perception of his hometown.
"In May 2018, a gunman walked into my school," he told the judges. "I was in art room one, and he shot up art room two before he made his way to art room one. [I] lost a lot of friends. Eight students were killed. Two teachers were killed. And it's really been negative. Santa Fe's had a bad rep here since 2018."
As judge Lionel Richie let out a heavy sigh, Luke Bryan commended Louis' voice, saying, "You sing from the right spot. You let it come out of your heart, and that's what we love around here."
Moments later, Katy Perry dropped her head down and burst into tears.
"Our country has f***ing failed us! This is not okay. You should be singing here because you love music. Not because you had to go through that *****!"
"You didn't have to lose eight friends! I hope that you remind people that we have to change. 'Cause, you know what, I'm scared, too!"
Richie added, "We have tolerated this for so long. Too long. It's become a norm." Perry continued, "and we've got to change."
She hopes Louis "can just lead" the change, to which he responded, "For myself, for my school, for you, I got it."