It seems like Katy Perry has developed a serious case of addiction for the preppy schoolgirl look that was made famous by Alicia Silverstone in Clueless. 

The 28-year-old singer arrived at Nobu in London late last week sporting a black and white ensemble consisting of a Marni diamond-checked blazer, a mini skirt, and a cream-colored Temperley London sweater. Just two days before her London appearance, she was spotted wearing a matching Alice+Olivia plaid ensemble in Germany.
Katy Perry seen arriving at Nobu restaurant in London on Setepmber 27, 2013

And Katy Perry being Katy Perry, she didn't forget to add a few quirky touches to her outfit. You can't fail to notice the huge black bow on her head, the Chanel leather mini-backpack, the knee-high stockings, or the  black and white brogues.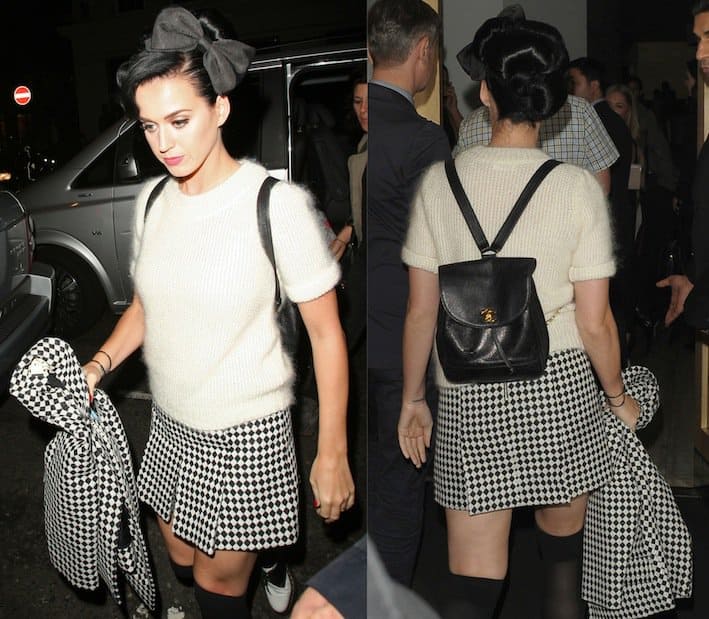 We love that Katy continues to make risky outfit choices and hope that she will continue to surprise us. Katy loves quirky fashion and has no problems pulling off an outfit like this one.
Take a closer look at Katy's Marni diamond-checked mini skirt. Do you have the courage to wear it?
Marni Checked Mini Skirt in Black/White, $655
Credit: Spiller/Zibi/WENN