Katy Perry was spotted having dinner with on-again-off-again boyfriend Orlando Bloom at Annabel's restaurant in London on Thursday.
For the date night, Katy went for a girly-girl-meets-tomboy look in an Alice + Olivia "Luna" slip dress ($123 at Shopbop) paired with Adidas "Superstar" sneakers (available at Nordstrom and Amazon). She added a casual, sporty feel with a white Chanel "J12" watch, yet contrasted it again with a classic black leather Hermes Birkin bag. The 33-year-old "Swish Swish" singer accessorized with thick gold hoop earrings, layered necklaces and a selection of rings.
We would've loved the entire look, but the odd black leather beret ruins it.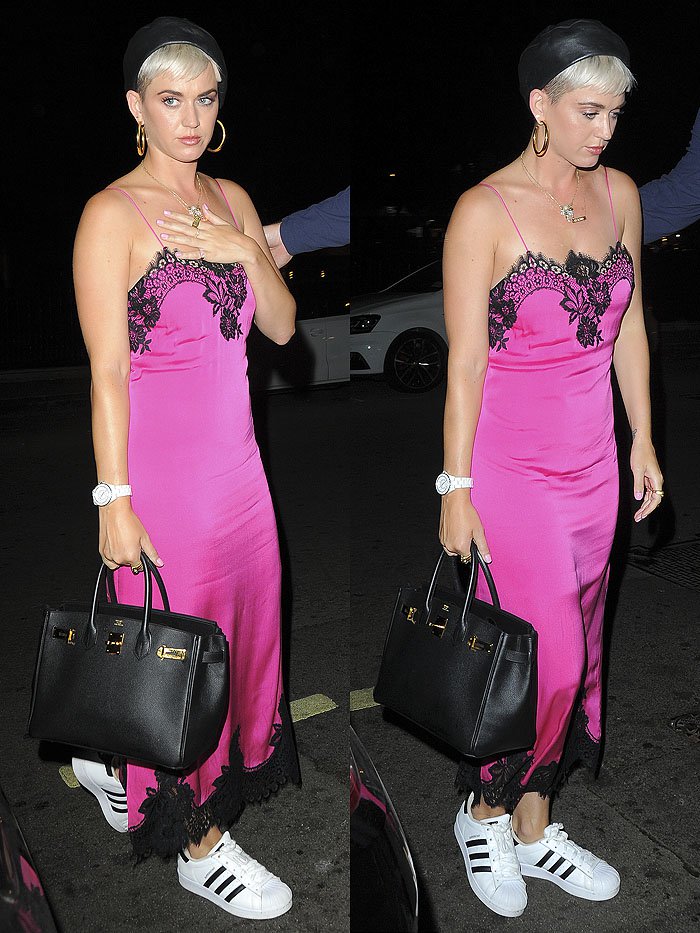 Katy Perry leaving Annabel's restaurant in the Mayfair neighborhood of London, England, on July 12, 2018.
Closeup of Katy Perry's Adidas Originals "Superstar" sneakers.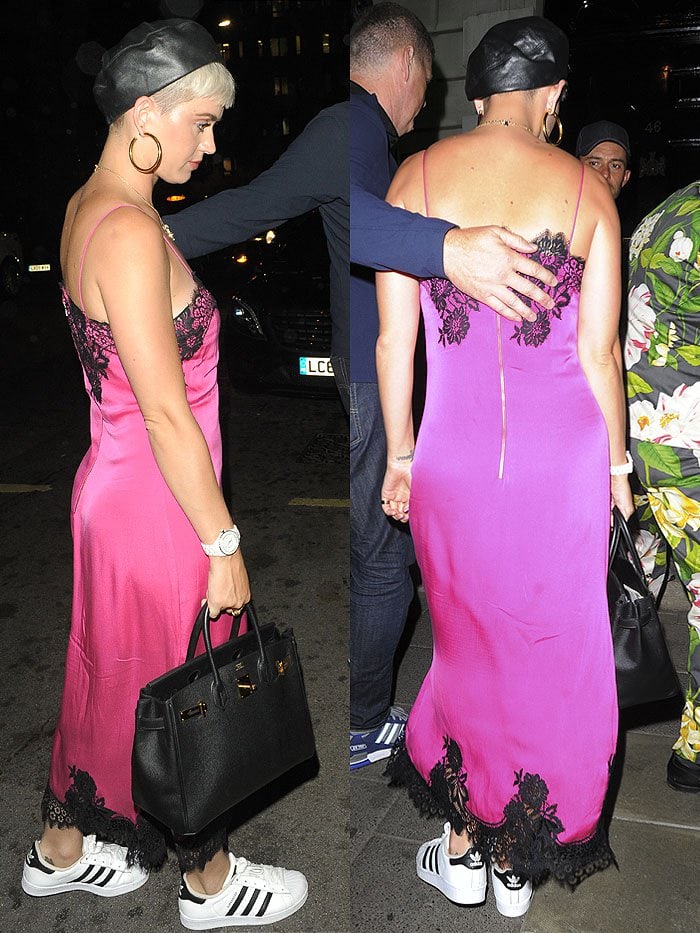 Katy Perry rocking a black-lace-trimmed pink-satin nightie and Adidas "Superstar" sneakers accessorized with a black leather beret, a white Chanel "J12" watch, a black Hermes Birkin 30cm bag, and gold hoop earrings.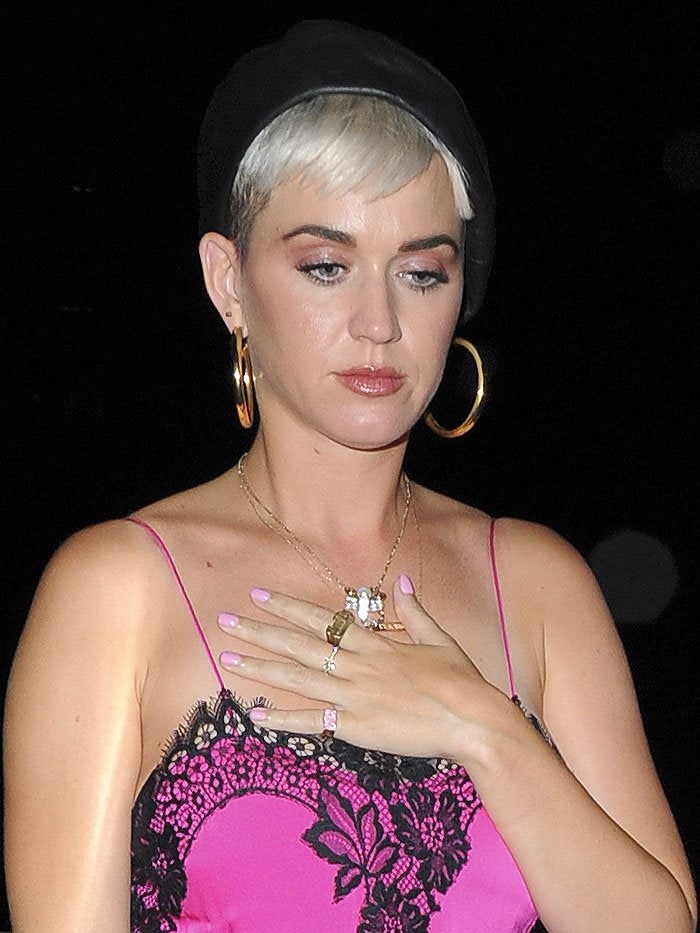 Katy Perry wearing gold hoop earrings, a scorpion necklace, a "habibi" word necklace, an engraved "ET A SHO" necklace, and an assortment of rings.
Adidas Originals Women's "Superstar" Sneakers, $79.95 to $90 at Nordstrom and Amazon
Katy's date night look reminded us of Selena Gomez's on-stage ensemble for her performance of her single "Wolves" at the 2017 American Music Awards.
Sel also wore a nightie-inspired white slip dress with white lace trim for her car-crash-themed number. She paired it white Puma sneakers and accessorized with a $19,500 Tiffany & Co. diamond cross pendant necklace.
Katy and Selena's similarities extend beyond fashion and to their love lives. If you don't remember, Selena also briefly dated Orlando Bloom back in 2016.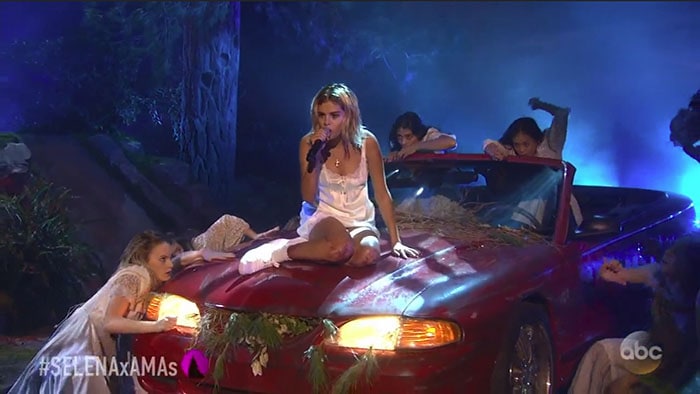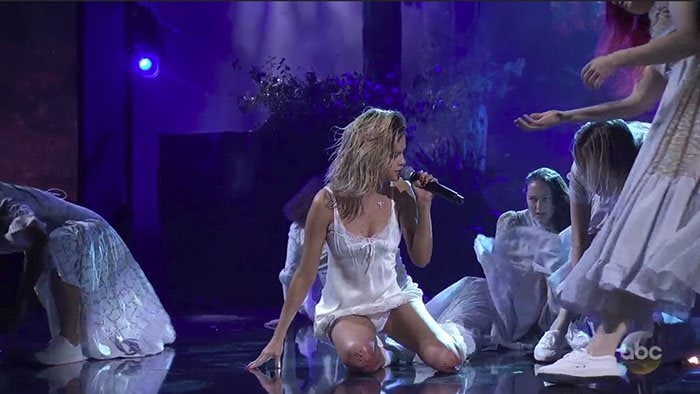 Selena Gomez wearing a Ginia lace-trimmed silk chemise with Puma "Basket" sneakers for her live performance of her single "Wolves" at the 2017 American Music Awards held at the Microsoft Theater in Los Angeles, California, on November 19, 2017.
Puma Women's "Basket" Sneakers, $32.89 to $145.76 at Amazon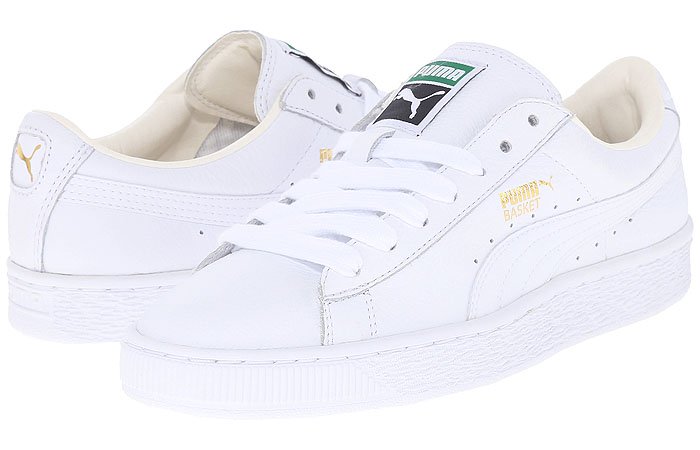 Who do you think rocked a nightie with sneakers better, Katy Perry or Selena Gomez?
Credit: WENN