It was go big or go home for Katy Perry at her 2015 Super Bowl Halftime Show performance, and with a show that included a giant mechanical tiger, dancing sharks, and both Lenny Kravitz and Missy Elliott, we can say that Katy definitely brought it.
Katy Perry performing on top of a giant golden tiger at the 2015 Super Bowl Halftime Show at the University of Phoenix Stadium in Glendale, Arizona, on February 1, 2015
Within those 12-and-a-half minutes, Katy managed to do an impressive four costume changes. Each one was custom-designed by Jeremy Scott, who was happy and proud to tweet Katy's looks as she wore them in real-time.
Katy started the show with "Roar" wearing a flame-engulfed crop jacket and miniskirt ensemble. Holding the chains to a 15-foot golden tiger, the Katniss Everdeen comparisons were inevitable.
Katy got off the tiger to perform "Dark Horse" on a projected checkerboard floor with her dancers who were dressed as silver chess pieces. She then rocked out and headbanged with Lenny Kravitz, who sang an electric guitar cover of "I Kissed a Girl".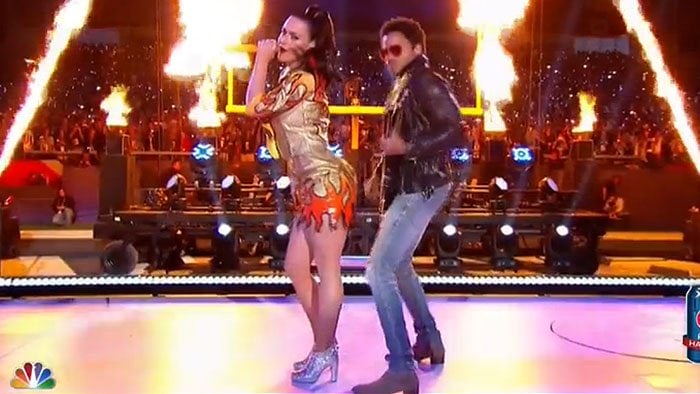 Katy Perry and Lenny Kravitz singing "I Kissed a Girl" at the 2015 Pepsi Super Bowl Halftime Show
Katy got into a beach-ball-inspired bra top and flared skirt for "Teenage Dream" and "California Gurls".
Katy Perry performing "Teenage Dream" with dancing sharks
Polka-dot bikinis, palm trees, surfboards — there were plenty of beach elements in this part, but the goofy dancing sharks have made a name for themselves as the unlikely stars of Katy's Super Bowl performance.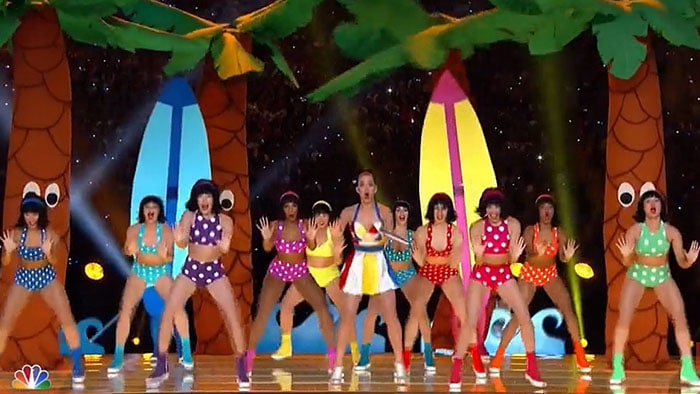 Katy Perry and her polka-dot-bikini-wearing dancers performing "California Gurls"
Katy quickly zipped on a black number hoodie for Missy Elliott's segment. Even though this was her halftime show, Katy didn't mind relegating herself to the role of hype girl.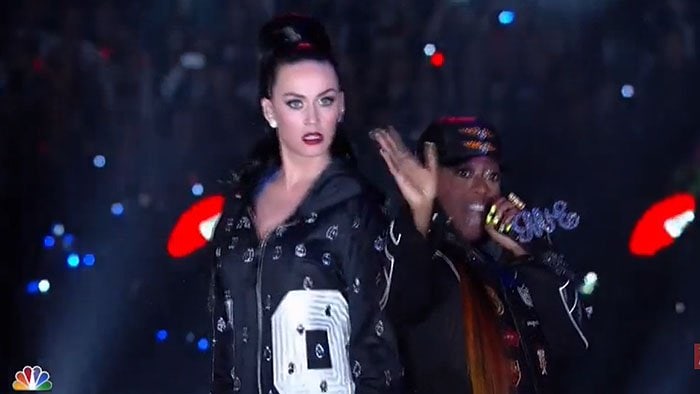 Katy Perry performing with Missy Elliott at the 2015 Super Bowl Halftime Show
For her final "Firework" song and costume change, Katy slipped into a star-covered Moschino evening dress with a thigh-high slit and a star cutout at the waist.
Katy Perry holding a silver-star-covered mic while singing "Firework"
Katy was then lifted into the air by a shooting star apparatus that transformed the pop star into an actual firework.
Katy Perry singing "Firework" in a silver star-covered Moschino gown while suspended in the air
All throughout those songs, dance numbers, and costume changes, the one thing that stayed were the silver DaLuca booties on Katy's feet. It was a difficult task, but dancewear label DaLuca managed to create a shoe style that would go with Katy's entire Super Bowl wardrobe.
Thick heels and platforms kept Katy sturdy, while a generous sprinkling of Swarovski crystals made the shoes stage-ready.
Because they are made for dancing and performing, DaLuca shoes cost a pretty penny. If you're just after their looks, we found these 3 silver booties as stylish alternatives:
Chinese Laundry "Lickety Split" Ankle Boots, $30 to $57.66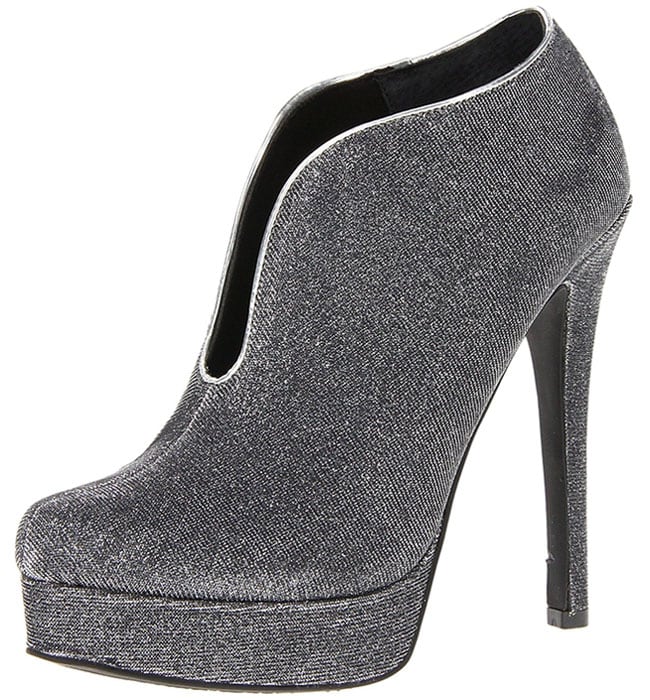 The Highest Heel "Diamond-31" Sequined Open-Toe Booties, $47.97 to $119.95
Caparros "Pavlova" Split Peep-Toe Ankle Boots, $89
Watch Katy quickly get in and out of her costumes in her 2015 Super Bowl Halftime Show performance here: