In March 2018, Katy Perry was caught switching out her Versace Medusa-medallion ankle-strap sandals for comfy UGG slippers during her guest appearance on Jimmy Kimmel's late-night talk show. It was revealed that she used to believe that wearing a bra would crush her boobs!
Katy Perry signing autographs after her guest appearance on "Jimmy Kimmel Live!" at ABC Studios in Los Angeles, California, on March 5, 2018 (Credit: WENN)
Playing a game called "Blast from the Past," Perry had to figure out which of the six people on FaceTime were old friends of hers.
After first picking a total stranger, she nailed it on the second shot, picking out her sixth-grade school friend "Erica" (actually Ahnika) from Santa Barbara Christian School.
Her childhood pal went on to tell a couple of fun stories from the past. Perry, who got suspended for three days for humping a tree, also gave her friends medical advice regarding their breasts.
"You had a sleepover once at our house," said Ahnika. "You were telling my younger sister and me that we could not wear a bra to bed because if we did, it would crush our boobs and they would never grow."
Katy Perry told her friend not to wear a bra as it'd stop her boobs from growing (Credit: ABC)
Perry also bragged she had to wear two bras because her "boobs were so big." In sixth grade, she was suspended from school for "making sexual motions" toward a tree while pretending it was Tom Cruise.
"At the 2:00 p.m. recess, Katy and four other students were in an 'off-limits' area (behind the backboards) practicing a skit. Katy pretended that a tree was Tom Cruise and began making sexual motions (pelvic thrusts) to the tree," her suspension letter stated.
The "Swish Swish" singer ditched the 4.5-inch black leather heels that would've completed her head-to-toe Versace yellow animal-print ensemble comprised of a cheetah-print trench coat, crocodile-print leggings, and a $2,675 large top-handle "Icon" bag.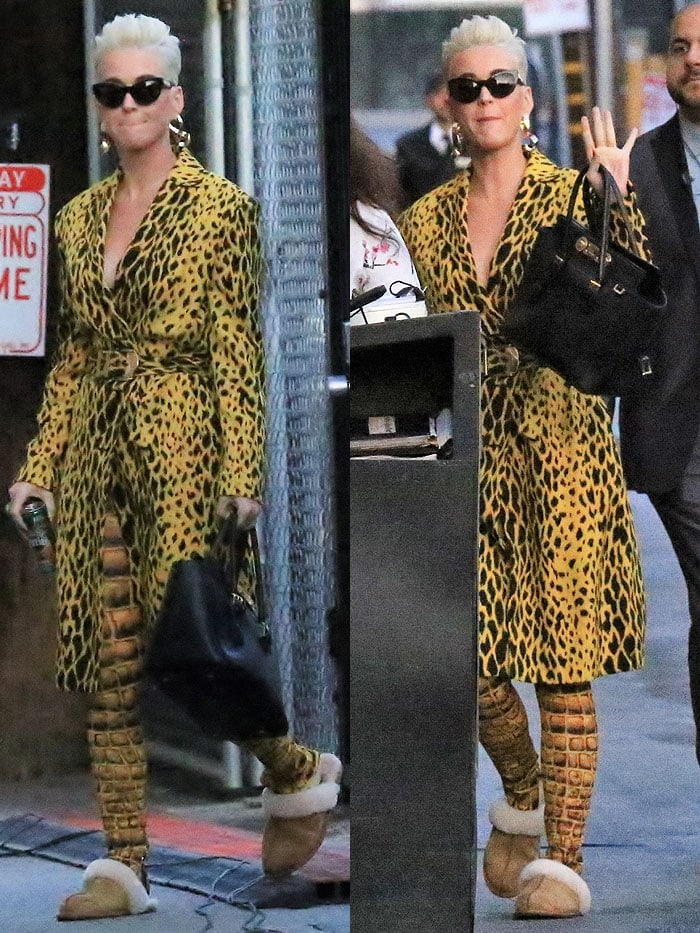 Katy Perry arriving in a yellow, animal-print ensemble and UGG slippers for her guest appearance on "Jimmy Kimmel Live!" (Credit: WENN)
Just the day before at the 2018 Academy Awards, Tiffany Haddish also ditched her Stuart Weitzman heels and walked the Oscars stage in a pair of fuzzy UGG slippers.
Do you think this could be the start of a new UGG slipper trend?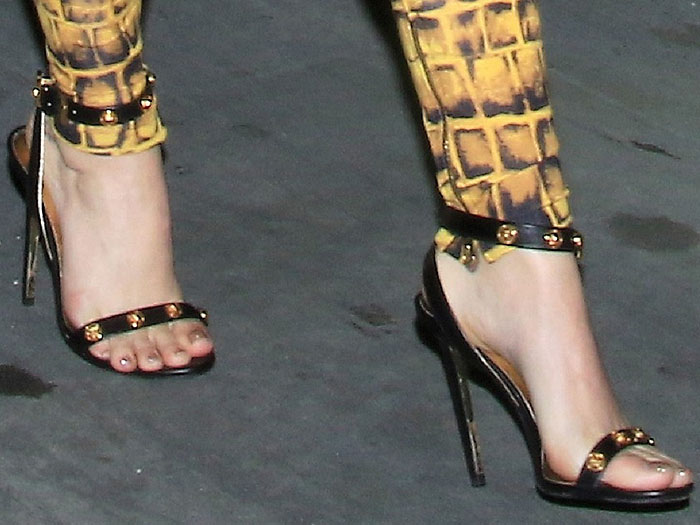 Katy Perry's feet in black leather ankle-strap sandals with gold Medusa medallions from the Versace Tribute collection (Credit: WENN)
About a month earlier, Katy wore a very similar yellow outfit to have dinner with friends at Craig's Restaurant in West Hollywood.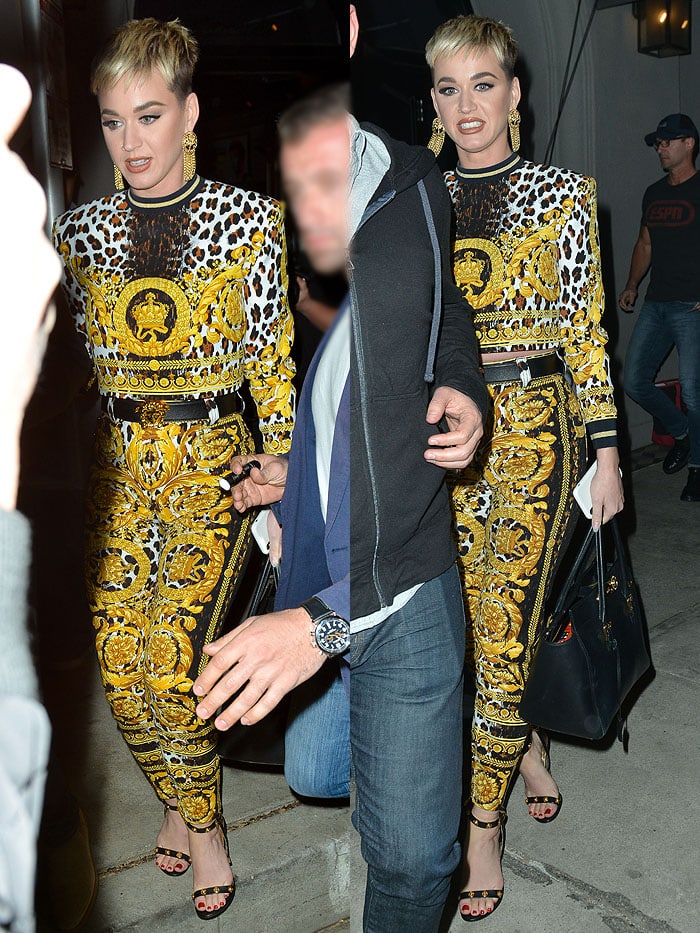 Katy Perry wearing a head-to-toe Versace yellow animal-print ensemble to have dinner with friends at Craig's Restaurant in West Hollywood, California, on January 23, 2018 (Credit: WENN)
The then 33-year-old singer donned a Versace sweatshirt and coordinating pants that featured a leopard-and-gold-scrollwork print pattern.
She completed her head-to-toe Versace look with gold Medusa medallion dangling earrings, the same handbag, and the same medal-studded sandals.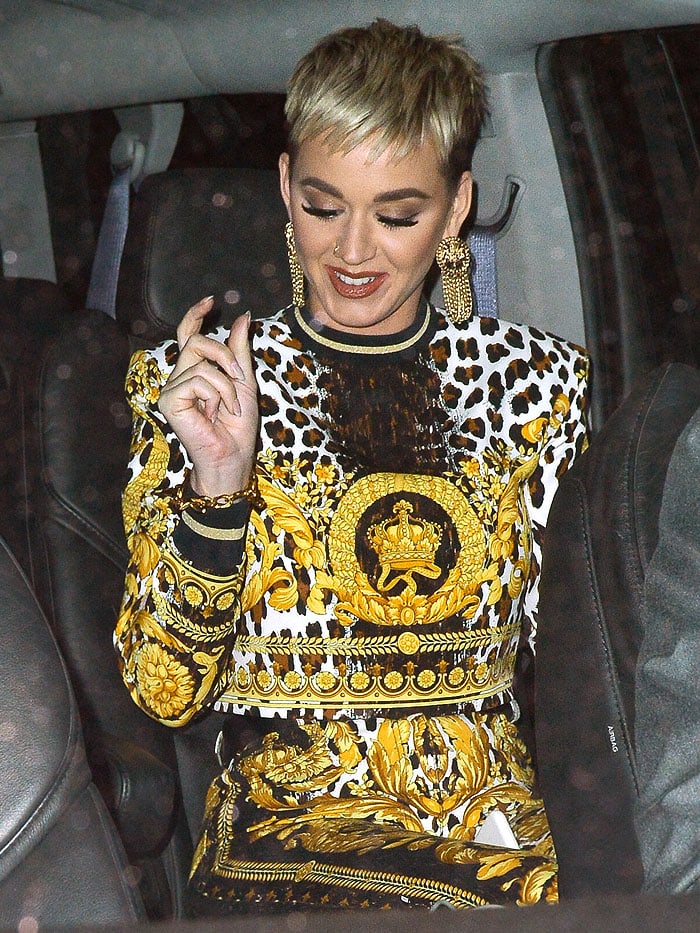 Katy Perry wearing Versace top and pants coordinates with leopard and gold scrollwork prints (Credit: WENN)
Which of Katy Perry's two Versace looks do you like more?
The Versace Medusa-medallion-studded leather ankle-strap sandals come from the special Versace Tribute collection. They also come with lower heels in beige, white, and black leather.
Versace Tribute Medusa-Medallion Leather Ankle-Strap Sandals, $995