Much like her half sister Kim, Kendall Jenner also likes to shock people once in a while with her fashion choices.
During the 2014 MuchMusic Video Awards held in Toronto over the weekend, the leggy model flaunted her stems in a gorgeously beaded dress detailed with two slits at the front. And get this, they weren't just your ordinary thigh-high slits; the cuts went all the way up to her pelvis. It was amazing how she was able to keep the front of her dress in place. One wrong move, and she would have exposed her, you know, unmentionables — that's if she had any.
Check out Kendall's dress, and tell us if you approve of this outfit choice:
Kendall Jenner wearing a daring split-front dress and Kylie keeping it more demure in a sheer-paneled number during the 2014 MuchMusic Video Awards held in Toronto, Canada, on June 15, 2014
This is not the first time we've seen a celebrity wear a gown with slits so high. Paris Hilton and Iggy Azalea wore similar-looking pieces early this year. However, with Kendall being part of the Kardashian clan and all, you could say this bit of display is getting more than the usual amount of attention.
The young model's daring gown is by Fausto Puglisi. The silhouette of the dress is very simple, but what it lacks in sophisticated design, it makes up for in embellishments. Glimmering crystals, shiny gold paillettes, and glam coin medallions decorate the whole frock. Of course, the moment you notice the slits, you sort of forget about the rest.
Kendall finished her outfit with an equally shimmery pair of gold woven pumps detailed with lace-up straps. Here's a closer look at the shoes. They're from Tom Ford — the same pair Kim wore to her appearance on Seth Meyers in March.
A closer look at Kendall's Tom Ford lace-up pumps
Do you think Kendall borrowed her shoes from Kim? Probably.
The pumps look divine in gold, but you may have a different opinion once you see the classic brown and black versions at Neiman Marcus. These peep-toes feature woven nappa leather uppers, gold metal heels that are 4.5 inches tall, and lace-ups that wrap all the way to the ankles.
Tom Ford Nappa Leather Lace-Up Pumps, $1,267 (before: $1,690)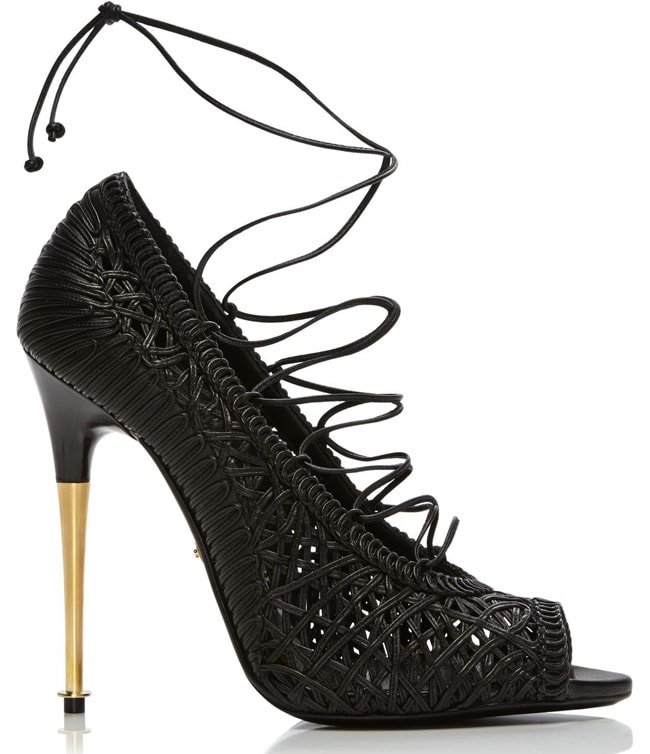 Tom Ford Nappa Leather Lace-Up Pumps in Black, $1,690
Up close, they're very intricate and well made. However, they are also very textured — a characteristic that may or may not appeal to every shoe lover.
Credit: Doug Brown/WENN