The paparazzi caught Khloe Kardashian arriving at the Los Angeles International Airport on Monday looking casually fabulous as usual.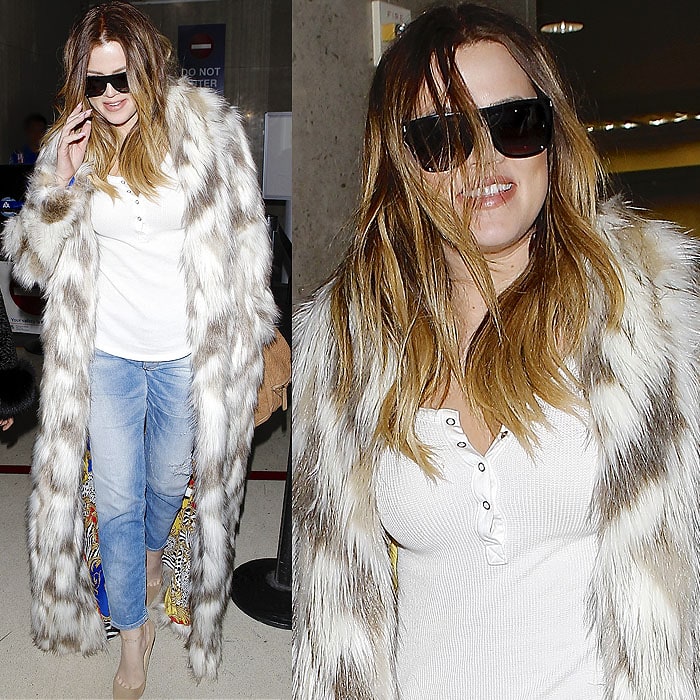 Khloe Kardashian wears her hair down in a faux-fur coat with "FXCK Yo Fur" spray painted on the back
She was dressed in a classic Kardashian outfit — a low-key Henley tee and laid-back jeans made glamorous by an over-the-top floor-length faux fur coat, vertiginous stilettos, and giant sunglasses.
Everything about Khloe's ensemble seemed normal… until the reality star turned her back to the cameras. The words "FXCK Yo Fur" were spray-painted in bright red on the back of her faux fur coat.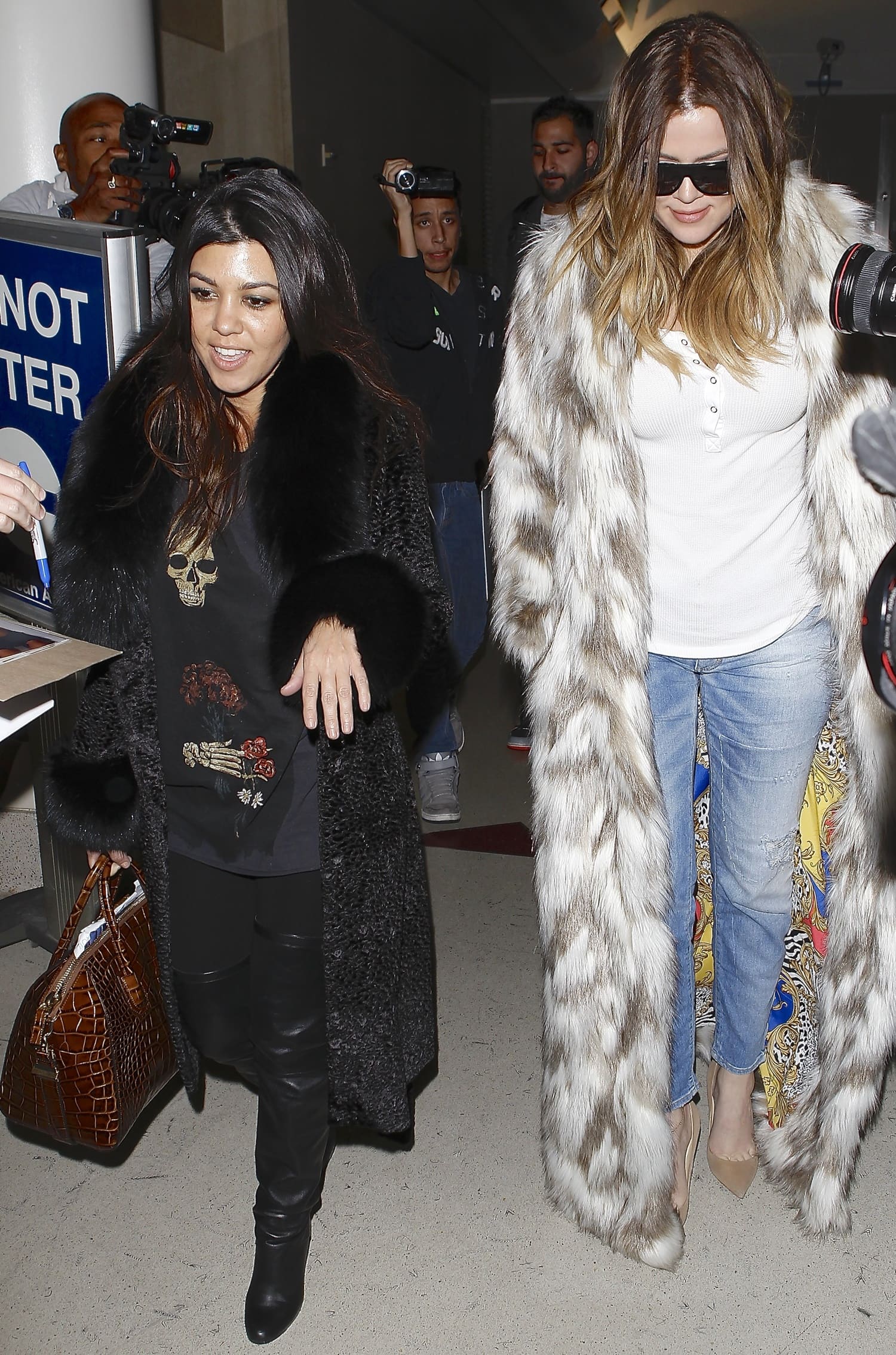 Khloe and Kourtney Kardashian arrive at Los Angeles International (LAX) airport on February 17, 2014
The statement is bold and vulgar, but not surprising. At one time, Khloe was a vocal advocate of People for the Ethical Treatment of Animals (PETA).
Khloe blogged about fur: "We all need to practice what we preach. I will still continue to NOT wear fur, but I will no longer support PETA. Bullying and harassment is NEVER a solution, and I won't be a part of any organization that thinks otherwise."
However, she disassociated herself from the organization after discovering that the person who flour-bombed her sister Kim Kardashian had close ties to the organization.
Khloe's stance against using real fur remains absolute, though.
Khloe tagged her makeup artist, Joyce Bonelli, in her Instagram snap, which suggests that the stunt was also a way to generate publicity for Joyce's collaboration with Los Angeles-based faux fur clothing brand, Bsable.
What some critics are pointing out, however, is the choice of shoe Khloe picked to accompany her faux-fur coat.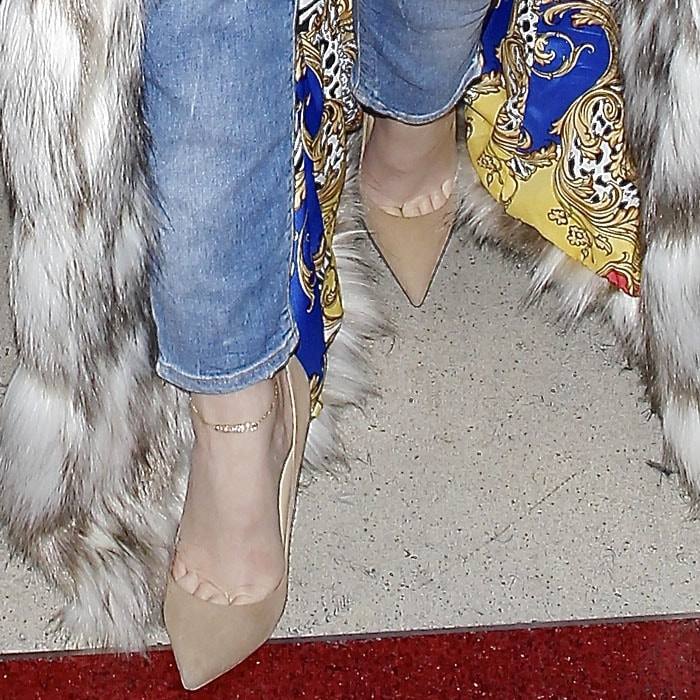 Khloe Kardashian's feet in nude Jimmy Choo pumps
Rumored to be the daughter of O.J. Simpson, Khloe paired her activist coat with a pair of Jimmy Choo "Anouk" pumps, which are made of suede.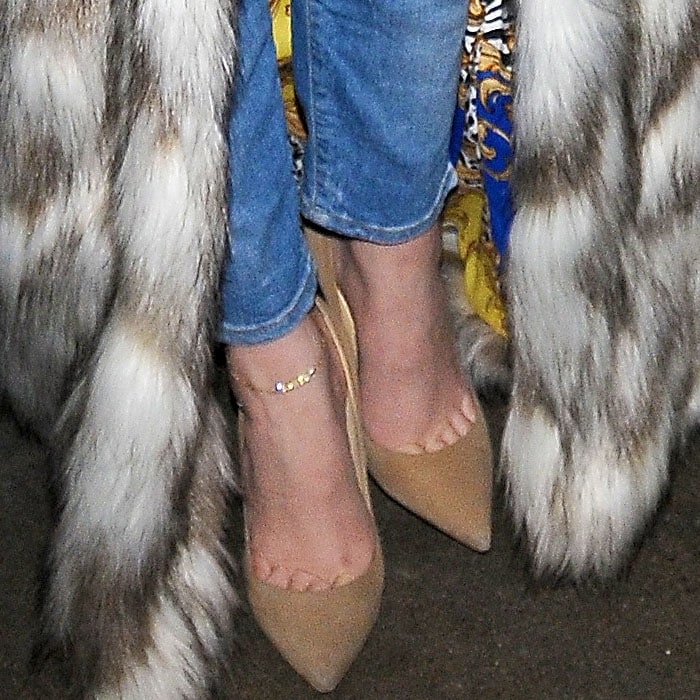 Khloe Kardashian's feet in suede "Anouk" pumps
Critics say that wearing a pair of suede shoes — made from animal hide — is a direct contradiction to the message Khloe is trying to give with her faux-fur jacket. What do you think?
Jimmy Choo "Anouk" Suede Pumps in Nude, $575
Credit: WENN