After arranging an extravagant and fun-looking baby shower for Chrissy Teigen, Kim Kardashian finally had the chance to meet the model's newborn daughter, Luna Simone Stephens.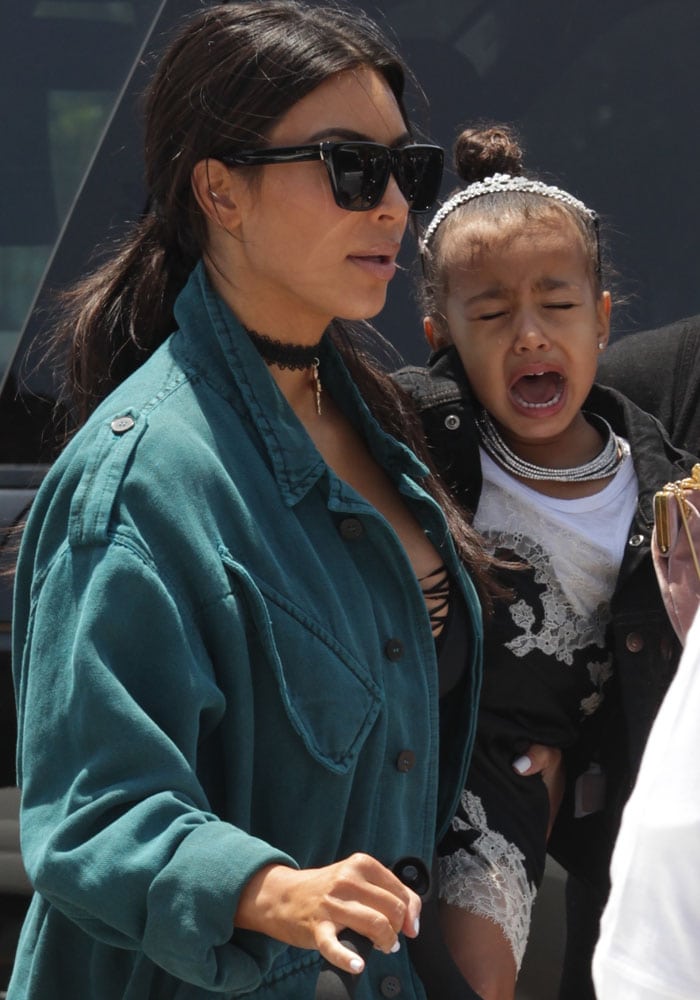 Kim Kardashian spotted on a lunch out with her kids, Kanye West, and friends Chrissy Teigen and John Legend at Malibu on May 29, 2016
Chrissy and Kim, along with their respective husbands John Legend and Kanye West, pulled a double family date in Los Angeles.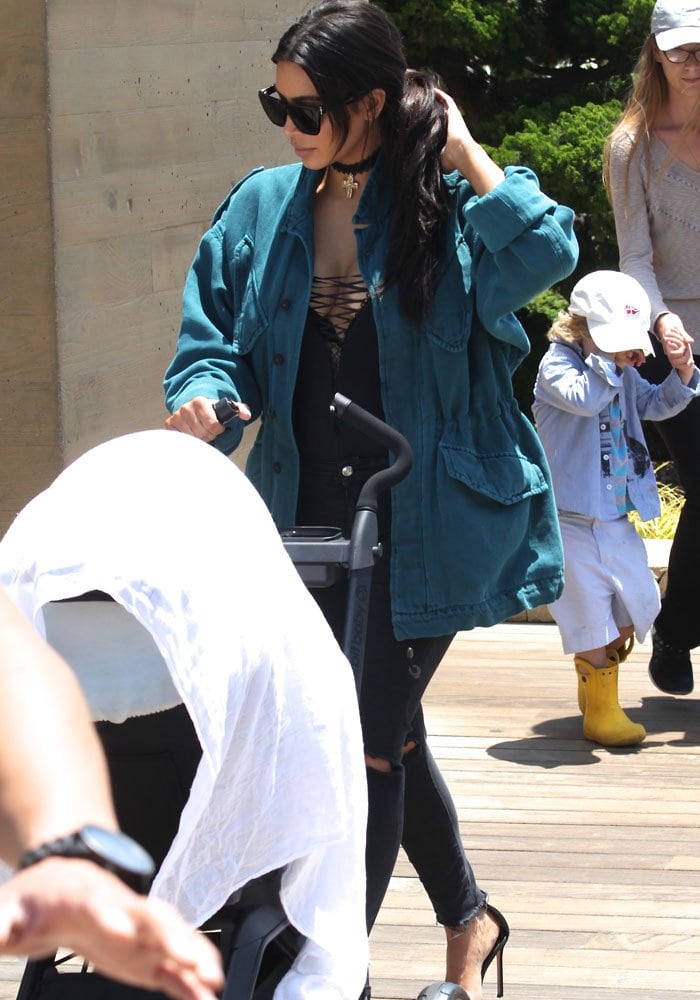 Kim Kardashian wearing an oversized aqua-colored denim jacket over a black lace-up top
Kim wore an oversized aqua-colored denim jacket over a black lace-up top, which she paired with distressed "Photo Ready" denim from J Brand.
The social media star and ShoeDazzle founder accessorized her casual lunch look with a pair of sunglasses from Givenchy and her go-to black suede Manolo Blahnik "Chaos" sandals.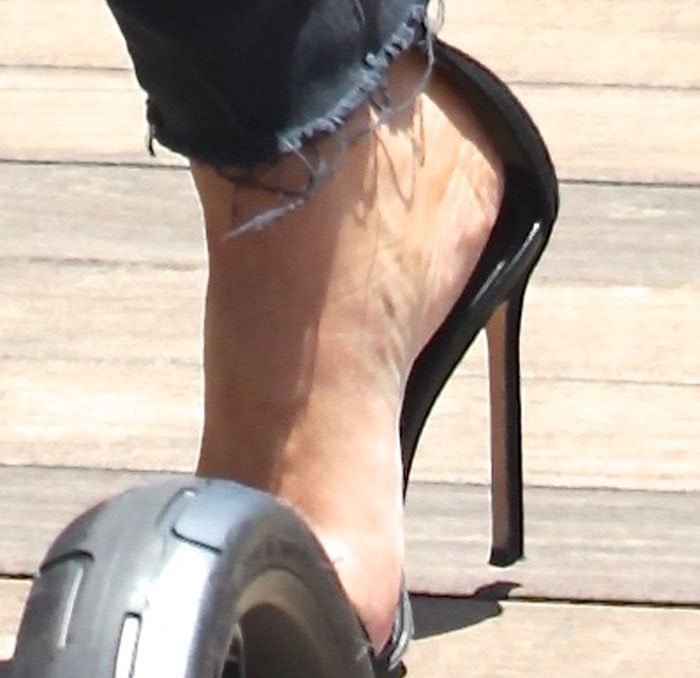 Kim Kardashian shows off her feet in her favorite Manolo Blahnik "Chaos" sandals
Of course, there was a bit of drama as Kanye West went off on the paparazzi as he tried to shield the mothers and children with them.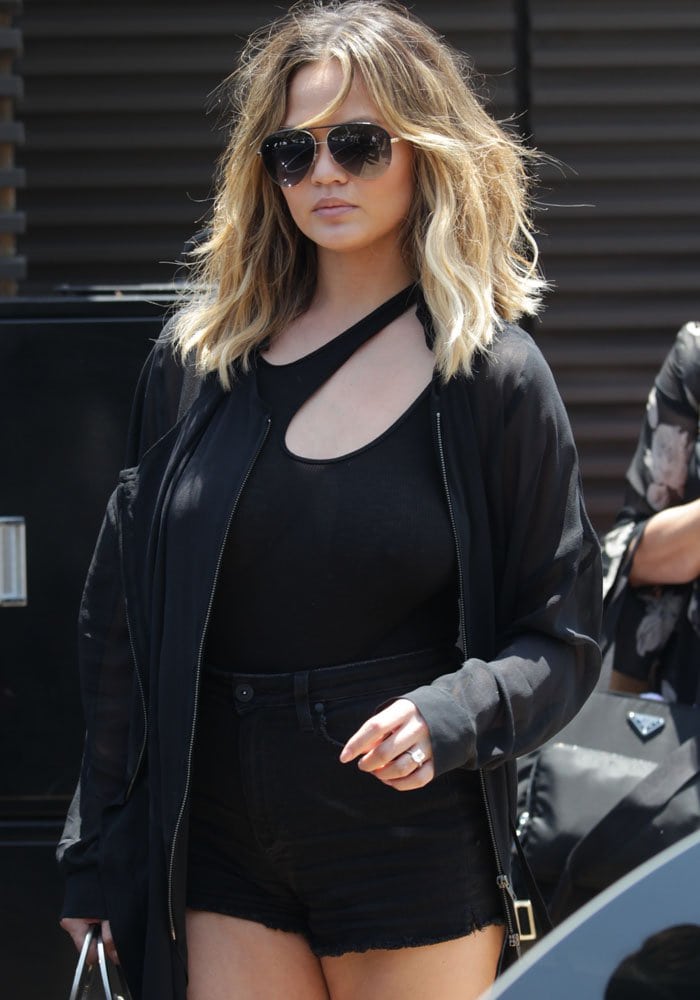 New mom Chrissy Teigen wears an all-black ensemble for her lunch date with the Kardashian-West couple
Chrissy wore a cutout Alix Astor bodysuit with a pair of denim cutoffs underneath some long black outerwear.
The new mom accessorized with a pair of Victoria Beckham aviator sunglasses, a "Classic" tote by The Row, and multi-strap sandals.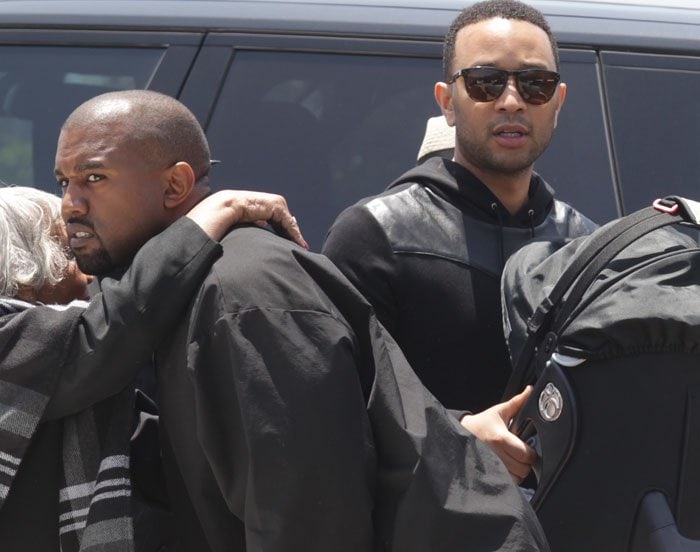 Full support: dads Kanye West and John Legend join their wives and children for lunch
Kanye-paparazzi face-off aside, he and Kim were seen cooing over Luna at lunch. Kanye held the newborn (and yes, he was smiling at her) as Kim pinched her little foot. Chrissy uploaded snaps of their precious meeting.
Manolo Blahnik "Chaos" 105 Black Suede Sandal, $685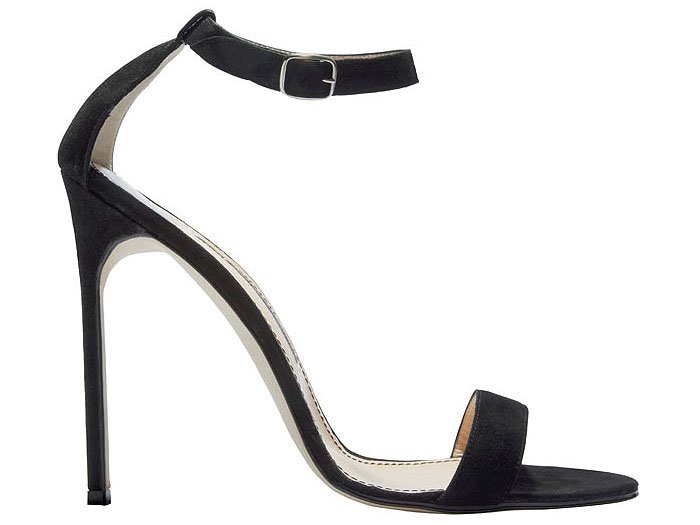 Credit: WENN