Kourtney Kardashian is the latest Kardashian-Jenner sister to put up her old clothes and shoes for sale on eBay. Last year, Kim also did an eBay auction to benefit the Philippine typhoon victims. In Kourtney's auction, the beneficiary of 10% of the sales is the Dream Foundation, an organization that grants the wishes of terminally ill adult individuals who only have a year or less to live.
Kourtney has held other eBay auctions before, and all her other sisters as well as their mom, in fact, have their own eBay stores. Each one has their own choice of charity. The eBay Giving Works program is a neat way for the Kardashian-Jenners to free up their undoubtedly crowded closets, encash unused mounds of clothing, and give back to the community, don't you think?
Kourtney Kardashian shopping for her home at the La Cienega Design Quarter in Beverly Hills, California, on September 2, 2014; leaving a studio in Van Nuys, California, on October 22, 2014
It's also a way for the sisters to put their fame to good use. They raise more charity funds by selling clothes that they had previously worn than by just giving them away or selling them anonymously.
In Kourtney's auction right now, her pre-loved blue Rails shirt is already bid up to more than the retail price. Bidders could actually get the shirt cheaper at a Rails boutique, but they really want the reality star's old shirt. It's still a few days until Sunday when the auction ends, so expect the price to go even higher.
Kourtney Kardashian's Instagram post announcing her eBay auction – posted on November 5, 2014
There are only nine pairs being auctioned off in the shoe department, which are mostly flats, sandals, and ballet shoes. Well, what else can you expect a busy mom like Kourtney to wear? She has the most sensible taste in shoes among the sisters.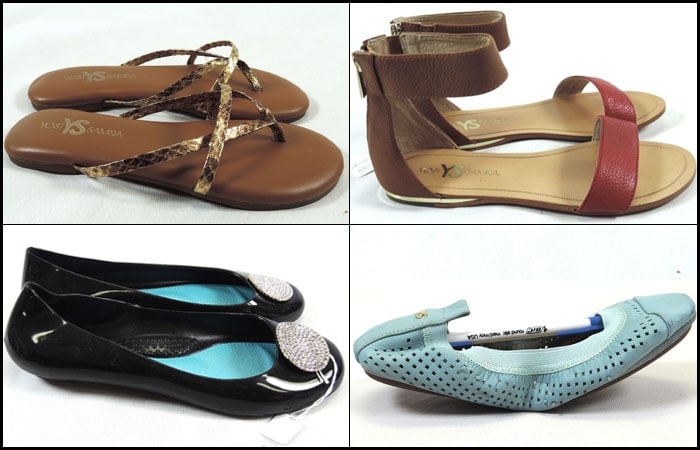 Clockwise from top left: Kourtney Kardashian's Yosi Samra Bronze Cross-Strap Sandals, Yosi Samra Brown-and-Red Ankle-Strap Sandals, Yosi Samra Light Blue Fold-Up Ballet Flats, and Oka-B Black Rubber Ballet Flats, all in sizes 5 to 6
Kourtney did include a few heels in the bunch, including the following black and white pairs she very recently wore to the Babies "R" Us charity baby shower in July and to a Kourtney and Khloe Take the Hamptons episode filming in August: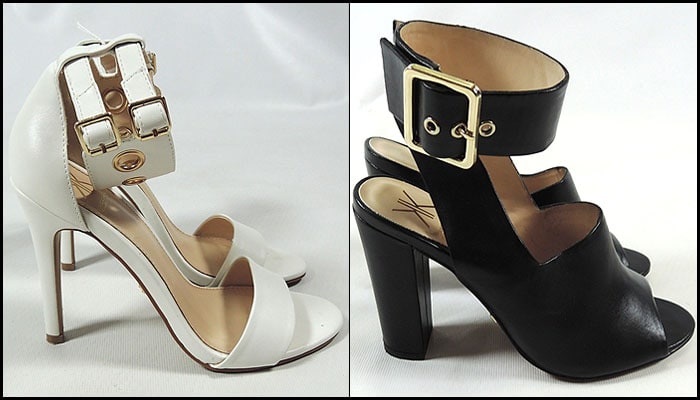 Kourtney Kardashian's Kardashian Kollection White Eyelet-Ankle-Cuff Heels and Kardashian Kollection Buckled Ankle-Cuff Heels, both in size 6
Do note that Kourtney's size is small or extra small, and her shoe size is 6. Shop Kourtney Kardashian's eBay auction. Before shopping, make sure to check our tips on how to shop safely on eBay.
Credit: WENN