Where the Kardashians go, the gossip is sure to follow.
The latest Kardashian/ Jenner news? The clan's "Momager" Kris Jenner is reportedly engaged — and possibly even married — to her new beau Corey Gamble.
Kris Jenner and rumored fiancé Corey Gamble arrive at Los Angeles International Airport on November 11, 2015
We spotted a huge engagement-looking ring on that special finger of hers as she arrived in Los Angeles from New York City, where she had watched daughter Kendall Jenner walking the Victoria's Secret Fashion Show.
Another detail we noticed? A wedding band-looking accessory on Corey's finger.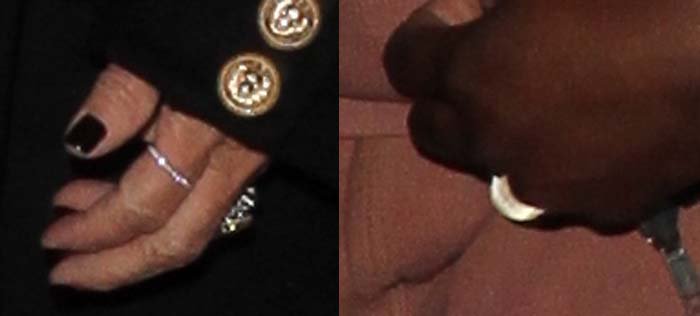 Kris Jenner sports an engagement-looking ring as she arrives in Los Angeles
As of now, the engagement-slash-marriage is still just a rumor. However, we wouldn't be surprised to hear about Korey Kardashian-Jenner soon.
In a recent interview with Evening Standard, Kris joked that renaming her boyfriend to Korey would be "a really good idea."
Kris Jenner and Corey Gamble sport matching Moonrock Adidas Yeezy Boost 350 sneakers
In other news, the duo stepped out in matching Adidas Yeezy Boost 350 sneakers in the highly anticipated new all-grey color, Moonrock.
The third colorway of the sought-after sneaker, the uniquely patterned upper and matching grey sole do indeed make it look like something straight from the moon.
Kris Jenner's feet in Adidas Yeezy Boost 350 sneakers
The new sneakers launch in select stores tomorrow, November 14. It pays to be mom-in-law to business mogul, Kanye West when you've got such great hook-ups.
Corey Gamble's feet in Adidas Yeezy Boost 350 sneakers in the Moonrock colorway
If you're lucky, you can get your hands on this coveted pair of sneakers tomorrow at Farfetch. Meanwhile, you can admire these Adidas Yeezy beauties in photos:
Adidas Yeezy Boost 350 in Moonrock, $200
Credit: WENN