Selma Blair portrays her doppelgänger Kris Jenner in The People v. O. J. Simpson: American Crime Story, the first season of the FX true crime anthology television series American Crime Story.
Kris Jenner's husband at the time, Robert George Kardashian, was O. J. Simpson's defense attorney during Simpson's 1995 murder trial.
Blair was cast as Kris Jenner in FX's The People v. O. J. Simpson
"When I started this little role, I was just so excited to be working with Ryan," Blair told E! News about director Ryan Murphy in February 2016.
"But I gained a friend that I cherish, I really do. She's a warm and generous and open and giving woman. And this was her best friend. This isn't a story about Kris Jenner, my character, but Nicole Brown Simpson was a young woman with a group of friends who loved her and I know Kris hopes this raises some awareness for domestic violence by revisiting this case and Nicole."
It's not typical for an actress to play you while you're still living and breathing, but there always seems to be an exception when it comes to the Kardashian/Jenner brood.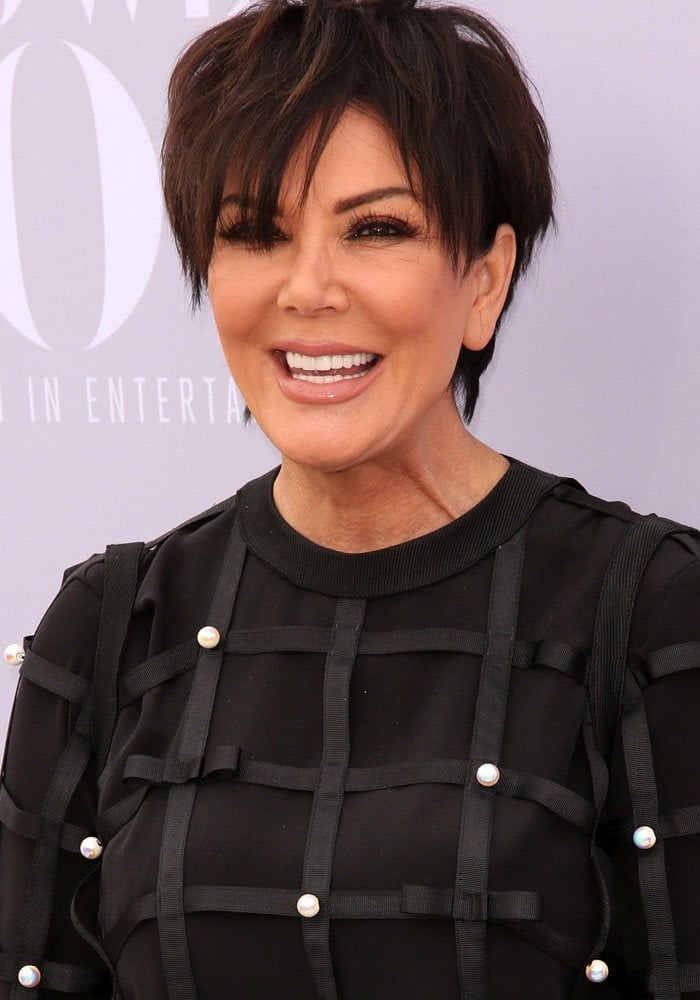 Kris Jenner wears her hair in its trademark pixie style on the red carpet of the 24th annual Women in Entertainment Breakfast hosted by The Hollywood Reporter at Milk Studios in Los Angeles on December 9, 2015
"Kris loved O.J.," Blair explained in an interview with Vanity Fair in March 2016.
"They knew each other, I don't know, for 17 years or something like that and were close friends. There were still [the Simpsons'] kids, so you don't want to talk about the father of these children that are going through this. I think she was careful about talking about it for different reasons. I'm sure she's a woman that's used to being very measured and careful, but she seemed just so generous with her information and her time when talking to me."
Selma Blair as Kris Jenner attends Nicole Brown Simpson's funeral
In December 2015, Kris made an appearance at The Hollywood Reporter's 24th annual "Women in Entertainment Breakfast," where she was later joined by Selma on the red carpet.
Kris Jenner wears a fringe-embellished Anna K dress on the red carpet of the Women in Entertainment Breakfast
Kris wore a dress by the then 20-year-old designer Anna K, which she coupled with a pair of black patent Mary Jane-style Saint Laurent "Janis" platform pumps.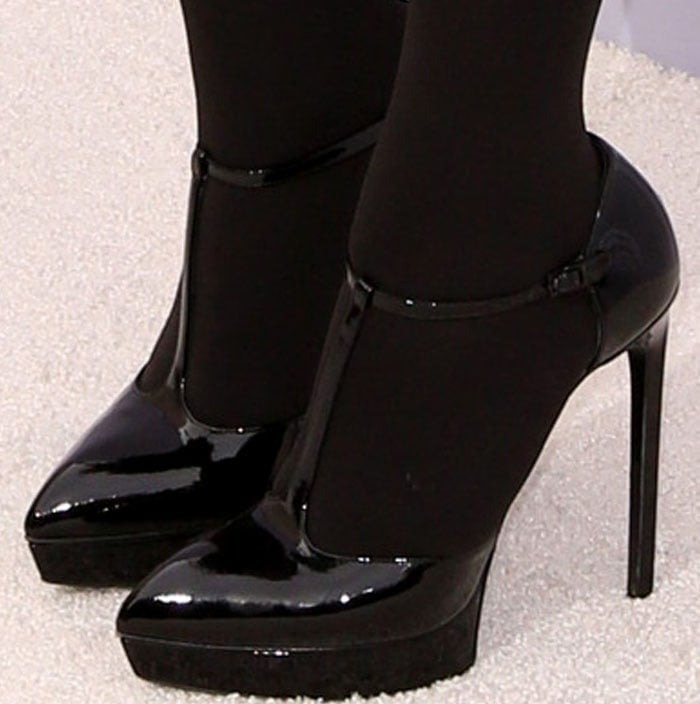 Kris Jenner's feet in Saint Laurent pumps
Kris also dished a bit about Saint West. Kris said Kim Kardashian's newest son looks like the boy version of North. The momager seemed to be choosing her words carefully, presumably to protect the privacy of the young couple.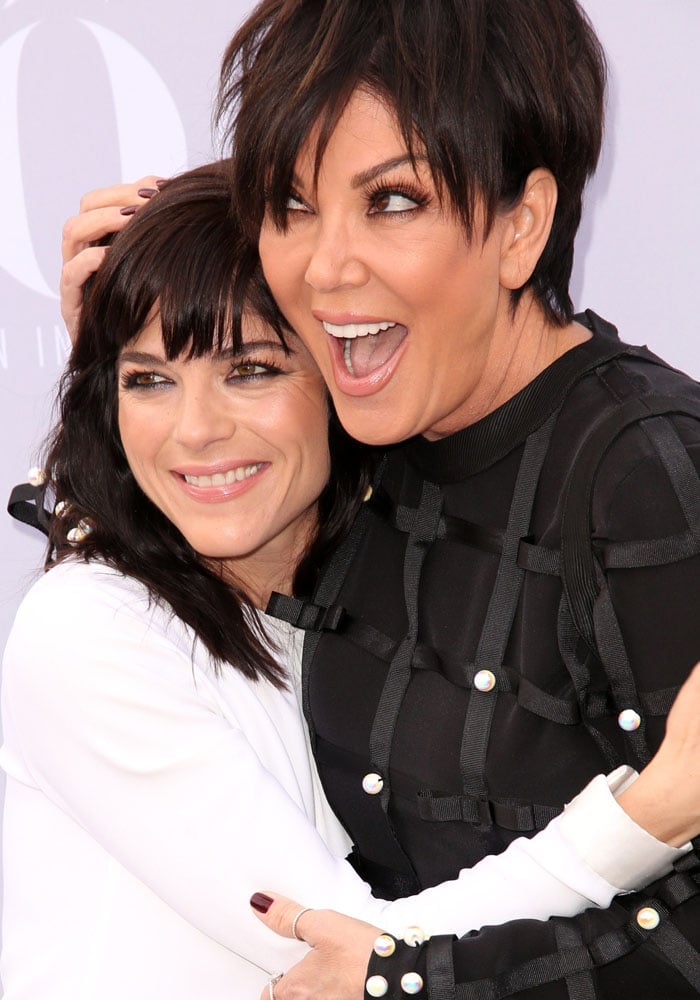 Selma Blair and Kris Jenner embrace on the red carpet
Kris also said the Kardashian/Jenner household is going to be packed for the holidays.
Kris' Saint Laurent shoe is no longer available online, but do check out other versions of the "Janis" shoe by clicking over to Farfetch and Nordstrom.
Saint Laurent "Janis" T-Strap Patent Pumps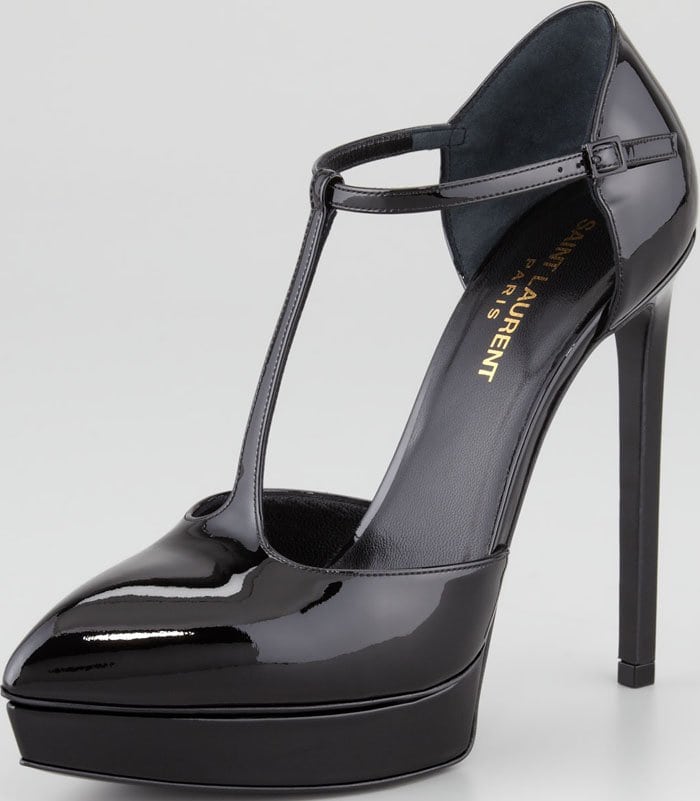 Saint Laurent "Janis" Pumps, $795
Saint Laurent Black Leather "Janis" T-Strap Studded Pumps, $1,295
Credit: Brian To / WENN