In case you haven't heard, 'The Hills' star, Kristin Cavallari, is partnering with Chinese Laundry to create her own line of shoes. She was spotted outside of a salon in L.A. wearing a pair of "Lotteria" sandals from the collection in black and nude suede.
Kristin looked very chic in slim black trousers, a black tube top, a cream tuxedo vest, and aviator sunnies. Her quilted leather Chanel bag finished the look with a little touch of "Old Hollywood glam."
Kristin Cavallari returning to her car after leaving Jose Eber Salon in Beverly Hills, California on April 3, 2013
Kristin featured this photo on her Twitter account with a caption that reads, "Just got a compliment that [these shoes] looked like a $900 pair. One of mine from my spring/summer line!! Don't need to spend a fortune!"
When you think about it, these do look very similar to some designer styles we've seen lately. They could easily be Manolo Blahnik. Do you agree?
The Lotteria sandals are available at Chinese Laundry in Kristin's collaborative line.
Chinese Laundry Kristin Cavallari "Lotteria" Sandals in Melon, $119.95 at Amazon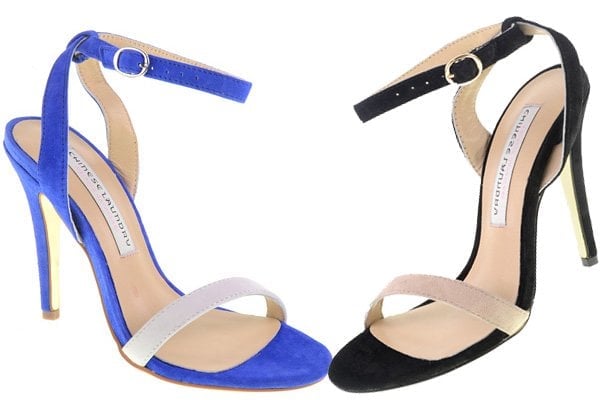 Chinese Laundry Kristin Cavallari "Lotteria" Sandals in Cobalt Blue and Black, $119.95 at Amazon
Priced around $120, these sandals are a steal compared to other designer styles. What's your verdict? Would you make them your next shoes?
Credit: Ryan/WENN/Twitter (Kristin Cavallari)