Kristina Karo is going for a record.
The aspiring singer, whose "Give Me Green Card" video has more than 600,000 views on YouTube, recently set a world record for singing the same song on repeat in an elevator for the longest time.
While we do not know what the previous record was, the Ukrainian performer performed her new single "Elevator" for 28 hours.
Commenting on her new world record, she revealed, "Some people didn't think I could do this, especially since there was no restroom inside the elevator, but that just fueled my fire and desire more to make history. I want to thank my fans, new Karo Train supporters, and America for their love and making Elevator a dance-floor hit… Elevator is now going up!"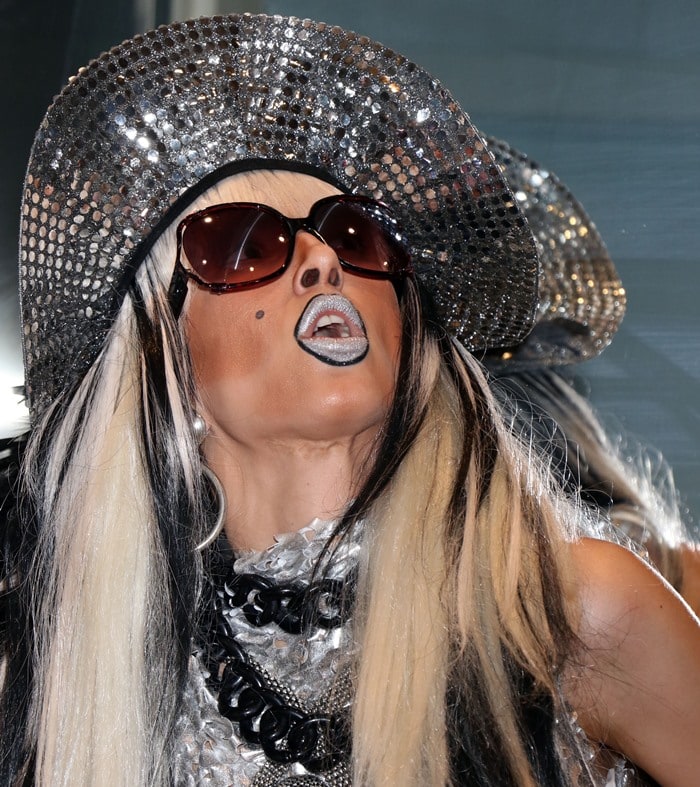 Singer Kristina Karo attempts to set a new world record by performing her single "Elevator" for 28 straight hours inside an elevator at The Blue & White Pool Villa Suite In Paradise Tower Inside Hard Rock Hotel & Casino on September 8, 2015
The "Give Me Green Card" artist set the new world record in an ugly pair of silver metallic ankle booties featuring black block heels, laces, and platforms.
It's undoubtedly a desperate attempt to become famous, but don't you think she could have picked a more comfortable pair of shoes for her world record performance?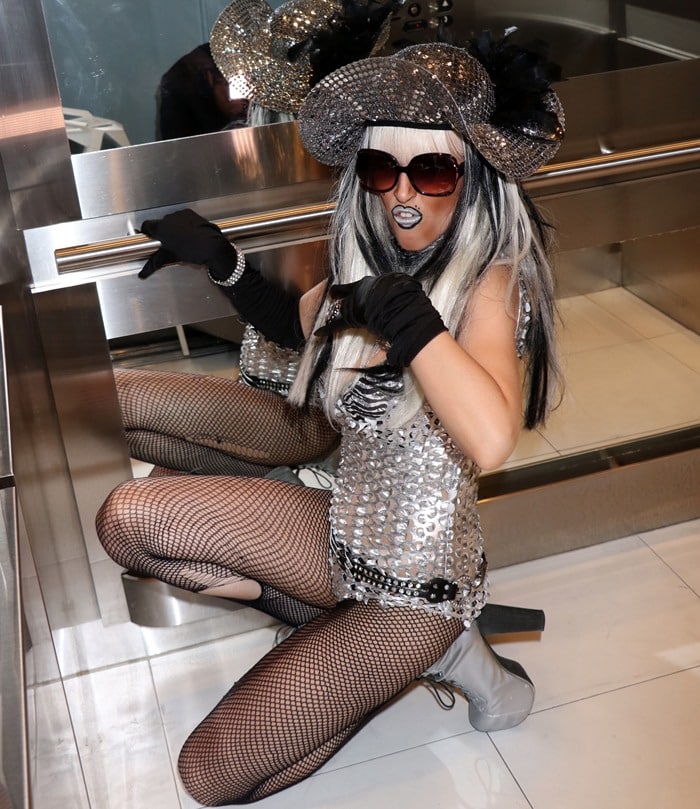 Kristina Karo poses in her metallic look while making an attempt at breaking a world record
Kristina finished her metallic look with a head-to-toe silver ensemble, including a feathered-and-sequined hat, silver-and-black lipstick, a silver rhinestoned cleavage-baring bodysuit, a black studded belt, black elbow-length gloves and ripped black fishnets.
Kristina Karo shows off her metallic platform booties as she poses in an elevator
Credit: DJDM / WENN