In 2022, a new movie was released – The 355. Unfortunately, the female-led movie did not perform well, scoring dismal ratings among critics, and losing money at the box office.
Still, like any movie, there's a plethora of information to learn about it. Let's dig in.
Details on The 355
The 355 is an action thriller. One of the film's stars, Jessica Chastain, had the idea, and many production companies wanted the film rights.
The idea was originally for a television series, but after a pilot was filmed, no networks picked it up. Clearly, the television networks had the foresight that the film producers lacked.
Jessica Chastain, Penélope Cruz, Diane Kruger, and Lupita Nyong'o portray international spies in Simon Kinberg's The 355 (Credit: Universal Pictures)
The title of the movie, particularly the number 355, is a nod to a female Patriot spy called Agent 355 who fought in the American Revolution. The movie itself is not based on true events, but it is inspired by a real woman.
One of the first spies for the United States, the real identity of Agent 355 is unknown. She was part of The Culper Ring, a network of spies active during the American Revolutionary War.
Who Stars in the Film?
The stars of the film include:
1. Jessica Chastain – Redheaded beauty Jessica Chastain is known for her superb acting talent, and she was finally recognized for her work at the 2022 Oscars for her role in The Eyes of Tammy Faye.
2. Penelope Cruz – Another Oscar winner, Penelope Cruz was nominated again this year alongside Chastain for her work in Parallel Mothers.
3. Bingbing Fan – Chinese actress Bingbing Fan is making a huge splash in the entertainment industry due to her immense talent.
Penélope Cruz as DNI agent and psychologist Graciela Rivera, Jessica Chastain as CIA officer Mason "Mace" Browne, Lupita Nyong'o as former MI6 agent Khadijah Adiyeme, and Diane Kruger as rival German BND agent Marie Schmidt in the 2022 American spy film The 355 (Credit: Universal Pictures)
4. Diane Kruger – Diane Kruger has been steadily working in Hollywood for two decades now, starring in films like National Treasure and Inglourious Basterds.
5. Lupita Nyong'o – Rounding out this all-star cast is a third Oscar winner, Lupita Nyong'o, who originally wowed critics and fans alike in her performance in 12 Years a Slave.
What About Marion Cotillard?
Originally, the film was set to star Marion Cotillard, but the Oscar-winning actress had to pull out of the film.
Not much is known about her departure, as the actress cited personal reasons as her impetus for leaving the cast. Reportedly, Diane Kruger ended up replacing her.
Diane Kruger's Role
Had Marion Cotillard stayed, she would've played Marie Schmidt, a German agent who works to retrieve a device before it wreaks havoc on global communication.
Diane Kruger was cast in The 355 after Marion Cotillard pulled out (Credit: Universal Pictures)
The role was originally written as a French spy but was altered a bit when Kruger was cast. We can only assume the role would've stayed as-written had French actress Cotillard not pulled out.
Why It Failed
You'd think that a movie with such a talented cast couldn't fail, but unfortunately, The 355 proved that theory wrong.
Critics gave it awful reviews, many of them finding it boring. Audiences were more entranced by the film than critics, but still not enough to make a good showing at the box office.
The 355 Trivia
The movie was filmed all over the world, some of the locations including Paris, Morocco, London, and Washington, D.C.
Another actor in the film, Sylvester Groth, was in Inglourious Basterds with Diane Kruger.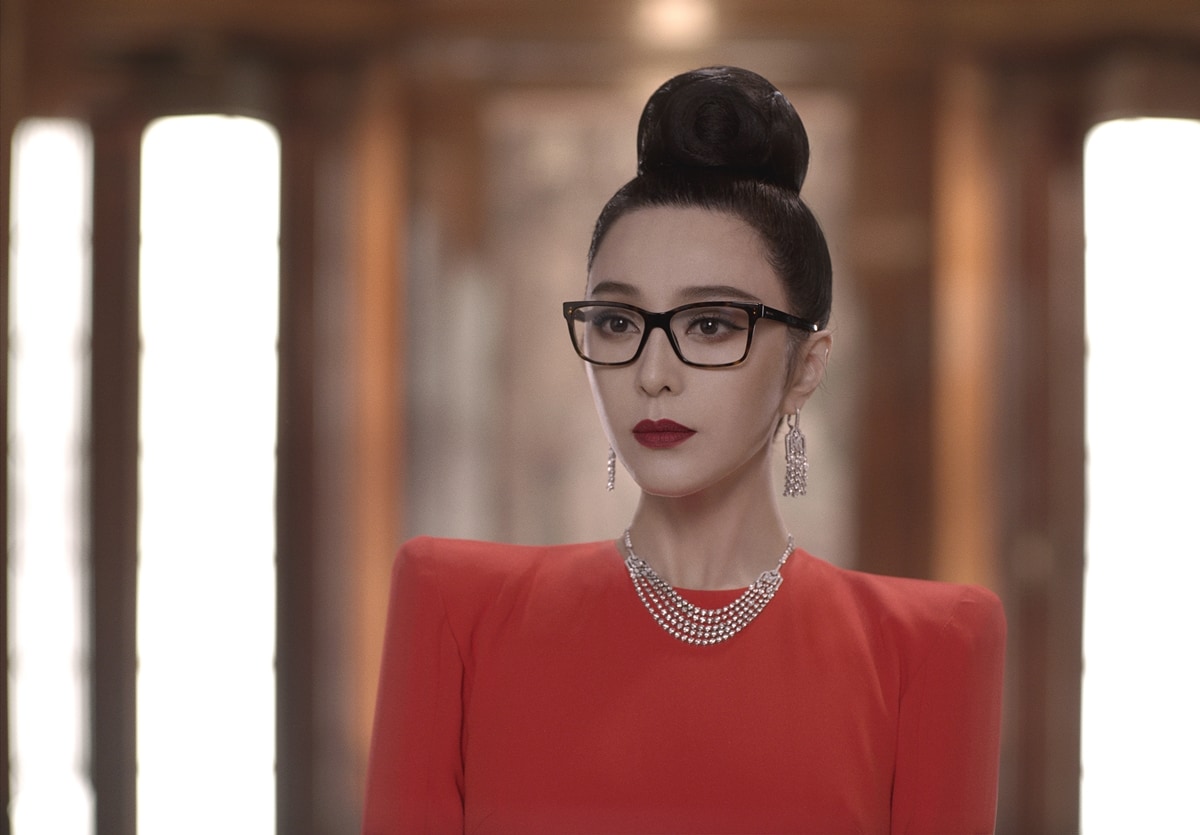 Fan Bingbing as MSS agent Lin Mi Sheng in the female-led spy thriller The 355 (Credit: Universal Pictures)
The film found a home on the streaming service Peacock a mere 45 days after it hit theaters.
We certainly wonder what this film would have been like had Marion Cotillard stayed!
In February 2015, Diane Kruger joined Beyonce, Jennifer Lopez, and Rosie Huntington-Whiteley at the 2015 Vanity Fair Oscar Party in Beverly Hills.
Diane Kruger wears her hair up at the 2015 Vanity Fair Oscar Party hosted by Graydon Carter at Wallis Annenberg Center for the Performing Arts on February 22, 2015, in Beverly Hills, California (Credit: WENN / Brian To / Dennis Van Tine / Future Image)
The then 38-year-old German actress and former fashion model donned an asymmetrical red jumpsuit from Donna Karan Atelier, which featured a one-shoulder over-cape.
She carried an Anya Hindmarch "Pencil Case" clutch and accessorized with H.Stern jewelry.
Diane Kruger carries a whimsical Anya Hindmarch clutch on the red carpet (Credit: WENN)
To complete the classy ensemble, she sported a pair of "Minny" sandals from Jimmy Choo.
Diane was accompanied by her boyfriend, Joshua Jackson, who dressed in Dolce & Gabbana with a Montblanc watch and cuff links.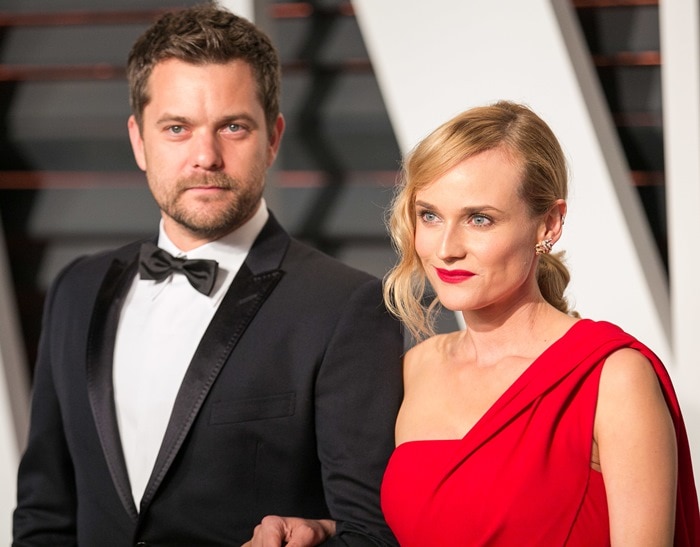 Joshua Jackson and Diane Kruger pose for photos at the 2015 Vanity Fair Oscar Party (Credit: WENN)
Diane's "Minny" sandals are unfortunately not available right now, but you can browse the most popular shoes from Jimmy Choo at Farfetch and Mytheresa.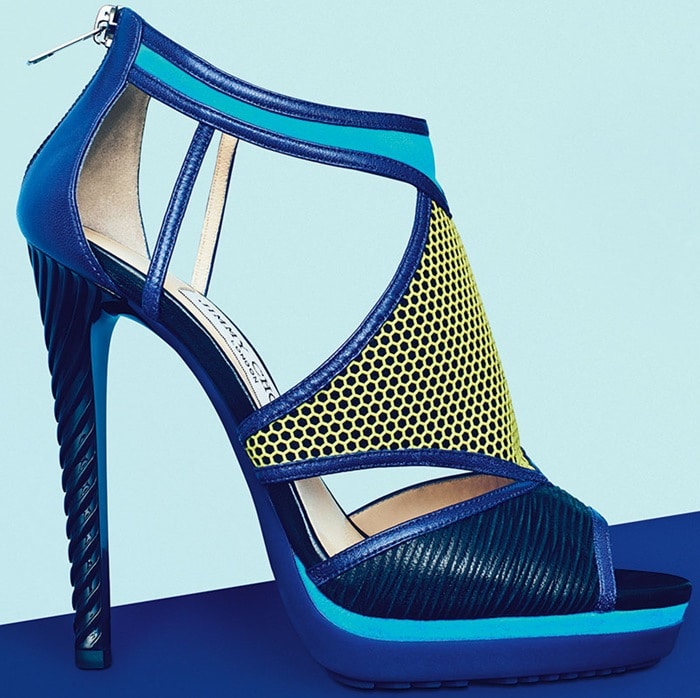 Jimmy Choo 'Lythe' Mixed-Media Platform Sandal, $1,195