Born July 1, 1979, Kyla Weber is a 41-year-old Canadian realtor now living in sunny California. Chances are you haven't heard of Kyla Weber because of her real estate career unless you are currently living in Alberta.
If you've seen her name before, it is likely because she is married to the famous actor and Hollywood star, Vince Vaughn. Kyla has maintained a private life with little details of her life and history being published in the media.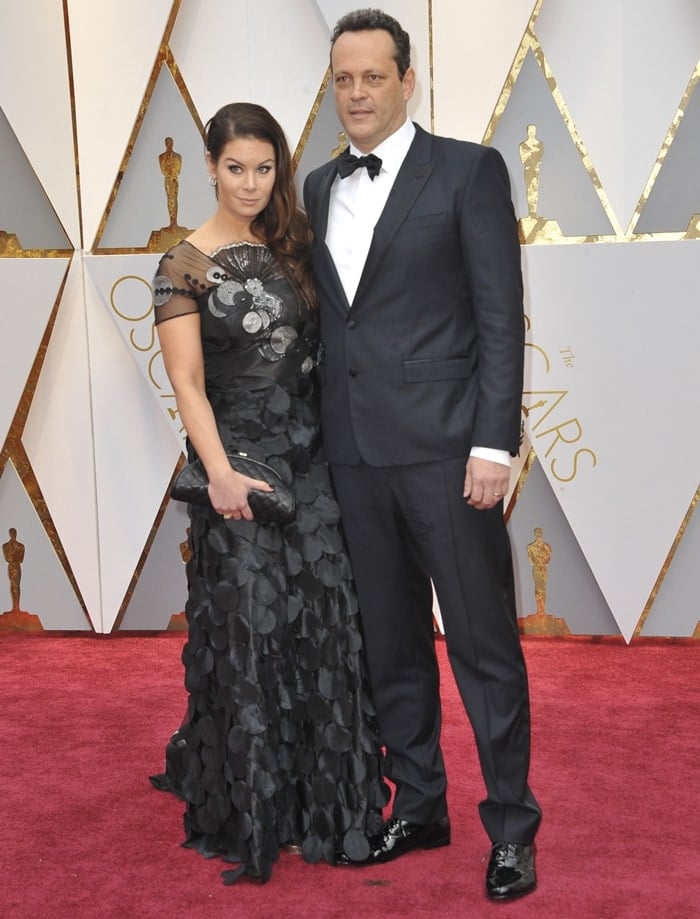 Actor Vince Vaughn (L) and his wife Kyla Weber attend the 89th Annual Academy Awards at Hollywood & Highland Center on February 26, 2017, in Hollywood, California (Credit: Apega / WENN)
Considering the level of fame her husband has, it's surprising we don't see more of Kyla.
The mystery behind this beautiful brunette and her ability to get Vince Vaughn to reconsider his bachelor lifestyle has us intrigued! Here is what we do know about Kyla…
Kyla Weber's Canadian Roots
So many of us "regular folks" fantasize about marrying our celebrity crush. It seems totally unreasonable, though; how is a small-town real estate agent going to meet one of Hollywood's most successful actors?
Well, keep dreaming because it's not as impossible as you make think!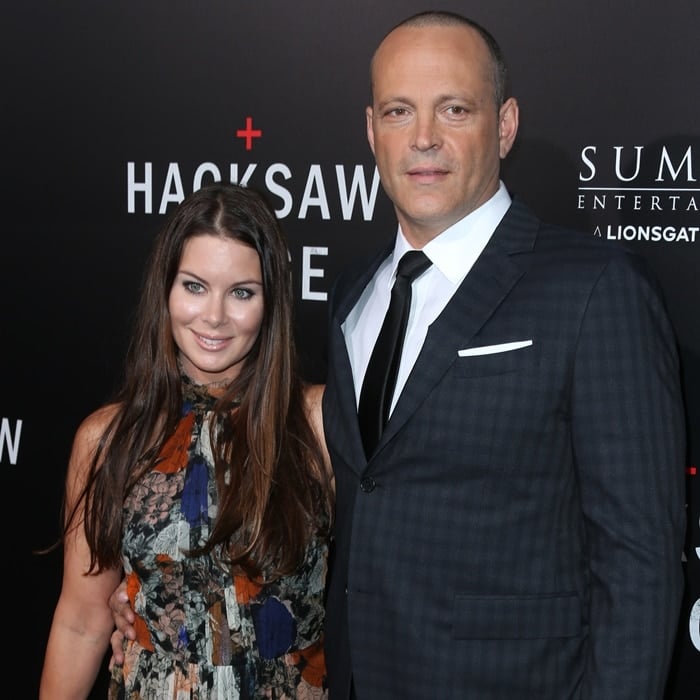 Kyla Weber (L) and her husband Vince Vaughn arrive at the screening of Summit Entertainment's "Hacksaw Ridge" at the Samuel Goldwyn Theater on October 24, 2016, in Beverly Hills, California (Credit: FayesVision / WENN)
Kyla Weber was born in Okotoks, Alberta, on July 1, 1979. A small bedroom community, 18km outside of Calgary in Canada. As a child, she was said to be a smart student and, after graduating high school, went on to study business in college.
After college, Kyla started working in real estate with a company called Coco Homes – Cimarron Living in Calgary.
At the time, Weber was making an average salary for an Okotoks real estate agent, ranging from $24,000 to $150,000, before being swept up in the glitzy Hollywood lifestyle with her beau, Vince Vaughn.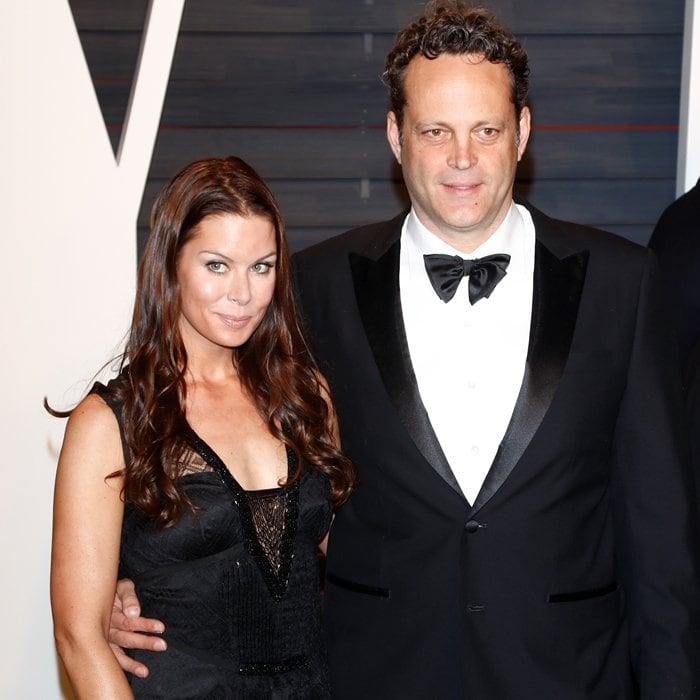 Actor Vince Vaughn (R) and his wife Kyla Weber arrive at the 2016 Vanity Fair Oscar Party Hosted by Graydon Carter at the Wallis Annenberg Center for the Performing Arts on February 28, 2016, in Beverly Hills, California (Credit: WENN)
Despite Vince's fame, the two actually shared similar upbringings. Vince was born in Minneapolis, Minnesota, meaning he is just as experienced with harsh winters and obscene amounts of snow as Kyla is!
And, they say men choose a partner that reminds them of their mother – well, this could very well be true here. Vince Vaughn's mother, Sharon Eileen (née DePalmo; born in Brantford, Ontario, Canada), is a real estate agent just like Kyla.
Kyla Weber and Vince Vaughn: Dating, Marriage, and Children
Although Kyla Weber's dating history is quite private, Vince Vaughn has long been under the limelight.
His relationship with Jennifer Aniston was the topic of magazines, newspapers, and major media outlets in 2005. Like many relationships with two famous actors, it didn't last.
Pictured with Peyton Reed, the director of their 2006 American romantic comedy-drama film The Break-Up, Vince Vaughn and Jennifer Aniston dated for approximately a year before confirming their split in October 2006 (Credit: Joerg Carstensen / WENN)
When Vaughn was asked about his relationship with Aniston in an interview with Playboy magazine, the part he didn't like was all the attention the two got, "For me personally – and I think most well-known actors who are together feel this way – I never enjoyed the paparazzi side of it."
The two broke up in 2006, about two years before Vince met Kyla. It seems Vince Vaughn's relationship with Jennifer Aniston made it clear to him that he didn't want to date a celebrity and wanted a relationship out of the spotlight.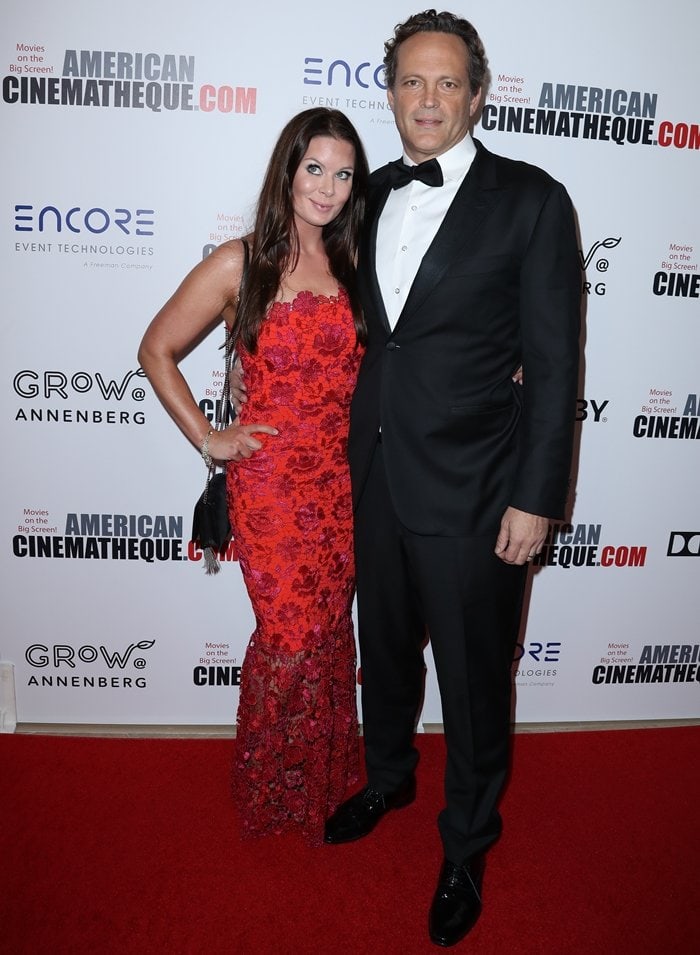 Actor Vince Vaughn and wife Kyla Weber arrive for the 32nd American Cinematheque Award Presentation Honoring Bradley Cooper held at The Beverly Hilton Hotel on November 29, 2018, in Beverly Hills, California (Credit: FayesVision / WENN)
And this is exactly what Weber had to offer. So, when Weber and Vaughn met the following year, it seemed to be a match made in heaven.
Their relationship moved quickly and is one of those situations where everything seems to go as it should.
Let's look at their relationship timeline…
Winter 2007 – The two meet and start dating
According to Vince Vaughn, the two were introduced at a wedding through a mutual friend who was a movie producer in May 2007, and the timing was just right.
The two started dating a few months later, and they both say it was love at first sight. Vince was drawn to Kyla; her beauty and independence were captivating.
Early 2008 – Kyla meets the parents
After only four months of dating, Vince flew Kyla out to Chicago to meet his parents, Sharon and Vernon Vaughn.
Kyla Weber and Vince Vaughn were introduced to each other by Vaughn's movie producer friend (Credit: Adriana M. Barraza / WENN)
February 14, 2009 – Vince proposes to Kyla
After a year and a half of dating, in 2009, Vaughn proposed to Kyla on Valentine's Day with a 4-carate diamond ring worth an estimated $125,000!
"I met the best girl in the world," Vince Vaughn said on The Ellen DeGeneres Show in January 2011. "It gives you such a great purpose in your life. If I would've met her, I would've done it a long time ago so I'm very, very happy."
"Sometimes, in our industry, well, I speak for myself, maybe that's an excuse, but you don't mature always at the same time. So if I was very fortunate that when I got ready and was open to that, then that person came into my life," he added. "You have to be ready to receive that. No question."
January 2, 2019 – Mr. & Mrs. Vaughn are married
The wedding was a private ceremony with just 65 people, held on January 2, 2010. The wedding was said to be a three-day celebration with their closest friends and family.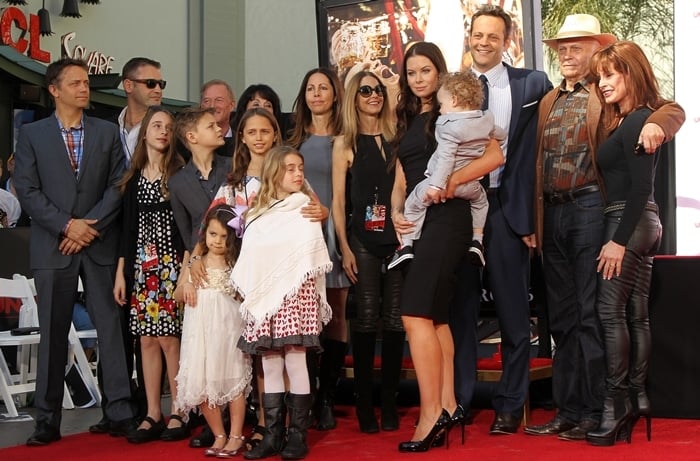 Vince Vaughn and his lovely family arrive for his Handprint and Footprint Ceremony in front of the TCL Chinese Theater IMAX on March 4, 2015, in Hollywood (Credit: FayesVision / WENN)
The event was held in Vince's hometown at Lake Forest Academy and Vaughn's Chicago penthouse. Vaughn has described married life as terrific but also "the hardest thing I think you'll ever do. You have to really work at it and want it".
December 2010 – Their first child is born
The two quickly grew their family with the birth of their daughter, Locklyn Kyla Vaughn, on December 18, 2010.
August 2013 – Second child is born
Vernon Lindsay Vaughn, Vince and Kyla's son, was born nearly three years later in August 2013. Vernon is named after Vince's father. The family spent a significant time living in Illinois before calling California home.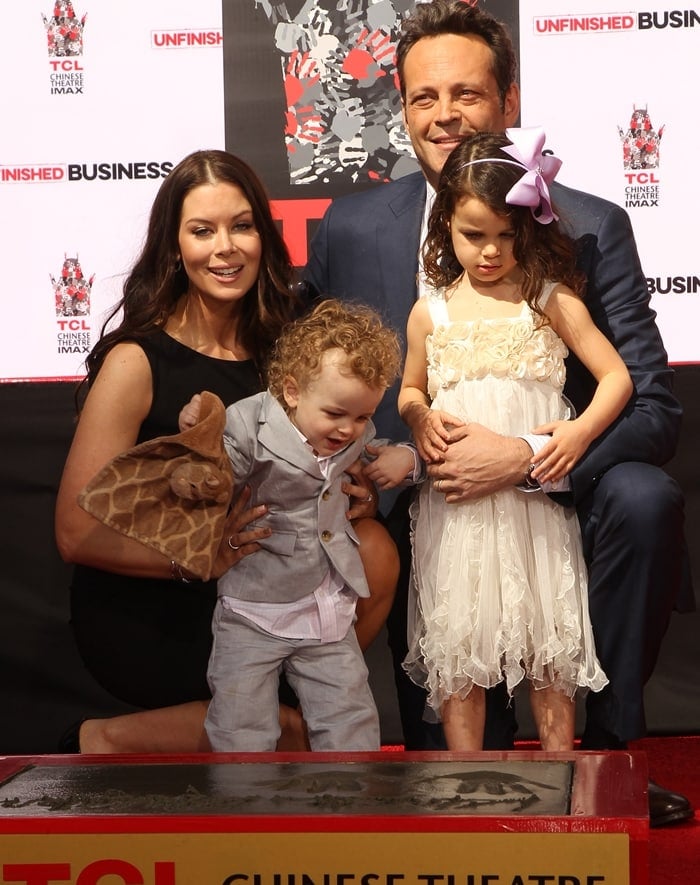 Kyla Weber, Vernon Lindsay Vaughn, Lochlyn Kyla Vaughn, and actor Vince Vaughn attend the 280th hand and footprint ceremony immortalizing Vince Vaughn at The TCL Chinese Theatre IMAX on March 4, 2015, in Hollywood, California (Credit: FayesVision / WENN)
Kyla Weber and Vince Vaughn, along with their two children, Locklyn and Vernon, now live in Manhattan Beach, California, in a 7,308 sq. ft home worth $6.47 million. Kyla still works as a real estate agent and is a doting mom and wife.
Paparazzi and Controversy
When the paparazzi caught wind of Vince and Kyla's new relationship, they soon started following the couple.
This mystery woman was now being seen all over social media and the news and started to gain fame of her own. She quickly went from Canadian relator to the trending topic on celebrity gossip sites.
Kyla is said to accompany her husband on set often but steers clear of the media. The two are occasionally spotted at sporting events but do a good job staying low-key and avoiding paparazzi and controversy.
Actor Vince Vaughn and his pregnant wife Kyla Weber in Hollywood on July 18, 2013 (Credit: RHS / WENN)
That was until Vince Vaughn was arrested and charged with DUI in Hermosa Beach. Just days after the two were spotted on the red carpet at the Venice Film Festival, Kyla was spotted walking up to the Manhattan Beach Police facility to bail out her husband.
Vaughn was released on $5,000 bail. Continuing to keep a low profile, the controversy was soon forgotten.
Kyla Weber Net worth
Kyla Weber earned an average real estate wage in Calgary before moving to LA. In LA, Kyla continues to work as a real estate agent and has done very well for herself. Kyla prefers to stay out of the media, so it's unlikely we will see her on "Selling Sunset" anytime soon.
However, she has earned herself a great deal of success with an estimated net worth of $0.8million. With a multi-million-dollar home in LA, she does benefit from her husband's net worth.
Vince Vaughn Net Worth
Kyla's husband, Vince Vaughn, has done quite well for himself. As an actor, screenwriter, comedian, and producer, Vince Vaughan has had a very successful career and is said to be one of the wealthiest Hollywood actors.
Vince Vaughn before he became famous – 1988 high school photo from Lake Forest High School (Credit: WENN)
In 2006, just before meeting Kyla, Vince Vaughn, along with co-star Owen Wilson, won the awards for Best On-Screen Team and People's Choice Award for Favourite On-Screen Match-up at the MTV Movie and TV Awards for "Wedding Crashers."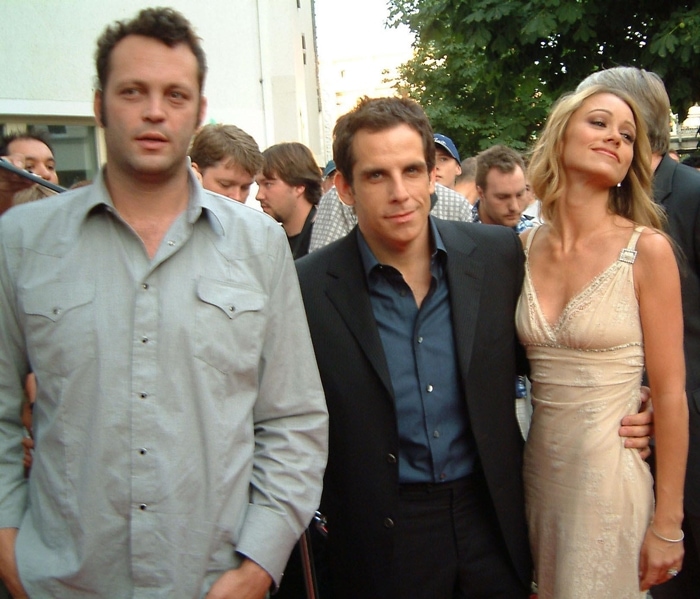 Ben Stiller, Christine Taylor, and Vince Vaughn at the German premiere of Dodgeball: A True Underdog Story in Berlin, Germany, on August 18, 2004 (Credit: Stefan Krempl / WENN)
This box office hit saw massive success and really skyrocketed Vaughn's career. The following year he starred in "The Break-Up" co-starring his now ex, Jennifer Aniston, which paid him about $12 million.
In 2007 he started in the new Christmas classic, Fred Claus, which earned him a whopping $25 million! In addition to his film success, he has made money in real estate.
Actor Vince Vaughn poses on the red carpet bridesmaids Heather Laine (R) and Harriet McClure (L) during the New York premiere of "Wedding Crashers" in New York City July 13, 2005 (Credit: PNP / WENN)
In 2006 Vince bought a 12,000 square foot Chicago penthouse from Hugh Hefner, which he later broke up and sold as three separate units. With all this success, it is estimated that Vince Vaughn's net worth is between $50 and 70 million!
Kyla Weber is now considered a celebrity spouse, someone who is famous by marriage. She is said to be fiercely independent, beautiful (with great, healthy hair!), smart, and caring.
Her marriage with Vince Vaughn has exceeded a decade – which is even longer in Hollywood years. Along with their children, Locklyn and Vernon, the family of 4 live a happy life in California.