As much as we adore our short kings, the world absolutely loves a tall man. Sure, they're probably sick of being asked the question, "How's the weather up there?" but they always come in handy when you need something off the top shelf.
Fortunately, there is no shortage of sky-scraping men in Hollywood. Here is a non-exhaustive list of some of the tallest actors in Hollywood. You'll probably not be surprised to learn that Kevin Hart and Tom Cruise didn't make the cut.
20. Dwayne "The Rock" Johnson – 6'2 ½" (189.2 cm)
Although he may have begun his career in the ring as a professional wrestler, the 50-year-old Dwayne "The Rock" Johnson's transition onto the silver screen has been smooth and extremely lucrative.
Dwayne "The Rock" Johnson attending the Black Adam photocall in Madrid, Spain on October 18, 2022 (Credit: DyD Fotografos / DDP / INSTARimages / Cover Images)
His size was a boon in the WWF ring, which has translated into roles that emphasize The Rock's tall frame, such as those in titles like The Scorpion King, The Game Plan, Hercules, and San Andreas. Johnson has even tried his hand at voice acting, showing off his singing skills in Disney's Moana.
19. Dolph Lundgren – 6'2 ½" (189.2 cm)
65-year-old Dolph Lundgren is an imposing figure, as evidenced by his breakout role as Ivan Drago in the 1985 film Rocky IV.
Since then, Lundgren has appeared in dozens of other titles, including Red Scorpion, The Punisher, Johnny Mnemonic, and The Expendables.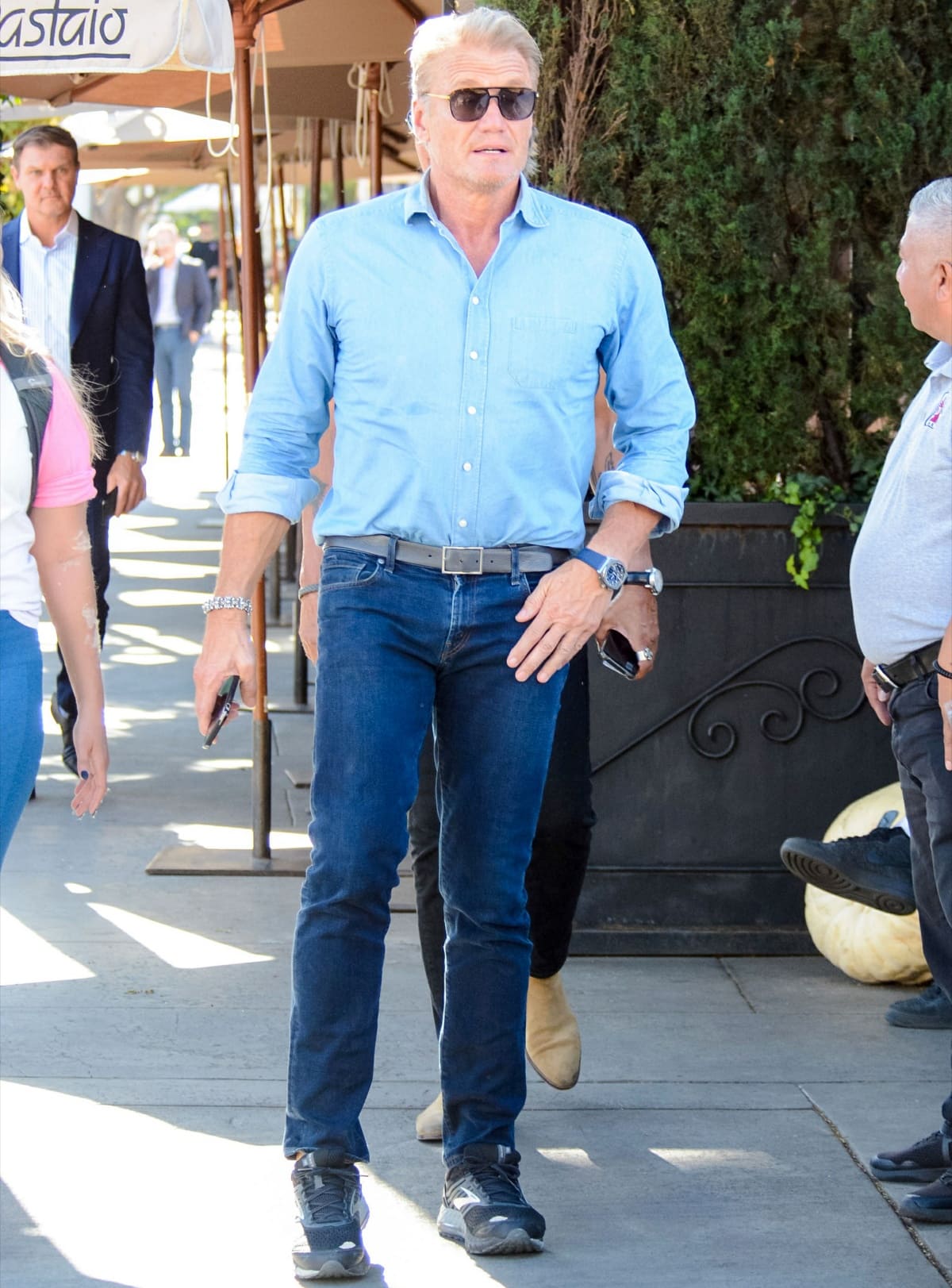 Dolph Lundgren towering over everyone while out and about in Los Angeles, California on October 31, 2019 (Credit: BauerGriffin / INSTARimages)
In a somewhat unexpected twist, the Swedish actor is extremely accomplished outside his screen roles, as Dolph Lundgren has a master's degree in chemical engineering.
He actually received a Fulbright scholarship to MIT before Grace Jones (yes, that Grace Jones) convinced him to leave university to pursue acting. In addition, Lundgren holds a black belt in Kyokushin Karate and has won many championship titles.
18. Dave Bautista – 6'2 ¾" (189.9 cm)
Like The Rock, 53-year-old Dave Bautista had a successful career as a professional wrestler – a four-time World Heavyweight Champion and two-time WWE Champion – before trying his hand at acting.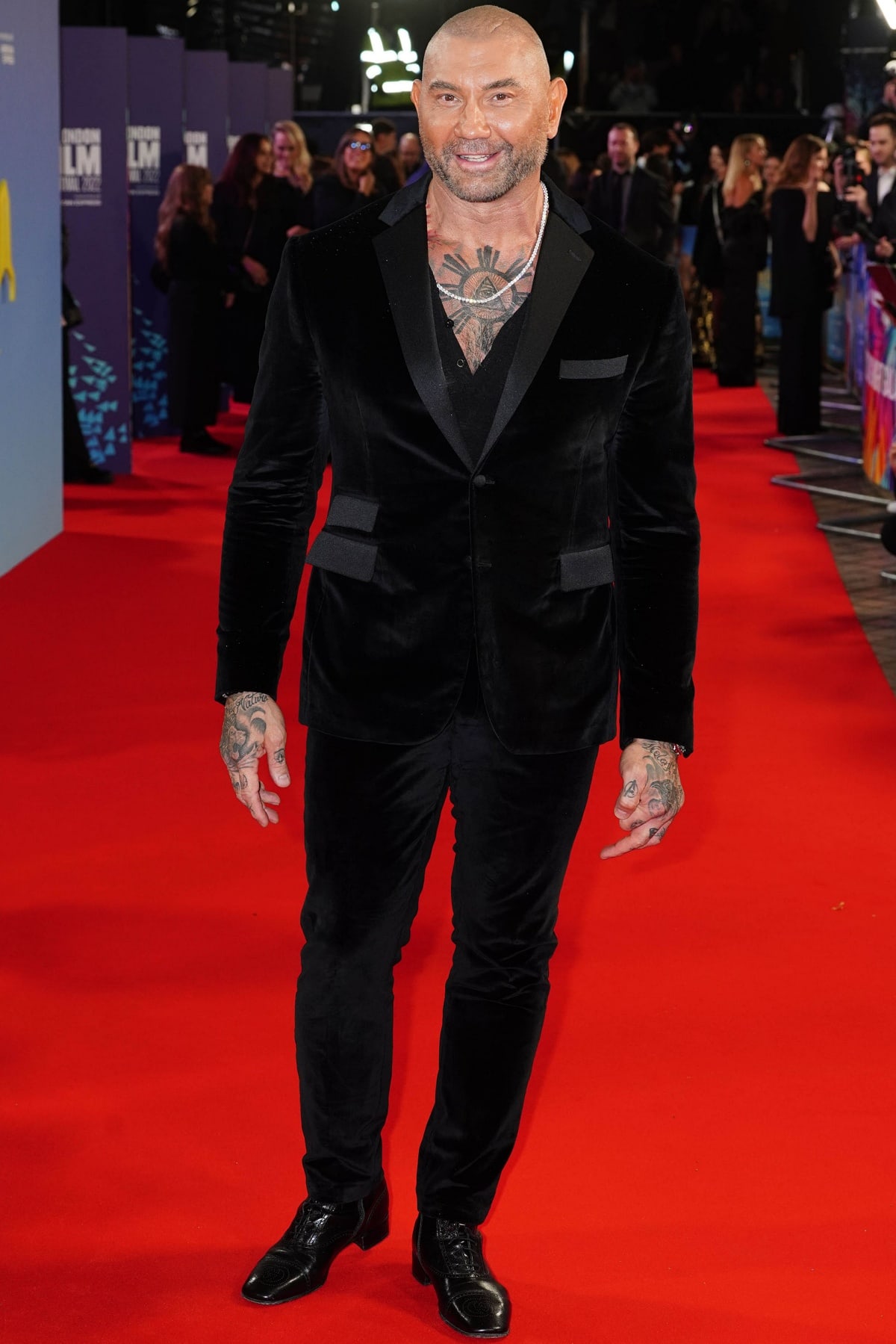 Dave Bautista at the Glass Onion: A Knives Out Mystery premiere during the BFI London Film Festival on October 16, 2022 (Credit: Ian West / PA Images / INSTARimages / Cover Images)
Just as buff as he is tall, Dave Bautista has appeared in a number of box office smash hits like Blade Runner 2049, Avengers: Infinity War, Dune, and most recently, Netflix's Knives Out sequel, Glass Onion: A Knives Out Mystery.
17. Bill Skarsgård – 6'3 ¼" (191.1 cm)
Not only is 32-year-old Bill Skarsgård one of the multiple Swedes on this list, but he's also not the only Skarsgård to appear! Standing at just over six feet and three inches, Bill Skarsgård comes from a family of actors.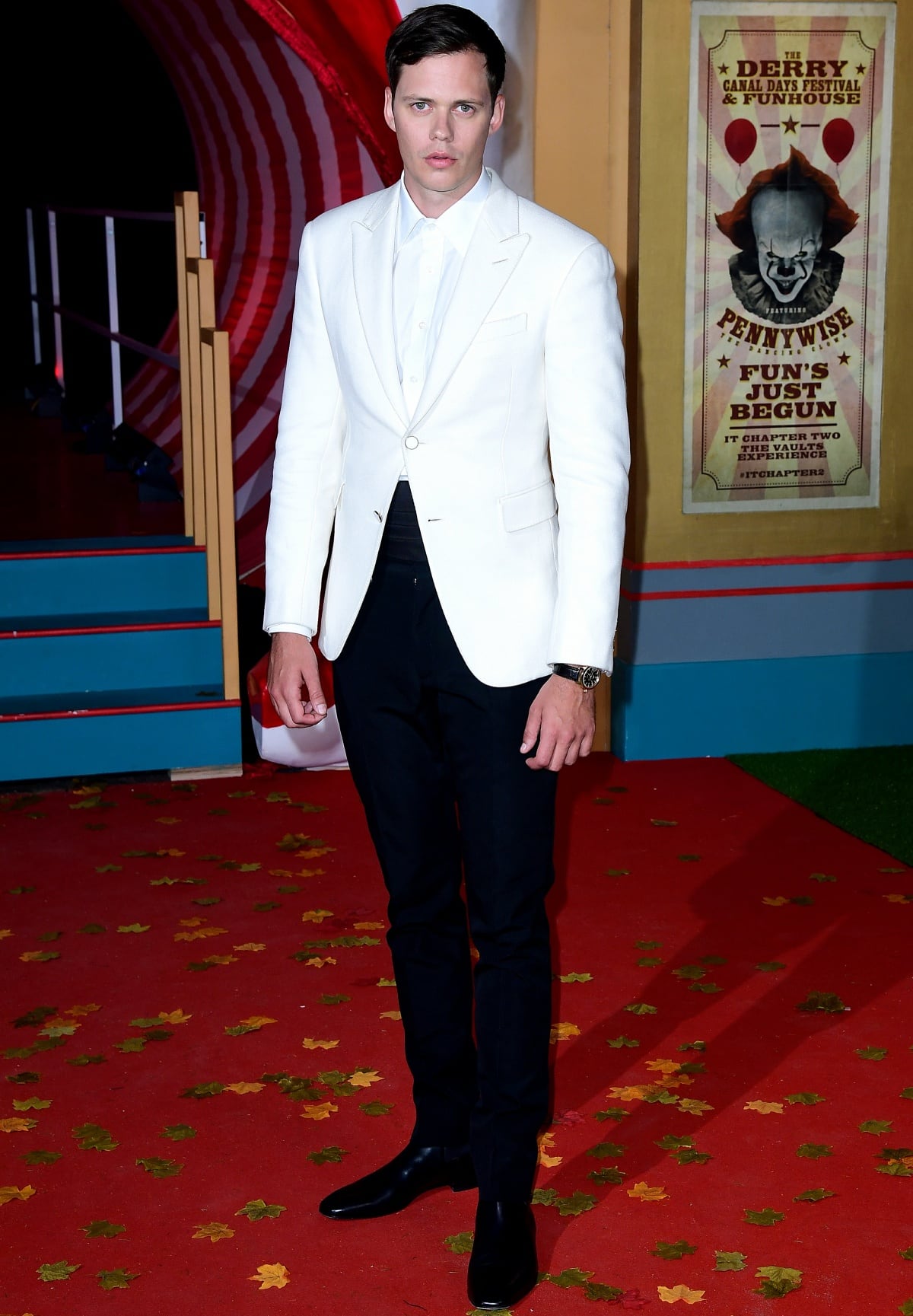 Bill Skarsgård attending the It Chapter Two European premiere held at The Vaults in London, England on September 2, 2019 (Credit: Ian West / PA Images / INSTARimages)
Although he is best known for his role as the terrifying titular clown in It and its subsequent sequel, It Chapter Two, Skarsgård has made a name for himself playing broody and often creepy characters. You can see this Skarsgård brother in titles such as Atomic Blonde, Villains, Barbarian, Clark, and Hemlock Grove.
16. Vincent D'Onofrio – 6'3 ½" (191.8 cm)
Standing tall, you likely know 63-year-old Vincent D'Onofrio best for his role as Detective Robert Goren in Law & Order: Criminal Intent. His questioning head tilt is the stuff of legend!
Vincent D'Onofrio at the premiere of The Eyes of Tammie Faye during the 16th Rome Film Festival on October 14, 2021 (Credit: IPA / INSTARimages)
That being said, this tall actor has done far more than be a Law & Order series regular. With a mile-long IMDB credits page, some of his most notable recent(ish) roles have been in titles such as Mystic Pizza, Jurassic World, The Eyes of Tammy Faye, Bojack Horseman, Hawkeye, and Daredevil: Born Again.
15. Jared Padalecki – 6'4" (193 cm)
40-year-old Jared Padalecki is one of those actors who is instantly recognizable. But depending on your interests, you either know him as one of two characters: Dean Forester in Gilmore Girls or Sam Winchester in Supernatural.
Jared Padalecki towering over Supernatural co-stars Jensen Ackles and Misha Collins at the 2019 CW Network Upfront in New York City on May 16, 2019 (Credit: Jennifer Graylock / INSTARimages)
Standing at six feet and four inches, Padalecki often towers over his co-stars. Even Jensen Ackles, who portrayed his on-screen brother in Supernatural, seems small in comparison, despite Ackles being a sturdy six feet tall.
14. Liam Neeson – 6'4" (193 cm)
"I will look for you. I will find you. And I will kill you."
70-year-old Liam Neeson's iconic line from Taken likely felt rather terrifying to the listener considering the actor is a whopping six feet and four inches tall! Neeson's height certainly helped his career as an action star, shooting him into A-list status.
Liam Neeson with Diane Kruger at the Marlowe photocall during the 70th San Sebastian International Film Festival in Spain on September 24, 2022 (Credit: Sean Thornton / Cover Images)
This Northern Irish actor has a laundry list of iconic roles, including Qui-Gon Jinn in Star Wars: The Phantom Menace, Aslan in The Chronicles of Narnia, and Godfrey of Ibelin in Kingdom of Heaven.
13. Alexander Skarsgård – 6'4 ¼" (193.7 cm)
Standing at just over six feet and four inches, Alexander Skarsgård is the second (and tallest) Skarsgård brother on this list.
The 46-year-old heartthrob has an interesting backstory, as he began acting as a child but quit for a long period of time, serving in the Swedish military for a number of years before returning to the screen in the 2001 film Zoolander.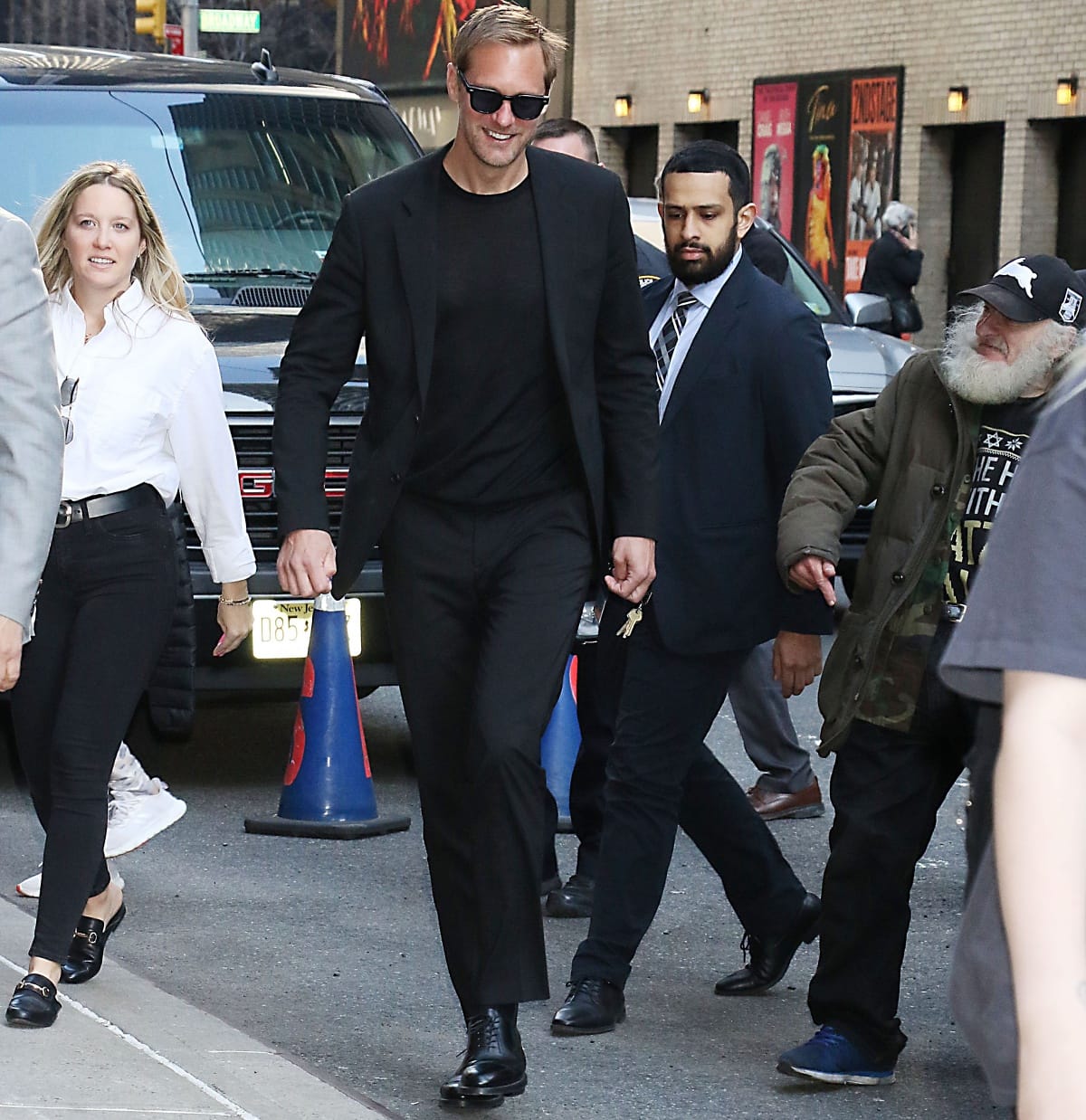 Alexander Skarsgård making everyone small in comparison while on his way to The Late Show with Stephen Colbert in New York City on April 20, 2022 (Credit: Roger Wong / INSTARimages)
Since then, this tall Swede has set hearts a-thumping in nearly all of his roles – he really nails the "bad boy who isn't good for you, but you can't help but love him anyway" attitude – in titles such as True Blood, Big Little Lies, and Succession.
12. Tyler Perry – 6'4 ¼" (193.7 cm)
53-year-old Tyler Perry is a true multihyphenate as an actor-director-activist-screenwriter-songwriter-producer-tall guy.
One of the most prolific creators in modern years, Tyler Perry has tried his hand at nearly every film genre. Standing at just over six feet and four inches, Tyler Perry takes on drama and comedy with great skill.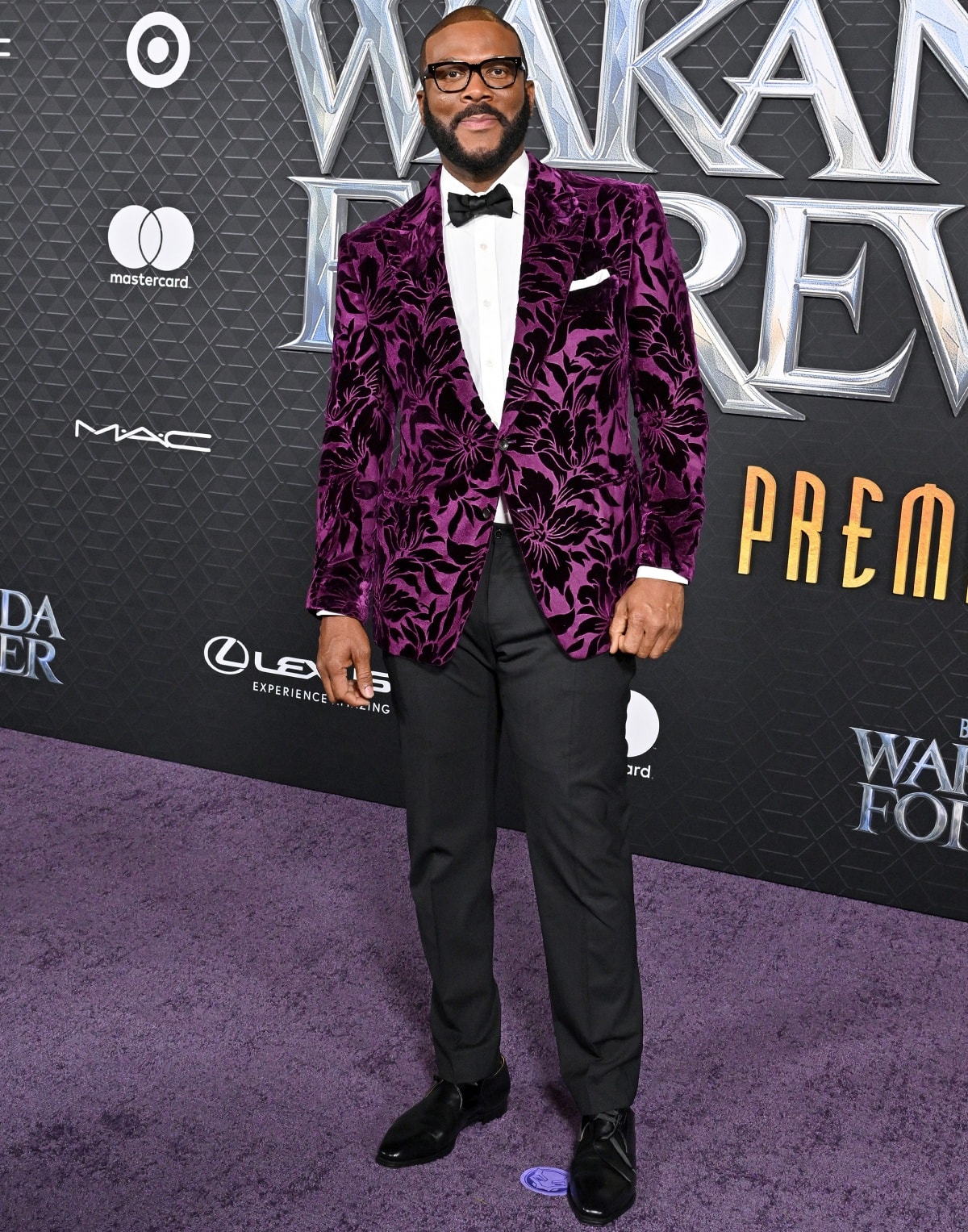 Tyler Perry attending the premiere of Black Panther: Wakanda Forever in Los Angeles, California on October 27, 2022 (Credit: BauerGriffin / INSTARimages / Cover Images)
Although he may be most recognizable as his character Madea (Madea's Family Reunion, Diary of a Mad Black Woman, Meet the Browns, Madea Goes to Jail, etc.), he has also appeared in titles such as Gone Girl, Alex Cross, Vice, and Don't Look Up.
11. Jeff Goldblum – 6'4 ¼" (193.7 cm)
This 70-year-old actor has recently become a trending figure on TikTok as social media users of all ages swoon over Jeff Goldblum's "aged like fine wine" looks, hilarious fan interactions, and immaculate outfits. Plus, he's really tall!
Jeff Goldblum attending the Charlize Theron Africa Outreach Project 2022 Summer Block Party in Los Angeles, California on June 11, 2022 (Credit: Xavier Collin / Image Press Agency)
More than just an enigmatic fashionista and accomplished musician, Jeff Goldblum is a bona fide A-lister and has appeared in dozens of our favorite movies, such as The Fly, Jurassic Park, and Independence Day.
Goldblum is also a frequent collaborator of director Wes Anderson – a fact that makes them a welcome duo in the silver screen.
10. Vince Vaughn – 6'4 ½" (194.3 cm)
We're not sure if it's due to his impeccable portrayal of man-baby characters, his dalliances with former President Trump, or simply his face, but 52-year-old Vince Vaughn has become a man people love to hate.
Despite his polarizing nature, Vaughn earns a spot on this list for standing at just over six feet and four inches.
Vince Vaughn looking gigantic next to his co-stars, director, and producer at the Los Angeles premiere of Christmas with The Campbells on December 1, 2022 (Credit: Ryan Hartford / Startraksphoto / Cover Images)
Speaking of man-baby roles, Vince Vaughn is known best for his many appearances in comedic titles such as Zoolander, Anchorman: The Legend of Ron Burgundy, Wedding Crashers, The Break-Up, and The Binge.
9. Armie Hammer – 6'4 ½" (194.3 cm)
36-year-old Armie Hammer is tall and has earned fame for films such as The Social Network, Call Me by Your Name, and Death on the Nile.
However, we're going to ignore all that and ask: What the heck is up with Armie Hammer?!
Armie Hammer with the cast and creative team behind the Broadway play The Minutes at a photocall in New York City on February 20, 2020 (Credit: Adam Nemser / Startraksphoto)
If you weren't aware, Armie Hammer has had some seriously unsettling allegations against him.
In 2021, an anonymous woman claimed to have been having an affair with Hammer for four years, providing screenshots on Twitter of alleged messages from the actor where he graphically described violent sex acts, including cannibalism and drinking blood.
Hammer's former girlfriend, Courtney Vucekovich, corroborated these claims, telling Page Six: "He said to me he wants to break my rib and barbecue and eat it."
?!?!?!
Armie Hammer with then-wife Elizabeth Chambers at the J. Edgar opening night gala during the AFI Fest 2011 in Los Angeles, California on November 3, 2011 (Credit: INFevents)
Needless to say, rumors began circulating that Armie Hammer is – quite literally – a cannibal.
Armie Hammer has not been caught red-handed eating human flesh just yet, so it's difficult to say whether these claims are true or not. Either way, the whole situation is absolutely bonkers.
8. Joe Manganiello – 6'4 ¾" (194.9 cm)
On a lighter note, Joe Manganiello is next on our list, standing at just under six feet and five inches.
Like Alexander Skarsgård, 46-year-old Manganiello is another True Blood alum best known for his heartthrob roles. The shredded actor frequently appears on screen sans shirt, using his sex appeal in films like Magic Mike and Magic Mike XXL.
Joe Manganiello at the premiere of Moonhaven in Los Angeles, California, on June 28, 2022 (Credit: Xavier Collin / Image Press Agency)
However, Joe Manganiello is more than just a hot bod! Alongside his beautiful wife, fellow actor Sofia Vergara, Manganiello is a philanthropist and even serves on the board of trustees for the UPMC Children's Hospital of Pittsburgh.
Like a number of other actors on this list, Joe Manganiello has found himself sucked into the comic book film franchise cash cow, appearing as Deathstroke in Justice League and the subsequent "Snyder Cut" of the film, although his role was uncredited.
7. Tim Robbins – 6'4 ¾" (194.9 cm)
64-year-old Tim Robbins is a legend in Hollywood, best known for his iconic role as Andy Dufresne in 1994's The Shawshank Redemption.
Although it is difficult to move past such a recognizable role, the Californian native has continued to work in the film industry, both on and off-screen.
He has appeared in films like The Prayer, Mystic River, and even the ill-fated Green Lantern. For his work as an actor, Robbins has won two Golden Globe Awards and one Academy Award.
Tim Robbins with Gratiela Brancusi at the Season 2 premiere of Castle Rock held at the AMC Sunset in Los Angeles, California on October 14, 2019 (Credit: Famous / Scoop / ACE / INSTARimages)
Standing at just under six feet and five inches, Tim Robbins has become a celebrated director. His first film as director, Bob Roberts, was appreciated by critics and also introduced the world to Jack Black.
Robbins tried his hand at directing a drama for his next film, Dead Man Walking, starring Susan Sarandon and Sean Penn. Fortunately, this turned out well for Robbins, who received an Academy Award nomination for Best Director for the film.
6. John Cleese – 6'5" (195.6 cm)
As a co-founder of legendary British comedy troupe Monty Python, 83-year-old John Cleese is a naturally good-natured and hilarious actor.
His comedic chops are evident as his roles in titles such as Monty Python and the Holy Grail, Monty Python's Life of Brian, The Great Muppet Caper, and Nearly Headless Nick in the Harry Potter film franchise are positively beloved, even years later.
John Cleese arriving at the Los Angeles International Airport on February 26, 2007 (Credit: INFphoto)
Standing at six feet and five inches, John Cleese is intimidatingly tall. Perhaps he developed his comedic skills as a way to seem less imposing!
5. James Cromwell – 6'5" (195.6 cm)
"That'll do, pig."
Standing at six feet and five inches, 82-year-old James Cromwell is a particular favorite of ours simply based on his integral role in Babe and Babe: Pig in the City.
However, we know that Cromwell is far more than just a good-natured farmer. The actor has a long credit list on IMDB, featuring in fantastic films like Deep Impact, The Green Mile, Spirit: Stallion of the Cimarron, and Jurassic World: Fallen Kingdom.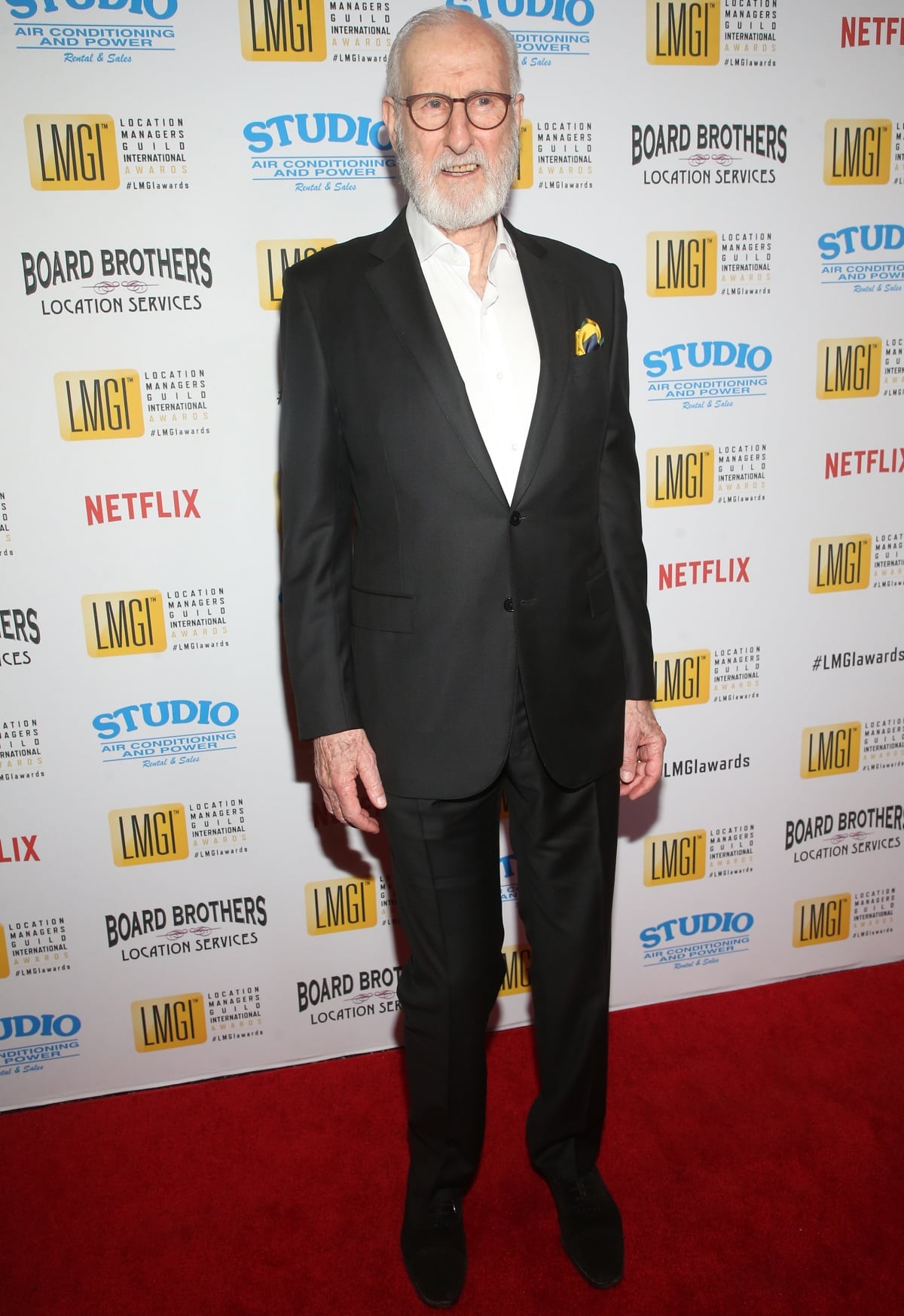 James Cromwell attending the 9th Annual Location Managers Guild International Awards held at Los Angeles Center Studios in Los Angeles, California on August 27, 2022 (Credit: Faye's Vision / Cover Images)
Like some of the other tall actors on this list, James Cromwell can use his height to portray terrifying characters to great success.
In fact, his role as mad scientist Dr. Arthur Arden in American Horror Story: Asylum earned Cromwell a Primetime Emmy Award for Outstanding Actor in a Limited Series or Movie.
4. Kevin Durand – 6'5 ¾" (197.5 cm)
Maybe it's just us, but Kevin Durand was way taller than we expected!
Kevin Durand towering over his Robin Hood co-stars Alan Doyle and Scott Grimes at the UK premiere of State of Play held at Empire Leicester Square in London, England on April 21, 2009 (Credit: Goff / INFevents)
Standing at just over six feet and five inches, the Canadian actor has been a chameleon throughout his film career, appearing in everything from Westerns (3:10 to Yuma), video game adaptations (Resident Evil: Retribution), comic book action flicks (X-Men Origins: Wolverine), to reimaginations of fairy tales (Robin Hood).
3. Brad Garrett – 6'8 ⅛" (203.5 cm)
At just over six feet and eight inches, 62-year-old Brad Garrett towers over the majority of actors in Hollywood. Garrett got his breakout role as Robert Barone in the long-running CBS series Everybody Loves Raymond.
But he didn't let his sitcom background stop him from branching out, earning a Primetime Emmy Award nomination for his role in Gleason in 2002.
Brad Garrett at the premiere of Cha Cha Real Smooth during the Tribeca Film Festival in New York on June 13, 2022 (Credit: ROGER WONG / INSTARimages)
However, Brad Garrett's bread and butter seems to be children's movies.
With two kids of his own, it must have been wonderful for his children to see (or hear) their dad in movies like Kiki's Delivery Service, A Bug's Life, An Extremely Goofy Movie, and Finding Nemo.
2. Joonas Suotamo — 6'11" (210.8 cm)
You may not recognize his name, but 36-year-old Joonas Suotamo is one to watch in the upcoming years.
Before getting into acting, Finnish-born Suotamo was a professional basketball player, playing for Pennsylvania State University and the Finnish national basketball team. Standing at nearly seven feet tall, Suotamo's basketball career was a no-brainer.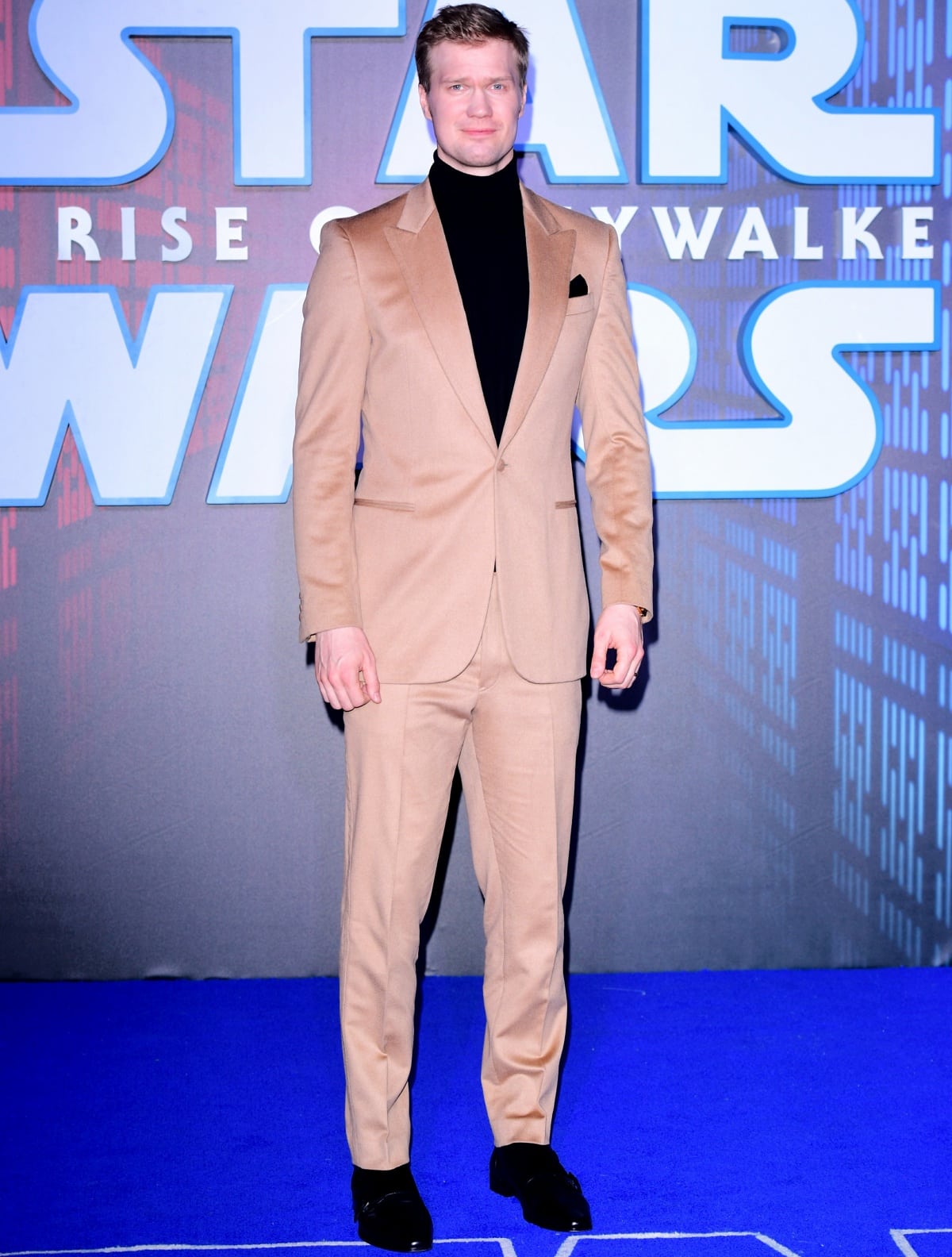 Joonas Suotamo at the premiere of Star Wars: The Rise of Skywalker in London, England on December 18, 2019 (Credit: PA Images / INSTARimages)
His breakout role was a big one: Chewbacca. Suotamo began as Peter Mayhew's body double for Star Wars: The Force Awakens (2015).
However, Mayhew's health was declining, making it hard for him to keep up with rigorous filming schedules. Joonas Suotamo eventually took over the role of Chewbacca for Star Wars: The Last Jedi and continued in the role for Solo: A Star Wars Story and Star Wars: The Rise of Skywalker.
Currently, you can see Joonas Suotamo as The Scourge in the Disney+ series Willow, which is based on the cult favorite 1988 film of the same name.
1. Carel Struycken — 7'0" (213.4 cm)
Although we refrained from featuring too many "creature actors" on this list (otherwise, 6'4" Doug Jones would have been on this list, as he is one of the most prominent creature actors in Hollywood today), we would be remiss not to include Carel Struycken.
Even at the age of 74, Struycken still stands at an impressive seven feet tall.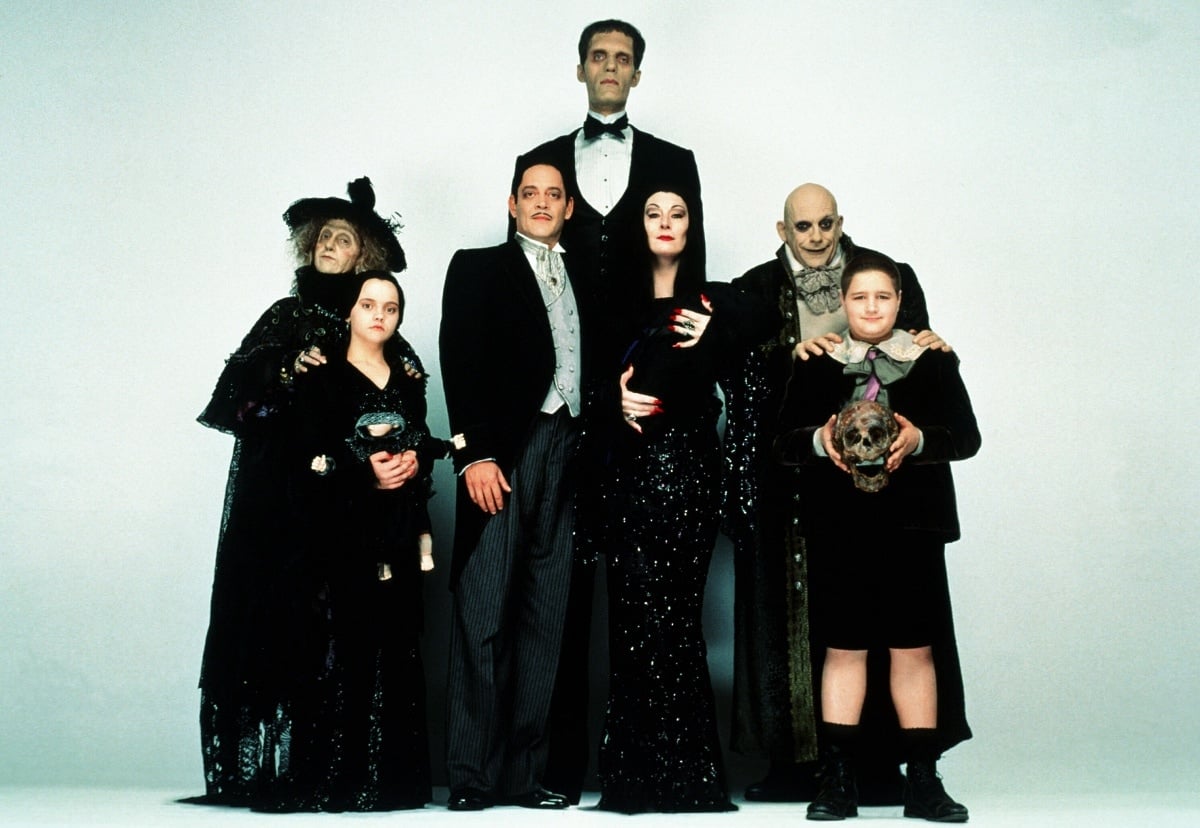 Carel Struycken looking imposing as Lurch of The Addams Family in a promo shot for Addams Family Values (Credit: Paramount Pictures)
Struycken's life was well-traveled before he began an acting career. Born in The Hague, Netherlands, the Struycken family moved to the island of Curaçao when Carel Struycken was just four years old.
There, he found a love for music, composing a number of his own Caribbean waltzes at the tender age of 15. After returning to the Netherlands for secondary school, Struycken studied as a director at the Amsterdam film school. Yearning for more, Struycken traveled to Los Angeles, where he studied at the American Film Institute.
His first film role came as a surprise, as he was allegedly discovered in 1978 when a woman stopped her car in the middle of the street to call out to Struycken, "We need you for a movie!" As a result of this encounter, Carel Struycken was cast as The Brute in Sgt. Pepper's Lonely Hearts Club Band.
Kyle MacLachlan and Carel Struycken on an episode of the mystery serial drama television series Twin Peaks (Credit: ABC)
Carel Struycken's height is featured at the forefront of each of his roles. You can see him as The Giant (and The Fireman) in the Twin Peaks series and its subsequent reboot, as creepy creatures Moonlight Man and Grandpa Flick in Gerald's Game and Doctor Sleep, respectively, or as the Frankenstein-like butler, Lurch, in the Addams Family film franchise in the 1990s.