Star Wars: The Rise of Skywalker has been the subject of many conversations as well as speculations among Star Wars fans.
And with its theatrical release on Friday, December 20, fans are all the more curious as to how J.J. Abrams will bring the four-decade-long Skywalker Saga to a close. Fans also can't wait to see some new additional characters like Keri Russell's shady character Zorii Bliss in the movie.
Spoiler: No Baby Yoda in The Rise of Skywalker
Unfortunately, Baby Yoda fans will surely be disappointed by J.J. Abrams' revelation. The new Star Wars sensation will not be appearing on the big screen, and he confirmed the news to Variety on Tuesday.

J.J. Abrams has confirmed that Baby Yoda from "The Mandalorian" will not appear in the latest film
Although the creature is part of the Star Wars universe, it won't be making a cameo in the Skywalker finale. Officially called The Child, the Mandalorian star will stay on the small screen as part of the Star Wars Disney+ spinoff starring Pedro Pascal and Gina Carano.
D-O: New Star Wars droid
A new droid, however, will join The Rise of Skywalker. First introduced at the Star Wars Celebration, the new character, named D-O, is described as a toddler and is said to be a friend of the Resistance droid BB-8.
Daisy Ridley, who plays the lead role, Rey, in the Star Wars sequel trilogy told IGN: "I think we might out-Baby Yoda Baby Yoda with D-0," she said. "BB-8 is great, but D-0 is such a great new character, and really integral to the plot – really important. D-0 is great, and really sweet, so I feel like we're gonna have that sweetness represented by D-0," she added.
In a ClownfishTV video featuring Disney's Disney Rewards Insider magazine, Lucasfilm's Creature & Droid supervisor Neil Scanlan said of the new droid: "He has a mono wheel, so it's difficult for him to balance, and he's a bit wobbly like a young child. He's also not super confident about his abilities and he often doesn't quite understand what he's supposed to do."
"What I love best is the relationship between D-O and BB-8. BB-8 finds D-O off in a corner. He's covered in dust and cobwebs and has run out of charge. BB-8 recharges him and when D-O wakes up he imprints on BB-8 immediately," he continued.
On Wednesday, the droids, C3P0, R2-D2, BB-2, and newcomer D-O, were out in full force at the London premiere of the Star Wars: Episode IX.
Your favorite droids: D-O, BB-8, R2-D2, and C-3PO
Daisy Ridley, was, of course, also in attendance at the event held at the Cineworld Leicester Square.
The 27-year-old actress matched the blue carpet in a custom Vivienne Westwood Couture gown. It features a mixture of the modern strapless pencil dress with a corset-style bodice layered with a dramatic Victorian-style skirt around the waist.
Daisy Ridley at Star Wars: The Rise of Skywalker European premiere at the Cineworld Leicester Square on December 18, 2019
She wore a slicked-back hairstyle, care of London-based hairstylist Dayaruci, allowing her to show off her beautiful features. To complement her dress, she wore a winged eyeliner with a tinge of blue, finished off with plum lip color, done by makeup artist Kelly Cornwell.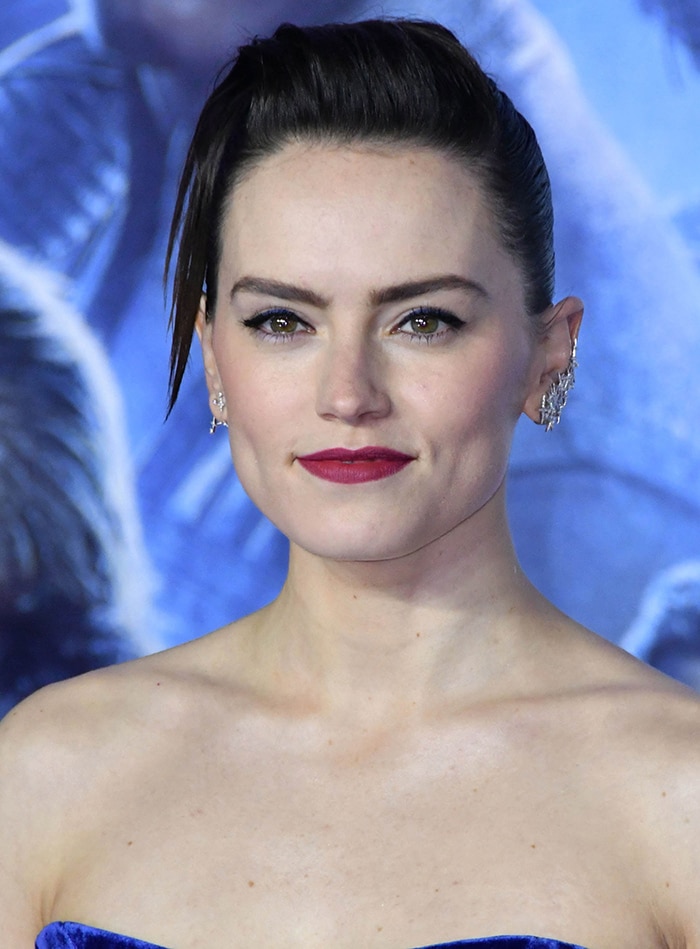 Daisy Ridley wears a slicked-back hairstyle with blue tinge winged eyeliner and plum lipstick
Daisy then accessorized with Tatiana Verstraeten earrings and a vintage sapphire ring and a diamond ring from Beladora Jewelry.
For her feet, she again opted for a pair of custom vegan Jimmy Choo pumps, similar to what she wore to the premiere in Los Angeles on Monday. Stylist Samantha McMillen put together Daisy's stunning look.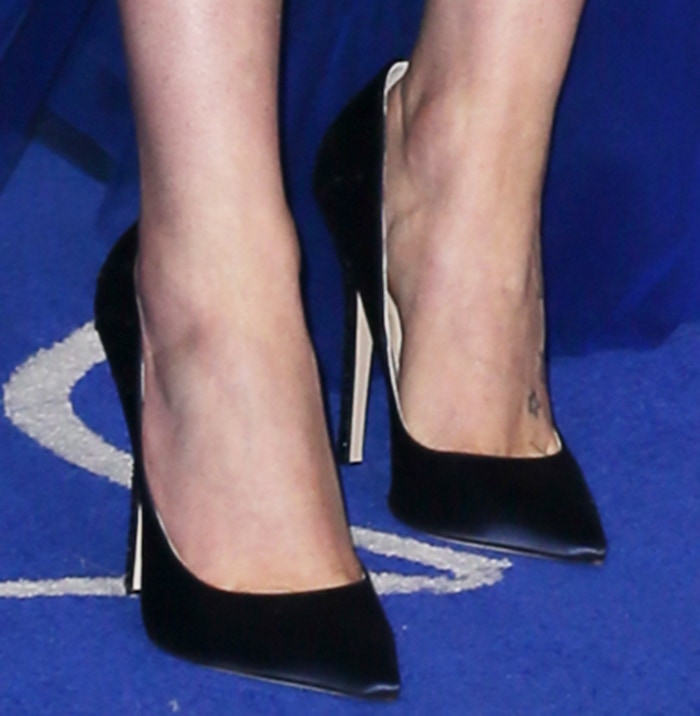 Daisy Ridley shows off her feet in vegan Jimmy Choo pumps
The English actress also posed on the blue carpet with Star Wars' Finn, John Boyega.
Daisy Ridley with John Boyega at the London premiere of Star Wars: The Rise of Skywalker on December 18, 2019
The 27-year-old actor wore a traditional dress, in reference to his Nigerian roots. He wore a blue Agbada, which is a loose-fitting wide-sleeved embroidered robe worn by men in Nigeria.
Born in London, England, to British Nigerian parents, John Adedayo B. Adegboyega paired the look with an Aso Oke Fila hat, commonly worn with Agbada.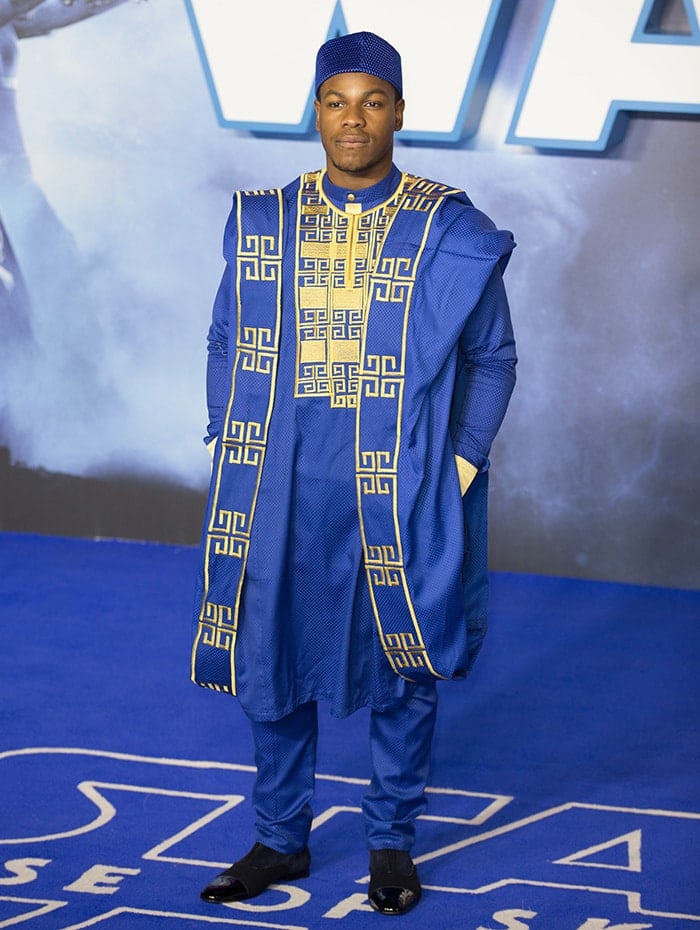 John Boyega wears a traditional Nigerian Agbada dress with a Fila hat and black shoes
Credit: Mario Mitsis / Instar / WENN