This year, the gorgeous Jessica Chastain finally won her first Academy Award, clinching one of the most prestigious Oscars any actor can receive: the Academy Award for Best Actress.
Though she had been previously nominated twice before—the first in 2012 as Best Supporting Actress for her role in The Help and the second in 2013 for the Best Actress award for Zero Dark Thirty—but her first win was for her brilliant portrayal of televangelist Tammy Faye Bakker in the biopic The Eyes of Tammy Faye.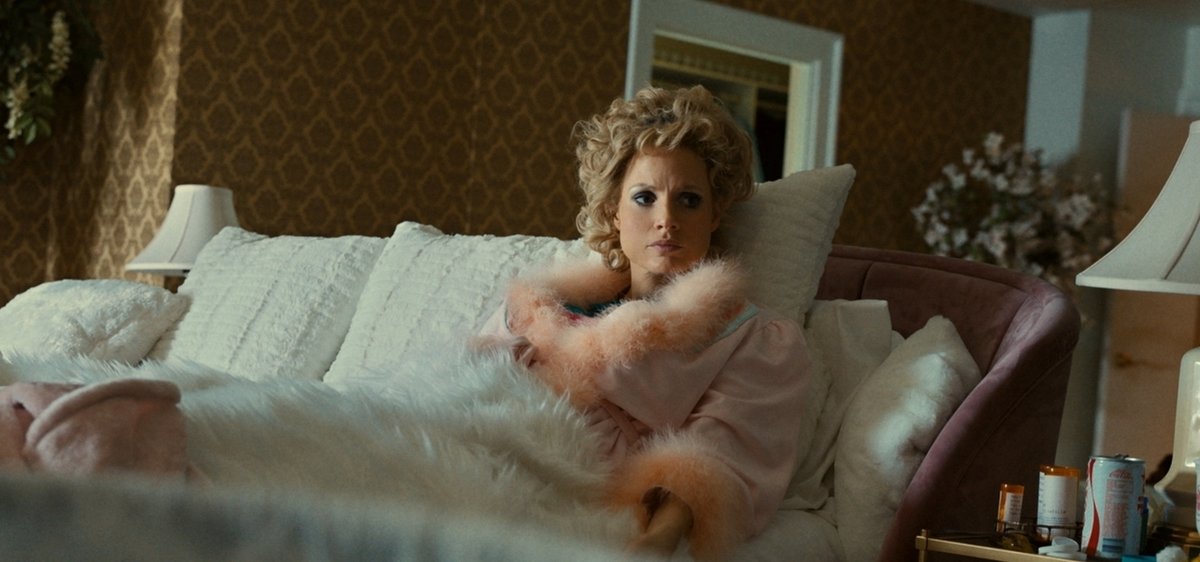 Jessica Chastain as Tammy Faye Bakker in the 2021 American biographical drama film The Eyes of Tammy Faye (Credit: Searchlight Pictures)
The 45-year-old actress is almost unrecognizable as Tammy Faye, which makes sense considering Chastain had to wear insane prosthetics for every day of filming, which only became more intense throughout the filming process.
Prosthetics and Makeup Took 4-7 Hours to Apply Every Day
This didn't mark the first time Jessica Chastain has portrayed a real person in a biopic, as she played the role of the very real underground poker mogul Molly Bloom in Molly's Game, but the actress didn't have to wear any face or body-altering prosthetics and makeup for that role.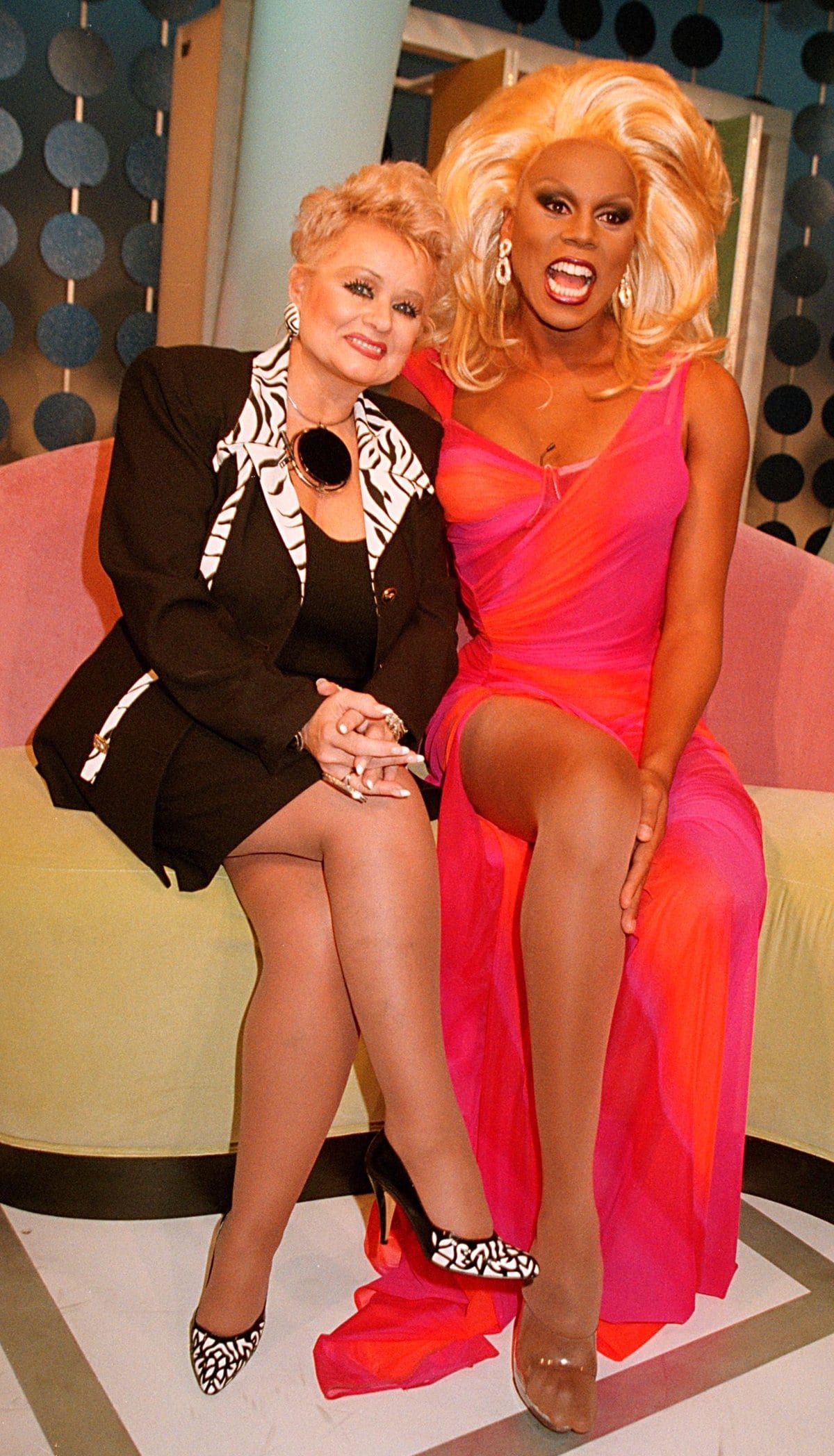 Tammy Faye Messner with RuPaul Andre Charles on The RuPaul Show at the VH-1 Studios in New York City in 1998 (Credit: Startraksphoto)
However, playing Tammy Faye Bakker in The Eyes of Tammy Faye required a bit more work in the makeup trailer. The televangelist not only had a remarkably interesting life story but was well-known for her outlandish outfits and makeup looks.
Chastain went through 4-7 hours of prosthetics and makeup every day in order to look more like her on-screen counterpart, which included a full neck wrap, larger cheeks, lips, and a fake chin.
"For the most part, it was like two and half [to] three hours of prosthetics," Jessica told EW about getting into character as Tammy Faye.
"I tried to use it to my advantage," she added about using the time in the makeup chair to listen to taped recordings of Tammy Faye's voice to inspire her own performance.
Since the film spans over 30 years, Chastain's transformation took more and more time to complete as filming went on.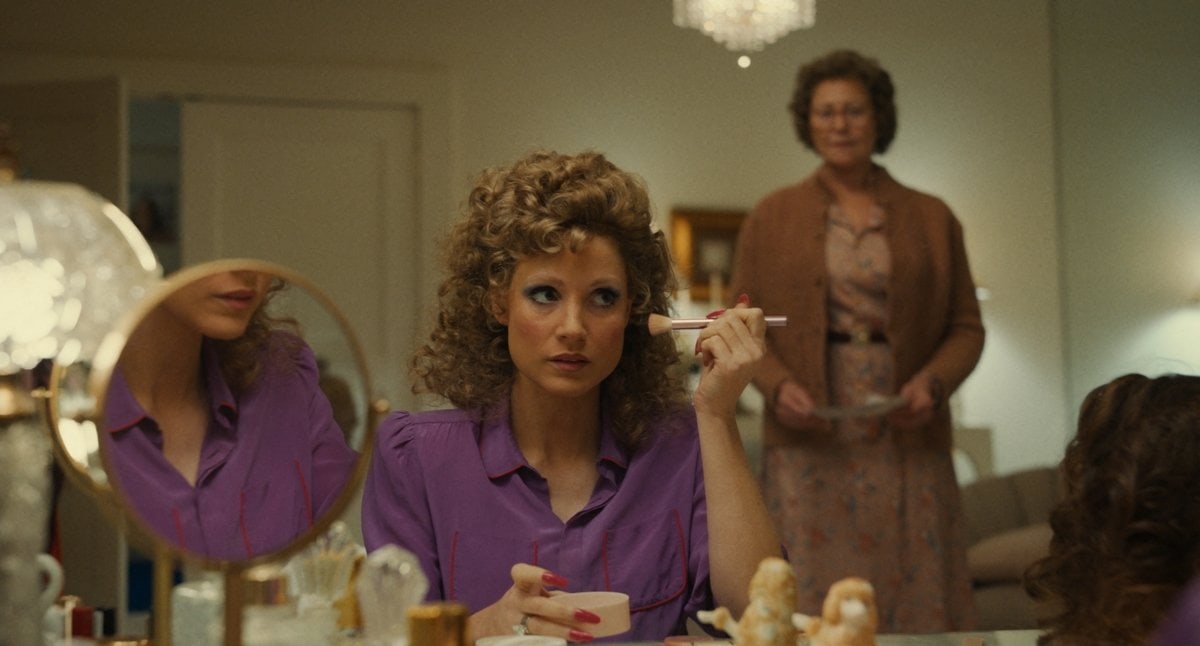 Jessica Chastain underwent hours of prosthetic work to recreate Tamara Faye Messner's appearance (Credit: Searchlight Pictures)
Jessica Chastain told Total Film magazine that although it was a laborious process, the prosthetics helped her get into character. Still, she found herself lost behind them.
"It's very helpful because you look so much like the character," Chastain said. "But it's also difficult because you have to act through it, right? How are you going to reach people through all of that stuff? How are people going to see behind my eyes when my eyes are the only things exposed, you know?"
As you can imagine, wearing that much makeup and latex wasn't exactly pleasant for Jessica Chastain.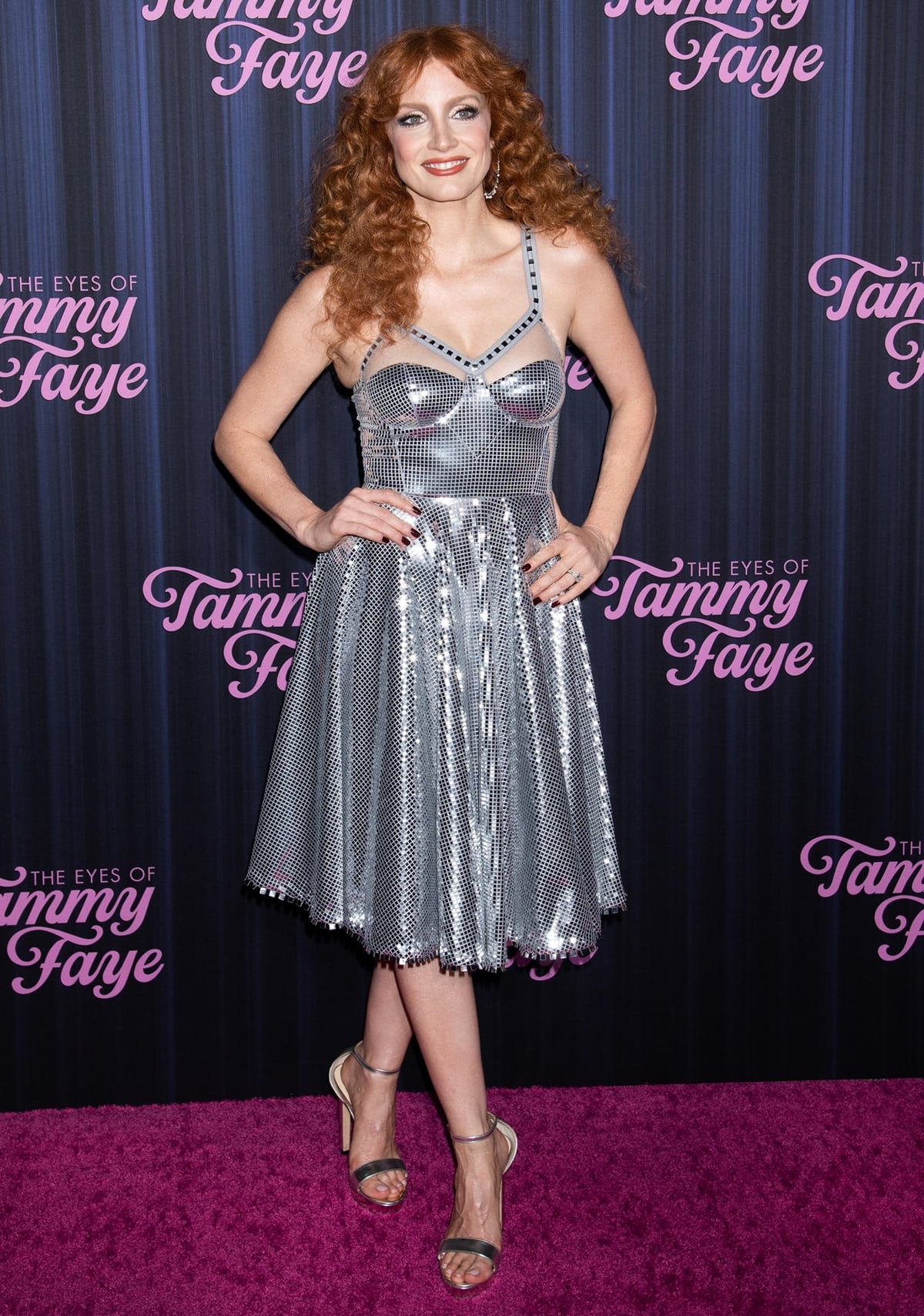 Jessica Chastain in a silver metallic Burberry Resort 2022 dress at the New York premiere for "The Eyes of Tammy Faye" at SVA Theater on September 14, 2021, in New York City (Credit Janet Mayer / Startraksphoto)
"The itching was the hardest," Chastain divulged to Total Film. "Sometimes you can get an itch underneath the make-up and it's just terrible, because then you just start hitting yourself, trying to make it go away."
Jessica Chastain Did Her Research Before Playing Tammy Faye
The actress says she spent ages watching footage of Tammy Faye Bakker in order to get her dialect (she even worked with a dialect coach!) and mannerisms just right, but unlike for Molly's Game, Chastain wasn't able to talk to the real person behind the character, as Tammy Faye passed away in 2007.
Instead, Chastain was able to connect with people who knew the eccentric televangelist in real life.
Jessica Chastain wears a turquoise and orange Gucci dress featuring a jeweled neckline at the Rome Film Festival to promote her new film The Eyes of Tammy Faye on October 14, 2021, in Rome, Italy (Credit: IPA / INSTARimages)
"I was very fortunate that I had her children to talk to, people who met her and knew her and loved her. I was very fortunate to have hundreds of hours of unused footage from the documentary that I got to study," Chastain told Digital Spy.
"So even the boring stuff – Tammy driving in the car and just talking about nothing – that someone might not find very interesting, for me it was like gold."
Despite not being able to interview her on-screen counterpart, Chastain still felt she was able to get a good understanding of who Tammy Faye was as a person.
Film producer Kelly Carmichael, American actress Jessica Chastain and American actor, director, and film producer Vincent D'Onofrio at Rome Film Fest 2021 (Credit: Rocco Spaziani / DPA / Cover Images)
"I watched every single interview I could find on Tammy and the reality is in some sense I felt closer to Tammy than I did even Molly Bloom, who's alive and I talked to and I became friendly with because I got to study her in a way that she didn't understand she was being studied by me," she continued. "I had a freedom of observation without being watched. And sometimes when you're playing a character who's still alive, they show you what they want you to see, and you have to try to figure out 'okay, well, what's something underneath this' and with Tammy, I feel like I got there."
Jessica Chastian Dreaded Singing for The Eyes of Tammy Faye
Tammy Faye Bakker's singing career was prolific (she released 16 albums during her lifetime) and music was a huge part of her life, meaning that if Jessica Chastain truly wanted to embody the character, she would have to sing.
Unfortunately, Chastain hates singing in public and felt so strongly about it that she said during an appearance on The Late Late Show with James Corden that she would "rather do full nudity than sing a song."
Jessica Chastain was nervous about doing all of her own singing in The Eyes of Tammy Faye (Credit: Searchlight Pictures)
"I felt so embarrassed and so just completely out of [my] element and comfort zone," she admitted on the talk show. "And especially in 'Tammy Faye,' she was so confident from the first note. She's yelling up to Jesus. It's just beyond anything I've ever been comfortable with."
It's true, too. Though Tammy Faye herself was tiny, standing at only 4'11", she had the confidence of a giant—which perhaps was part of the reason behind her eventual downfall.
As terrifying and embarrassing as all the singing was for Chastain, she did all of her own covers of Tammy Faye's songs for the film. It seems the actress felt she owed her real-life character that kind of commitment.
"I worked on telling her story for 10 years [and] one thing I really responded to was her radical acts of love… she loved so fully and earnestly," Chastain said during a red carpet interview with E! at the Screen Actors Guild Awards. "In society right now, we celebrate cynicism and that was the opposite of who she was, and so I wanted to celebrate that."
Jessica Chastain wears her red hair down for the opening night of "Long Day's Journey into Night" held on April 27, 2016, in New York City (Credit: Joseph Marzullo/ WENN)
Celebrities: They're just like us! …kind of.
In April 2016, after spending hundreds of dollars on stylists and buying designer garb worth thousands, Jessica Chastain had to take the subway because there were no cars available.
She uploaded a video of the subway trip she took with her sister to watch the play "Long Day's Journey into Night" in New York.
Jessica Chastain wears a green-and-black Prabal Gurung dress out in New York City (Credit: Joseph Marzullo/ WENN)
Jessica wore a metallic swirl-pattern creation from Prabal Gurung, which she styled with a pair of painful-looking Christian Louboutin platform "Academa" heels.
The forest green color of Jessica's dress contrasted with her fiery locks.
Jessica Chastain's feet in Christian Louboutin heels (Credit: Joseph Marzullo/ WENN)
Perhaps most relatable about Jessica's public transit adventure: She uploaded a Snapchat from her adventure, AND filtered it.
A woman of the people — even if she is dressed head-to-toe in designer. Check it out below:
View this post on Instagram

We definitely wouldn't recommend the Christian Louboutin "Academa" heels for a red carpet event (the name of the shoe itself is a dead giveaway), but if you're in need of corporate shoes, this pair might just do the trick.
You can order a pair at Nordstrom, Ssense, Saks Fifth Avenue, and Mytheresa.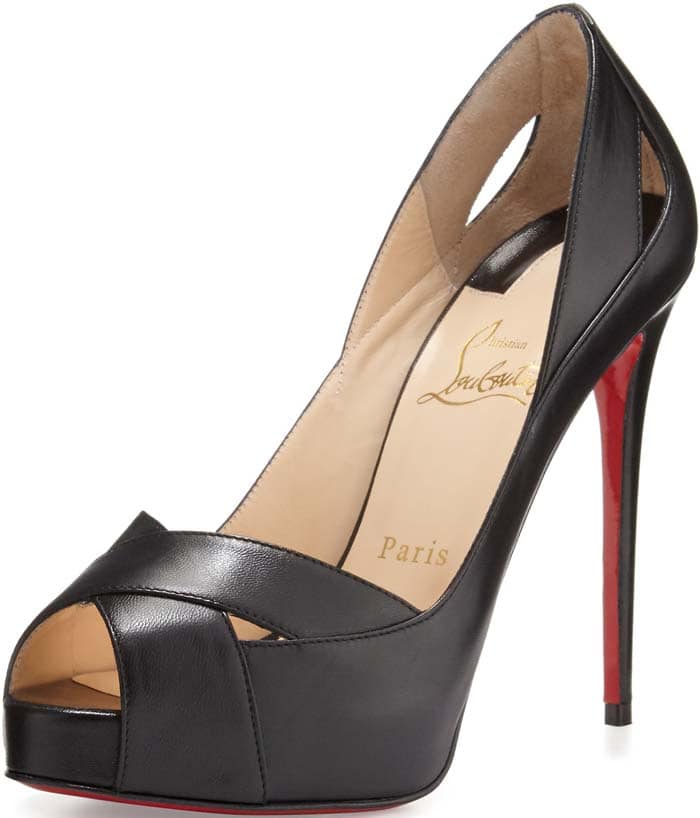 Peep-toe pumps with cutout accents at vamps and counter, tonal stitching, and covered heels
Black Christian Louboutin "Academa" Leather Cutout Red Sole Pumps, $945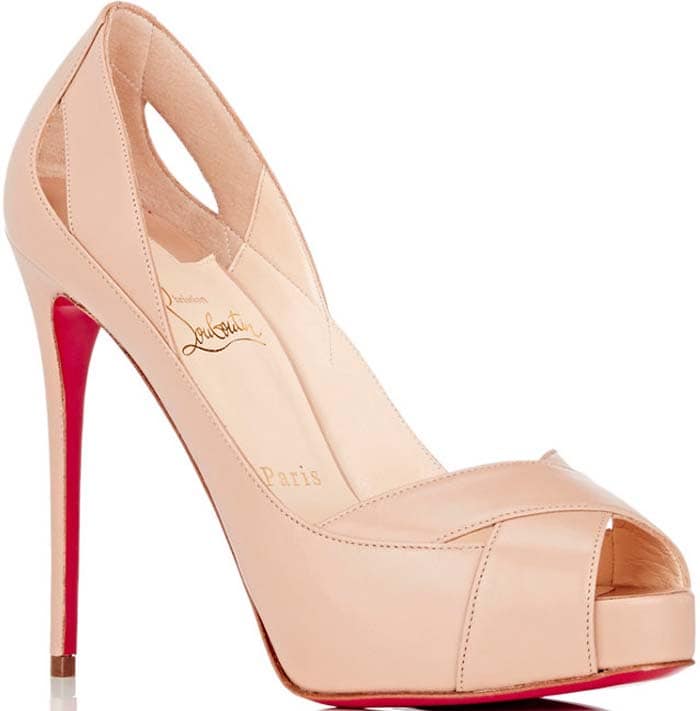 Christian Louboutin's Academa pump is styled with a low-cut vamp, hidden platform, and subtle cutouts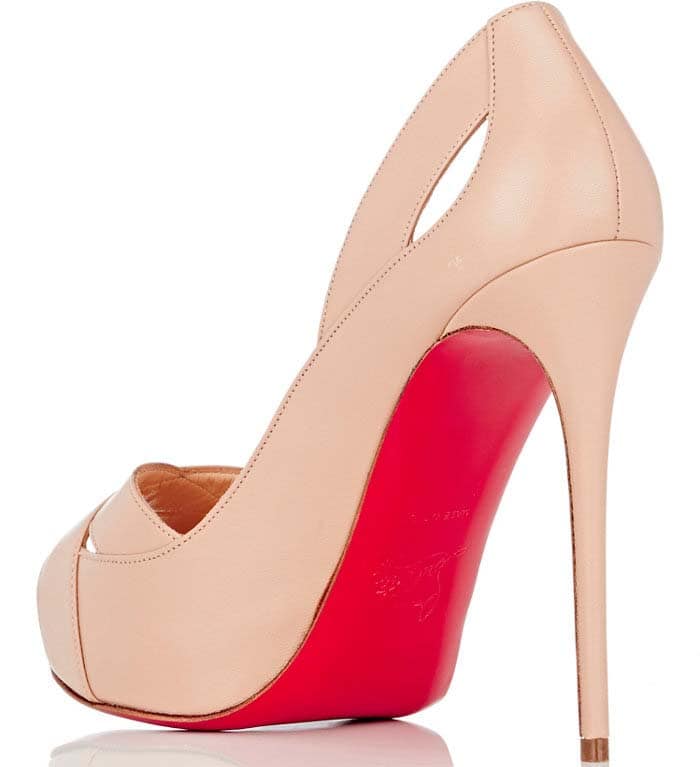 Nude Christian Louboutin "Academa" Leather Cutout Red Sole Pumps, $945