While Avril Lavigne has had her Abbey Dawn clothing line since 2008, this year she and her team are making some major changes to the brand. In addition to the t-shirts, hoodies and jewelry they're already producing, they're expanding the merchandise to include dresses, skirts, handbags, eyewear, a full men's collection, and our main point of interest, SHOES.
Of course, true to Avril Lavigne's never-changing persona, the newly expanded Abbey Dawn line is punk rock inspired bombarded with studs, skulls and plaid print elements. As for the new shoe collection, Avril described the flow of design process as such:
"It started off with my favorite things to wear, and I wanted it to be rock 'n' roll. I took [materials] that I love and added them to the shoes. And I never go into a mall and find super rock 'n' roll [shoes]."
Avril has been aggressively promoting her Abbey Dawn clothing line starting at Bread & Butter in Germany in July and at the MAGIC Marketplace Convention in Las Vegas in August.
Avril Lavigne promotes her Abbey Dawn clothing line at the Abbey Dawn booth during the 2011 MAGIC Marketplace Convention at the Las Vegas Convention Center on August 22 and 23, 2011
And just last week, Avril finally presented her relaunched Abbey Dawn clothing line to the US market during Mercedes-Benz Fashion Week in New York City.
Avril Lavigne attends the Abbey Dawn Spring 2012 fashion show during Style360 at the Metropolitan Pavilion in New York City on September 12, 2011
You might have heard that Avril Lavigne's Abbey Dawn Spring 2012 presentation was also the fashion show where Kylie Jenner, the youngest of the Kardashian-Jenner clan, made her modeling debut. Kylie got the gig thanks to half-brother Brody who happens to be dating Avril Lavigne.
It's a wise use of connections where both parties mutually benefited from the exchange. Kylie Jenner did her runway debut and Avril Lavigne got some extra publicity courtesy of the Kardashians who attended the fashion show in support of their sister.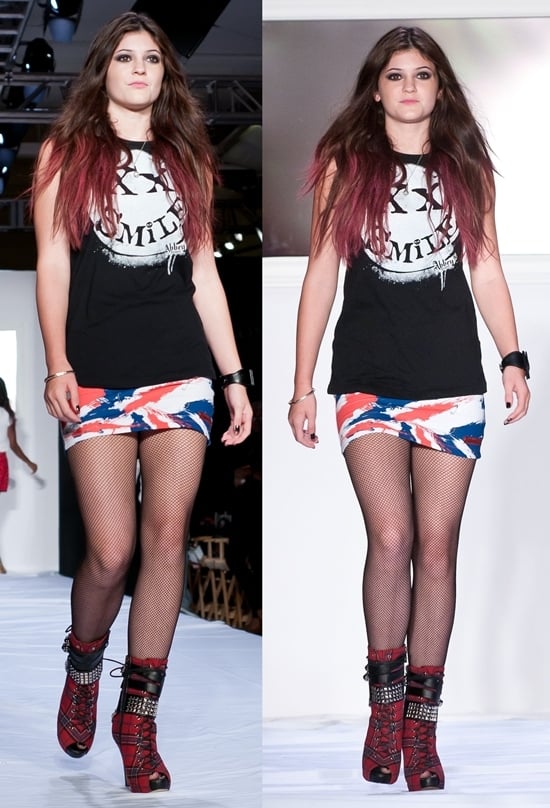 Kylie Jenner makes her modeling debut at the Abbey Dawn Spring 2012 fashion show during New York Fashion Week in NYC on September 12, 2011
So finally, here we are at the sneak peek into the first Abbey Dawn shoe collection for Spring 2012. Estimated to be composed of 39 styles including pumps, wedges, heels, boots and flats and flip flops, the Abbey Dawn shoe line will sell for approximately $50.00 to $80.00.
If you think these shoes look like the shoes from Iron Fist, that's because both brands are handled by the same San Diego-based company, Blank Generation.
Abbey Dawn used to be exclusively sold at Kohl's, but it will now retail at places such as Amazon.
How are you liking these Abbey Dawn Spring 2012 shoes? Check 'em out below!
Stars and stripes peep toe pumps at Amazon
Leopard print studded peep toe pumps at Amazon
Studded buckled wedge booties at Amazon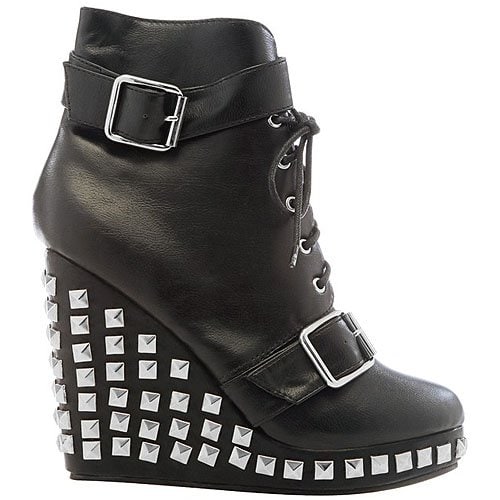 Studded t-strap platform sandals at Amazon
Skull buckled studded platform peep toe booties at Amazon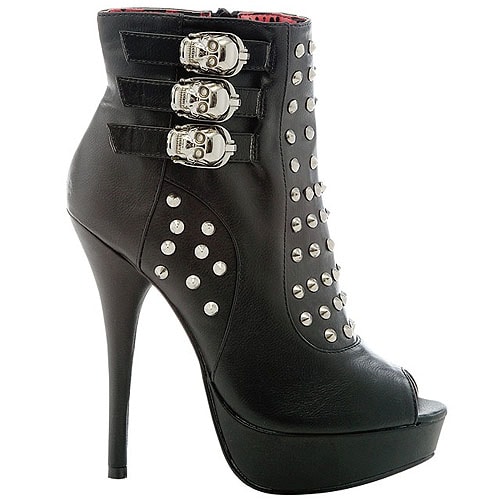 Skull studded open toe flats, $35 at Amazon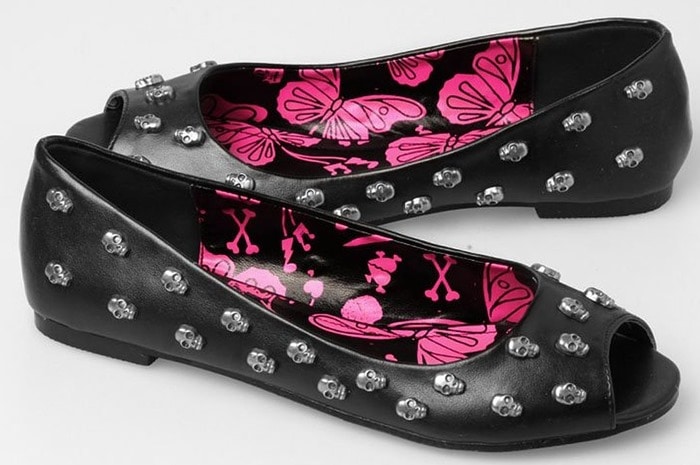 Credit: Judy Eddy / WENN / C.Smith