Kylie Jenner's sartorial prowess never fails to captivate and ignite conversations within the fashion realm, and she reaffirmed her style expertise yet again.
This time, the 26-year-old American media personality took center stage at the Acne Studios womenswear Spring/Summer 2024 runway show, which unfolded amidst the glittering extravagance of Paris Fashion Week on Wednesday, September 27.
Making a resounding statement as she sashayed into the event, Kylie unveiled a mesmerizing transformation – a striking fringe that framed her face to perfection, coupled with a show-stopping red-hot ensemble tailor-made for the occasion.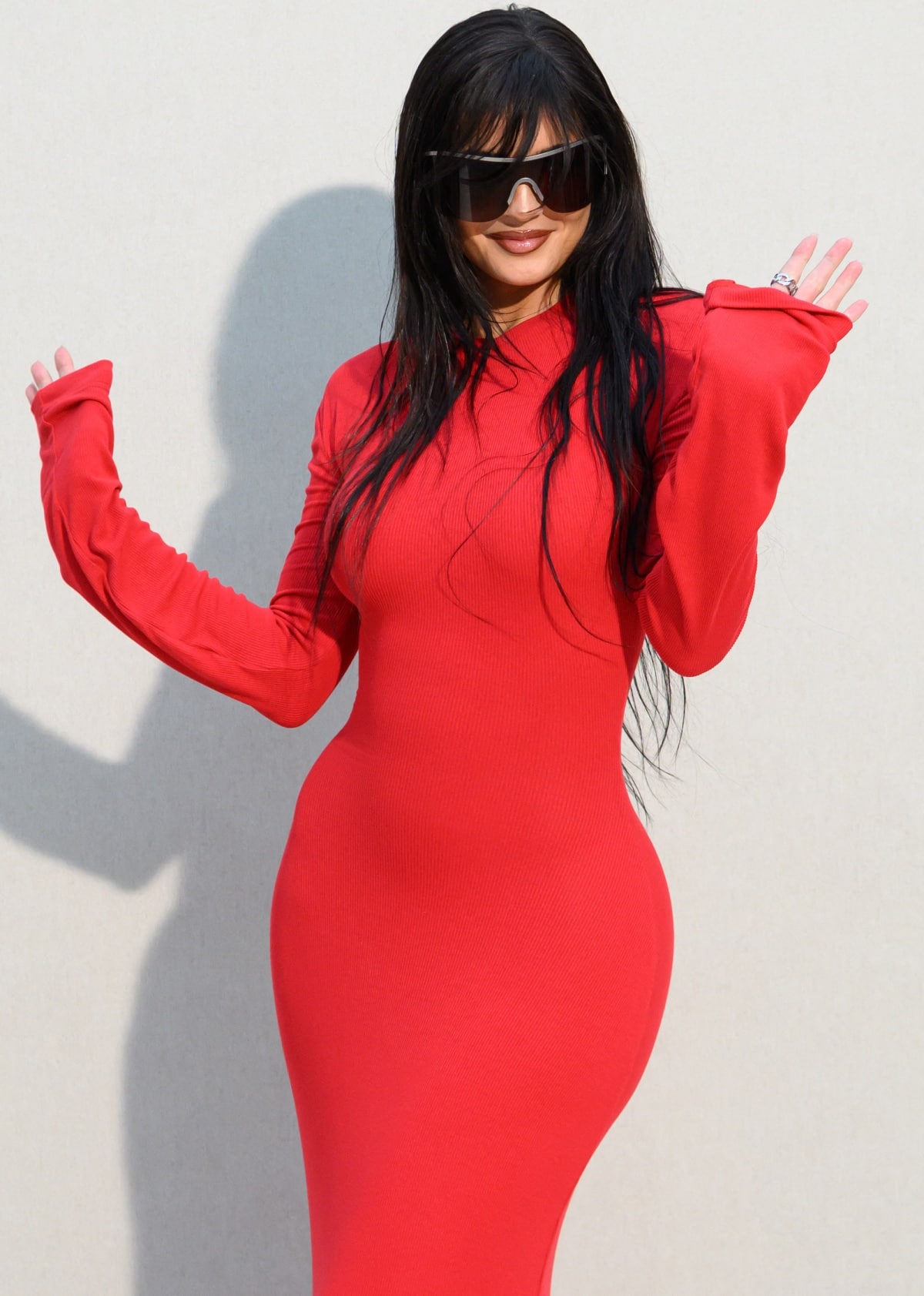 Kylie Jenner debuting her new fringe at the Acne Studios Spring/Summer 2024 runway show during Paris Fashion Week in Paris, France on September 27, 2023 (Credit: Abaca Press / INSTARimages)
Intricately designed, her figure-hugging red dress sculpted her silhouette with finesse, flawlessly accentuating her famous curves.
The lip kit mogul's attire boasted extra-long sleeves that cascaded elegantly to her fingertips, while a chic scoop neckline lent a touch of sophistication to her ensemble.
Beneath the dress' fiery facade, a maxi-length skirt flowed gracefully, adorned with playful ruffled embellishments at the hem, creating an enchanting mermaid-like contour that added an air of whimsy to her look.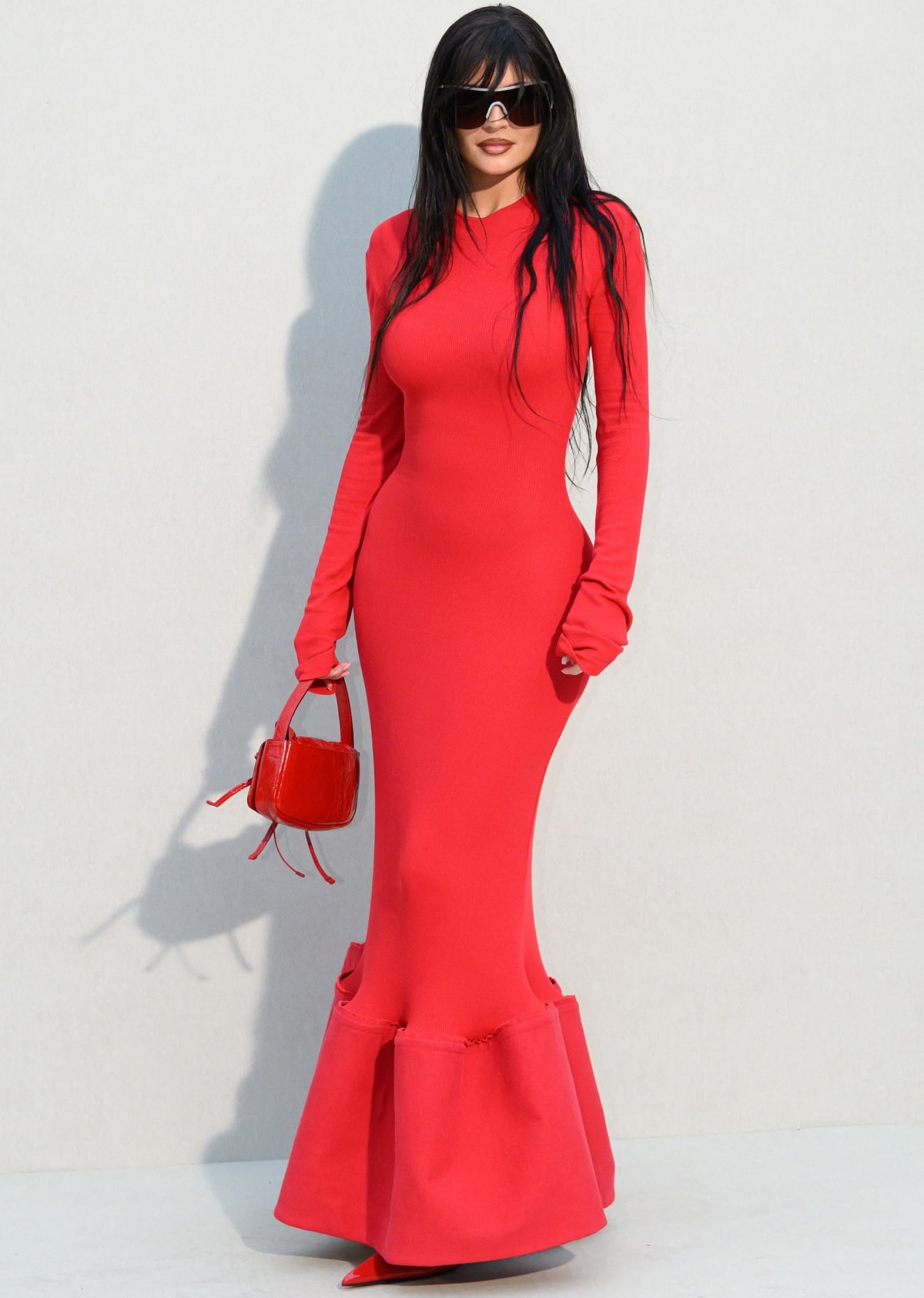 Kylie Jenner flaunting her curves in a bright red figure-hugging dress with ruffled embellishments at the hem (Credit: Abaca Press / INSTARimages)
But Kylie's allure extended beyond her radiant gown; her hair sparked a frenzy.
Departing from her signature medium-length brunette locks, Travis Scott's ex-girlfriend unveiled a fresh hairstyle featuring voluminous front bangs that elegantly swept across her forehead and extended to her nose.
The rest of her locks parted to one side and cascaded down her back in loose, beachy waves, radiating effortless chic.
Kylie's makeup accentuated her transformation with a sultry smokey eye, rosy blush, and lips adorned with a deep brown lip liner filled in with a matte nude shade.
Accessories added an extra layer of sophistication to her ensemble – a dainty silver ring adorning her finger, a matching patent leather purse in hand, and futuristic black sunglasses that shielded her face.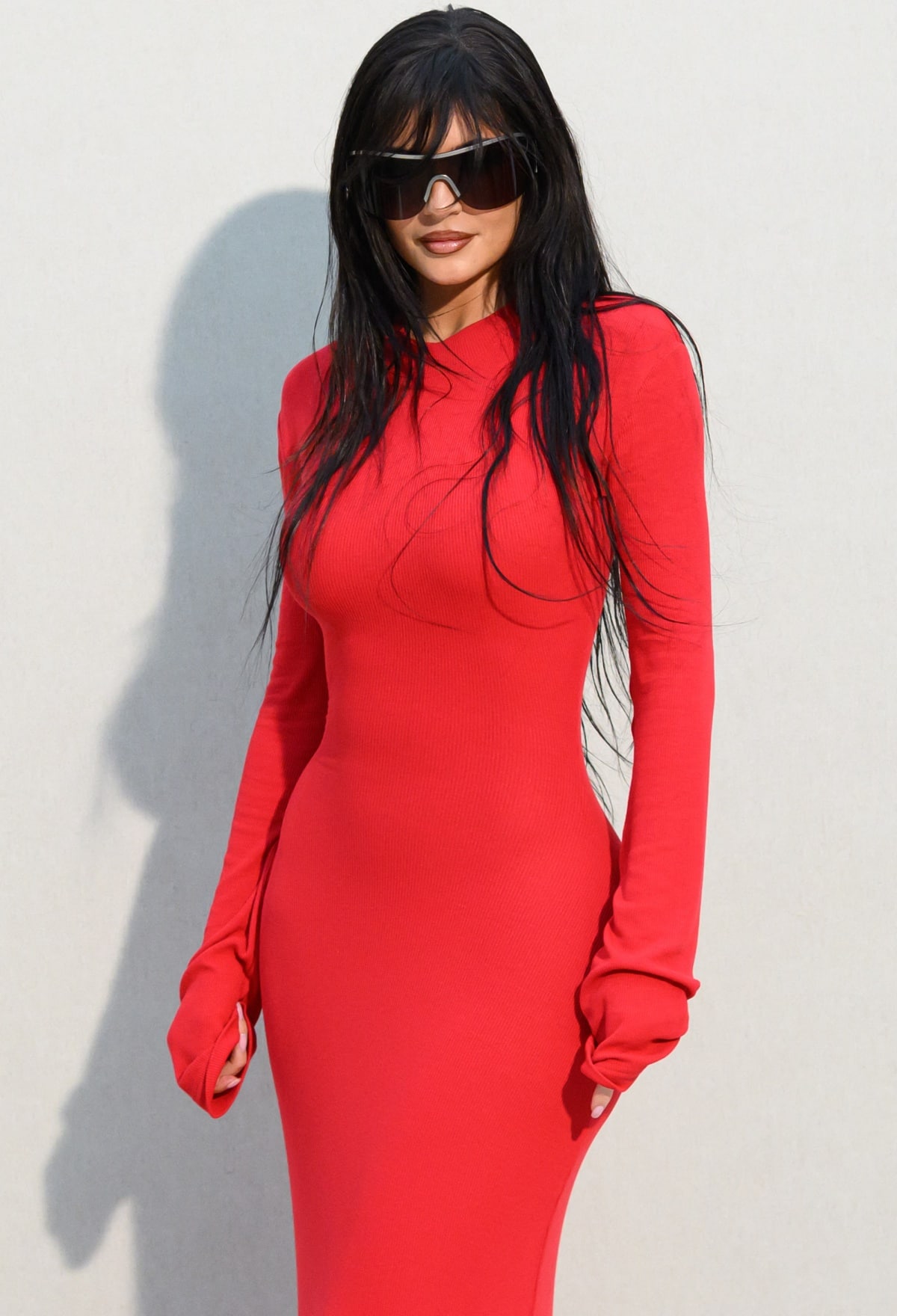 Kylie Jenner's beauty look consisted of smokey eyes, a rosy blush, nude lips with brown liner, a fresh new hairstyle with voluminous bangs, and futuristic black sunglasses (Credit: Abaca Press / INSTARimages)
Though mostly concealed beneath the fiery hem of her gown, Kylie's feet were adorned with stylish scarlet pointed-toe pumps, elevating her stature and adding a subtle dash of drama.
Kim Kardashian's sister was not alone in her fashion-forward soirée; she was seated alongside her close friend, Rosalía.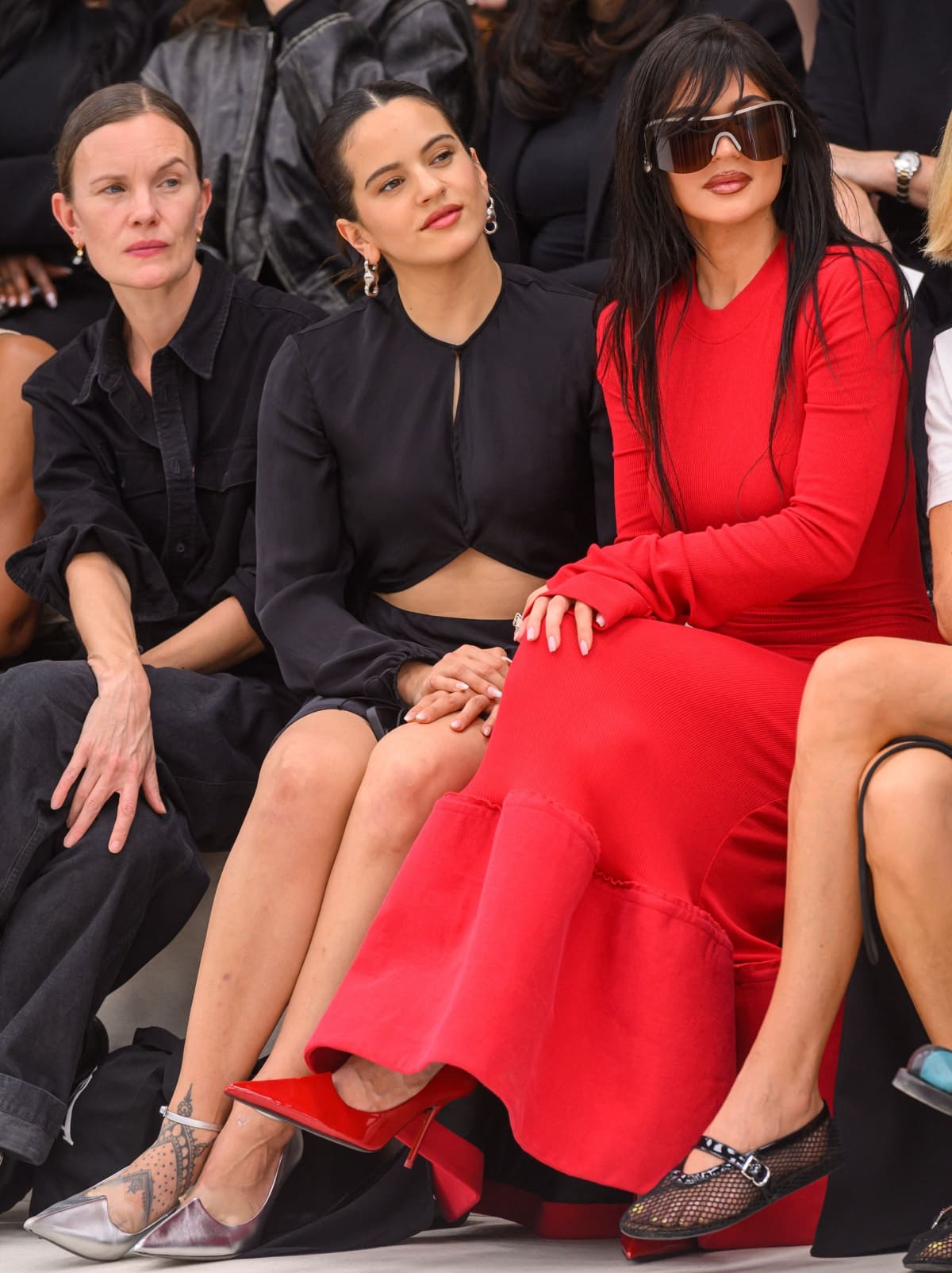 Rosalia and Kylie Jenner watching the Acne Studios Spring/Summer 2024 fashion show in the front row (Credit: Abaca Press / INSTARimages)
The 31-year-old Spanish singer-songwriter commanded attention in a silky black dress featuring alluring cut-out detailing, revealing glimpses of her toned abs and ample assets through loosely fastened buttons.
A pair of silver strappy heels and slicked-back dark locks completed her captivating ensemble, strikingly contrasting Kylie's fiery allure.
Rosalía, at 5ft 4 ½ (163.8 cm), posed beside Kylie Jenner, who stands at 5ft 6 (167.6 cm), wearing a sultry black dress with silver strappy heels (Credit: Abaca Press / INSTARimages)
This Paris Fashion Week appearance marked another remarkable collaboration between Kylie Jenner and Acne Studios.
In August, she had joined forces with the luxury fashion house for their Fall/Winter denim campaign, where she fearlessly embraced a daring wet hair look, at times covered in mud, and even daring to go topless under various jean jackets paired with baggy jeans.
View this post on Instagram
Taking to Instagram earlier in September, she shared a carousel of behind-the-scenes images from her Acne Studios campaign, providing her followers with a sneak peek into the world of high fashion, accompanied by a simple caption, " @acnestudios behind the scenes 🫶🏻."