Kylie Jenner is becoming more and more like her big sis Kim Kardashian. From her plump lips to her round booty to controversial Instagram photos, it seems as if Kylie is following Kim's lead to the tee, just two decades earlier. Maybe since Kim is busy with mom duties (and preparing for her second run), Kylie decided to take the reigns. She is doing a fantastic job, too. It was just two months ago, that Time magazine listed her and sis Kendall Jenner as two of the most influential teens.
Recently, the 18-year-old bombshell graced the cover of Interview magazine, in a shoot that reminded us of Kim's "Break the Internet" spread for Paper Magazine. Kylie posed in a series of S&M themed photos for the magazine, inspired by British pop artist, Allen Jones. Jones' sculptures featured half-naked women on all fours and in other submissive positions and provoked controversy in the 1960s and 70s. The photos were shot by iconic photographer Steven Klein.
Kylie Jenner poses for some raunchy photos for Interview magazine's December/January issue.
Just like most other Kardashian-Jenner news, Kylie's Interview shoot was full of controversy. The publication and Kylie were both accused of "ableism" and using disability as a fashion statement when photos of the doll-faced reality star posing in a gold-framed wheelchair surfaced. Kylie supposedly took down the controversial photo from her Instagram feed shortly after receiving tons of criticism for it.
According to the The Independent, Interview defended their decision to use the controversial photo as its December/January cover saying "it championed artists and claimed Jenner's shoot explored the way she is both objectified by media scrutiny and exploits it to her own personal gain."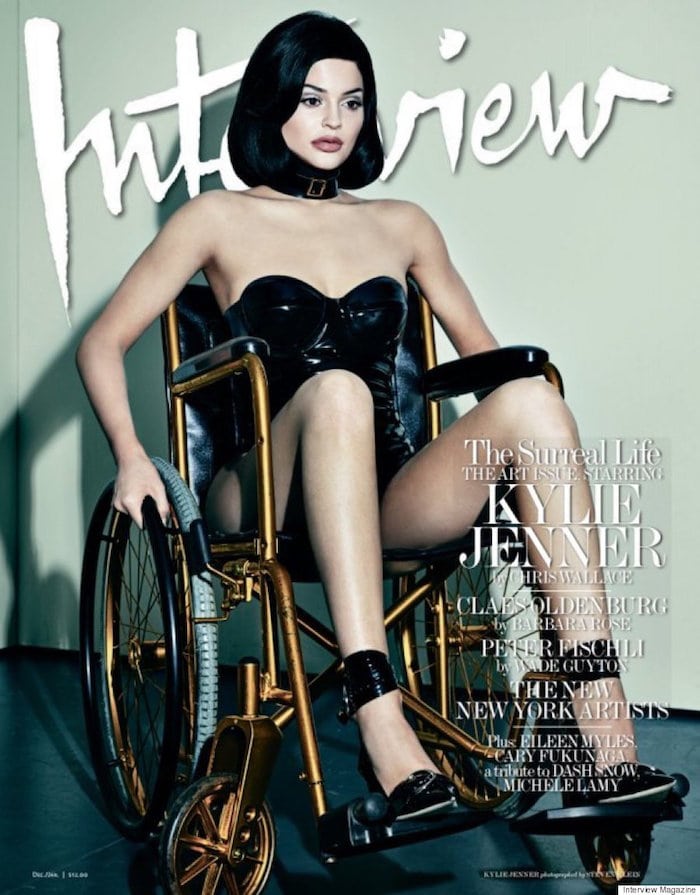 Interview Magazine and Kylie Jenner both received criticism for using disability as a fashion statement, because of a photo of Kylie posing on a wheelchair.
In one of the risqué photos, Kylie showed her round derriere wearing patent leather chaps and Pleaser "Scream" pumps. We think it was very Kim-like of her to do this.
She bared her bottom in some other shots wearing Vivienne Westwood footwear.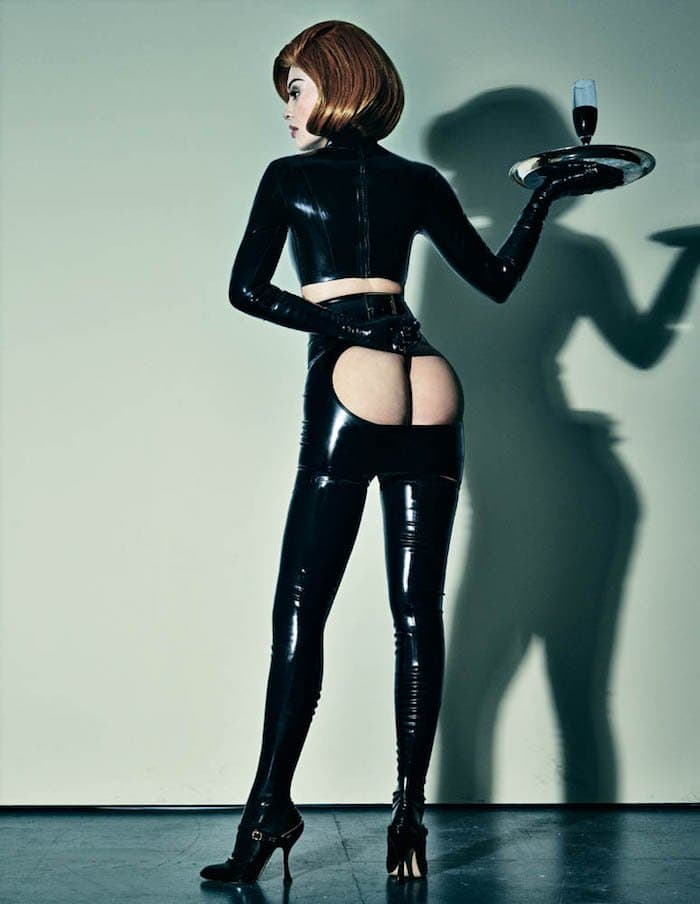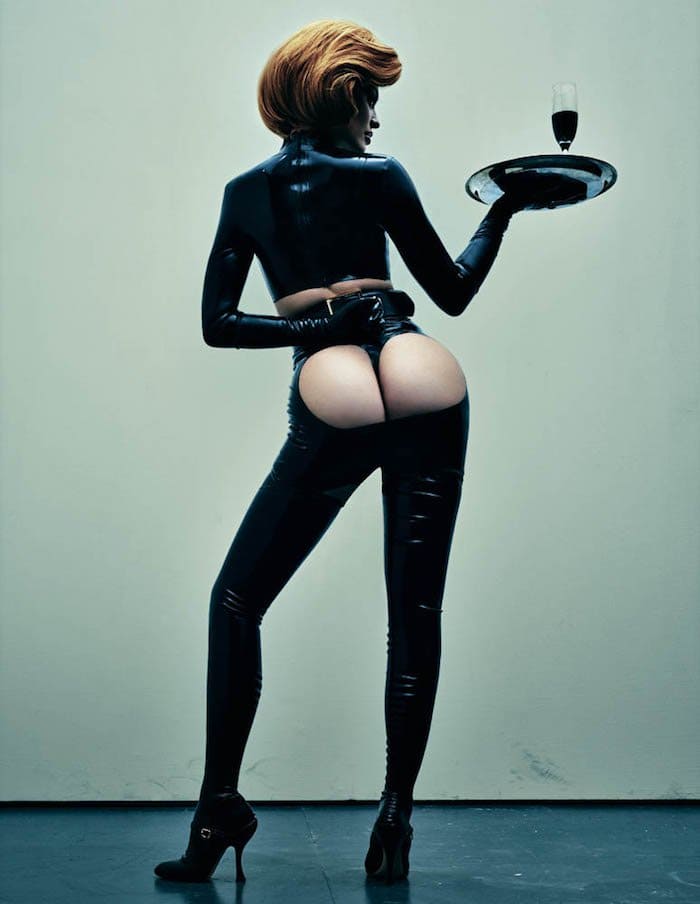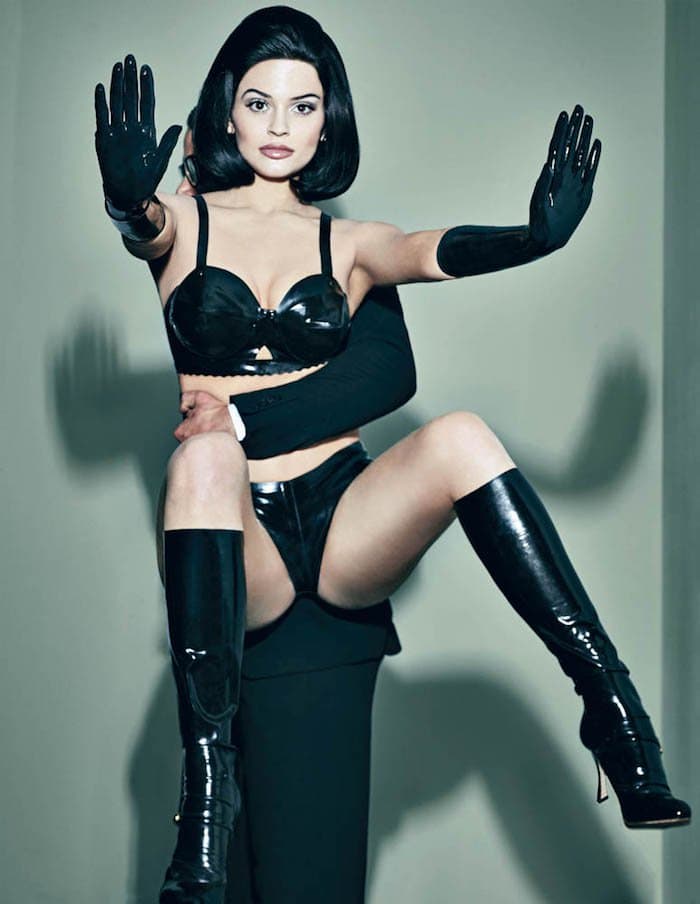 In a series of other photos, scantily clad Kylie straddled a man on all fours in just a gold body cast and briefs paired with Christian Dior Spring-Summer 2016 ankle-strap pumps.
Another one of the photos featured Kylie in a black body suit paired with thigh-high Casadei "Blade" boots in shiny patent leather. She looked eerily close to a blow-up doll.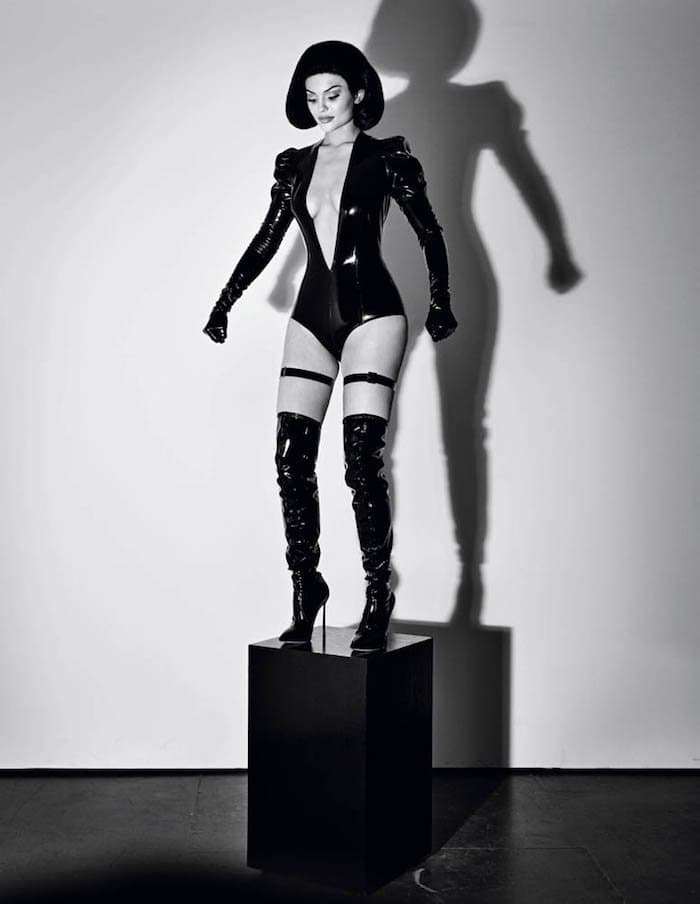 Kylie is just of short of nude in another provocative photo wearing a Chromat cutout bra and Dawnamatrix harness paired with Christian Dior Spring Summer 2016 sandals. These are the same pumps she wore in the controversial wheelchair photo.
If you're wondering what momager Kris Jenner thought of the photos, she approved for the most part. In an interview with Maria Menounos, Kris said "[Kylie] could've covered her bum a little bit more", but also raved about all the sexy photos. Kris even called them fabulous and artistic.
Here's a closer look at some of Kylie's footwear for the shoot.
Vivienne Westwood "Olly" Ankle Strap Shoes in Red, $650 at Zappos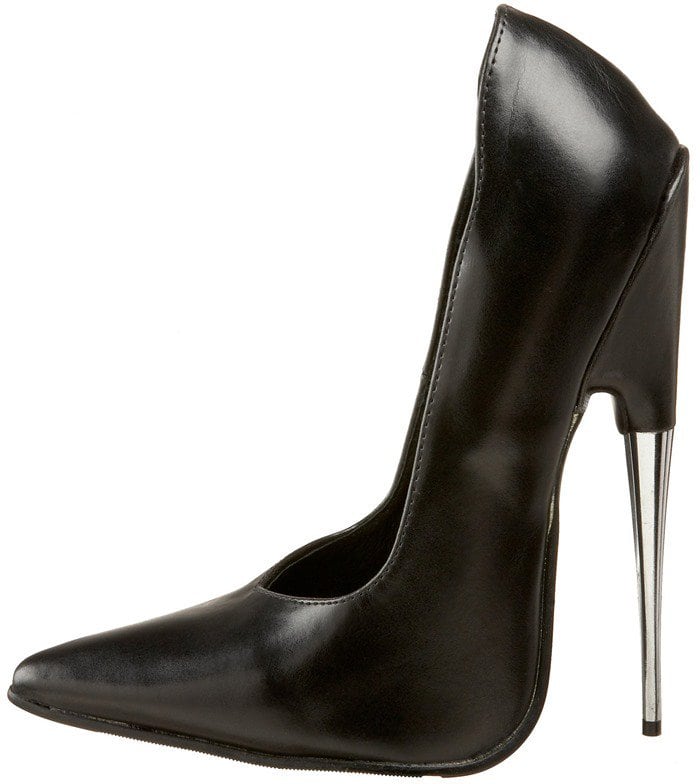 Pleaser Scream-01 Pump, $65.95 – $92.00 at Amazon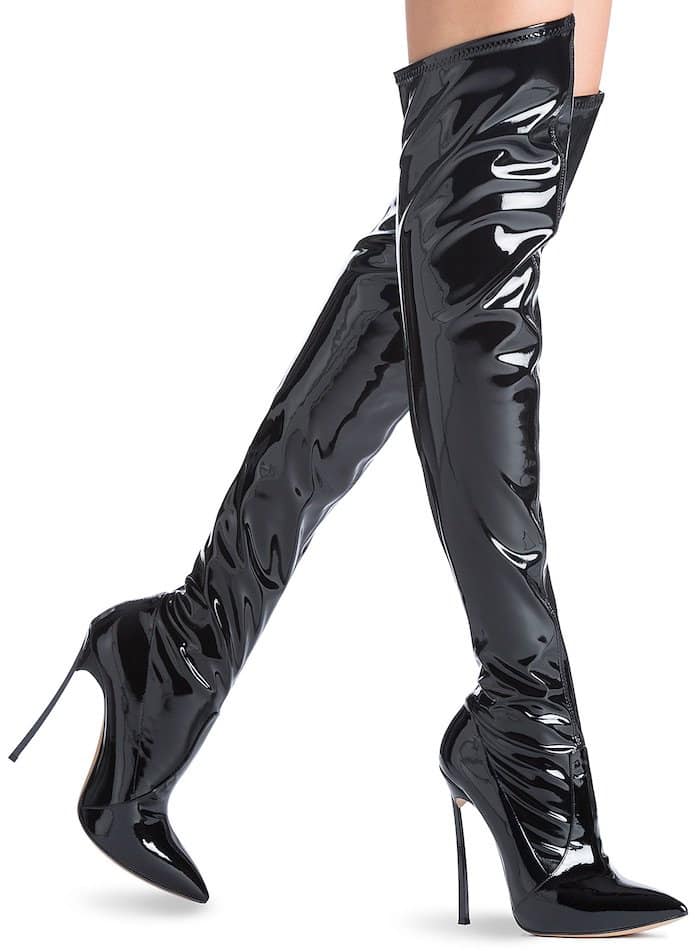 Casadei "Blade" Thigh-High Boots, $875 at Casadei
One thing's for sure, the Kardashian-Jenners always keep it interesting!
Credit: Interview Magazine Online