Who says you can't make a big splash with a small budget? Certainly not purple-haired Kelly Osborne.
The punk princess decided to deviate from the usual selection of Louboutins, Choos or Zanottis while attending the 2012 Oscars.
Instead, Kelly decided on a pair of glitter-covered satin pumps from Aldo. Do you like her lavender hair color?
Kelly Osbourne with lavender hair color attends the 84th Annual Academy Awards held at the Kodak Theatre in Los Angeles on February 26, 2012
Yep, apparently, underneath her pretty Badgley Mischka gown were these black "Plan" pumps from the famous affordable footwear brand.
We absolutely love it when a celebrity shows up in a pair of shoes that many of us are able to afford. Also known for her signature lavender-hued hair, Kelly told The Cut in 2017 how having purple hair before it was popular attracted a lot of haters.
"It was before anybody did it — people wore wigs of course, but they didn't dye it in this color," Osbourne said. "I got told I should kill myself, that I looked like an old lady, Dame Edna's ugly child she didn't want, all sorts of stuff."
Kelly Osbourne shows off her purple hair and Badgley Mischka gown on the red carpet of the Oscars
Her mother, English television personality Sharon Osbourne, is not a fan of Kelly's purple hair.
"My mum's been at me since I dyed my hair to go back to having blonde hair because the color of my natural hair is golden," she said.
'But what's wrong with me?' And then all of the sudden, she looked shocked. She turned around, looked at me and said, 'You know what, Kelly, I'm so sorry. There's absolutely nothing wrong with you. You're beautiful. All I care is if you feel good and you like the way you look. I'll never say anything about it again.' It was like a therapeutic breakthrough," Kelly added about her mother's reaction.
"I wish I could put the feeling in a bottle and sell it to the world — I'd just give it away, I don't even want the money — of how I felt the first time I looked in the mirror with lavender hair," Osbourne explained.
Kelly's "Plan" pumps are made of satin and covered in faceted rhinestones. They have 5.5-inch pin-thin mirrored heels and a 1.5-inch platform.
While this style has sold out online, you can shop Aldo shoes at Amazon and Aldo Shoes.
Aldo "Plan" Pumps in Black
While we're on the subject of Kelly Osbourne, we need your help.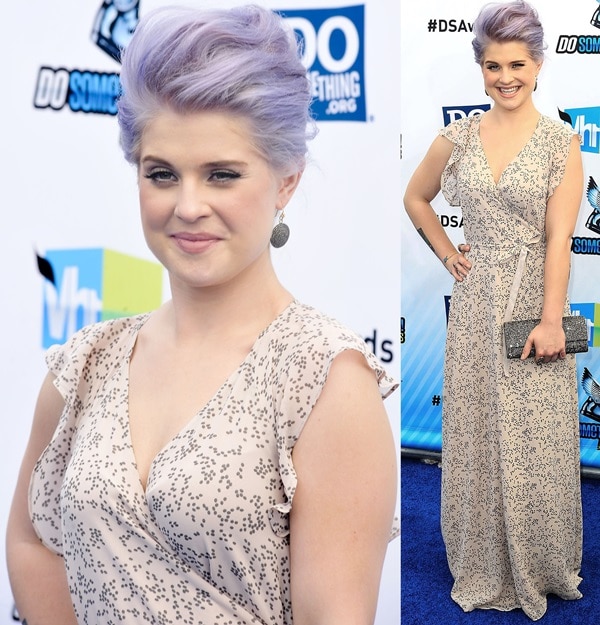 Kelly Osbourne with lavender hair at the DoSomething.org and VH1's 2012 Do Something Awards 2012 at Barker Hangar in Santa Monica on August 19, 2012
Earlier this year, Kelly wore an Armani Exchange dress, a Judith Leiber clutch and Samira 13 jewelry to an award ceremony.
Kelly Osbourne shows off unpainted nails, Samira 13 jewelry and a heart-shaped tattoo on her pinky finger while holding a Judith Leiber clutch
However, we can't identify her pumps. Can you help us match them with a designer?
Can you help us identify Kelly Osbourne's mesh slingbacks?
Credit: Apega / WENN / Ian Wilson / FayesVision / Nikki Nelson