Laverne Cox, best known for her role as Sophia Burset in the series Orange Is the New Black, took on a new challenge in the hit Netflix drama "Inventing Anna."
In the Netflix smash hit, Laverne Cox brought to life the character of Kacy Duke, a celebrity fitness expert who was the personal trainer and confidante of Anna Sorokin, the con artist played by Julia Garner.
Laverne Cox as personal trainer Kacy Duke in the American drama television miniseries Inventing Anna (Credit: Netflix)
The show was based on actual events and examined the elaborate scheme that Anna Delvey used to defraud her friends, hotels, and banks out of hundreds of thousands of dollars by pretending to be a wealthy heiress.
As Kacy Duke, the character Laverne Cox brought to life added complexity and dimension to an already fascinating plot.
What Laverne Cox Thinks of Kacy Duke
The Emmy nominee spent time with the real-life Kacy Duke to prepare for the role, and she could almost repeat her entire story. Laverne was adamant that this would be a moment to honor the trainer's accomplishments.
In a candid conversation with Glamour, the star shared what it was like to meet the real Kacy and what she appreciated about playing the role.
"She's so inspiring. She's trained everyone from Denzel Washington to Dakota Johnson. She's one of the cofounders of Equinox. Kacy Duke was on the forefront of the fitness business in the '80s. She was a brand ambassador for Nike. She's a trailblazer in the health and wellness industry."
Katie Lowes as Rachel Deloache Williams, Laverne Cox as Kacy Duke, Julia Garner as Anna Delvey / Anna Sorokin, and Alexis Floyd as Neffatari "Neff" Davis (Credit: Netflix)
When asked how she could relate to someone like Kacy, the actress said, "I love mantras, and Kacy's very spiritual. She has a mantra for everything, like, 'It's an evolution, not a revolution.' Or, 'Don't be so obsessed with the Emerald City that you don't enjoy the yellow brick road.' My favorite of hers is 'You have to love the body you have to get the body you want.'"
The actress added, "When I met her, she was very excited about me playing her, which is really humbling. You just want to do a good job, and she's really an incredible human being."
Laverne Cox described the trainer as a "vibrant, healthy, fit, sexually vibrant woman in her 60s" in an interview with SheKnows. She added, "Kacy Duke is goals for me."
Laverne's Role Kacy Duke in Inventing Anna
Shonda Rhimes, who wrote and executive produced "Inventing Anna," cast Laverne Cox as Kacy Duke, a fitness instructor recruited as the notorious con artist Anna Delvey's trainer in the spring of 2017 for a total monetary compensation of $4,500.
"I was freaked out beyond belief on playing a real-life person," Laverne revealed in an exclusive interview with Gold Derby. "I adore her, and I just wanted her not to hate it."
In the series, Kacy Duke's character kept her cool as Anna's scam got out of hand by calling upon the trainer's actual Art of the Graceful Gangster Life-Coaching Method.
Episode 6 of "Inventing Anna," "Friends in Low Places," elaborated on Kacy Duke's backstory. It revealed that the fitness coach ended up joining Anna Delvey and her acquaintance on their disastrous trip to Morocco, where the con artist couldn't afford their $62,000 premium stay.
Katie Lowes as Rachel Deloache Williams and Laverne Cox as Kacy Duke in Inventing Anna (Credit: Netflix)
The trainer's journey continued only briefly because she got sick from the food and had to return to New York City just days after arriving.
In the end, though, she still had to confront Anna when the con artist showed up at her door and urged her to stay the night. The show depicted the phony heiress making frequent visits to Kacy Duke's place in hopes that her trainer would give her a break.
Laverne Cox shared her thoughts on how a 62-year-old woman ended up in a mess like Anna Delvey's case. She told SheKnows, "Ultimately, Kacy was just doing her job. Anna initially paid her in advance for a number of sessions. And so she just was doing her job training another client and ends up in this incredibly strange, bizarre world."
The 50-year-old actress added, "But I think the thing about Kacy is that, once you become a client of hers, she takes a deep interest in your personal improvement, not only in terms of fitness, but in terms of your life."
What Kacy Duke Thinks of Inventing Anna
"Wow, what a ride it's been."
After watching all nine episodes of the highly binge-able "Inventing Anna," the fitness coach Kacy Duke spoke about what she felt about the show in an exclusive interview with ET Online.
Kacy Duke stated, "to have your story told and the truth come out is pretty amazing. It feels good in that way." However, it brought back some bad memories of her experiences with Anna. She continued, "It's an experience, you know, to relive it."
In regards to the accuracy of the series, Kacy commented, "There's a couple of glossy things, but it's pretty accurate."
There was one tiny thing the coach would have liked to have added. Episode 6 of "Inventing Anna" featured the con artist pleading for Kacy to spend the night at her place. Even though she was in the thick of a date, the personal trainer allowed her to stay.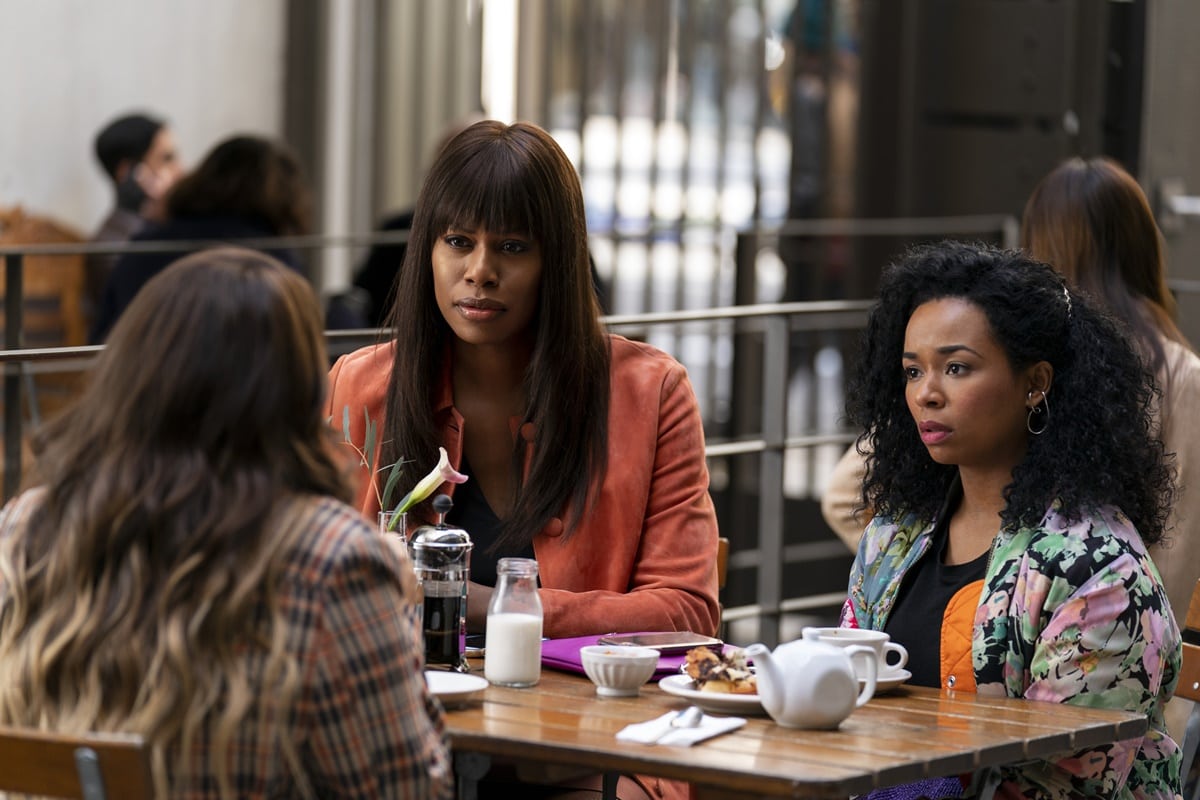 Alexis Floyd as Neffatari "Neff" Davis and Laverne Cox as Kacy Duke, a celebrity trainer and life coach, in Inventing Anna (Credit: Netflix)
The reality that Anna left her laptop behind at Kacy's place the day after she moved out was not shown in the show. The personal trainer recognized Anna's ploy to exploit the accident as a pretext for a second comped stay. Kacy dumped the laptop with the doorman rather than allow Anna to trick her again.
In addition, she said that Laverne Cox, whom she met on set, "did a great job [and] she really got my humanity and she got the grace."
Laverne once shared the heartwarming note the real-life coach sent her during her guest appearance on The Tonight Show with Jimmy Fallon. She revealed, "She sent me flowers. She said: 'Congratulations. Laverne is killing it.'"
Kacy Duke believed Delvey "will probably try to find fame" after the series was out. Even if you sympathize with her and want to see her succeed, the trainer insisted, "She did a crime, and she hurt a lot of people."
According to the fitness guru, the con artist asked her to meet during Anna Delvey's brief time outside prison. The trainer declined, but not before giving her some parting words of wisdom: "I said, 'You have newfound fame here. Use it more wisely. You're smart. Make better choices.' And that's how we left it."
In January 2015, Laverne Cox hit the stage and later posed for the press in a white dress at the 2015 BET Awards held at the Microsoft Theater in Los Angeles.
Laverne Cox wears her hair in waves at the 2015 BET Awards held on June 28, 2015, at the Microsoft Theater in Los Angeles (Credit: FayesVision / WENN)
The actress, reality television star, television producer, and LGBT advocate donned a white long-sleeved Michael Costello gown that featured cutouts at the side, a thigh-high slit, and a silver belt.
Laverne Cox shows off her legs on the black carpet in a white Michael Costello gown (Credit: FayesVision / WENN)
Laverne kept her accessories simple. She carried a black-and-gold Nathalie Trad clutch and wore a shimmering pair of drop earrings from Jane Berg that matched her silver-toned eyeshadow.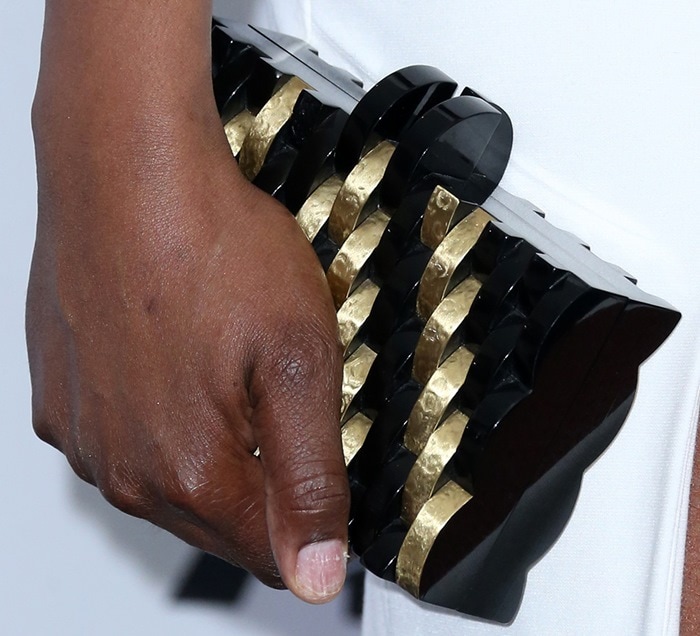 Laverne Cox carries a black-and-gold Nathalie Trad clutch (Credit: FayesVision / WENN)
An unexpected and almost unnoticeable addition to Laverne's ensemble: fishnet stockings.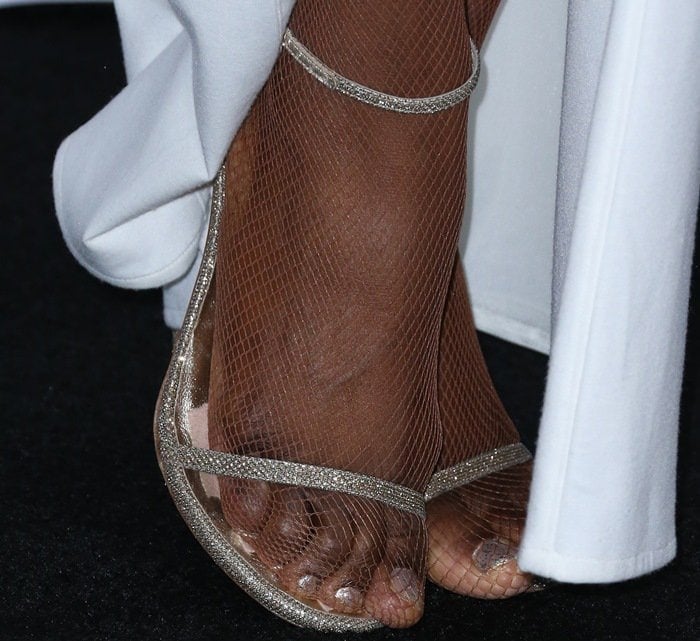 Laverne Cox's feet in fishnet stockings and Stuart Weitzman heels (Credit: FayesVision / WENN)
We can't help but hate the stockings. We think they take away from the minimalist appearance of her shoes: the classic Stuart Weitzman "Nudist" heels.
Laverne Cox's feet in glittery "Nudist" heels (Credit: FayesVision / WENN)
The "Nudist" sandals by Stuart Weitzman have been a hit among celebrities, with Kylie Jenner being the latest to be spotted wearing them.
Other notable celebrities who have been seen wearing this design include Bella Thorne, Anna Kendrick, Jennifer Lopez, Jamie Chung, Zendaya, Alison Brie, Charlize Theron, Jennifer Aniston, Chrissy Teigen, Kiernan Shipka, Jordana Brewster, Juliette Lewis, January Jones, Solange Knowles, Ariana Grande, Olivia Wilde, AnnaSophia Robb, Vanessa Hudgens, Stana Katic, Sophia Bush, Jordin Sparks, Rita Ora, Lucy Hale, Chloe Moretz, Kendall Jenner, LeAnn Rimes, Blake Lively, Megan Fox, Sarah Hyland, Rosie Huntington-Whiteley, Lady Gaga and many more.
You can find the popular single-band sandals in many colors at Zappos and Shopbop.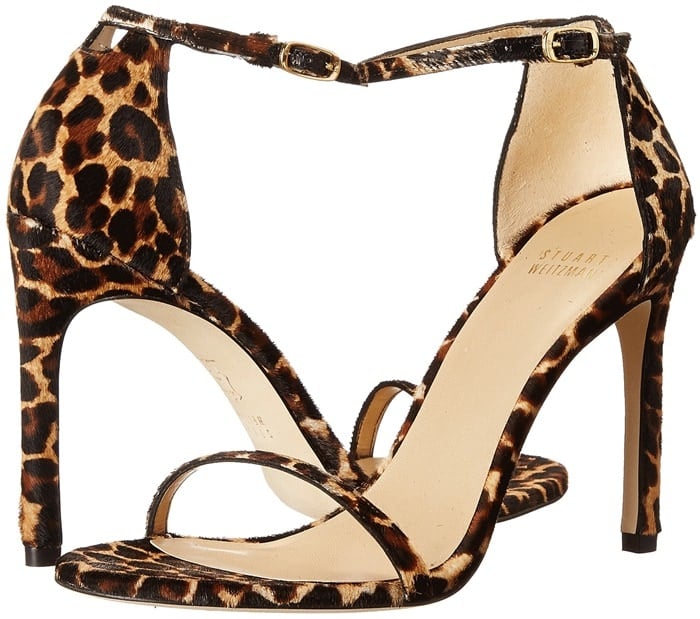 Stuart Weitzman "Nudist" Single-Band Sandals, $215.67–$398