With an increase in ancestry databases, we often wonder if there are family ties between people who share the same last name. This goes for Hollywood celebrities too!
In fact, a television series called Who Do You Think You Are? had celebrities trace their family tree with the help of experts to reveal distant relatives and family history.
The show featured celebrities with common surnames like Moore, Clarkson, and Jones, and experts were able to trace their family tree and share surprising information about their family history.
In Hollywood, famous relatives are fairly common. It seems that show business runs in the family. When we see actors and actresses with the same surname, it begs the question – are they related?
Garner is not a name we often see in Hollywood, so it makes us wonder – is Jennifer Garner related to James and Julia Garner?
Jennifer, James, and Julia Garner share the same family name (Credit: WENN)
What does the last name Garner mean?
Garner is a common English surname. It is said to have Anglo-Norman French roots, adapted from Grenier. The name is believed to be for someone who lived near a barn or granary, possibly an occupational name.
It is also an alternative spelling of Gerner and could be a shortened version of Gardener, another example of an occupational name. Garner could also be adapted from Middle High German 'garn', meaning thread.
Although not often a name gracing the covers of Celebrity magazines, there are a significant number of notable Garners listed in Wikipedia. Further, according to an ancestry database, there are two million historical documents containing the name, including over 677k birth, marriage, and death records, 66k military records, and over one million family trees.
The Garner name is commonly found in the US, Canada, England, and Scotland with the majority of Garner families living in the US since the late 1800s.
Jennifer Garner, James Garner, and Julia Garner all live in the US – does this make them distant relatives? From a look at their family backgrounds, we can't see any obvious relation.
Jennifer Garner Background
If you aren't familiar with the name Jennifer Garner, there is a good chance you would recognize her face and voice. This megastar has had a successful career as both an actress and producer.
Some of her most infamous works include Pearl Harbour, 13 Going on 30, Daredevil, Miracles From Heaven, Dallas Buyers Club, and Elektra. The American actress was born in Houston, Texas, on April 17, 1972.
Ben Affleck and Jennifer Garner at a Golden Globes Party at the Beverly Hilton Los Angeles, California, on January 15, 2007 (Credit: Ken McCoy / WENN)
Her father, William John Garner, and her mother, Patricia Ann English, had two other daughters making them a family of five. Jennifer's father was a chemical engineer and described as very conservative, while her mother was a homemaker and described by Jennifer as "quietly blue."
Although born in Texas, Jennifer grew up in Charleston, West Virginia, where her family moved when she was three years old. In Charleston, Jennifer and her two sisters had a conservative upbringing where they attended a Methodist Church and bible school.
During her teenage years, she and her sister were not allowed to wear makeup or nail polish; an upbringing Jennifer has described as "very Amish."
Jennifer Garner as Diana Wakefield on the set of Wakefield, a 2016 American comedy-drama film (Credit: Cousart / JFXimages / WENN)
She went to George Washington High School and then went on to Denison University for college. Here she studied theatre before transferring to the National Theater Institute at the Eugene O'Neil Theatre Centre in Connecticut.
Jennifer married Jennifer Lopez's ex Ben Affleck in 2005. It was a relationship that plastered the covers of gossip magazines and still receives attention today. The pair have three children together, two daughters and one son.
They separated in 2015 and were officially divorced in 2018. Jennifer is still acting with new films scheduled to be released in 2021 and 2022.
Jennifer Garner digging up sweet potatoes on her San Diego farm Once Upon A Farm (Credit: WENN / Avalon)
Until then, she is very active on Instagram and has co-founded an organic baby food company called Once Upon a Farm. Jennifer is the chief brand officer and plays an active role in the company's growth and strategy.
James Garner Background
James Garner is also an actor; however, his time in the limelight was around the time Jennifer was born! James was the star of several TV shows spanning five decades.
In the 1950s, he starred in Maverick, and in the 1960s, he starred in many films, including Steven McQueen, The Great Escape and The Americanization of Emily.
If you have seen The Notebook, you likely know him as the older Ryan Gosling and the heartbreaking portrayal of a man who reads to his wife with dementia.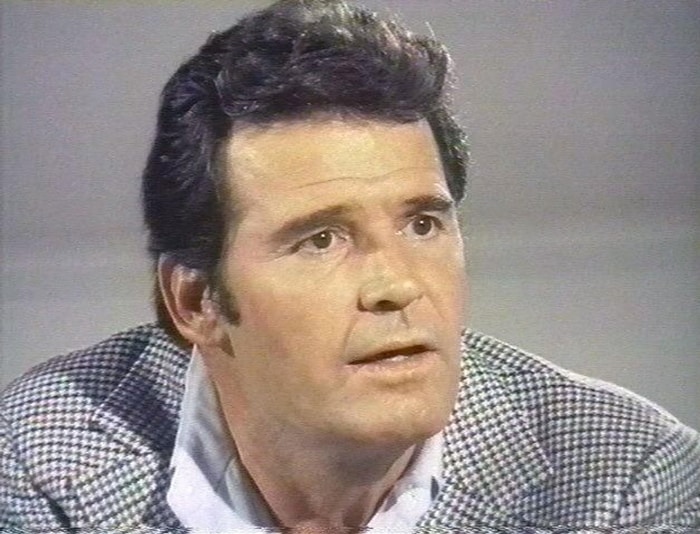 James Garner as Jim Rockford in The Rockford Files, an American detective drama television series that aired on the NBC network between September 13, 1974, and January 10, 1980 (Credit: WENN)
Garner wasn't James' original surname. He was born James Scott Bumgarner in Denver, Oklahoma, on April 7, 1928. His father was Weldon Warren Bumgarner, and his mother was Mildred Scott (Meek), who died when James was just five years old.
James has two older brothers, Jack Garner (originally Bumgarner) and Charles Bumgarner. Following their mother's death, the boys were sent to live with relatives until their father remarried.
James's father remarried several times, and he recalls one stepmother named Wilma, who was physically and emotionally abusive to the boys, especially James.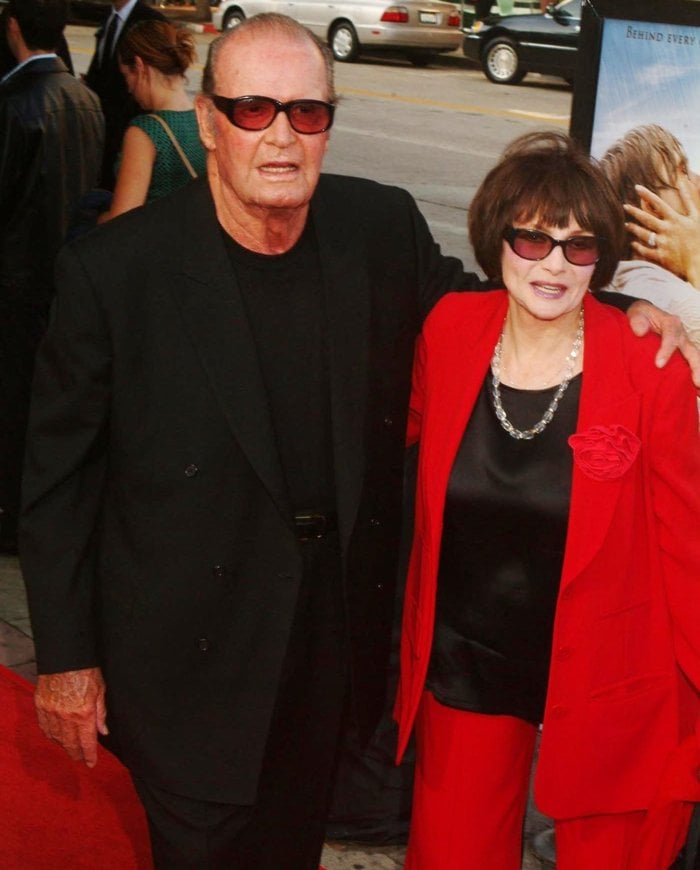 James Garner and his wife Lois Clarke during "The Notebook" New Line Cinema Los Angeles Premiere at Mann Village Theatre in Westwood, California, on June 21, 2004 (Credit: WENN / Jody Cortes)
Once Wilma left the family, James went to Los Angeles along with his father and attended Hollywood High School. Following his gym teacher's encouragement, James started modeling in LA but didn't like it and eventually moved back to Oklahoma to finish high school.
James then joined the military before beginning his acting career in his twenties. As we can see by looking into James' background, he was not born a Garner.
In fact, he didn't really have a say in the matter. When his career started, a movie director with Warner Bros. changed his name without his permission and credited him as James Garner, a shortened version of his surname Bumgarner.
His brother followed suit and also changed his last name to Garner when he started acting.
James Garner as the title character in Cash McCall, a 1960 American romantic drama film (Credit: WENN)
James married Lois Josephine Fleischman Clarke in 1956. He adopted Lois's daughter Kim, and the two had another daughter named Greta "Gigi" Garner.
The two had one of the longest-lasting marriages in Hollywood. Unfortunately, after dealing with recurrent health issues, James died at the age of 86 just before their 58h wedding anniversary.
Julie Andrews, Robert Preston, and James Garner in Victor/Victoria, a 1982 British-American musical comedy film (Credit: WENN)
James died at home after suffering from a heart attack caused by coronary artery disease. At the time of his death, James Garner is believed to have had a net worth of around $20 million.
Julia Garner Background
Julia Garner has recently appeared in Hollywood as a feature star in the Netflix series Ozark. She has appeared in other series, including The Americans, Maniac, and Dirty John, as well as films The Perks of Being a Wallflower, Sin City: A Dame to Kill For, and The Assistant.
This young actress was born in The Bronx, New York, in a neighborhood called Riverdale on February 1, 1994. Her father is Thomas Garner and her mother is Tami Gingold.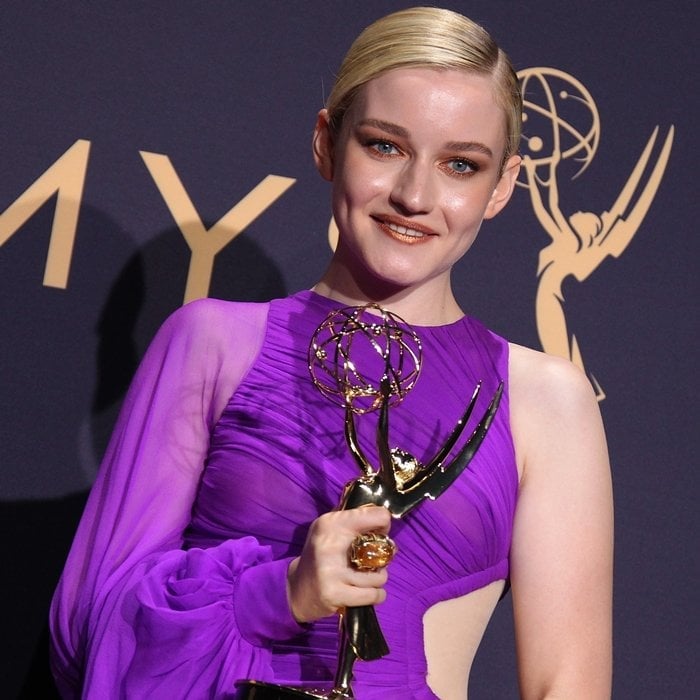 For her performance as Ruth Langmore in the American crime drama streaming television series Ozark, Julia Garner won twice consecutively at the Emmy Awards for Outstanding Supporting Actress in a Drama Series in 2019 and 2020 (Credit: Adriana M. Barraza / WENN)
Julia's father is a painter and teacher who grew up in Ohio, while her mother is a therapist and comedian from Israel. Julia is Jewish, just like her mother. Many assume that Julia is Jennifer's younger sister.
Although she shares the same surname as Jennifer, their religion, upbringing, and location are different, and there is no relation between them.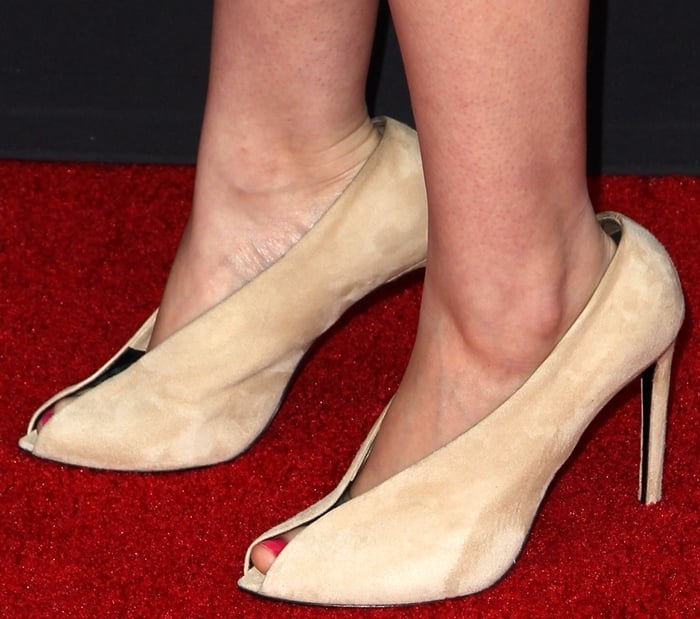 Julia Garner shows off her size 7 (US) feet at the Los Angeles Premiere "Sin City: A Dame To Kill For" at TCL Chinese Theatre on August 19, 2014, in Hollywood, California (Credit: FayesVision / WENN)
Julia's career is just getting started. She still stars on Ozark and will soon appear in the film You Can't Win.
In December 2019, Julia married Mark Foster, the lead singer of Foster the People. The two are still together today.
Julia Garner as Anna Delvey in Inventing Anna, an upcoming American drama streaming television miniseries (Credit: WENN)
There is no doubt the three share a number of similarities. They are all talented actors with an impressive filmography, American citizens, and share the same surname. That, however, is where the similarities end.
As we can see by looking at the backgrounds of Jennifer Garner, James Garner, and Julia Garner, they had vastly different upbringings and have no known relation.
The last name Garner is quite common in the US, and there are notable Garners throughout history, with no relation to one another.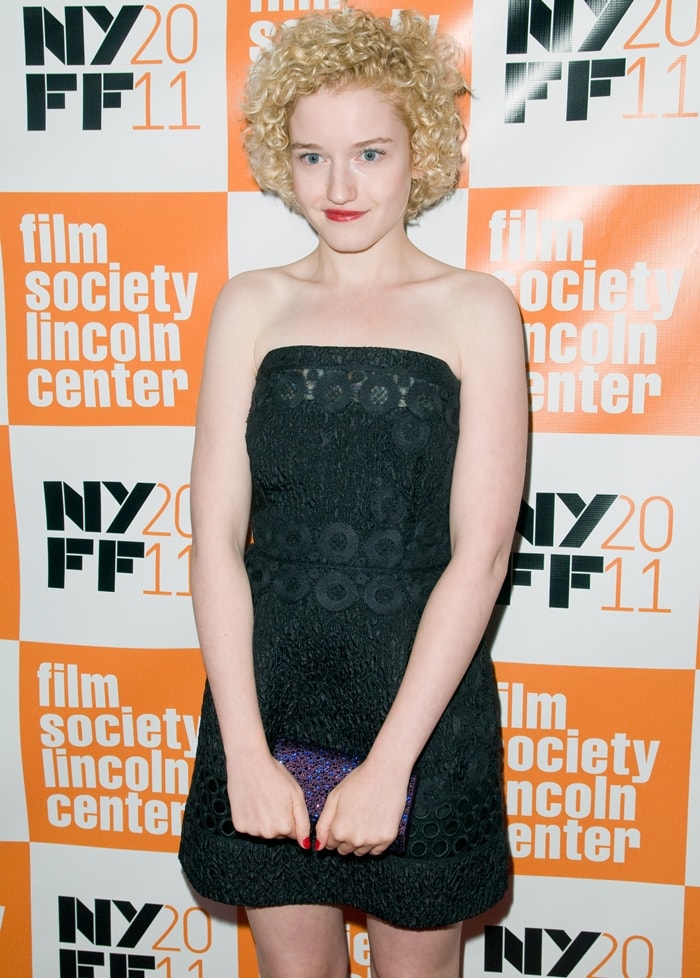 Actress Julia Garner attends the 49th annual New York Film Festival presentation of "Martha Marcy May Marlene" at Alice Tully Hall, Lincoln Center on October 11, 2011, in New York City (Credit: Ivan Nikolov / WENN)
Garner is one of the top 4000 popular surnames internationally, and although that might not seem like a lot, that means that 1 in 56,439 people will have the last name Garner. As it turns out, that means there are 3 Garners in Hollywood with no known relation, just a common last name!
In July 2016, Jennifer Garner enjoyed some "me time" in the romantic city of Paris as she attended the Fashion Week AW 2016/2017 show for Atelier Versace.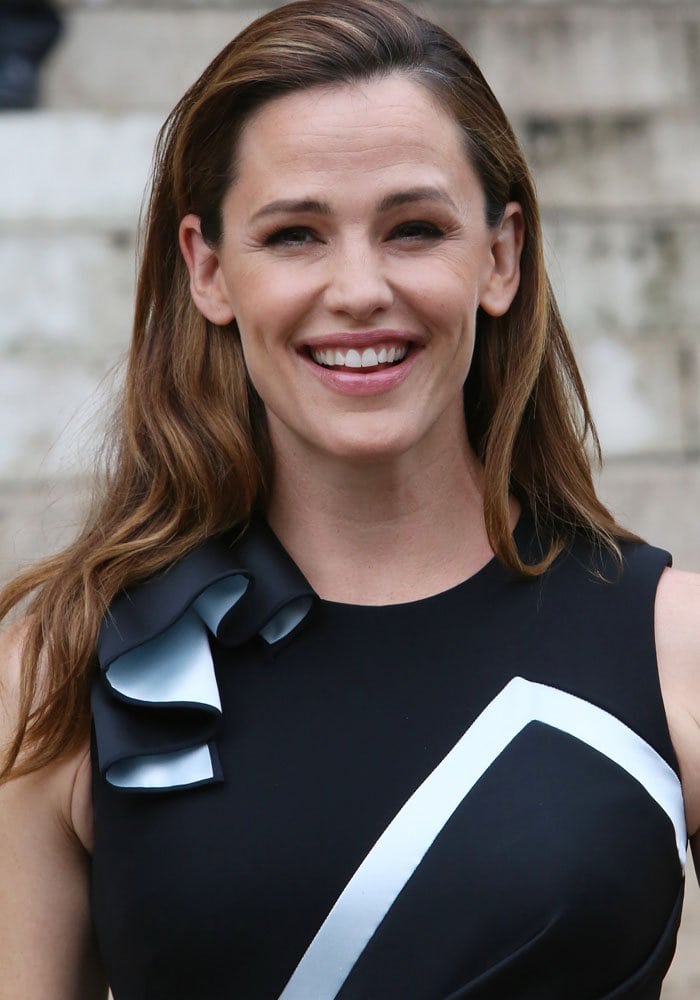 Jennifer Garner at the Versace show during Paris Fashion Week Haute Couture F/W 2016/2017 in Paris, France on July 3, 2016 (Credit: WENN)
The actress stepped out of her car looking stunning in head-to-toe Versace.
Jennifer wore a draped black-and-white gown with a lovely contrast of geometric patterns and feminine ruffles. The dress also featured a side slit that showed off some leg.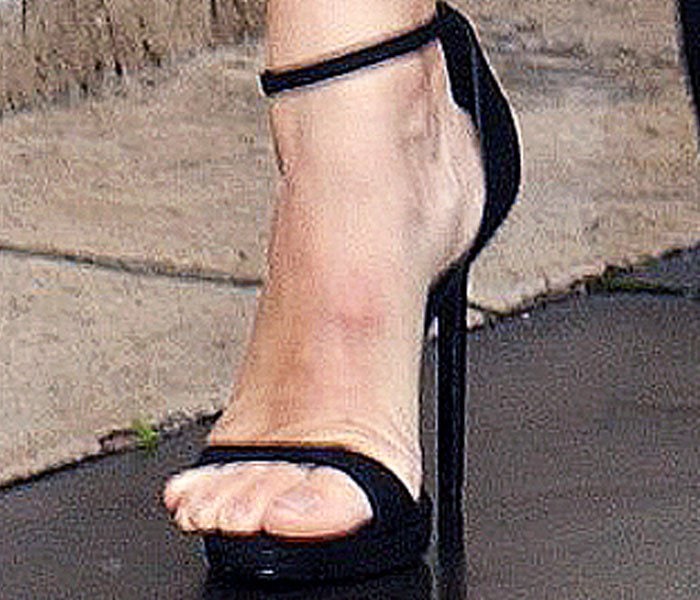 Jennifer opted for an understated pair of Versace ankle strap sandals (Credit: WENN)
Jennifer finished her look with a box clutch, a gigantic ring, and a pair of Versace ankle strap sandals.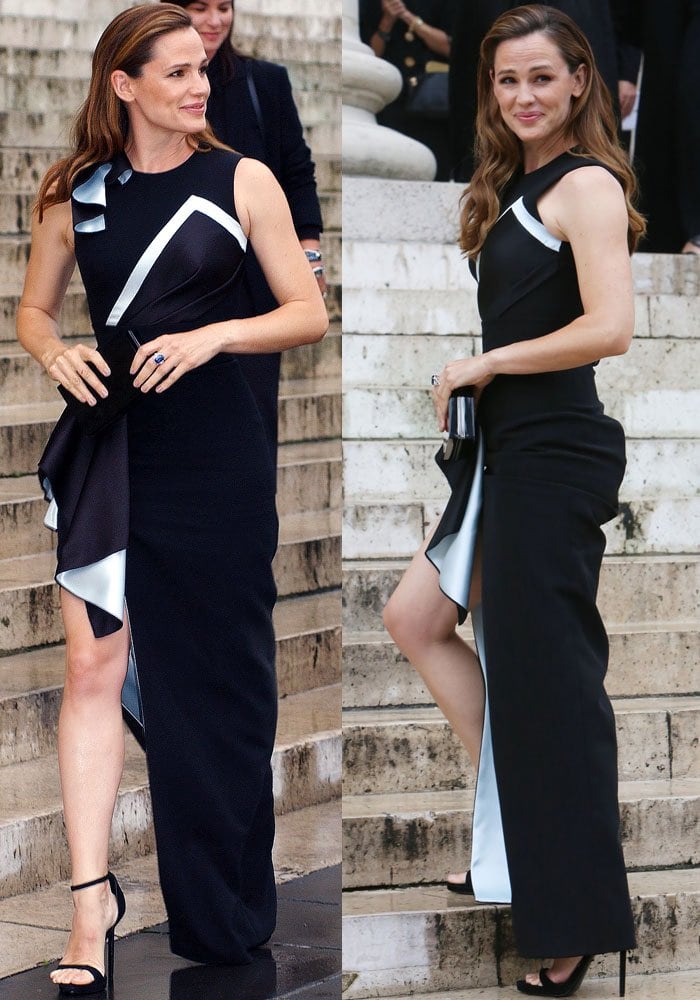 Jennifer Garner glows in head-to-toe Versace (Credit: WENN)
The actress absolutely took our breaths away as she gave the cameras her iconic smile, even if she may be having marital problems at home.
Now, if only she could upgrade her street style as well. We'd love to see some revenge fashion from the then 44-year-old.
Check out a similar Versace ankle-strap pair at Farfetch or Saks Fifth Avenue.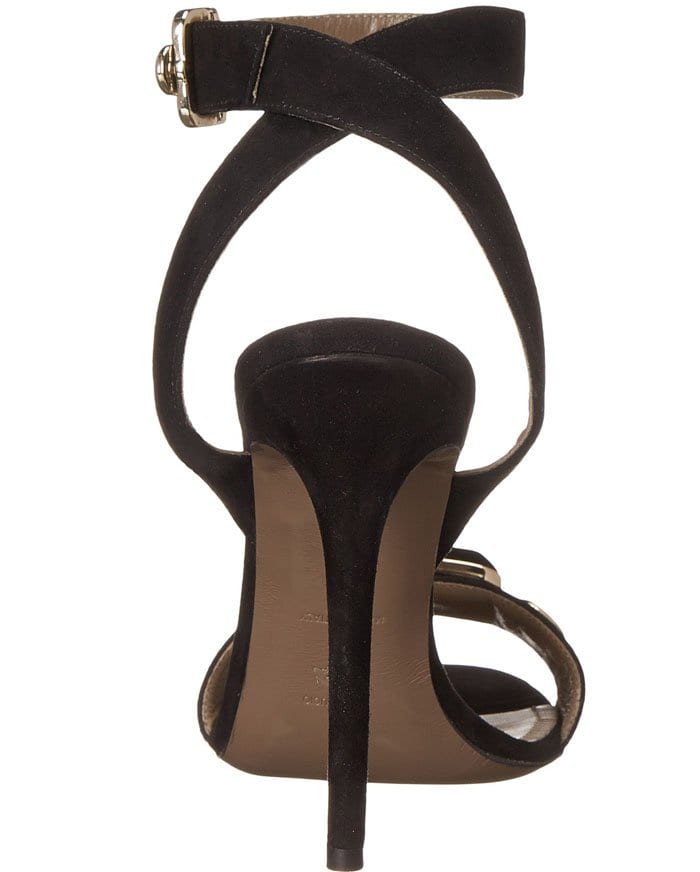 Versace Collection Strappy Open Toe Sandals, $645