Just a few days ago, Leighton Meester attended the red carpet premiere of her new movie, 'Date Night', in New York City.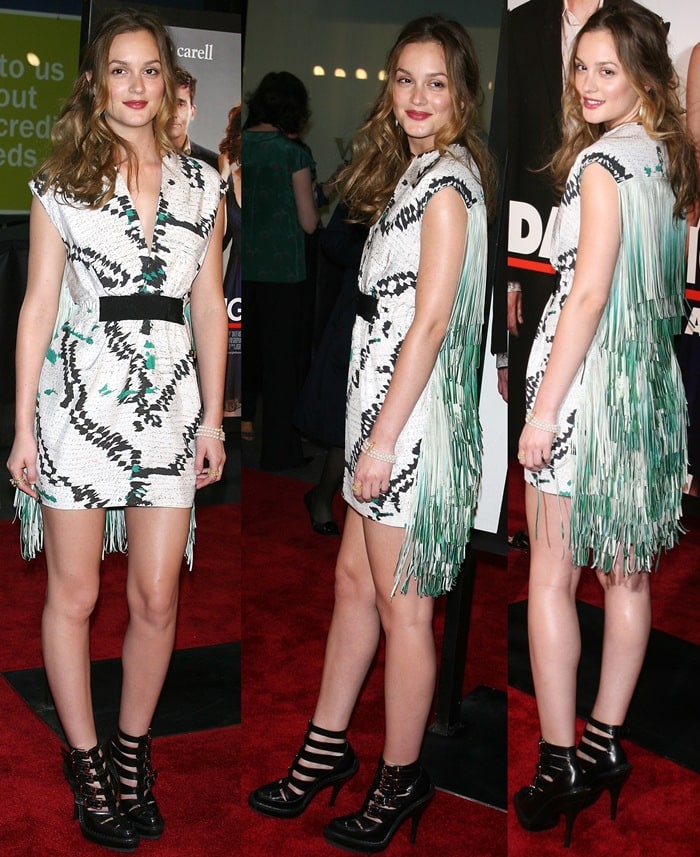 Leighton Meester at the NYC Premiere of 'Date Night' at the Ziegfeld Theater in New York on April 6, 2010

The 'Gossip Girl' actress wore what looked to be a reptile or tribal(?) printed dress (with fringe detailing on the back) created by Giambattista Valli, and a pair of sexy but tough-looking strappy bootie sandals by Phi.
The look was very off-beat, edgy, and risky; something not everyone can pull off. But that's Leighton. In fact, I'd be more surprised if she wore something conventional.
But she does wear convention, only in other ways. She balanced the "busy-ness" of her dress and the "strappy-ness" of her tough-looking shoes by wearing natural-looking (almost bare) make-up – no smoky eye-shadow, no cherry-red lipstick, and definitely no overly pink blush. Just beautiful glowing skin and a touch of rose on her lips. Even the hair was kept simple in a half pony.
I definitely love this Leighton look…..except for the fringe details on her back.
Now let's zoom in on the shoes, shall we?
Leighton's Phi bootie sandals
This pair by Phi is from the brand's 2010 Resort Collection (as seen on model Alexa Yudina below). It is also one of Phi's last creations because Phi shut down right after it released its 2010 Resort Wear.
Alexa Yudina in Phi (Resort 2010)
Here's another look at these bootie sandals. This time, a capture by the Jak & Jil photoblogger, Tommy Ton.
Phi Sandal Booties on Erin Wasson's feet
(photo taken by Tommy Ton; photo care of Jakandjil.com)
If you analyze the pair, it actually looks a little vintage; like Phi took inspiration from men's fisherman sandals and modified and "glamofied" it to suit women and today's trends with a few additions here and there – pointy vamp, high heels, thick platforms, and straps and buckles that go all the way up to the ankles.
Actually, this isn't the first time I've seen this shoe style. Alexander Wang came out with a similar looking pair in his 2010 Resort Collection. Now that actually makes me wonder, did Phi copy Wang? Or did Wang copy Phi?
Anyway, if you like Leighton's Phi sandals, try checking Net-A-Porter, that is, if they still have it in stock. Otherwise, you can opt to get the Alexander Wang 'Abbey' high heel sandals instead: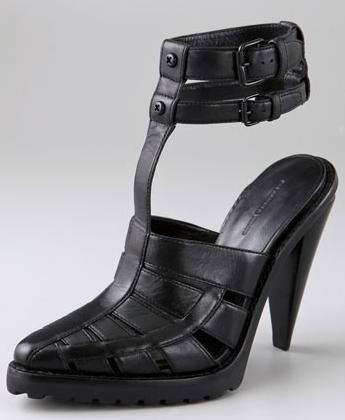 Alexander Wang 'Abbey' High Heel Sandals, $495
Credit: PNP/WENN